The Gear Junkie: Pack Rafts
Heading out the door? Read this article on the new Outside+ app available now on iOS devices for members! Download the app.
It may look like an inflatable pool toy, but the pack raft, a personal watercraft with roots in aviator survival boats from World War II, is a serious tool for some backcountry explorers. Lightweight and durable, the blow-up boats can weigh as little as three pounds. They roll up and stow small in a backpack. You can trek into the wild and then inflate a pack raft to cross lakes, descend rivers, or paddle the ocean where no other boat could go.
Made by a handful of manufacturers over the years, pack rafts have seen a resurgence among outdoor fanatics. Last summer, on the Arkansas River of Colorado, I joined a pack-rafting group for a two-day trip. We backpacked through trail-less wilderness for about 15 miles before settling down for an overnighter. In the morning, on the shore of the rushing river, we inflated the boats and hopped in. I piloted a Yukon Yak model from Alpacka Raft LLC, a Mancos, Colorado, company that sells top-of-the-line pack rafts.
Alpacka's boats (alpackaraft.com) are quality products, durable and stable in whitewater. I tied my backpack on the front of my Yukon Yak and pushed into the Arkansas's flow. Over the day, I was able to navigate complex whitewater and drop through rapids with ratings up to class IV.
For transport, the Yukon Yak's rubbery bulk packs and rolls to a size not much larger than a football. It weighs four pounds, 11 ounces and is overall a truly amazing and capable little watercraft. Caveat: It's got a huge price tag. The Yukon Yak retails for $790.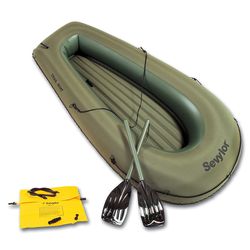 Back home last summer, bitten by the pack-raft bug, I decided to test another model. The Trail Boat from Sevylor (sevylor.com) costs just $75.99. It is made of durable nylon PU and PVC, and it rolls up into a bag (included). The Trail Boat is at the opposite end of the spectrum from the Alpacka rafts. It is much cheaper-feeling, and its components–including an iffy roll-top dry bag and two silly hand paddles–are not worthy of anything more than a gentle stream.
But the Sevylor raft itself is fine. I have used the Trail Boat a dozen times in water up to Class II. It holds its own and paddles straight. Like the Alpacka, with a regular kayaking paddle, the Trail Boat can catch eddies and drop through whitewater chutes. Like the Alpacka, the Sevylor rolls up small and can be squeezed into a backpack. It weighs less than five pounds. For a pack-rafter on a budget, the Trail Boat is a worthy solution and an inexpensive entry into a neat new outdoors sport. (Note: Sevylor is discontinuing this product, but it is still for sale online, for now.)
–Stephen Regenold is founder and editor of www.gearjunkie.com.