This Is How You Set a Surfer on Fire. Safely, of Course.
Surfer Jamie O'Brien and his team made the fiery stunt look easy. But turns out, it took months of planning and some very specific gear to get right.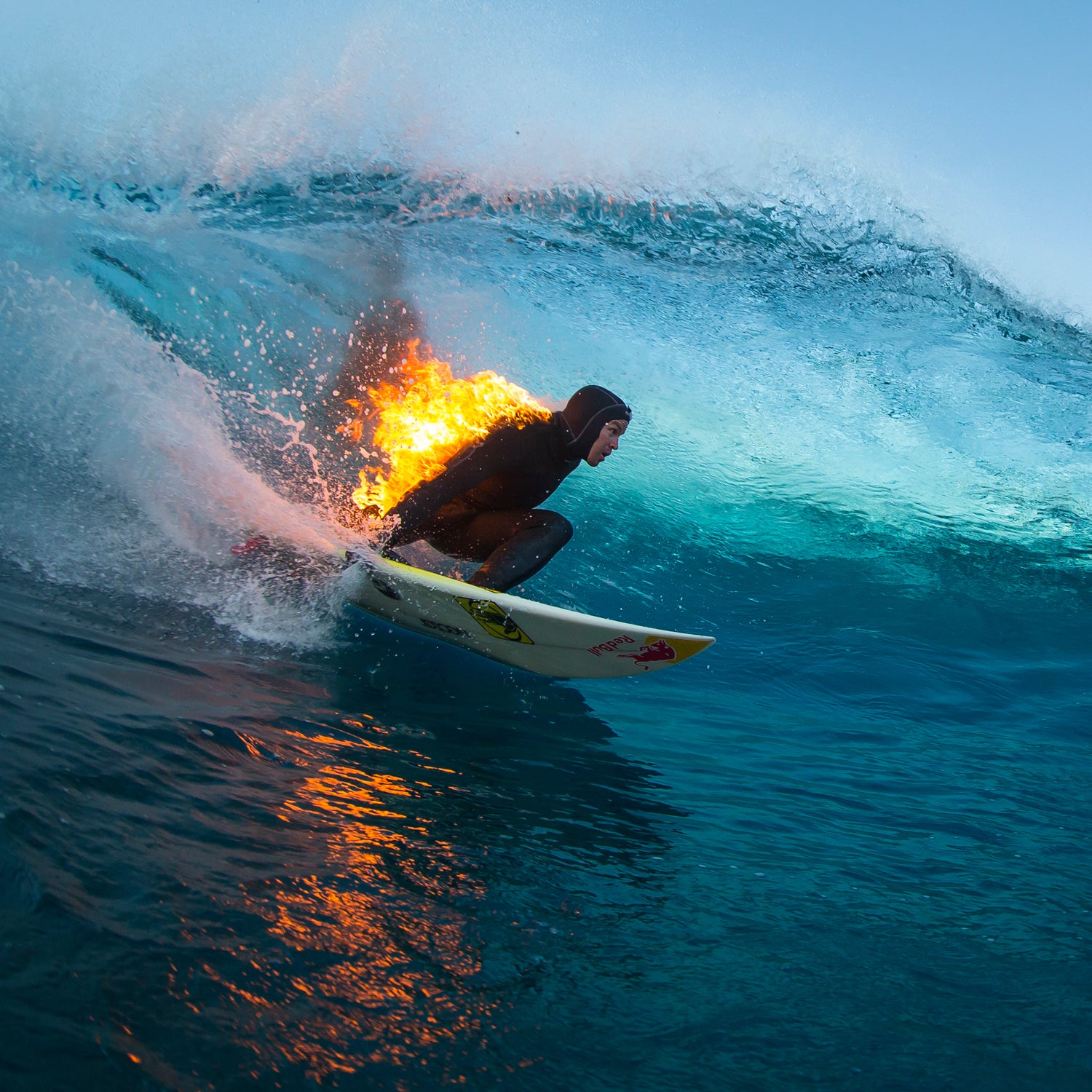 Ben Thouard/Red Bull Content Poo(Photo)
Heading out the door? Read this article on the new Outside+ app available now on iOS devices for members! Download the app.
Sometimes fire and water do mix. 
Such was the case last week when Hawaii-born surfer Jamie O'Brien steered his board through the gullet of an enormous wave at Teahupo'o off the island of Tahiti as flames poured from his back. The stunt—proposed by one of his Instagram followers—was sponsored by Red Bull and took a full year of prep to get just right.
"Obviously this had never been done. So we had to go to the drawing board to figure out what we had to do to get this whole thing started," says experienced stuntman Riley Harper, 26, who oversaw the details. "There's so much involved with being in the ocean and the waves and weather and spray."
Harper, who's set himself on fire more than a dozen times for movies and television, went with a layered approach to shield O'Brien from the intense heat. First came two layers of fire-retardant fabric next to his skin. That fabric was soaked in flame-resistant gel, then chilled to be ice cold and stored in a cooler until the last minute. 
"Obviously this had never been done. We had to go to the drawing board to figure out what we had to do to get this whole thing started."
Next came a specially designed wetsuit with foam panels built into the chest and upper back to help O'Brien float while weighed down with all the extra clothing (15 pounds of gear in total). The last layer was another fire retardant top and bottom. For added protection, O'Brien donned a hoodie and gloves that were covered in a fireproof gel. His face was smeared with the same substance.
Then came the secret sauce: the stunt crew spread a custom-made combination of flammable goo and liquid on O'Brien's back. Harper guards the recipe, but said he devised a special version to withstand the wind and water. "We wanted it to look big and gnarly. That was our biggest issue that we sorted out," he says.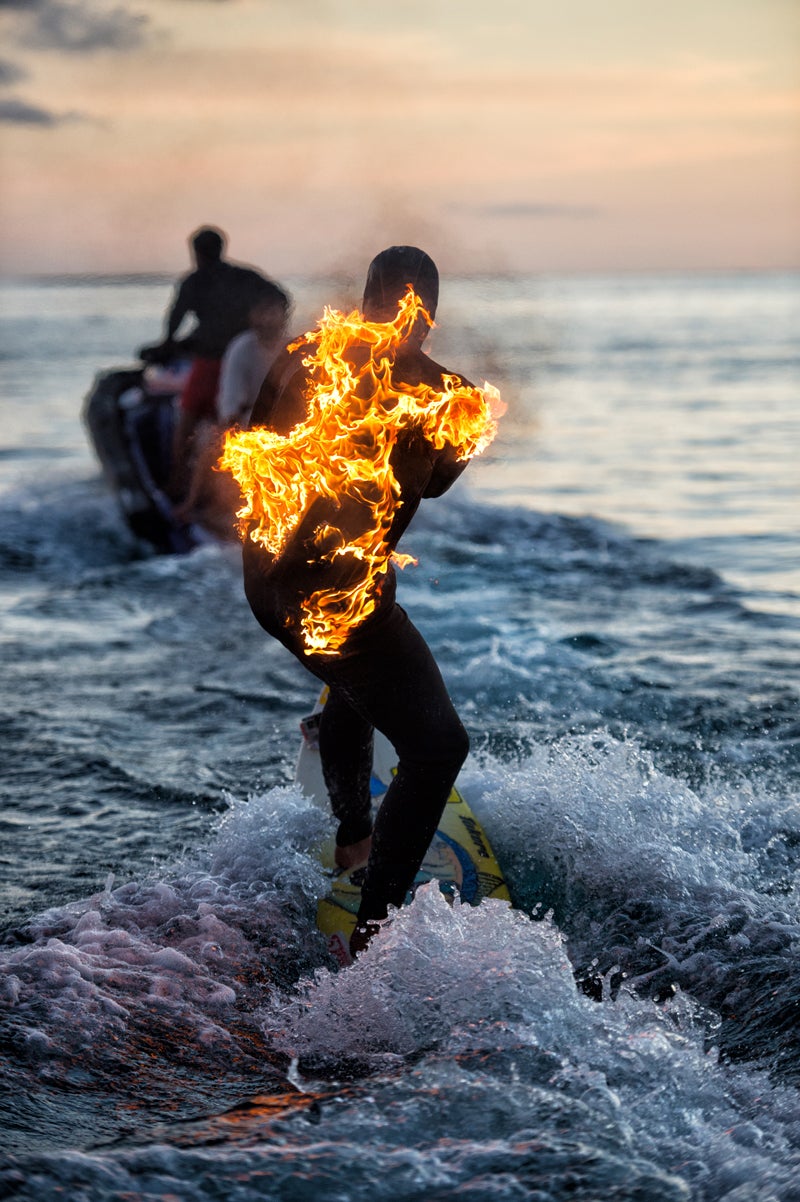 The team went through several test runs in California and Tahiti to make sure O'Brien was comfortable and to work out all technical kinks. In the end, the only snafu happened when O'Brien lost part of an eyebrow on a trial run after the water washed off some of the protective gel and a flame whipped around as he surfed. (It's called getting "licked" in stunt parlance, and it "kind of comes with the territory," Harper says.)
Harper, a lifelong surfer who'd toyed with the idea of a flaming surf stunt long before Red Bull came calling, says he's thinking about re-enacting his own version in California. He'll just have to find the right wave. He's comfortable with the fire part, but says he admires O'Brien's skill in the water. "If you saw these waves in person it would just blow your mind," he says.
Red Bull will post a complete behind-the-scenes account of the stunt on August 7 on the Red Bull TV website.
Lead Photo: Ben Thouard/Red Bull Content Poo