Indefinitely Wild
An Ode to Surfing's Most Esoteric Piece of Gear: The Inflatable Surf Mat
Dorky? Yeah. But also insanely packable, versatile, and easy to use.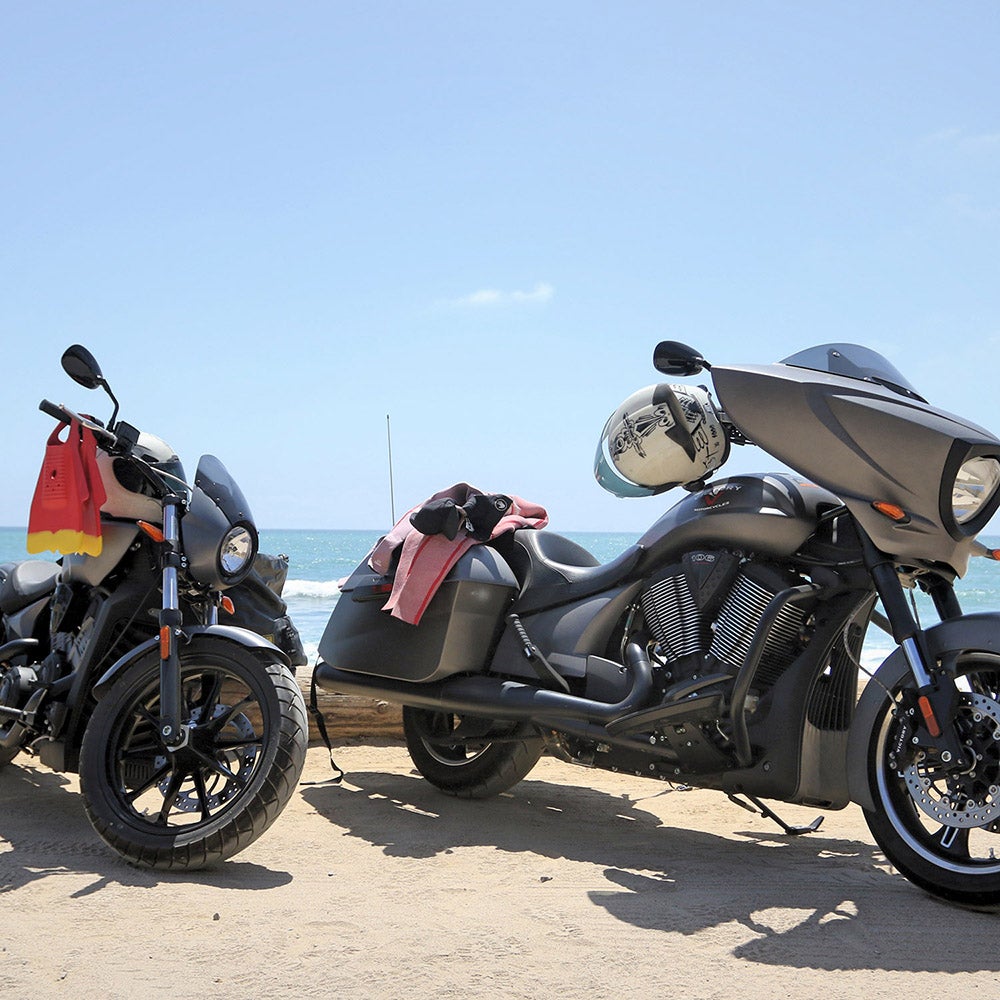 Heading out the door? Read this article on the new Outside+ app available now on iOS devices for members! Download the app.
If you were reading any of the uber-hip motorcycle lifestyle blogs in the late 2000s, you'll have seen all sorts of bobbers, choppers, cafe racers, and even the occasional adventure bike sporting surfboard holders. Australia's Deus Ex Machina, in particular, seemed particularly adept at bolting a couple of PVC pipes to its customs, then hanging a long piece of hand-crafted foam in them. 
Just one problem: it's well nigh impossible to competently operate a motorcycle with a giant board hanging off the side. Not only do they catch crosswinds, but they lock the adjacent leg to that side of the bike. Planting that foot becomes a real challenge. 
So, the motorcycle-surf fad faded. But we think we have a way to bring it back: inflatable surf mats.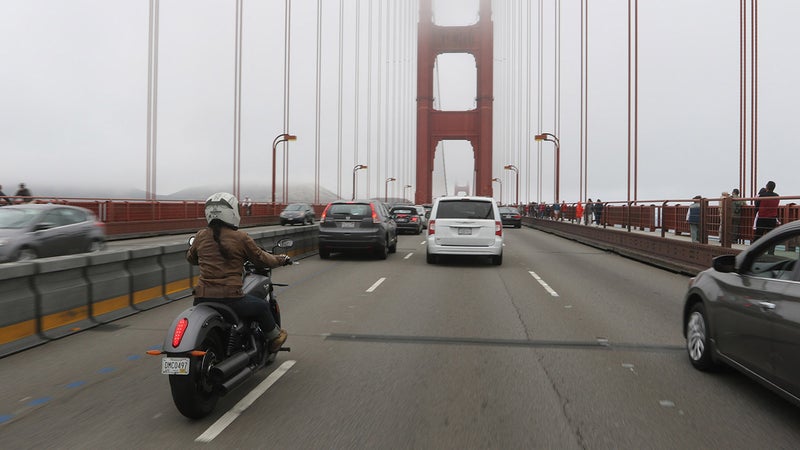 Why Go Surfing on a Motorcycle?
Well, there's not really a better way to travel. At least that's what my girlfriend Kyra and I were thinking when a recent trip required us to drive from Southern California to Seattle, stopping by Monterey on the way to watch the World Superbike race at Laguna Seca. We arranged a couple of Victory motorcycles and hit Highway 1. 
Over the course of two weeks, we made our way up the coast. We took our time winding through Big Sur, crossed the Golden Gate Bridge, and taking in rural Oregon. On bikes, we felt close to the environment, riding through temperature changes, getting wet, getting cold, getting hot, and carving through corners. We were out there in the world, able to appreciate it in a way that you can't from inside a steel cage. 
Of course, there's a practical argument to be made for the motorcycle as surfing-conveyance, too. Have you seen what parking's like at popular surf spots on the West Coast? Good luck parking your VW bus there on a Saturday. With a motorcycle under you, you can bust traffic, grab an after-work wave, and be home in time for dinner.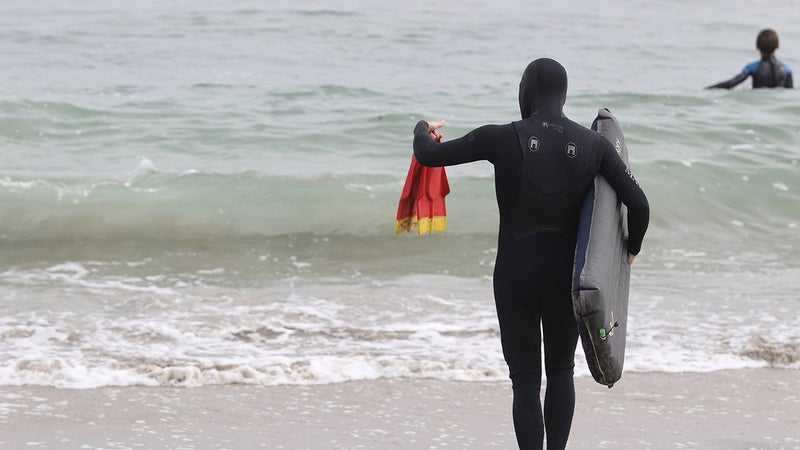 What's a Surf Mat? 
The ancient Hawaiians developed a short plank of wood, called a paipo, that new surfers would learn on before moving to the longer alai. You rode the paipos prone, just like you do with a surf mat. 
Mats experienced their first big bout of popularity in the '60s and early '70s, when they gave beach-goers an accessible way to catch waves. Not only were they easy to carry and ride, they were also safe to use in crowded breaks, where the water was dotted with swimmers. Plus, mats could catch small, choppy waves that would be impossible on a board. 
Many a young surfer got their start on mats, learning to catch waves, move diagonally down their faces, and even get up into a kneeling position, before graduating to a board. Then, in 1973, Morey introduce the boogie board, which had one major advantage: made from foam, you couldn't pop it. Surf mats faded into oblivion. 
Now, they've developed a small cult following, with a handful of companies crafting high quality mats by hand. The one I've been riding is a 42-inch Krypt Surf MT5. It might look like a sleeping pad, but these inflatable baffles have been specifically shaped to keep the nose high, and the tail low, allowing you to not only catch waves, but to steer once you're in them. 
Most importantly, a surf mat rolls up into a tiny, light package you can stow virtually anywhere. Not only can you carry one on a bike, but you can do so along side all your camping and travel gear.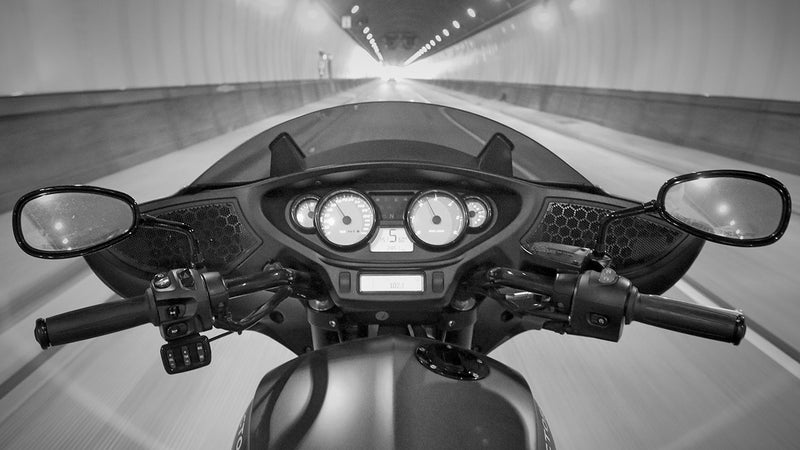 How Do I Ride One?
Timing is everything. With a good pair of swim fins (we like Da Fins), you can kick your way into a wave a lot later than you can on a traditional board. This allows you to pick and choose your waves with more information, or even catch a scrap left behind by a "standard" surfer. 
I leave the mat soft enough so that I can get a good grip on it with my hands and arms. That makes it cumbersome and slow when paddling, and I need to kick a little longer into the wave in order to get up to speed. Once I'm there, dropping down the face, the first thing I do is rotate my body in the direction I want to go. 
You can also pull up on the mat's front corner, opposite the wave face, to bury yourself a bit, creating an edge. The infinitely variable shape of a mat is what makes the experience different from that of a boogie board. This means you can fluid, generating speed, or slow yourself by leaning back and tugging on the front of the mat to create a snowplow effect. Mats are by far the most dynamic device I've ever tried to surf on—every ride is a different one. 
You could drag a mat along in your carry-on for your next vacation to Florida, and ride one in board shorts, but if you're hoping to take one to a surf break on the west coast, you're going to want the same wetsuit you'd ride a traditional surfboard in. I use a 5/4mm with a hood—but then I grew up surfing in Seattle. 
Is This Really Surfing? 
In the course of two weeks, we caught waves in three states, slept in tents, tackled the most famous road in the world on two wheels, and didn't waste any time trapped behind RVs or sitting in Bay Area traffic. Carrying mats, rather than boards, meant we were able to enjoy the road as much as the water. 
Riding waves on an inflatable mat is an acquired taste, but if you're content to just be riding, then one of these things can help you do that more often, and more easily, than just about anything else.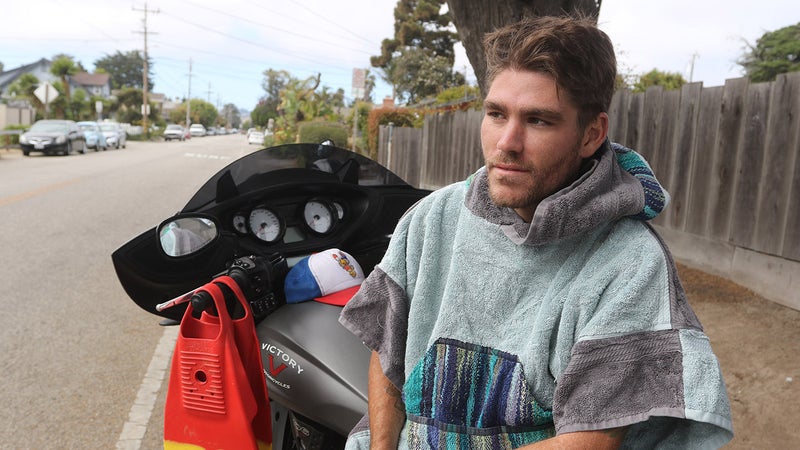 Trending on Outside Online