Pick Your Paddle
Up a creek? Find the right trip—raft, sea kayak, or canoe—and the right adventure level for your family.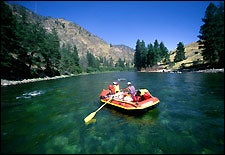 Heading out the door? Read this article on the new Outside+ app available now on iOS devices for members! Download the app.
Paddling safely for nearly a month on a foreign river unquestionably requires a mix of knowledge, skill, and gusto that takes years to accrue. But the rewards to be gleaned from spending a few long summer days on wild water aren't reserved for the weathered elite. Even if you can't tell a downstream V (aim for it) from an upstream V (avoid it), there are still plenty of ways for your clan to have a memorable aquatic adventure.

Staying current: rafting's green waters and white rapids

With options like sea kayaking near orca pods off Vancouver Island, canoeing along Utah's 1,300-foot limestone cliffs, and rafting the Grand Canyon's ten-foot waves, it's impossible to pick the perfect paddling trip based on awe and excitement alone. Instead, match your family dynamic with a paddling style, be it sea kayaking, canoeing, or rafting.
"You don't want to put kids, or even adults, in situations where they are going to be stressed," says Gordon Black, the American Canoe Association's director of instruction and safety education, and father of two. "Paddling trips are not bird-watching."


If your kids are younger than eight, consider a canoe trip. The boat's wide berth and open hull mean kids can fidget and hop in and out easily and often. Black simply tosses his older son, four-year-old Ian, overboard when he feels like swimming, and scoops him up when Ian's had enough. (Life vests are a must.) Likewise, it's easy for you to move around when your kids need more sunscreen or a snack.


Large bodies of water, where you're more likely to get close to cool beasts like whales and sea otters, are better traveled in fast sea kayaks. But while kayaks' narrow hulls and low centers of gravity deliver efficiency, their design also means your kids will be confined to a small cockpit, where they'll have to sit still and out of your reach for long stretches. And single kayaks are tippy. Tandems are more stable and the best option for parent-child teams.


Whitewater rafting, the most pumping of the three paddle sports, is a roller-coaster/log-flume hybrid, often with calm stretches great for wildlife-spotting and swimming. When considering rafting, Black suggests asking yourself how well your kids follow directions and how remote and difficult a trip you're willing to go on. All adventure trips have risks that experts can mitigate, but kids must do exactly what a guide says, instantly. In a canyon of roisterous rapids, miles from any hope of quick rescue, there's no room for attitude. And children under 60 pounds typically can't go; the little tykes would be airborne after every bump. Some outfits have designated family trips, with entertaining guides and meals of grilled cheese in lieu of grilled salmon. A family-specific departure also means it's less likely you'll have a sourpuss on the trip bemoaning kids acting like kids.


Still not sure which sport is right for you? Talk to families who've haddled before. Get their input. In the end, says Bruce Lessels—coauthor with his wife, Karen Blom, of a new book called Paddling with Kids—the thing that matters most to your children isn't always where you're going, but with whom. And that's you.


Here are nine trips, with varying levels of difficulty, to help you decide.
Rafting

Into the drink: staring down the Grand Canyon's Colorado River
BEGINNER / CHAMA RIVER WILDERNESS, NEW MEXICO
Squirreled away in damn-that's-gorgeous country along the 33-mile stretch of the Chama River between El Vado and Abiquiu Reservoirs are dinosaur tracks, Indian ruins, and old homesteads to explore, plus wild turkeys, bears, deer, cougars, elk, bald eagles, and beavers for the kids to spot. This trip is best run in three leisurely days, ample time to savor the passing vistas of pastel-striped sandstone canyons as you float into the heart of northern New Mexico's Georgia O'Keeffe country. You'll enjoy trout fishing and hiking, as well as tall tales round the camp stove, sweet dreams under the Milky Way, and all the other moments that make families feel like the stars of their own Western movies. There aren't many rapids to speak of, but you will find an occasional Class II during the first day and a half, and a few more Class IIs (and one Class II-III) after passing Christ in the Desert Monastery, in the last three miles of the trip. Try New Wave Rafting in Santa Fe ($400 per person, minimum age: eight; 800-984-1444; www.newwaverafting.com) or Far Flung Adventures in Taos ($450 per adult, minimum age: six; 800-359-2627; www.farflung.com). May and June are the best months to go.

INTERMEDIATE / MIDDLE FORK OF THE SALMON RIVER, IDAHO
This rollicking kid pleaser has it all: happening hikes and steamy hot springs, pulse-quickening Class III-IV rapids that are more exciting than daunting, historic homesteads, river otters, mule deer, and other wildlife—all with a grand backdrop of stunning Western scenery. Outfitters put the rafts in at Boundary Creek, and then you practically fly down 100 miles and 100 or so rapids—descending 3,000 feet in the process—to the take-out at Cache Bar. En route, stop and hike to Rattlesnake Cave and other archaeological sites left behind by the Sheepeater Indians, rejuvenate under the 1,000-foot Veil Falls, soak in the hot springs at Sheepeater and Sunflower Flat, and float trout-teeming waters where you can teach junior how to cast a fly. The first few days offer a dozen or so patches of nonscary whitewater, plenty of time to warm up for the bigger stuff, which comes when you trade alpine scenery for the narrow walls of Impassable Canyon.
Snowmelt off the nearby Sawtooths defines the two seasons of this trip. Until mid-July, the river is too big and too cold for kids under 12, but in late summer, lower river levels and warmer water accommodate kids as young as eight. Either way, the big rapids (Pistol Creek, Rubber, Powerhouse, Tappan Creek, and Velvet Falls) pack in the thrills. Action Whitewater Adventures offers six-day trips that cost $1,495 for adults and $1,255 for kids (800-453-1482; www.riverguide.com).

ADVANCED / COLORADO RIVER THROUGH GRAND CANYON, ARIZONA
More African Queen than Knott's Berry Farm, rafting the gargantuan Grand Canyon is nothing if not intense. You need to work your way up to this Holy Grail of river trips, where eight- to ten-foot waves are normal and the rapids so huge they merit a one-to-ten rating scale of their very own bad selves. Kids should be at least 12, but start planning when they're ten; you often have to wait as long as two years to get on a commercial trip.

Once you're finally afloat, navigating the cafe-au-lait Colorado is unforgettable. It's not all a giant washing machine, and between the mega-rinses and super-spin cycles of legendary rapids such as Crystal, Lava, Granite, Hance, and Horn (rated eights, nines, and tens), you'll find long, langorous drifts and hikes to Anasazi ruins and idyllic waterfalls such as Elves Chasm, Beaver Falls, and Deer Creek. Wildlife encounters are common—bighorn rams butting horns over ewes on the banks, ringtail cats rummaging through your gear at night, and even the occasional scorpion lurking by the groover (the portable toilet named for the creases the sides of the can "groove" into your butt).

Most commercial outfitters put in at Lee's Ferry and run all or most of the 225-mile journey in five to 19 days. Watercraft go well beyond rafts: You can choose among everything from motorized pontoon boats to classic wooden dories, but the most playful option is the 12-day excursion offered by Orange Torpedo Trips ($3,300 per person; 800-635-2925; www.orangetorpedo.com), in which you shoot every rapid (except Lava and Crystal) in your own inflatable orange duckie kayak (which doesn't require the skill of a hard-bodied kayak). This leaves you the option to climb aboard a support raft if you chicken out. When you flip, a guide paddles up, hauls you aboard, and helps you collect your yard sale from the bottom of the rapid.
Sea Kayaking

This is bliss: cutting across Vancouver Island's crystal waters
BEGINNER / HAMMOCKS BEACH STATE PARK, NORTH CAROLINA
With 4,650 square miles of warm, shallow estuaries and sounds protected from the open Atlantic Ocean, North Carolina's shores harbor choice journeys for first-time family kayakers. An optimal destination is Bear Island in Hammocks Beach State Park, about 25 miles southwest of Beaufort; its 3.5-mile-long sand beach offers aprEs-paddle swimming, shell gathering, and the chance to see the endangered loggerhead turtles that occasionally come ashore in summer.

Make this trip a two-day venture, with a night of beach camping on Bear Island. Start from the mainland put-in near the visitor center (where free trail guides are available) and follow the well-marked three-mile kayak trail that meanders through marshes and tidal flats. Along the way, tell the kids to keep an eye out for great blue herons, egrets, oystercatchers, and ospreys. Make sure to enter with the incoming tide and leave with the outgoing tide to facilitate paddling and avoid low-tide shallows. If you're game for more, a similar water trail circumnavigates the park's Huggins Island.
The trails can be paddled all year; water temperatures range from 50 degrees Fahrenheit in winter to the eighties in summer. Camping is by permit only—get one at the park's visitor center (910-326-4881; www.ncsparks.net) for $8 per night—and prohibited in the nights with, and surrounding, summer full moons, when turtles are nesting. Island Rigs Kayak (252-247-7787; www.islandrigs.com) leads day trips to Bear Island ($45 per adult; $65 per adult and child sharing a tandem kayak) and rents kayaks (3 days: single, $125; double, $150).

INTERMEDIATE / BROKEN GROUP ISLANDS, WEST OF VANCOUVER ISLAND
The Broken Group—more than 100 islands and islets off the west coast of Vancouver Island—is a favorite with families because open-water crossings are short, beach landings easy, and the shorefront camping clean, beautiful, and replete with composting outhouses. Add to this the prime wildlife viewing, featuring bald eagles, seals, sea lions, and killer, humpback, and gray whales, and you'll keep everyone entertained. While some exposure to the open Pacific, with its fog and wind, makes this trip occasionally challenging, the protection of the many islands helps paddlers experience the wild outer coast without the worries of surf landings and monstrous groundswell. Wilderness Inquiry (800-728-0719; www.wildernessinquiry.org) runs five-day trips ($675 per person) that begin and end at Toquart Bay, a base camp on the northern shore of Barkley Sound. (With water temperatures often in the sixties, Wilderness Inquiry suggests that paddlers weigh at least 90 pounds to reduce the risk of hypothermia.) Spend the first night on Hand Island, one of the inner islands, where you might see a stone fish trap used by the Nuu-Cha-Nulth people who once inhabited these shores, before heading farther west toward Dodd and Turtle islands.

Ultimately, the beauty of the Broken Group is its scale—much more intimate than Washington's San Juan Islands—which allows kayakers to explore several islands each day. Make sure to picnic in the Tiny Group, a cluster of islets where low tide exposes white-shell beaches.

ADVANCED / DOWN EAST ISLANDS, MAINE
Some of the Atlantic seaboard's finest ocean paddling is among the 2,000 islands on the untamed coast of Maine. Set your sights on the Down East Islands, the 255 lumps of earth along Maine's northern shore—a secret world of sheer headlands, evergreens and pastures, and granite islands. The Maine Island Kayak Company (800-796-2373; www.maineislandkayak.com) offers multiday trips. The three-day journey ($495 per person) from Stonington to Acadia National Park's Isle au Haut is a true Down East kayaking experience and requires some paddling endurance. Here, risks associated with tidal currents and the ever-cold water (55-63 degrees Fahrenheit) are real, but can be negotiated safely when the weather is right. (Maine Island Kayak Company suggests that paddlers weigh at least 90 pounds.)

You'll launch from the fishing port of Stonington, then wind among small islands and their white-shell beaches, and, if conditions allow, paddle far beneath the rugged cliffs of the little-known Isle au Haut. If you climb the steep, one-mile trail to the top of Duck Harbor Mountain, you'll be rewarded with a smashing view of booming surf, some 300 feet below.
Canoeing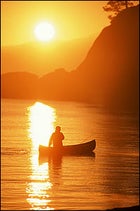 Paddle-perfect paradise: the calms of North Florida's Sante Fe
BEGINNER / CONNECTICUT RIVER, NEW HAMPSHIRE
A 12-mile leisurely paddle on the Connecticut River, beneath New England's birches and sugar maples, recalls The Wind in the Willows, when novice boater Mole learns "there is nothing—absolutely nothing—so much worth doing as simply messing about in boats." Beginner families can relax on the wide and peaceful water, where kids can find their balance and learn about the business end of a paddle.

Start a weekend trip in Lyme, canoeing downriver past woods, farmland, and quiet towns to a cabin just above Wilder Dam and just below Dartmouth College. Overnight at the rustic Titcomb Cabin, a spruce-hemlock log building with a deck and bunks for four people, where you can mess around in the river and then warm yourself by the fireplace. From May and into the fall colors of October, Dartmouth's Ledyard Canoe Club (603-643-6709; www.dartmouth.edu/~lcc/) rents canoes for $15 to $25 a day, gives lessons, and manages Titcomb Cabin, $10 a night per person.

INTERMEDIATE / SANTA FE RIVER, NORTH FLORIDA
It might come as a surprise, but Florida has more underground springs and rivers than any other spot on the planet. Tea-colored rivers like the Santa Fe, north of Gainesville, are fed by springs that bubble up from caves along the banks, adding a dimension to a canoe trip: When you've had it with paddling, you can snorkel in the springs, where clear and cloudy water mix, and camp under dripping cypress trees—all the time mingling with gators, screech owls, snapping turtles, and other swamp critters. It's a primordial catharsiS—if accompanied by bug spray.

For a three-night, 32-mile trip, start outside the town of High Springs. Rentals and shuttles are available from Santa Fe River Canoe Outpost ($28 per day per boat, $27 to shuttle four boats; 386-454-2050; www.santaferiver.com). The first day, paddle three miles upstream to River Rise State Park, where the Santa Fe River bubbles up out of the ground. Then retrace your paddle strokes and return downstream to a private campsite that Canoe Outpost will help you choose. Eight and a half miles down from your put-in is iridescent-blue Ginnie Springs, where divers can explore underwater caves (hiring a guide is required), and you can camp in the 200-acre private campground ($14 per adult per night, $6 for kids 7-14; 386-454-7188). In the 14 and a half miles between you and the takeout at the U.S. 129 bridge, keep an eye out for a manatee—they're rare but there.

ADVABCED / SAN JUAN RIVER, UTAH
For hundreds of years the San Juan River was the heart of the Anasazi civilization; people drank its waters and farmed its banks. Today you can float through history and paddle 26 miles of the Utah river in just a few hours, but count on at least three days if you want to explore the abundant remains of this culture that began blossoming 3,500 years ago. Poke around areas with petroglyphs resembling helmeted spacemen, a football field's worth of intricately painted pottery shards (some with the potter's fingerprints), and ancient homes and rock shelters such as the River House. But don't forget the rapids. These Class II rides—like Eight-Foot Rapid, whose name billboards the distance you'll drop—offer plenty of fun as you work your way from Bluff to Mexican Hat, camping on sandy beaches at night. Along the way, you'll paddle through a geology lesson that gets especially interesting when you reach the 1,300-foot limestone canyon walls known as the "Gooseneck of the San Juan." Here the river makes 12 miles worth of snaky oxbow turns, in a distance covering only three miles as the crow flies. Centennial Canoe Outfitters charges $400 per person for a three-day trip, no discount for children (877-353-1850; www.centennialcanoe.com).
Trending on Outside Online