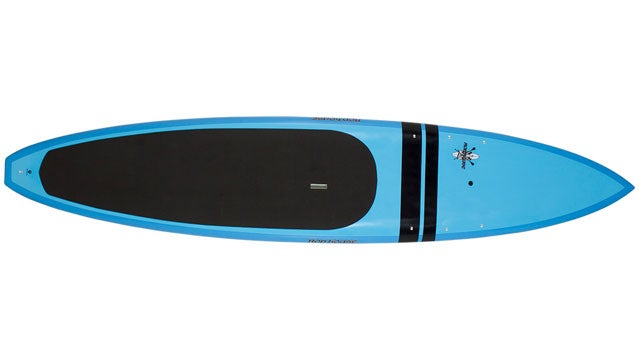 Courtesy of Riviera Paddlesurf(Photo)
Heading out the door? Read this article on the new Outside+ app available now on iOS devices for members! Download the app.
Riviera Ron House 12'6″ Coastal Cruiser
BEST FOR: Everything, with a nod to touring
When my morning-sick 28-year-old sister Rose, who had never stand-up-paddled before, had a chance to go out on the water on a morning with light winds, I put her on the Coastal Cruiser. About five minutes after she stood up on the board, a bottlenose dolphin surfaced in the channel ten feet away. She screamed, shuffled a couple of baby steps back, and then froze. After realizing how stable the 30-inch-wide, 5-1/4-inch-thick board was, she relaxed, and enjoyed the paddle.
San Clemente-based shaper Ron House put four decades worth of experience into designing the Coastal Cruiser, and it shows. It's a great choice for beginners who, after shelling out more than a grand for a touring board, will probably want it to pull triple duty for surfing and longer expeditions too. On days when I went out with friends on racers, I kept up when paddling downwind. The board was mobile enough to handle sharp turns in the narrow, winding tidal creeks around James Island, and sturdy enough that the wake of passing boats in confined areas weren't a worry. If there's a gripe, and it's a small one, the board doesn't move as fast upwind on choppy days.
The 12'6 board surfs well too: The flat bottom and a sharp, rockered nose and tail seemed made for the baby waves off Folly Beach. For longer expeditions—read: tour, surf, tour, surf—there are six leash plugs for tying down gear.
YOLO Predator Wide 12'6" Gator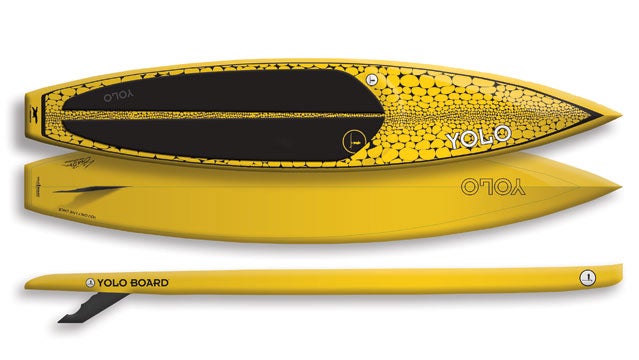 With a unique cut, the Gator is the stand-up paddle equivalent of a '57 Chevy, a boat with a lot of float that also inspires second looks. Attracted by the classic design and loads of extras, many of my friends and neighbors graciously offered to test it.
On windy, choppy days, the board sliced through the slop with enough ease that testers felt the need to brag about it to anyone behind them—read: me. "I'm almost putting it on plane," my friend Chris yelled back after we took off from his dock for an afternoon paddle through James Island's tidal creeks. If there's a gripe, it doesn't surf as easy as flat-bottomed touring boards, but that's because it's made for long, fast training runs.
The plumb bow and a pronounced waterline under the front third of the board cut through rougher conditions that moved other flat-bottomed boards around, allowing paddlers to stroke harder and keep a straight line. At 30 inches across and six inches deep, it can carry a big paddler and plenty of gear—up to 250 lbs. Bigger passengers might nitpick, as the side rails of the sunken swale cut off room that might otherwise be available for a wider stance. (YOLO said those side rails will be gone in next year's model.)
The epoxy and carbon craft has plenty of bells—six leash plugs, a GoPro mount up front, and a GORETex self-breathing valve, and a LiftSUP retractable handle that makes carrying the 25-lb. plank easy. The real beauty of the board, though, shows in the water, where it can cut a line and leave little more than exclamations in its wake.
Kialoa Hulu Light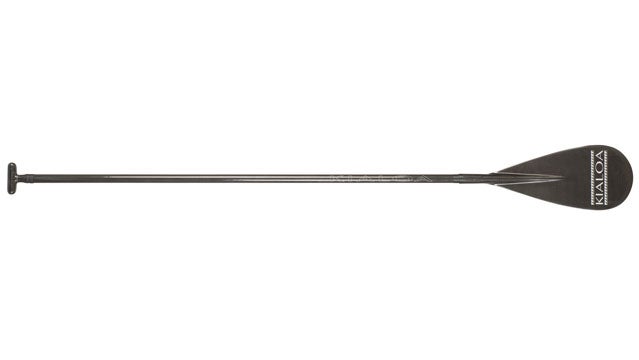 BEST FOR: Comfortable, powerful strokes during training and racing
When I first took this paddle out of the box, one thing stuck out: The middle of the shaft had an oval shape. Kialoa founder Dave Chun added the feature after customers using outrigger paddles with the same feature raved.
The design adjustment makes perfect sense. The paddle almost disappeared in my hands during long afternoon runs. It felt natural enough in my grip that when I switched to rounded shafts, I wanted the Hulu back.
The teardrop-shaped blade features a slight curve near the tip, which lets the paddle make a cleaner entry into the water with fewer bubbles—allowing it to grab more water for a more efficient stroke. The thinner, lighter (17-ounce) versions of the paddle, the hi-mod carbon fiber Ultralight and Ultralight Gerry Lopez, are best left for expert racers. Beginners and intermediate paddlers looking to develop their strokes should stick to the Hulu, which has a thicker carbon fiber core (19 ounces) that can better handle nicks, strikes, and any awkward, limb-snapping strokes.
Werner Grand Prix M1000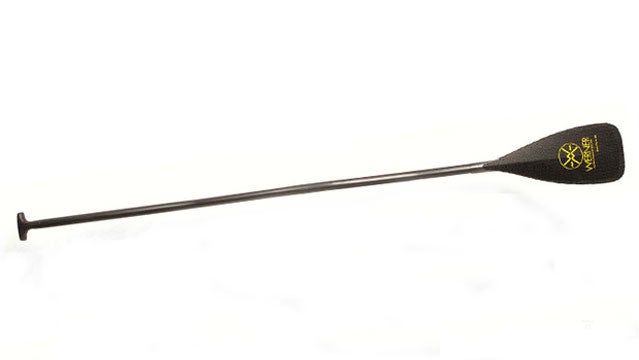 BEST FOR: Going light during long training runs and racing
"That's light," my neighbor Lawton, a long-time SUPer who raced in Hawaii, said when he first grabbed the paddle. Every other tester who lifted the roughly 15-ounce paddle had a similar, if slightly more vulgar, reaction. No performance racing paddle is lighter.
The lack of weight was welcome on long, fast training runs. The narrow, rectangular 12-degree offset blade allowed for powerful strokes near the board. Like the Hulu Light, a slight curve at the tip of the blade offered a clean entry. At the other end, the sturdy, palm-style grip felt better than the standard straight-edge handle found on so many other paddles.
The Grand Prix comes in three sizes. Werner has a great online sizing chart for ordering the best fit. (The midsized M1000 will fit the widest range of paddlers). There's also a bent shaft option.
Lead Photo: Courtesy of Riviera Paddlesurf