Gear Guy
Stop Buying Gear and Build It Yourself Instead
Here are five places that can teach you how to build everything from a surfboard to a teardrop trailer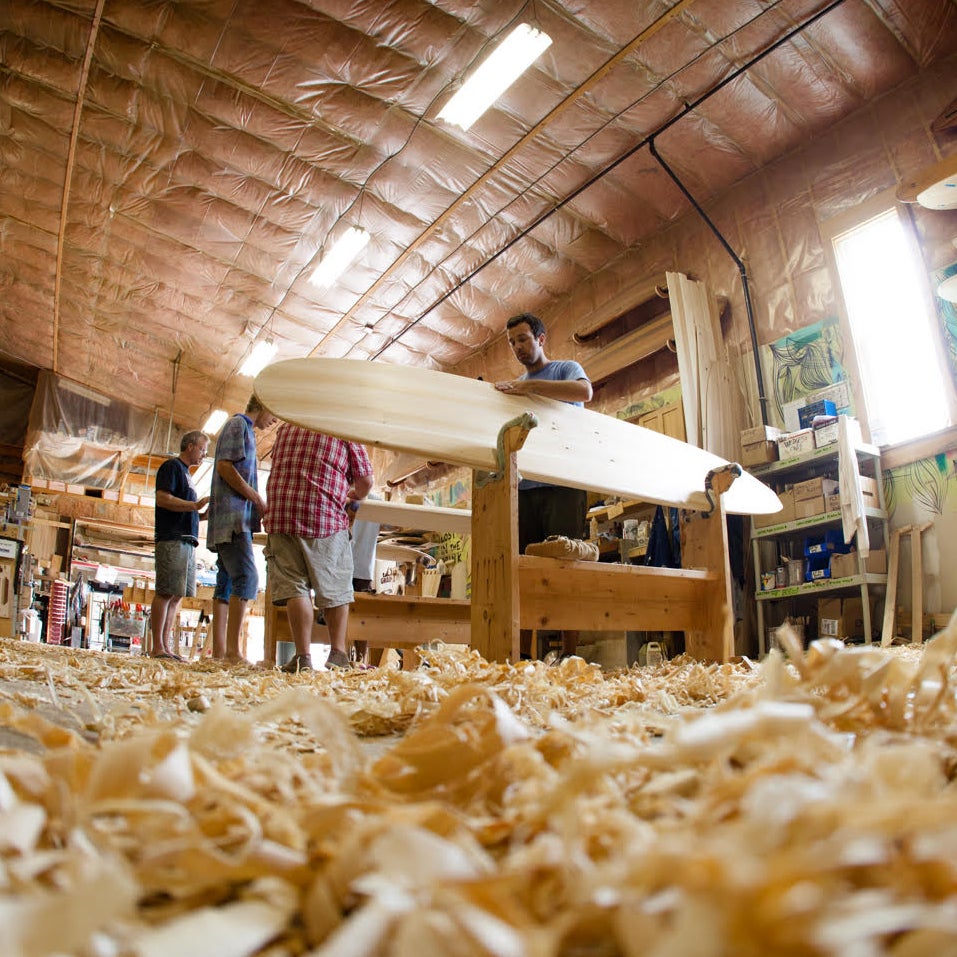 Heading out the door? Read this article on the new Outside+ app available now on iOS devices for members! Download the app.
It's easy to walk into a shop and buy gear. But what if you want to make your own outdoor toys? For those who are brave enough, plenty of workshops will help you get your hands dirty. Here are five of the most popular.
---
Grain Surfboards
Grain Surfboards started teaching people how to make surfboards out of its facility in York, Maine, back in 2005. The company has since ballooned and now has an additional space in Long Island, New York, as well as mobile workshops across the country. Grain's four-day classes cost $1,750, and each participant walks away with one of 15 different wooden surfboards (everything from a 5-foot-4-inch fish to a 10-foot log) made from white cedar. Instead of a foam core, the boards are hollow with interior frames, which makes them just as light but significantly stronger. "They are a little more closely associated with an airplane wing," Grain owner Mike LeVecchia says. If you prefer to build a wooden board in your own garage and have some experience with a hand plane, you can get a wooden surfboard kit for $700 to $950.
---
Oyster Bamboo Fly Rods
Former pro cyclist Bill Oyster makes some of the world's finest bamboo fly rods, which are known for their feel and slow action. He'll teach you how to make your own during a six-day class in his facility in Blue Ridge, Georgia. The classes cost $1,760 and are booked full eight to ten months in advance. Oyster keeps them small (eight students) to ensure lots of one-on-one instruction. "You don't have to know anything or bring anything," Oyster says. He's been teaching the class for 18 years, and every student walks away with a completed rod that they're encouraged to test on the nearby Toccoa River.
---
Bark River Knives
Three times a year, this Michigan-based knife company, which makes everything from high-end kitchen cutlery to tough everyday carry pieces, holds what's called a Grind-In, where people can make their own blades at the company's Escanaba facility. During the three-day weekend course, which costs $280, participants learn everything from grinding a blade to crafting a handle. Beginners usually make one or two knives (there's an extra $100 charge per additional knife), and experienced knife makers can create three or four. If you have your own knife that you want to modify or fix, they're happy to help with that, too.
---
WoodenBoat School
For nearly four decades, this Brooklin, Maine–based company has been teaching people the art of boatbuilding. WoodenBoat offers a staggering 89 courses, including everything from a six-day introduction to boatbuilding ($850) to a six-day class where participants build a traditional New England dory ($850). In some classes, participants build individual boats that they take home. In others, the group builds one boat that gets raffled off at the end. There's room to park your boat at the facility if you want to sail in, as well as on-campus housing. Sign up soon if you're interested for this season (June through September), because more than half of the classes are already full.
---
Chesapeake Light Craft Teardrop Campers
This company is best known for its boatbuilding classes and plans, but it also offers a yearly two-week class ($5,500) where you drive away with your own teardrop trailer. Made from marine-grade plywood, the finished trailer comfortably sleeps two, has space for a kitchen, and includes a reinforced roof so you can attach racks for carrying kayaks or bikes. Only five people can register for the class to maximize one-on-one attention. This year's class is full, but you can get on the wait list in case there's a cancellation.