Your Next Surfboard Will Be Made from Algae
A surfboard manufacturer and UCSD researchers teamed up to create the world's first sustainable, algae-based surfboard, which they'll have the pros test before producing it commercially.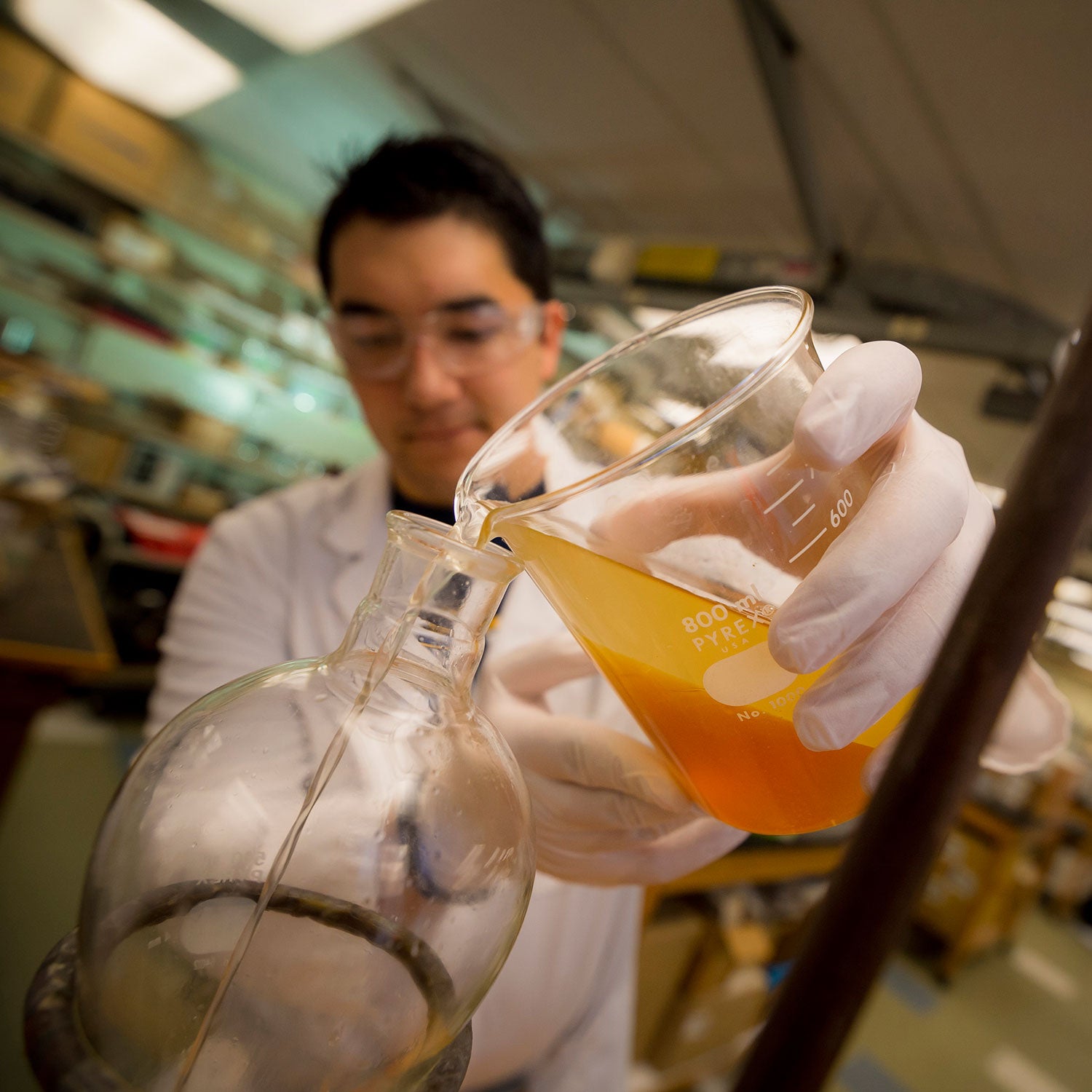 Courtesy of Arctic Foam(Photo)
Heading out the door? Read this article on the new Outside+ app available now on iOS devices for members! Download the app.
Last month, developers unveiled the world's first sustainable, algae-based surfboard at the premiere of National Geographic's documentary World's Smart Cities: San Diego, which the board will tour with around the world. 
"How can you be a surfer and totally connected to the environment, but your connection is a piece of plastic made from fossil fuels?" says Stephen Mayfield, one of the board's creators and director of the California Center for Algae Biotechnology at UCSD. "It didn't seem right."
So Mayfield and his team came up with an idea to address this irony: What if you made a surfboard out of algae? He shared the idea with Marty Gilchrist, the business director at Arctic Foam, North America's largest surfboard blank maker, who immediately saw the product's potential.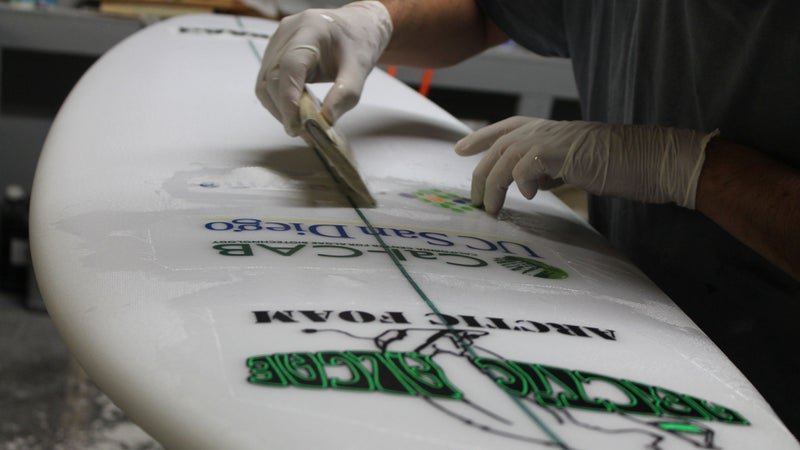 If they were going to change how the industry made surfboards, it made sense to start from the bottom up. Surfboard blanks—the blocks of material from which boards are shaped—were the perfect entry point. 
Most surfboard blanks today are made from polyurethanes derived from polyols, a fatty acid or unsaturated oil that comes from vegetable oils or fossil fuels. These are groups of liquid molecules that react with alcohol and become polyurethane, a thick compound that can be cooked, shaped, and molded. Polyurethanes form a surfboard's central core. Because algae oil is chemically similar to petroleum-based polyols, it can be substituted for the latter, which is exactly what Mayfield and Gilchrist did. 
The U.S. government helped foot the bill to develop the flagship algae-based board. (The U.S. Department of Energy funds Mayfield's work, which goes far beyond surfboards, to provide alternative fuel sources and reduce greenhouse emissions.) But adapting a new ingredient in the process wasn't easy. "This is all first-generation stuff," says Mike Burkhart, associate director of the California Center for Algae Biotechnology.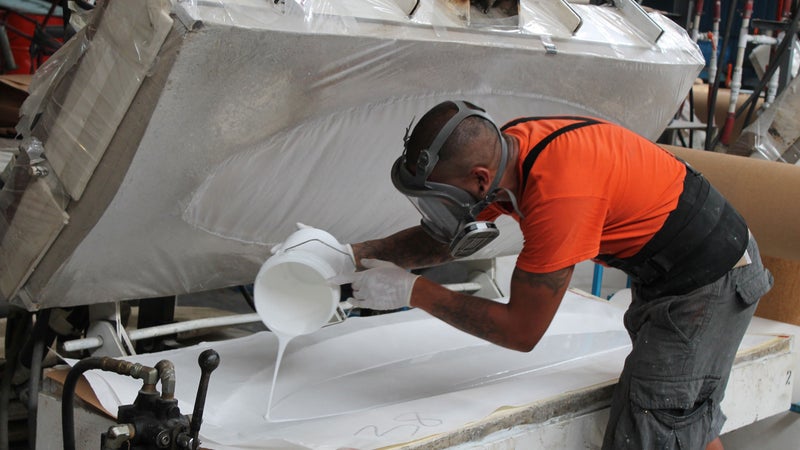 To source enough algae oil for the initial run of 50 boards, Mayfield contacted Solazyme, a San Francisco–based biotech that produces large quantities of algae oil for everything from commercial lubricants to anti-wrinkle cream. Solazyme agreed to partner with UCSD and supply enough oil for the first batch of products. 
The algae oil from Solazyme looks a lot like supermarket-bought vegetable oil when it gets to the lab. There, chemists add an alcohol to break the bonds and thicken the formula into polyurethane, creating a new compound that has the viscosity of molasses or engine oil. 
Arctic Foam then adds a catalyst, usually a silicate-like sand or glass, that hardens the compound while it's contained in a coffin-shaped vat. This is an important step, as the hardness of the final product has a major effect on how the board behaves. "They have recipes they jealously guard," Mayfield says. "An eye of newt and a tinge of beaver tail." 
The first two boards were failures. One came out too rubbery, and one expanded so quickly that it "exploded," says Mayfield. The engineers had to tweak the six-component recipe several times before they landed on a formula to yield high-quality material. Once they nailed the process, Arctic Foam can make the board blanks. Finally, it's cooked into a block that the company shapes with a computer. 
"There's a beautiful symmetry in making an algae surfboard," says Mayfield. "Part of it is that algae comes from the ocean."
Arctic Foam plans to fine-tune the formula as it receives feedback on the prototypes, says Gilchrist. They hope to get early versions into the hands of about 20 well-known pros, including Rob Machado, Kelly Slater, and John John Florence, to test and promote. 
"Once the pros sign off on it, we're going to start mass production," Gilchrist says. UCSD will soon pass production of the polyols over to an industrial lab to produce them on a mass scale with the goal of making the boards commercially within three to six months. There's no cost estimate yet, but Arctic Foam hopes to bring it close to the market norm of about $600.
Other manufacturers are skeptical that algae boards will catch on. Kim Thress, president of U.S. Blanks, Arctic Foam's main domestic competitor, said the company isn't yet considering foam derived from algae oil. "We have done a number of environmentally friendly things in the past," she says. "But none of them seem to pan out with quality blanks. We aren't working on anything like that right now."
As for Arctic Foam, the company says the new boards will perform as well as if not better than their traditional counterparts, thanks to a tighter cell pattern that makes them harder, more flexible, and more buoyant. At least that's what Arctic Foam claims. We'll have to test one ourselves before we can corroborate that promise. 
Lead Photo: Courtesy of Arctic Foam
Trending on Outside Online