Gear Guy
What Should I look for in my First Pair of Climbing Shoes?
I'm looking to buy my first pair of climbing shoes, and I'm completely lost. What features should I be looking for?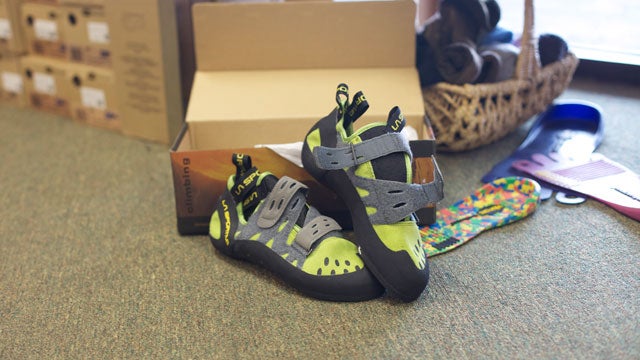 Heading out the door? Read this article on the new Outside+ app available now on iOS devices for members! Download the app.
The world of climbing is filled with opinionated people. For advice on my first pair of climbing shoes, I turned to one of them: Saylor Flett, a full time teacher for Feather River College's Outdoor Program where he has introduced hundreds of students to climbing.
He's been obsessed with all things climbing for more than a decade, and in spite of having a real job—is a proper dirtbag. His position offers him ample time to live the dream—taking off to Yosemite every May to sleep in a cave and climb big walls like El Cap.
Saylor told me that everyone should absolutely buy their first pair of climbing shoes from a reputable shop, but warned me to be wary with the fitting advice that you may receive from the employees. "Some tough guy gym rat who can do pull ups with his pinkies is going to tell them to buy a pair of shoes that are a size and a half too small. They aren't going to clip their toenails, are going to be miserable in those shoes, and they are going to quit climbing," he said.
A super snug fit is synonymous with performance in climbing shoes, but as a beginner, you won't need an incredibly high level of performance. Saylor tells all of his students not only to start off comfortable, but also to start off frugal. "Until you develop good footwork, you will burn through shoes, so go cheap because you will probably ruin for first pair before you develop those skills."
Saylor says that either velcro or lace is reasonable for a beginner depending on what kind of climbing you plan to do. "If you plan on climbing short routes you should go with velcro because they are easier to get on and off," says Saylor. "If you are going to climb all day, which is still appropriate for beginners, you should go lace up." He personally prefers lace-up because it offers a more precise fit.
To test Saylor's claim that I would get under-sized at a shop, I researched the best fitters near where I live and went to The Northwest Outdoor Store. I was helped by the manager, Darryl Rasmussen, who has been climbing for 23 years and cannot do pull ups with his pinkies.
Darryl spent a half hour with me talking about the subtleties of a good fit for a beginner while I tried on shoes. "We are looking for a glove like fit with a little curl in the toe," Darryl told me as I slipped on a pair of size 41 (I wear a 9.5 sneaker) La Sportiva Nagos' ($99).
A slight fwoomp sound, almost like burping a tupperware, came out of the shoe when I slipped in my foot. "Oooh, that's a nice sound," said Rasmussen. "I bet that's going to be a just right fit." And it was. My toes were slightly curled and the shoes left no room for movement in the heel, but I would not have called them uncomfortable. Darryl also focused my attention on my shoe's leather construction—which will allow them to expand—and suggested I err on the side of too small.
We decided on a pair of La Sportiva Tarantulas ($89) because they had a lower price point. I would have purchase them in a 40.5 because they were velcro—laces offer an easier to tailor fit because they tighten almost all the way to the tip of the shoe.
If the La Sportiva Tarantulas aren't for you, do your research but don't be tempted to buy off a chart you see online. Go to a store and speak with an expert. It will be worth your time and even potentially extra money.
Don't forget that this is an important sport to do right. As my old friend Saylor often says: "Climbing is not a great activity to learn from your mistakes."
Gear Guy's advice, distilled:
—Do not buy your first pair of shoes online. Different brands vary widely in size. Go to a shop, get fit, have a conversation about the fit.
—Go inexpensive on your first pair.
—Even though you should shoot for a snug fit, make sure you are comfortable with that fit no matter what anyone tells you.
—Go velcro if you are buying these for a gym, go lace if you are planning on climbing for an extended time outdoors.
—If you get leather shoes expect them to expand. Do not expect synthetic shoes to expand.
—Go with a flat last. Absolutely do not buy a turned down last until your climbing warrants it.