Gear Guy
What's the Best Lightweight Down Jacket?
It's getting cold, and I need a light, packable jacket for the trail. What should I buy?
Heading out the door? Read this article on the new Outside+ app available now on iOS devices for members! Download the app.
We've turned a corner in technically advanced, lightweight down jackets: They are the modern sweater. Upholstered in some modern isotope of ripstop polyester, they look puffy on the outside, but feel incredibly light while on. Such jackets are now thin enough to wear under a coat, pack into a small stuffsack for easy travel, and are comfortable to wear fishing, on the sidelines of a soccer game, or just kicking around the house.
This final feature I discovered through experience last spring, when I moved into a new office heated only by woodstove. Often too lazy to stoke the fire, I simply lived in the coat for days on end. Goose down is still is the world's most efficient insulator—these light, fluffy feathers underneath the outward plumage of a goose hold the most dead air. And because the down is now packaged in modern science's softest, most advanced materials, these newer coats are more like a comfortable cashmere sweater. I'll admit, I've slept in it more than once.
Down is a great insulator, but it's usually too hot for aerobic sports. When nordic skiing in the coldest temperatures or hard climbing, a layered approach with synthetic materials often works best because the materials can adapt to your changing body temperatures, and you can shed layers for comfort. Down is for times when you need to stop moving and stay warm, such as sitting on the chairlift, or hoisting a climbing partner on a belay line.
With the advent of ultra-lightweight jackets, there's an even wider range of occasions to wear down. The following are our picks for the best new jackets in this class. All weigh around 20 ounces or less, and several come with a thin polyester bag for safe and compact storage.
Outdoor Research Men's Maestro
Marmot Tuner
Patagonia Men's Hi-Loft Down Sweater Hoody
Columbia Men's Powerfly Down Puff
The Best Lightweight Down Jackets: Outdoor Research Men's Maestro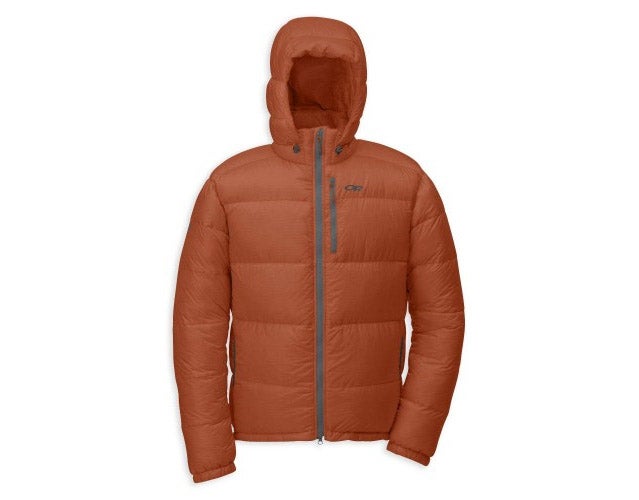 Designed as an ice-climbing accessory, the 800-fill Maestro is meant to keep a climber warm while belaying a partner up a sheet of ice. The $375 coat was purpose built with technical features like "shove-it" pockets inside for securely holding bulky objects like goggles or a water bottle; a down-filled internal collar; and a hood with a drawstring. Even the Pertex shell fabric aids ice climbing with a superior combination of waterproofing, breathability, and durability. This is an extremely compressible and comfortable 23.2-ounce tech piece. That doesn't mean you shouldn't sleep in it when safely back at camp.
The Best Lightweight Down Jackets: Marmot Tuner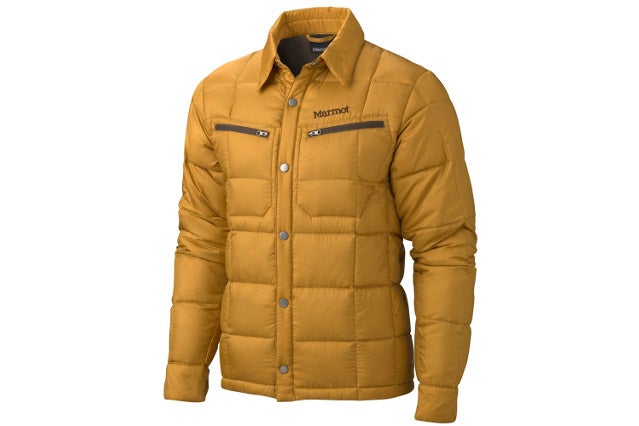 Vintage styling and snap cuffs speak volumes to the $165 Tuner's double duty as a trendy resort accessory and a midlayer on extremely cold runs. This 15-ounce jacket has zippered front pockets and a rugged shell of 100 percent recycled polyester. Like several other companies in the industry, Marmot carefully sources the 650 fill-power goose down in this coat to find material that is humanely harvested.
The Best Lightweight Down Jackets: Patagonia Men's Hi-Loft Down Sweater Hoody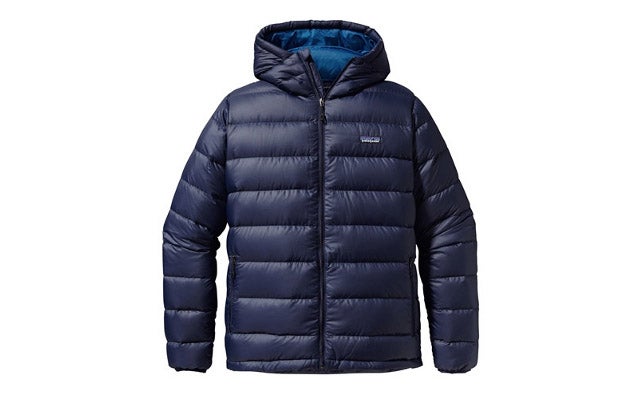 Patagonia makes the original down jacket perfectly appropriate to wear indoors. The $279 Hi-Loft has sweater right in the name, so you know it's great for hanging out in a ski cabin before the wood fire warms things up. The 15.7-ounce sweater has a hood that seals out wind and makes it a great layer under a coat for especially chilly days as well. The ripstop polyester facing repels water and is 100 percent recycled from soda bottles and old clothing. Inside is 800 fill power goose down, and the whole thing scrunches down into a small included stuffsack.
The Best Lightweight Down Jackets: Columbia Men's Powerfly Down Puff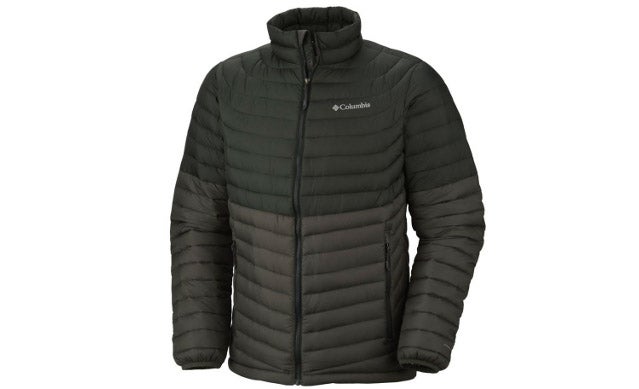 The ultra-light, 13.6-ounce Powerfly features Columbia's much advertised Omni-Heat material on the inside. It appears as small, mirrored dots packed close together that reflect back your body heat while letting moisture and excess heat through. It works well and even looks cool—if you turned the jacket inside out, it would make a killer Halloween costume. Powerfly's goose down measures 800 fill power, giving it one of the best insulating abilities in its class. On the outside of the $220 coat is a nylon formulated to repel water and stains.