Gear Guy
What's your take on foldable canoes?
When I was rafting in Alaska, I noticed some outfitters using a folding canoe called an Ally. It had an aluminum fre and was covered by what looked like the se material used for rafts. They must withstand wear and tear fairly well if they're used up there. Any experience with them? Herman Portland, Oregon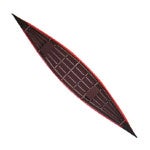 Heading out the door? Read this article on the new Outside+ app available now on iOS devices for members! Download the app.
I haven't used the Ally, but I can tell you why it's so popular. For one thing, as you note, it folds up, greatly easing transportation on a bush plane. Assembly is quick because the aluminum frame is joined with shock cords—like a tent pole—and basically snaps into shape. A PVC skin covers the frame.

Ally 815

For another thing, the Ally has a foam bottom that sits between the frame and the skin. That does a lot to help cushion the canoe against blows from obstacles in the river, while adding some extra flotation. With a little more flex in the base, as well as in the frame, the vessel can dissipate the impact from hitting rocks or logs, say, while flexing a little as it slides over obstacles. It also bounces around less on whitewater.


The Norwegian-made Ally's most popular model is the 815 ($1,795; www.bergans.no), which is big enough for two people and a fair amount of gear. It's 17 feet long, not quite a yard wide, and at 45 pounds very haulable.
For everyday use around a cabin or a location where transportation is not an issue, any aluminum or fiberglass canoe will work just fine. But I think the fact that the Ally is foldable, plus its sturdy design, are both big positives when your canoeing takes you far afield.