Gear Guy
Will bear spray ward off a mountain lion attack?
In light of the recent mountain lion attack in southern California, I was wondering if a bear spray like Counter Assault would work against a mountain lion? If not, what would? Chris Malibu, California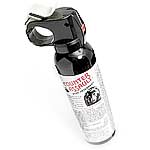 Heading out the door? Read this article on the new Outside+ app available now on iOS devices for members! Download the app.
An exceedingly interesting question. As most readers are probably aware, a cougar (aka mountain lion) attacked a couple of mountain bikers in California last month [Outside Online News: January 9, 2004]. They survived, but officials investigating the incident found something much more grisly: the body of a 35-year-old cyclist the same cougar had killed and stashed for later meals.

Counter Assault

Overall, cougar attacks are becoming more common given increasing human encroachment into mountain lion territory; all things considered, though, attacks are still exceedingly rare—maybe between a dozen to 20 per year in the United States. Your odds of being killed by a dog are ten times as great. (Need anecdotal evidence? I have a large scar on my right thigh where I was bitten by a rottweiler while bicycling a year ago.) But, mountain lions do have one trait that bears do not: They'll actually stalk and hunt a hiker or mountain biker, attacking at an opportune time. However, almost every documented mountain lion attack in the past century has involved only one person. That is to say, mountain lions rarely attack groups. So hiking with a friend or a group may reduce the risk. Otherwise, if you see a mountain lion, the best advice is to look big and look aggressive. Stand up tall, hold out your arms, make a lot of noise. Make it clear to the cat that you are NOT going to be an easy snack. Also, be sure to offer the cougar an exit strategy, so it won't just panic and charge straight ahead. Interestingly, dogs are not seen as a deterrent to mountain lion attacks. Most domestic dogs are easy prey for a mountain lion, so they actually can attract the big cats.
Pepper spray? Sure, cats have very sensitive noses, so that will work. The trick is hitting a very agile, fast-moving animal if it decides to attack. And, cougars are stealth hunters, so you might not even know it's there until it's too late. For peace of mind, though, Counter Assault is available from REI at $38 a canister (www.rei.com).
Overall, I think it's prudent to be wary when in cougar country, although I suppose it's also prudent to worry about rattlesnake bites, frostbite, poison ivy, bee stings, Lyme disease, and a bunch of other hazards that still remain more likely. In other words, pull this string and pretty soon you can't keep track of all the things you need to worry about.