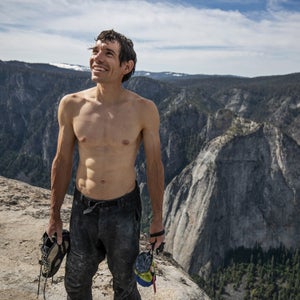 The new movie Free Solo is arguably the greatest film about climbing that's ever been made. In just over 90 minutes, it chronicles Alex Honnold's astonishing no-ropes ascent of the 3,000-foot sheer face of Yosemite's El Capitan, which he completed one morning in June, 2017. Even more impressively, it captures the unique mindset of Honnold, a perfectionist whose years-long obsessive pursuit of his dream gets complicated by an ever present camera crew and his growing love for his new girlfriend. As you might guess, being the focus of a deeply personal Oscar-caliber documentary and then answering probing questions by a constant stream of reporters and fans has had an impact on the guy. Outside executive editor Michael Roberts chased Honnold down on his film tour to ask about the risks and rewards of telling your whole story.
Follow the Outside Podcast
Outside's longstanding literary storytelling tradition comes to life in audio with features that will both entertain and inform listeners. We launched in March 2016 with our first series, Science of Survival, and have since expanded our show to offer a range of story formats, including reports from our correspondents in the field and interviews with the biggest figures in sports, adventure, and the outdoors.