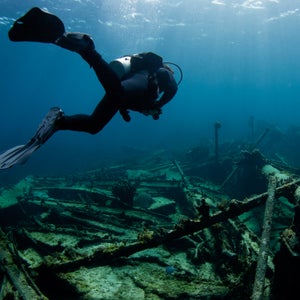 It could be one of the most incredible, yet perplexing, survival stories of all time: In 1991, a man named Michael Proudfoot was supposedly SCUBA diving on a shipwreck off the coast of Baja, Mexico, when his regulator—or mouthpiece—broke. He was alone, deep underwater inside a sunken ship, with only minutes to survive before he would run out of air. The string of bizarre events that take place next seem unreal.
Follow the Outside Podcast
Outside's longstanding literary storytelling tradition comes to life in audio with features that will both entertain and inform listeners. We launched in March 2016 with our first series, Science of Survival, and have since expanded our show to offer a range of story formats, including reports from our correspondents in the field and interviews with the biggest figures in sports, adventure, and the outdoors.