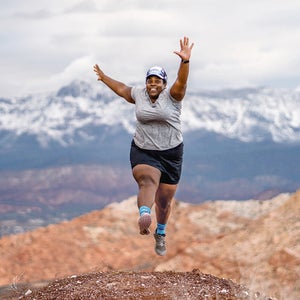 When Mirna Valerio first began running ultramarathons, she immediately got a lot of attention, but not for the reasons you might expect. Because of her body size, she didn't fit the accepted image of a long-distance runner. Her story isn't about an average athlete trying to get better. It's about what happens when people assume that someone can't possibly be an athlete because of the way she looks—and then how they how they react when she takes on enormous challenges and finds a way to keep going and going. This episode kicks off the second season of the Athletes Unfiltered podcast from Strava.
Podcast Transcript
Editor's Note: Transcriptions of episodes of the Outside Podcast are created with a mix of speech recognition software and human transcribers, and may contain some grammatical errors or slight deviations from the audio.
[Advertisement]
---------------
EPISODE BEGINS 
Outside Podcast Theme: From Outside Magazine and PRX, these are Dispatches, stories from our writers in the field.
Peter Frick-Wright (host): Most of the time when you're hearing about an athlete, there's an assumption that you're hearing about them because they've just done something for the first time or the fastest time, or they've come back from an injury no one thought they could come back from. And that's great. But those aren't the only kind of athletes stories. For the last couple of months, the team here at Outside has been working with Strava, the fitness app that tracks your workouts, to identify and tell stories about Strava members for season two of their podcast Athletes Unfiltered.
The show is hosted by Jean Mac, a runner who is about as fast as amateur runners get, but it's a show that's not necessarily about the fastest athletes out there, but people who are confronting that deep down stuff. It's not about winning races or setting records, but why they do what they do, the stuff that everyone grapples with when they know they need to get off the couch and out the door. So today we're bringing you the first story from this season about ultra runner Mirna Valario. Now, if you already know about Myrna, you might be able to guess what this is going, but if you don't, Mirna's story is about how running, which is usually so simple can get pretty complicated when you don't look like most runners, especially when you come on the scene and say to everyone, "I want to run a marathon and then I want to keep going." Here's Jean.
[Listen to Athletes Unfiltered here: https://blog.strava.com/podcast/mirna-valerio/]
---------
OUTRO
Frick-Wright: That''s Jean Mac talking with Mirna Valerio. This is the first episode of season two of Athletes Unfiltered. Find the rest of season two wherever you get your podcasts. This episode was written and produced by Jean Mac and Alex Capitan. Editing by me, Peter Frick-Wright, and Kyle McCall. It was brought to you by Strava, the best app for runners and cyclists with millions of users worldwide.
The Outside Podcast is a production of Outside Integrated Media and PRX. We'll be back next week.
Follow the Outside Podcast
Outside's longstanding literary storytelling tradition comes to life in audio with features that will both entertain and inform listeners. We launched in March 2016 with our first series, Science of Survival, and have since expanded our show to offer a range of story formats, including reports from our correspondents in the field and interviews with the biggest figures in sports, adventure, and the outdoors.