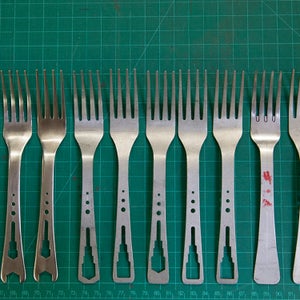 In this first episode of a new series exploring how gear gets made, we investigate the origin of arguably the most refined fork in history. When designer Owen Mesdag was a graduate student in the late-1990s, he fell in love with a particularly clever spoon. Engineered by outdoor brand MSR, it doubled as a stove-repair tool. Mesdag was enamored with it and thought, I want to make a matching fork. And how hard could that be, really? A fork is a fairly simple tool. Except Owen's fork didn't just have to be good, it had to be perfect. His obsessive attention to detail meant that he kept going back to do more testing, taking more trips to Asia, and redesigning the fork again and again, because it was never quite right. Producer Alex Ward has this story that explains why the business end of a fork tells us a great deal about the tireless designers who make our favorite things.
Follow the Outside Podcast
Outside's longstanding literary storytelling tradition comes to life in audio with features that will both entertain and inform listeners. We launched in March 2016 with our first series, Science of Survival, and have since expanded our show to offer a range of story formats, including reports from our correspondents in the field and interviews with the biggest figures in sports, adventure, and the outdoors.