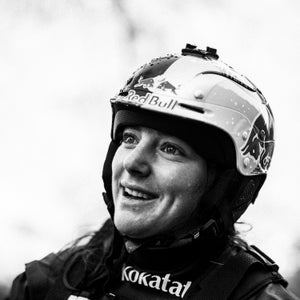 Nouria Newman is one of the best whitewater kayakers in the world. She's won numerous prestigious competitions and has completed historic first descents of some of the planet's most dangerous rapids. But it wasn't until she nearly drowned on a solo expedition in the Himalayas that she was able to truly reckon with the deadly toll of her sport—and discover what matters most.
---
This episode of the Outside Podcast is brought to you by Visit Florida, one of the country's great adventure destinations. Have you met a manatee? Airboated in the Everglades? Snorkeled the coral reef? Plan your next Florida adventure at visitflorida.com/outside
Podcast Transcript
Editor's Note: Transcriptions of episodes of the Outside Podcast are created with a mix of speech recognition software and human transcribers, and may contain some grammatical errors or slight deviations from the audio.
[Advertisement]
---------------
EPISODE BEGINS 
Outside Podcast Theme: From Outside Magazine and PRX, this is the Outside Podcast.
Michael Roberts (host): One of the best parts of working for Outside is sharing the stories of remarkable people who don't usually get a lot of attention in the media. Many of the most accomplished explorers, adventures, and outdoor athletes do what they do because it calls to them—and they just don't care if it makes them famous or pays the rent.
So it is with the subject of this week's episode: Nouria Newman, who is widely considered one of the top whitewater kayakers in the world. Her resume is full of wins at prestigious competitions and she's completed historic first descents of some of the planet's deadliest rivers. And yet, she owns little more than her boats and still lives with her parents.
What keeps Nouria going is her passion for paddling. It was that passion that caught the attention of assistant editor Maren Larsen, who was working on an Outside magazine feature about Nouria when she called me to say Hey, We gotta tell her story in audio. She was right, and today, I'm delighted to have Maren lead us through that story.
And speaking of passion: it's not just what fuels the people we cover here at Outside, it fuels all of us who work here, too. We firmly believe that getting outside is good for all of us—and that journalism about the outdoors and nature is critically important. Since we launched our website back in 1995, we have kept all our digital platforms free—including this podcast—and we want to continue to do that -- which is why we just created a contribution program to support our work. So if you listen to this show regularly and you believe in our mission to inspire active participation in the world outside your door, please go to outsideonline.com/contribute and give what you can to help ensure that our storytelling lives on for years to come. We really appreciate it.
Now, let's get on with the show.
Audio from Nouria Newman video clip: Here we go—wooh! Finally I'm away from any kind of road, so I'm by myself. Right now, I'm making the most of it. And the scenery: amazing. I'm happy.
Maren Larsen: It was August 2018 and French professional kayaker Nouria Newman was alone at the bottom of a canyon in the Himalayas. It was the second day of a weeklong solo trip, during which she planned to paddle 233 miles down a trio of rivers in a remote region of northern India. Based on what she was told, she expected to encounter only class three rapids—nothing really challenging for a paddler of her ability.
Newman clip: It's beautiful. I'm just hoping that behind that corner there, the river starts picking up. (screams) It's beautiful, it's beautiful. I'm so happy. And it keeps going! 
Larsen: Kayaking far-flung rivers alone is rare in the sport, even for elite paddlers like Nouria. But this was exactly the experience she was looking for after a rough couple of years. And as the footage from her gopro showed, it was all going well until, suddenly, she floated into a rapid that was much bigger than she was anticipating.
(audio from Newman's Go Pro in the background)
Larsen: The canyon walls had closed in around her, so there was no way to get to shore and scout the water. As she later explained to me, she decided to read the rapid as she went, proceeding as slowly as possible as she planned her moves.
Nouria Newman: And so I didn't have enough speed and I got pushed straight into a pocket eddy, which is pretty much like a little prison of water where I couldn't get out. So basically I was in a toilet flush.
Larsen: Her boat was pinned against a boulder, directly above a siphon.
Newman: That's one of the worst possible scenarios in kayaking because you have pretty high chances that you might get stuck under and drowned.
Larsen: Feeling trapped, she tried to get out of her boat and onto the boulder. She tossed her gear onto the rock first, but as she started to climb out, the river poured into her cockpit and flushed her into the siphon.
(whitewater sound stops abruptly)
Newman: As I was getting sucked in, I just thought, Oh my God, you're such an idiot. There's a 50% chance you're gonna die like this. You're so dumb.
And I got pretty lucky. I just flushed through and popped up. So I was pretty happy to see the light. But then I had to swim the entire next canyon and chase my boat and retrieve all my gear. While it was happening, I wasn't scared at all and then, when it all stopped, I kind of had this moment where like, okay, I was safe and realizing what had just happened. That was terrifying.
Audio from video clip: I'm cold, I'm scared, it's time to keep going.
Larsen: How Nouria Newman ended up here—alone, nearly drowned in a Himalayan canyon—tells you a lot about her and a lot about the sport of professional kayaking.
Kyle Dickman: I think what distinguishes her from other athletes is that she comes from an Olympic slalom training background. She's a very technical athlete. But she also loves to kayak more than anybody I've ever met. And I think that combination of things puts her on the water more days than just about anybody out there.
Larsen: That's Kyle Dickman, a contributing editor at Outside Magazine. He wrote a profile of Nouria for our March/April issue.
Dickman: I used to be a kayaker—professional is always sort of a ridiculous word when it comes to kayaking, but... I used to do a lot of kayaking.
Larsen: As Kyle reported in his story, Nouria is the rare paddler who excels at all of kayaking's various disciplines. She started out slalom racing, which has competitors maneuvering through defined courses in long fiberglass or carbon boats.
Dickman: They string cables over a certain section of generally easier whitewater and onto that cable you hang gates. And so the objective is to go both downstream and then back upstream, not touching those gates but getting close to them.
Larsen: A lot of slalom racers get caught up in the competition and with trying to make an olympic team, leaving no time for other kinds of paddling. That could have been Nouria—but it wasn't. Despite taking home medals in major championships, she was drawn to more extreme whitewater events... as well as exploratory paddling, where there are no winners or losers.
Dickman: So there's a form of boating called play boating where they use these little tiny short plastic kayaks to perform aerial maneuvers on standing features in a river, that's things like waves or holes. And then you can do big water kayaking, which is to run really big rivers that have lots of water and generally big pushy dangerous rapids. And then Creek boating, which is small rivers that fall steeply off of mountains over waterfalls or things like that.
Larsen: In recent years, Nouria, now 28 years old, has proven herself to be one of the boldest paddlers alive, notching historic first descents of some of the deadliest rapids on the planet.
Dickman: She really is one of the best kayakers, if not the best kayaker in the world.
Larsen: As Kyle explains it, running big, remote rivers requires both extraordinary athletic ability and a heavy dose of masochism.
Dickman: You sit down in these little plastic shell boats and then huck yourself down whitewater. You often try to time your kayaking to when big storms will come. Big storms usually come in the winter, so that's when the rivers are highest. And that's also when it's most miserable. It's terrifying all the time.
Larsen: It's especially terrifying—and dangerous—if you're alone. Which makes you wonder why Nouria chose to paddle in India by herself in the first place. It was the first significant solo expedition she'd ever attempted. Even more confounding is that Nouria insists that the  most important thing in her life is having fun.
Nouria saw a kayak for the first time when she was four years old, living in La Villaret du Nial, a small ski town in the French Alps.
Newman: I was very passionate about Playmobil toys and my dad's friends came with a kayak on the roof of their car and it was this big blue and yellow plastic kayak so I thought, Oh, I really want to do this. This is just a massive toy. So I asked my parents if I could do that and they're not crazy, so they said no because I didn't know how to swim. So I took swimming lessons the next summer and came back with a certificate with like a super ugly golden duck. And then they had to drive me to the kayak club.
Larsen: France's kayaking club system gave her access to equipment, coaching, and a slalom racing circuit that can take athletes all the way to the Olympics. She won her first race when she was eight years old.
In 2006, at age 14, she competed against adults in the French championship, taking fifth in the women's division. When she was 18, she earned one of three spots on France's senior slalom team
Newman: I had this mindset where performing and doing well was the most important thing in my life. I was kind of an asshole to be honest. I neglected my family and my friends and, I would not make time for them necessarily. If it was interfering with training and with what I thought would make me better in sport, I would just not compromise on anything.
Larsen: When she wasn't racing or training, she was paddling whitewater purely for the fun of it,  swapping her slalom boat for a playboat or a downriver kayak to chase Class V rapids. The more time she spent playing, the more the allure of slalom wore off. When she won the silver at the 2013 World Championships, she started to think that maybe it was time to move on.
Newman: I always thought that if I get a medal at such a big event, it would be the best thing ever. And I was really happy, like, don't get me wrong. But I was standing on the box with a stranger putting a piece of middle around my neck and shaking my hand. And that was it. Two days later, nothing had changed in my life.
Larsen: Still, she plodded on. Until, one morning about a year later, while training for another world championship on an artificial river in the U.S., she found herself staring at a chain preventing her from taking a practice run. The concrete course wasn't open yet.
Newman: I was really angry because I realized I didn't know what I was doing here. I was just doing loops like a red fish in its aquarium on a fake river at the top of a mountain. And I was like, this is not why I started kayaking. I hate this.
Larsen: On a whim, she bought a plane ticket to British Columbia so she could run the legendary Stikine River, home to Site Zed, one of the most iconic rapids in the world. When she arrived, the rapid had been descended by fewer than ten people total—none of them women.
Newman: There was no way I would run that rapid. When I went there I was like, this is not even something I would consider.
Larsen: The biggest challenge for Nouria wasn't a lack of skills. As Kyle Dickman points out, like so many women kayakers before her, she was navigating a space dominated by young men.
Dickman: Kayaking is a sexist sport. It's bunch of, it's a bunch of like 18 and 24 year old dudes who go around and run big shit and then turn around and give the names of rapids like some dick reference.
The weird thing about the sport is that some of the best kayakers in the history of whitewater are women.
Larsen: Like other elite women paddlers, Nouria was rarely outmatched, but she was almost always outnumbered. She was on the stikine with a crew of male paddlers. When they got to Site Zed, she initially started portaging around the rapid while the guys scouted it, planning their lines. But about halfway down the trail, she stopped for a break and had a sudden change of perspective.
Newman: And as I stopped, I could just clearly see the line and then the more I looked at it, the more I was like, Oh yeah, that seems like it goes pretty well. And maybe after five minutes I was like, I want to run this. So I portaged back to the top to run it.
Larsen: And she did, joining a short list of the best kayakers in the world.
Newman: It's pretty crazy because you entered this and you get really boxed in and you know the whitewater below is hard. And as soon as you enter, there was no turning back. It's a weird feeling. It's almost like an oppression at some point. But at the same time you have this feeling that now nothing else matters. And you're here to just do what you like most and so you're just there. You're just a little human amongst this crazy, powerful whitewater.
Larsen: That sounds, honestly, sort of terrifying. Being like stuck in a little canyon like that, does that frighten you at all?
Newman: I think whenever you drop in some serious section of whitewater, you have to be scared. If you're not scared, you're crazy. And fear is what keeps you alive and forces you to make smart decisions. But I think we wouldn't do what we're doing if we didn't like fear. There is something that I like being scared to a certain extent.
Larsen: Just on the river, or are you like a big horror movie buff too?
Newman: I truly hate horror movies. I hate being scared when I feel like I no longer have control, but I love being scared when I feel like I can control it and overcome it.
Larsen: After the break, Nouria confronts the deadly toll of whitewater kayaking.
We'll be right back.
(advertisement)
Larsen: Running Site Zed helped make Nouria a star in the world of professional kayaking. Perhaps more importantly, though, the experience gave her something to hold onto as she headed into what would become the hardest year of her life.
In the late fall of 2014, Nouria was recovering from shoulder surgery when a bad reaction to morphine left her unconscious for three days. When she came to, she was told that her friend Juan de Ugarte had died in a kayaking accident.
Over the next twelve months, six more of her friends would die, including one of her closest friends—a slalom racer from New Zealand named Louise Jull.
Newman: It was a really bad time for me. I could not process anything. And whenever I started doing better, I would get a phone call and I had bad news one after another and I just couldn't handle it. I just remember after the third friend that passed away in the same couple months, I just remember like screaming … when is this going to stop? Is this ever gonna stop?
Larsen: She began seeing a psychologist, who encouraged her to focus on the parts of her life she could change. This spurred Nouria to once again ask herself why she was still competing in slalom.
Newman: And I regretted spending so much time training slalom thinking it was the most important thing when really I should have been on the river with my friends. I should have been doing what I loved. And so I think that was that was when slalom was no longer that important in my life. And I kept doing it, but I'd be at the start line and I'd be like, well, if I make it good; if I don't make it, better cause they will go paddle with my friends.
Larsen: Not surprisingly, that approach didn't lead to a lot of victories. Nouria failed to make the French National Team, twice. Eventually, the Kayaking Federation cut her from the program.
Her response was to paddle even more. She'd already had a couple breakout performances in extreme kayaking events in the United States, but she entered others. She also began seeking out trips that allowed her to mix organized events with exploratory expeditions.
This is how she ended up alone in remote Northern India, in 2018. She'd entered a competition in the southern part of the country, and had planned to run rivers afterwards with a crew of other kayakers.
Newman: But then we didn't get any of the permits and wherever we would go, the police would stop us or come get us after we'd paddle the river.
Larsen: The Indian Authorities weren't too keen on kayakers running the region's flooded rivers. Feeling frustrated, Nouria made the rash choice to fly north alone to the Kimalayas to kayak what some paddlers call the Grand Canyon of Asia. A friend gave her a hand-drawn map of the three rivers that she'd be paddling.
It was her first solo expedition, and it got off to a rough start.
Newman: Indian customs kept my dry suits cause they didn't know what it was.
Larsen: That meant she'd be paddling in neoprene instead—not nearly as warm, especially if she got dumped in the river and had to swim.
Newman: Going without a dry suit is stupid.
Larsen: She purchased a printed topographic map to the area, only to later learn that it was way off.
Newman: Turns out the gradient on the map was wrong, the topography. It was a really bad map.
Larsen: When she put into the river on an August morning, her only companion was a GoPro camera.
Newman: That GoPro became my link to the outside world. And it became sort of like the only friend I had, almost like a kid having the imaginary friend.
Larsen: The camera captured her near drowning—
(audio from GoPro in background)
Afterwards, she looked into the lens and confessed to feeling foolish for not being more careful. It was a powerful moment that red bull would later feature in a crafted online video.
Audio from Red Bull video: I didn't scout, didn't see. I think right now, I'm just pretty lucky to be alive.
Larsen: She was alone and scared and there was nothing to do but put her kayak back on the river.
Newman: If I would've had the option to just airdrop myself in my mom's couch and get a cup of hot chocolate, I would have chosen that straight away. But that was not an option. So I had to keep going.
Larsen: The water was flat for the rest of the day—which was a mixed blessing.
Newman: I think the hardest in that whole trip was to face myself.
Larsen: In her head, she ran through the decisions she'd made: going forward without a dry suit or trustworthy map; not taking enough time to acclimate to the elevation; and paddling solo—a dangerous choice, especially in such a remote spot.
Newman: You grow up in, everyone's like never kayak alone, never go solo. Solo is really bad. And then I was thinking, why did I feel the need to do that?
Larsen: She thought about the rough ending of her slalom career and about all the people she had lost.
Now, she had come terrifyingly close to dying in a rapid herself.
Newman: And there is something about soloing that's beautiful because it's just you. And I think maybe I just needed something like that to reset and fully move on to that next chapter of my life.
Larsen: Since her India expedition, Nouria has competed in a number of extreme whitewater events while also running rapids for paddling films. Like just about every other elite professional kayaker, she struggles to make a living. Her primary sponsor, Red Bull, pays her about $13,000 a year. She makes another $8,600 or so from industry brands like Jackson and Kokotat and pulls in a bit more from guiding jobs and speaking fees.
Last year, she'd hoped to win some bigger contests in the U.S. that offered significant prize money. But the State Department denied her visa request, citing the fact that she didn't have money in her bank account.
Newman: And the immigration officer was like, do you know what? Come back when you're more stable. And I was like, what do you mean more stable? But it forced me to acknowledge that I'm 28. I don't own anything besides a couple kayaks and a camera and a computer. When I'm in France, I still live with my parents. And I just realized that I am not stable.
Larsen: To be able to keep paddling all over the world, she says she has to be a better entrepreneur.
Newman: Which means I have to kayak, but I also have to be able to take photos, videos, understand the fundamentals of digital marketing and do a little bit of PR and even do some of the accounting stuff that I hate doing. But that's what I do in order to pursue something that is totally useless, precarious and ephemeral.
Larsen: And her next useless, precarious, ephemeral goal?
Newman: I'm trying to run a big waterfall. That's one of my goals.
Larsen: How big?
Newman: Big, really big. … I wanna run a hundred feet waterfall.
Larsen: She wants to break the current women's world record of 101 feet, set in 2009 by Christie Eastman.
That project, of course, is currently on hold due to the pandemic. So Nouria, like the rest of us, is stuck at home, waiting for the time when she can once again chase the thing that matters most to her. And if she ever forgets what that is, all she has to do is look at the words tattooed on her arm. They're a message from her good friend Louise Jull.
Newman: So I have a tattoo on my forearm and it's from a note that my friend had written to me before she passed away and it's in her writing and it says "never forget the most important thing." And the following word is "fun." And I think I'm pursuing something that is not super useful. It doesn't really fit society's standards, but it makes me happy. There's so many people doing like, like greater things and, and I'm just doing rounds in circles. I do them really well, but that's it.
And that's the most important thing in life is to be happy and do things that you're proud of and spend time with people you love in places you love. And for me, those places are rivers and those people are like my friends or people I meet on the road that I really admire.
But if you have a job that you like and a family that you love, than those are your most important things. And you should keep doing that, whatever makes you happy really.  
Music
Roberts: This episode was produced by Maren Larsen and edited by me, Michael Roberts, with music by Robbie Carver.
Kyle Dickman's feature profile of Nouria Newman was published in the March/April 2020 issue of Outside magazine. You can read it now at outsideonline.com. And while you're there, please consider making a financial contribution to Outside's storytelling.
Special thanks to Red Bull, for sharing audio clips from Nouria Newman's footage of her expedition in India.
This episode was brought to you by Visit Florida, one of the country's great adventure destinations. To learn more about all the activities to be had in the sunshine state, both on and off the water,  go to VisitFlorida.com/Outside
We'll be back next week.
Follow the Outside Podcast
Outside's longstanding literary storytelling tradition comes to life in audio with features that will both entertain and inform listeners. We launched in March 2016 with our first series, Science of Survival, and have since expanded our show to offer a range of story formats, including reports from our correspondents in the field and interviews with the biggest figures in sports, adventure, and the outdoors.