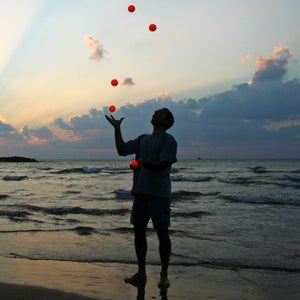 As it turns out, being a grown-up novice offers all kinds of surprising benefits. Just ask journalist Tom Vanderbilt, who spent a year attempting to pick up a variety of challenging skills, from surfing to singing to drawing. Ultimately, he didn't become amazing at any of these things, but his humble quest taught him something far more valuable: that despite your age or how busy you think you are, introducing yourself to a new skill is one of the most life-enhancing things you can do. Vanderbilt chronicled his efforts and hard-won wisdom in his latest book,  Beginners: The Joy and Transformative Power of Lifelong Learning. For this episode, Outside's editor, Christopher Keyes, gets Vanderbilt to explain what really happens to us when we dare to be a beginner again.
---
This episode of the Outside Podcast is brought to you by L.L. Bean, a company that wants to help you experience the power of being outside this winter. Visit llbean.com to find inspiration and how-to advice for active outdoor fun this season, plus ready-for-anything outerwear to keep you cozy. L.L. Bean, Be an Outsider.
Follow the Outside Podcast
Outside's longstanding literary storytelling tradition comes to life in audio with features that will both entertain and inform listeners. We launched in March 2016 with our first series, Science of Survival, and have since expanded our show to offer a range of story formats, including reports from our correspondents in the field and interviews with the biggest figures in sports, adventure, and the outdoors.