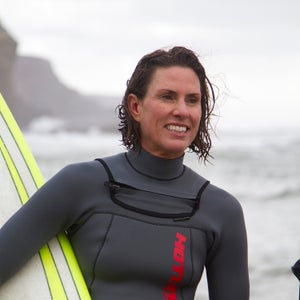 Mavericks, the monster surf break off the Northern California coast, has long been a proving ground for the world's best big-wave surfers. But the contest held there most years has never included women, despite the fact that female surfers have been dropping in on giant swells for decades. In fact, the inaugural event at Mavericks, held in 1999 and called Men Who Ride Mountains, took place several weeks after Sarah Gerhardt caught her first wave there. She wasn't a professional surfer—she was a graduate student at the nearby University of California at Santa Cruz, where she had just started a Ph.D. in chemistry. Fast forward to today, and Gerhardt was one of six women invited to compete in a Mavericks event. Outside contributor Stephanie Joyce caught up with the pioneering athlete to talk about her remarkable path.
Follow the Outside Podcast
Outside's longstanding literary storytelling tradition comes to life in audio with features that will both entertain and inform listeners. We launched in March 2016 with our first series, Science of Survival, and have since expanded our show to offer a range of story formats, including reports from our correspondents in the field and interviews with the biggest figures in sports, adventure, and the outdoors.