Coconut Raspberry Popsicles with Dark Chocolate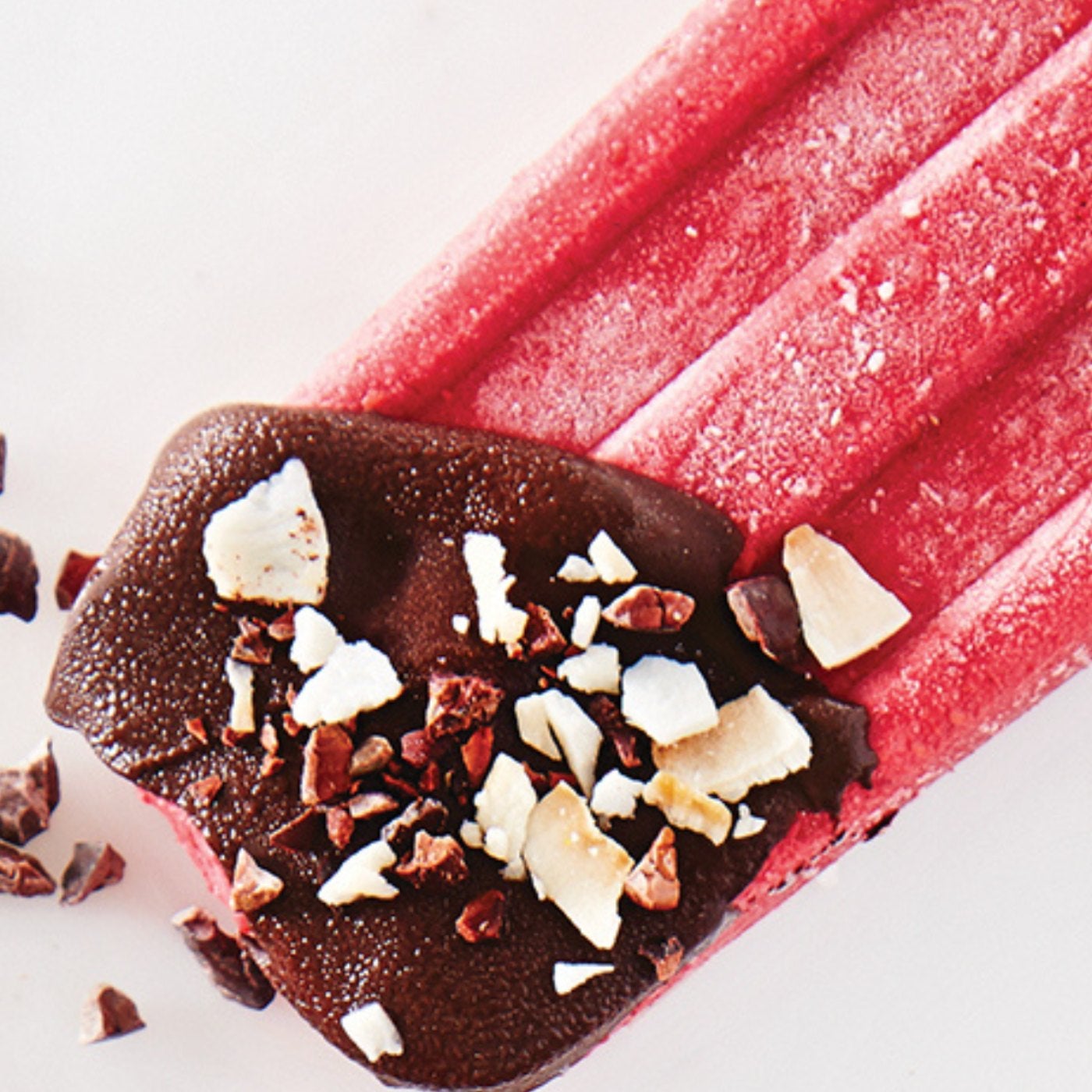 Clean Eating
Heading out the door? Read this article on the new Outside+ app available now on iOS devices for members! Download the app.
Article originally published on Clean Eating.
Do you remember standing in line at your local swim club's concession stand in the summer? Your bare feet are slightly wrinkled, a towel is draped over your shoulders, and the dollar bills in your hand are limp and wet. You stare up at the concession stand menu, focused on one thing and one thing only: popsicles. There are so many options. A classic red, white, and blue Bomb Pop? The Two Ball Screw Ball in a cone cup? Or what about a neon blue Freeze Pop, the kind that comes in a long, plastic tube?
Every year when summer rolls around, we think back to this memory imprinted in our brains. While we may have outgrown the classic frozen options we used to love (if I even think about a Bomb Pop, I get a cavity), popsicles are still a summer must. Enter these coconut raspberry popsicles with – wait for it – melty, delicious dark chocolate. The ingredients are simple and the execution is even more so.
Ingredients
3 cups raspberries
1 cup canned coconut milk
¼ cup pure maple syrup
1 tsp. pure vanilla extract
3 oz dark chocolate, broken into small pieces
Optional toppings: Shredded or flaked coconut, chopped nuts (such pistachio or walnuts) orange zest or cacao nibs
Preparation
1. In a blender, purée raspberries, coconut milk, maple syrup and vanilla until well combined, 1 to 2 minutes. Pour into 10 3-oz pop molds, insert sticks and freeze until solid, 2 to 3 hours.
2. Line a baking sheet with parchment paper. Place chocolate in a heat-proof bowl set over a pot of barely simmering water, making sure bottom of bowl doesn't touch water. Once chocolate has melted, after 2 to 3 minutes, remove bowl from heat and let chocolate cool to about 97°F, 7 to 8 minutes.
(TIP: If you don't have a thermometer, test chocolate by placing a small amount on your lip; if you don't feel it, it is the right temperature.)
3. Remove pops from molds, dip ends into melted dark chocolate and press optional toppings of choice into chocolate. Place on prepared baking sheet. (Alternatively, remove pops from molds, place on prepared baking sheet and drizzle chocolate over top; sprinkle toppings over chocolate.) Return to freezer until set, about 20 minutes.
Nutrition Information
Serving Size

1 popsicle

Calories

137

Carbohydrate Content

14 g

Fat Content

9 g

Fiber Content

3 g

Protein Content

2 g

Sugar Content

9 g
Lead Photo: Clean Eating