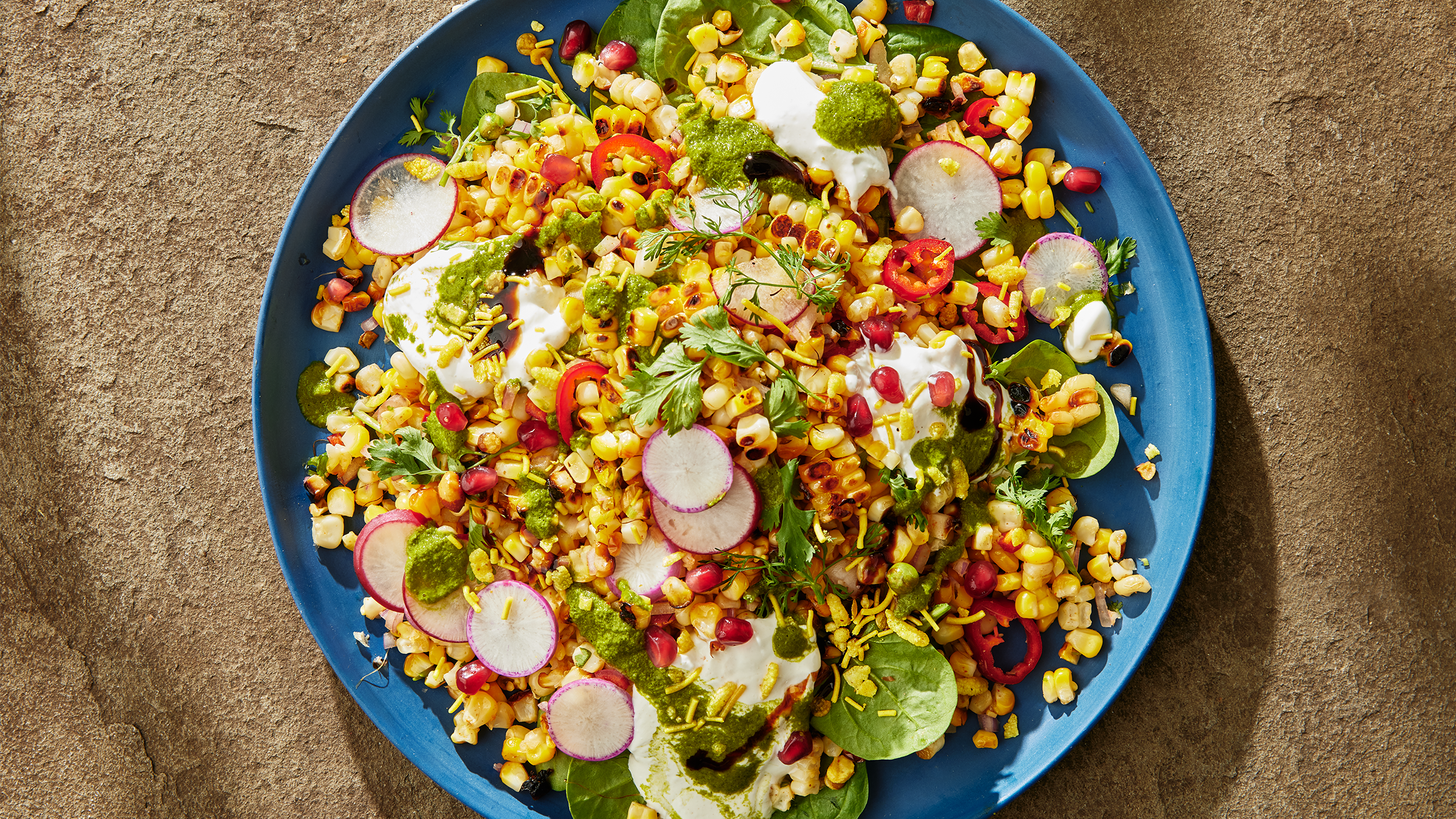 Heading out the door? Read this article on the new Outside+ app available now on iOS devices for members! Download the app.
The word chaat itself loosely translates to "something that makes you want to lick your fingers," which is exactly what this recipe does. Thomas created his chaat recipe by pulling inspiration from memories on the beaches of south India, where corn on the cob vendors was almost an indication of summertime.
"Corn on the cob can be done a ton of different ways," Thomas says. "In Latin and Mexican cuisines, for example, they coat corn in butter before sprinkling it with shredded cheese and fresh herbs. Along the coasts and beaches of India, grilled corn is charred and coated with lime juice or any other kind of citrus before topping it with anything else. It's such a fun way to do it."
One thing to note about the recipe is the generalized label of an Indian snack mix in the ingredient list. "It's a loose term—another reason for people to visit their friendly neighborhood Indian market, really," Thomas says. "Indian snack mix is usually crunchy, spicy noodles that will give your chaat a little crunch. It's so funny, if you walk into any Indian store and ask for spicy snack mix, they'll know exactly what you mean."
Grilled Corn Chaat
Ingredients
6 large ears of corn, husked
2 cups fresh spinach (about 2 oz.)
2 Tbsp. plus ¼ cup coarsely chopped fresh cilantro leaves and tender stems, divided
2 Tbsp. packed fresh mint leaves
2 Tbsp. white vinegar
1 jalapeno with seeds
1 small piece (½-inch) fresh ginger, peeled and coarsely chopped
1 cup plain Kefir or plain yogurt
½ cup chopped cucumber
1 Tbsp. fresh lemon juice
1 ½ tsp. ground cumin, divided
1 small red onion, diced small
1 lime, juiced (about 2 Tbsp.)
½ tsp. ground coriander
½ tsp. crushed red pepper
½ tsp. ground fennel seeds, optional
2 fresno chiles, thinly sliced
2 radishes, thinly sliced
¼ cup pomegranate seeds
Indian snack mix or crushed potato chips, for garnish
Amchur (sour mango powder) or tajin (chile lime salt), optional
3 cups baby spinach or 3 heads Belgian endive, for serving
Preparation
Grill corn over medium heat until lightly charred. Alternatively, char over the open gas flame on the stovetop. Transfer corn to a cutting board and let cool. 

Process half of spinach, two tablespoons cilantro, mint, vinegar, jalapeño, and ginger in a small food processor until finely chopped. Add remaining spinach and process until smooth, adding water by teaspoonfuls if needed to help move the sauce in the processor. Season spicy cilantro and mint sauce with salt. 

Puree kefir or yogurt, cucumber, lemon juice, and one teaspoon cumin in a blender. Season yogurt sauce with salt.

Cut corn kernels from cobs. In a large bowl, combine corn, onion, lime juice, ground coriander, crushed red pepper, ground fennel, if using, remaining fourth cup chopped cilantro, remaining half teaspoon ground cumin; toss to coat. 

If serving with Belgian endive, dollop yogurt sauce and cilantro-mint sauce over corn salad. Garnish with fresno chiles, radishes, Indian snack mix, and Amchur or tajin, if using. Serve with Belgian endive for scooping up salad. If serving with spinach, line a large platter with spinach, then top with corn salad, sauces, and garnishes.
Lead Photo: LAURA MURRAY