Grilled Greek Salad with Chicken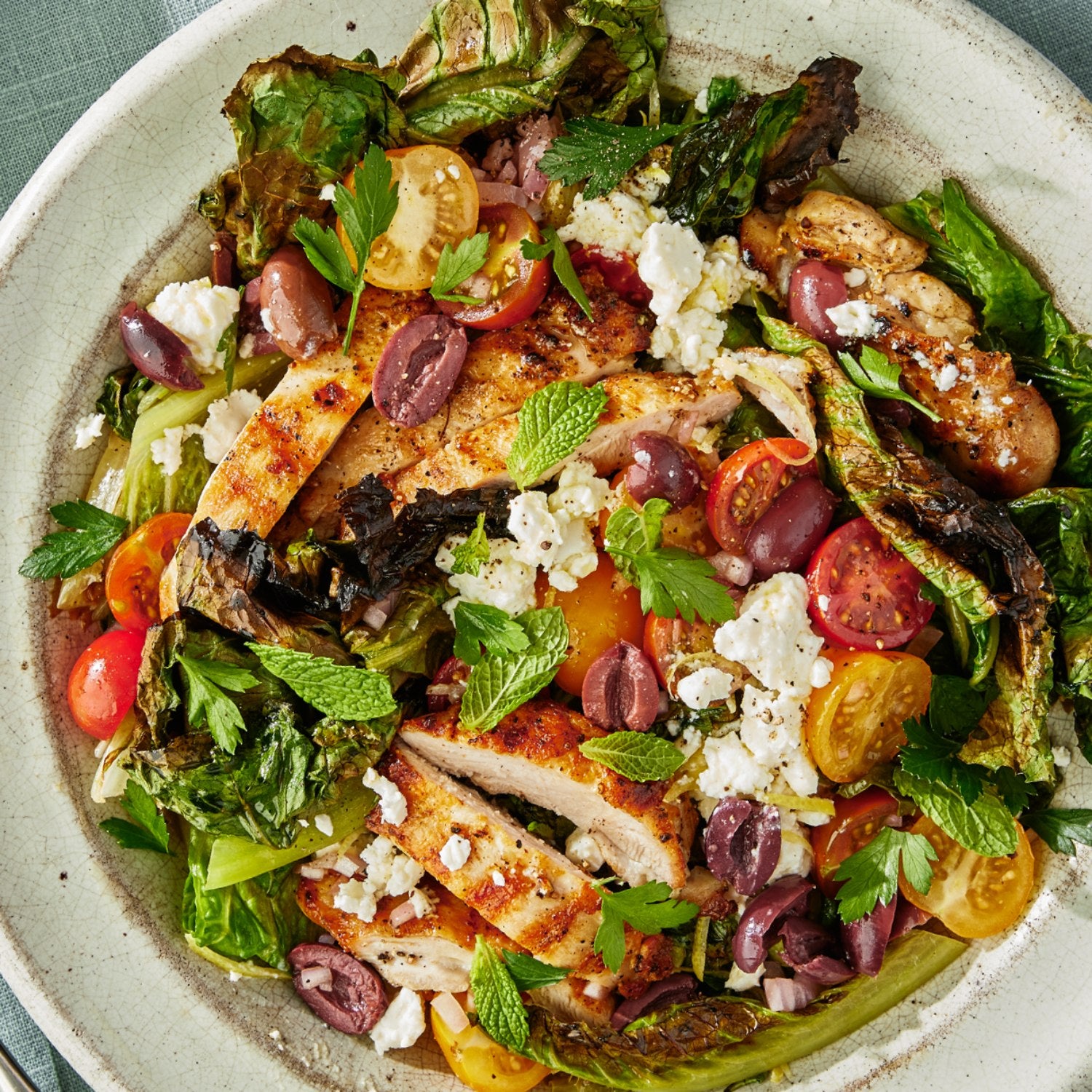 Photography: Laura Murray Food Styling: Anna Billingskog
Heading out the door? Read this article on the new Outside+ app available now on iOS devices for members! Download the app.
In this twist on a Greek salad, both the chicken and the romaine lettuce get a turn on the grill to infuse the dish with a warm, smoky flavor. This dish is easily transportable to a campground, a picnic at the park, or a barbeque on the beach. Just pack a cooler with the marinated chicken, feta cheese topping, dressing, and the remaining ingredients, and once you arrive at your site, all that's left to do is to grill the chicken and romaine. Just don't forget to bring a large bowl to mix everything together. Of course, this salad is just as delicious prepared in your own backyard.
Make Ahead: Prepare the dressing, marinated feta, and brined chicken (through Step 2).
Finish on Site: Grill the lettuce and chicken and assemble the salad.
Pack These Tools: Grill, grilling tongs, paper towel, knife, cutting board, large bowl, platter, and salad tongs.
Kitchen Hack: Some blocks of feta are sold in containers that include brine. Don't toss the brine, instead, use it as a marinade to achieve extra-juicy chicken as we do here. No need to add additional salt, though, as the brine provides plenty. Just marinate the chicken in the brine with a tablespoon of olive oil and a few grinds of black pepper for 2 to 24 hours before grilling.
Ingredients
12 oz. multicolored cherry tomatoes, halved (or quartered, if large)
⅓ cup finely chopped red onion
4 tsp. red wine vinegar
1 large garlic clove, finely chopped
2 ¾ tsp. finely ground black pepper, divided
2 tsp. sea salt, divided
4 oz. feta (such as Greek, Bulgarian, or French), drained if packed in brine (reserve the brine), crumbled (about 1 cup)
½ tsp. lemon zest + 1 tsp. fresh lemon juice
1 ½ lb. boneless, skinless chicken thighs
7 Tbsp. olive oil, divided
6 small romaine hearts (8 oz. each), halved lengthwise
2–3 oz. chopped pitted Kalamata olives (about 18 olives)
½ cup coarsely torn fresh mint
½ cup coarsely torn flat-leaf parsley leaves
Preparation
1. Prepare dressing and feta topping: In a medium bowl, toss tomatoes, onion, 2 tablespoons oil, vinegar, garlic, and ½ teaspoons each pepper and salt. Transfer dressing to a portable lidded container; refrigerate. In another medium bowl, toss feta, 1 tablespoon oil, lemon zest and juice, and ¼ teaspoon pepper. Transfer topping to a portable lidded container and refrigerate.
2. In a lidded container, mix chicken, 2 tablesoons olive oil, 1 teaspoon pepper, and 1 teaspoon salt. Cover and refrigerate.
3. In another medium bowl, toss feta, 1 tablespoon oil, lemon zest and juice, and ¼ teaspoon pepper. Transfer to a portable lidded container and refrigerate. In a large zip-top bag, marinate chicken with brine, 2 tbsp oil and 1 tsp pepper. Refrigerate overnight, or at least 2 hours.
4. Preheat a grill or grill pan on medium-high. Brush the cut side of romaine hearts with remaining 2 tablespoons oil and sprinkle hearts with remaining 1 teaspoon pepper and ½ teaspoon salt. Grill, cut side down, until tender and grill-marked, about 2 minutes. Set aside.
5. Pat chicken dry and grill chicken over medium-high until grill-marked and cooked through, 3 to 54 minutes per side. Once cool, coarsely chop lettuce and thinly slice chicken. In a large bowl, toss lettuce with dressing and chicken. Top with marinated feta, olives, and herbs.
Lead Photo: Photography: Laura Murray Food Styling: Anna Billingskog