Halloumi Is the Mediterranean Staple You Should Keep In Your Fridge. Here's a Tasty Salad to Use It.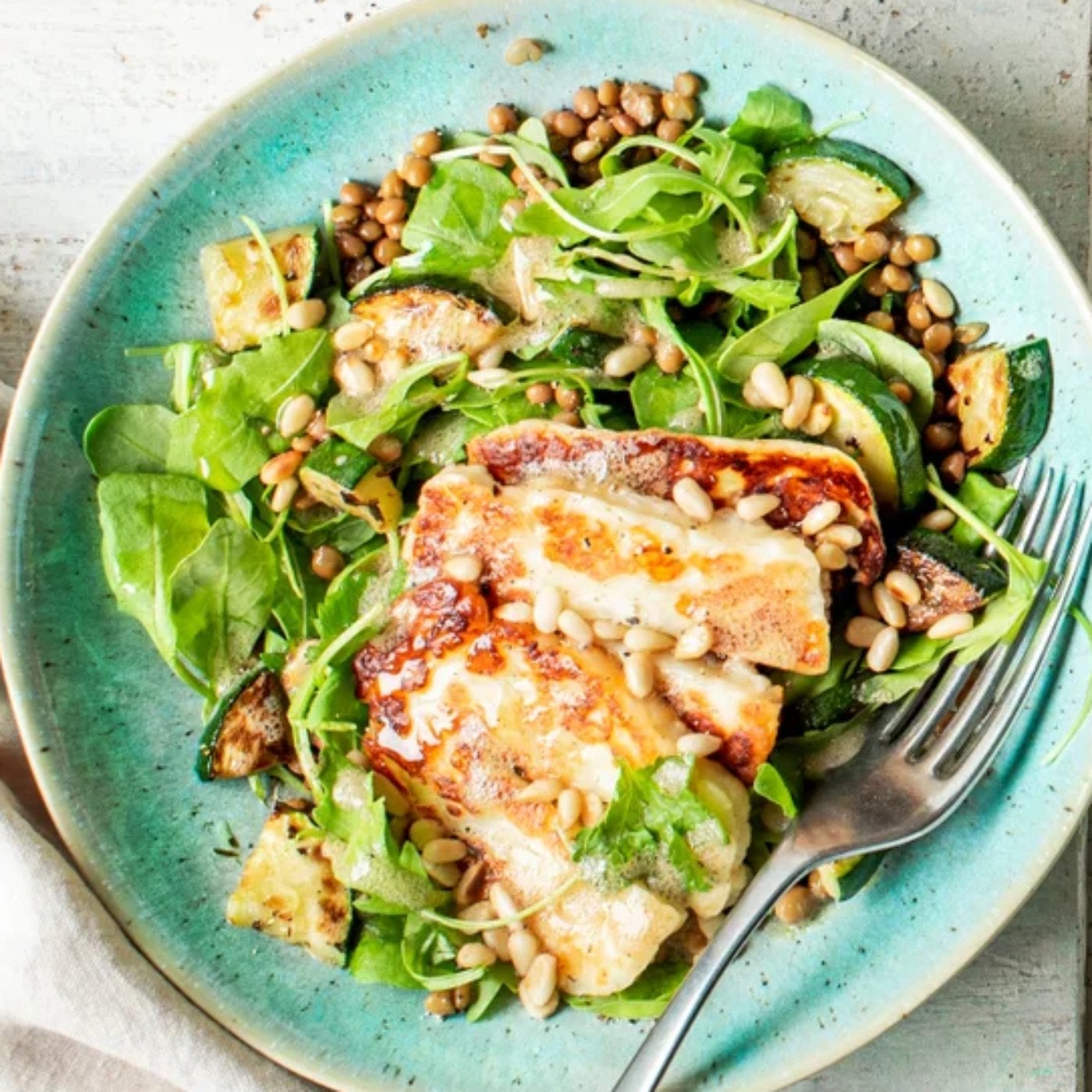 Heading out the door? Read this article on the new Outside+ app available now on iOS devices for members! Download the app.
This story was originally published on Clean Eating.
If you haven't tried this deliciously salty, semi-firm Mediterranean cheese, read on. Originally from Cyprus, halloumi is used in traditional dishes in the Middle East and Greece, and now has made its way into North American supermarkets as a quick and tasty protein addition to your meatless dishes, such as this 15-minute halloumi lentil salad.
A brined cheese, halloumi is a mix of sheep and goat's milk, however, you'll now see varieties made with just one type of milk, or even with cow's milk. One of the unique features of halloumi cheese is its high melting point. Why? Because it translates into being able to deliciously sear or grill halloumi cheese slices without them turning into a melty mess. In our recipe, a quick sear in a hot cast iron pan is all it needs to transform into a warm, satiating protein topper for your salad.
We've used arugula to provide a herbaceous base to the salad, while cooked green lentils (canned works just fine) adds more protein and fiber to round out the meal. Oregano-seasoned and seared zucchini add a savory, warming element. A quick Dijon dressing adds big flavor to this 15-minute lunch or dinner. This dressing perfectly balances the salad's ingredients, but if you wanted to customize it, you can change up the dressing by using different vinegars or herbs (check out 6 Chef's Secrets to Making the Perfect Salad Dressing).
If you're prepping the salad in advance, you can prep the greens, grilled zucchini and dressing in advance, then sear the halloumi and assemble before serving.
Halloumi, Zucchini & Lentil Salad
Ingredients
1 zucchini, sliced into half-moons
3 Tbsp. extra-virgin olive oil, divided
½ tsp. dried oregano
5 oz. halloumi cheese, sliced
1 13.5-oz. can lentils, drained and rinsed
1 cup baby arugula
¼ cup fresh cilantro, chopped
1 Tbsp. red wine vinegar
1 tsp. Dijon mustard
sea salt and ground black pepper, to taste
2 Tbsp. toasted pine nuts
Preparation
1. In a mixing bowl, toss together zucchini, one-third of oil and all of oregano. Heat a large, cast iron skillet on medium-high. Add zucchini and cook for 4 minutes, turning once halfway, until golden. Transfer to a large serving bowl.
2. In mixing bowl, gently toss halloumi with another one-third of oil. In same skillet on medium-high, add halloumi and cook for 2 minutes, turning halfway, until golden. Transfer to the serving bowl along with lentils, arugula and cilantro.
3. In a small bowl, whisk together vinegar, mustard, remaining one-third of oil, salt and pepper. Drizzle over the salad. Top with pine nuts.
Nutrition Information
Serving Size

1/2 of recipe

Calories

648

Carbohydrate Content

30 g

Fat Content

45 g

Fiber Content

15 g

Protein Content

30 g

Sugar Content

6 g
Lead Photo: OLIMPIA DAVIES