Honey-Glazed Crispy Quail with Spiced Biryani
Heading out the door? Read this article on the new Outside+ app available now on iOS devices for members! Download the app.
Crispy, pan-seared quail are the easiest game meat to cook. Whether hunted or purchased from a purveyor like Spring Creek Quail Farms, quail are small, mild-tasting birds that cook in mere minutes and take well to a wide array of flavor profiles. Spatchcockting the birds, or butterflying them by removing the backbone so they lay flat while cooking, shortens the cook time to ensure the meat stays juicy. Here, chef and butcher Elias Cairo finishes the crispy quail with a lemony garlic-spiced honey glaze and pairs it with Spiced Biryani from chef Biju Thomas.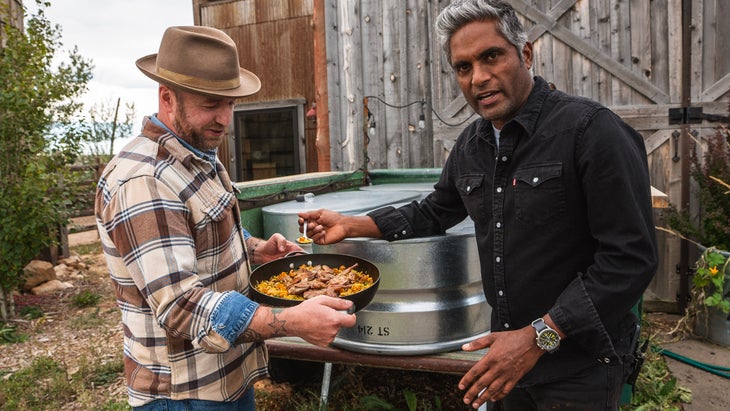 Ingredients
For the quail:
6 whole quail
Kosher salt and freshly cracked black pepper
1 tsp. whole fennel seed
1 tsp. whole coriander seed
¼ cup honey
1 garlic clove, minced
Olive oil or duck fat for cooking
Juice of 1 lemon
Spiced Biryani, for serving
Preparation
Serves: 6
Prep: 30 minutes
Cook time: 30 minutes
For the Quail:
1. Remove the spine from the quail using a small sharp knife or butcher scissors. Place the quail breast-side up on a cutting board and press directly on the center to flatten. Repeat for remaining quail. Season generously with salt and pepper.
2. In a small pot, toast the fennel and coriander lightly over low-medium heat until aromatic. Carefully add the honey. Bring up to a very light simmer and turn off the heat. Add the minced garlic and stir. Allow to steep for a few minutes. Set the small pot off to the side of the stove to stay warm while you cook the quail.
3. Heat a cast-iron pan over medium-high heat. Add a splash of olive oil or duck fat and place quail in the pan breast-side down. Allow the quail to crisp and cook for 5-6 minutes before flipping and cooking for another 3-4 minutes.
4. Add the fresh lemon juice to the pot of honey glaze, stir to combine, and brush liberally over the crispy skin side of the quail. Remove the cooked quail from pan and plate over the finished biryani, drizzling the excess sauce from the pan directly over the dish. Squeeze lemon over to the top.
Lead Photo: Kirk Warner