Three-Minute Venison Steaks with Mushroom Marsala Pan Sauce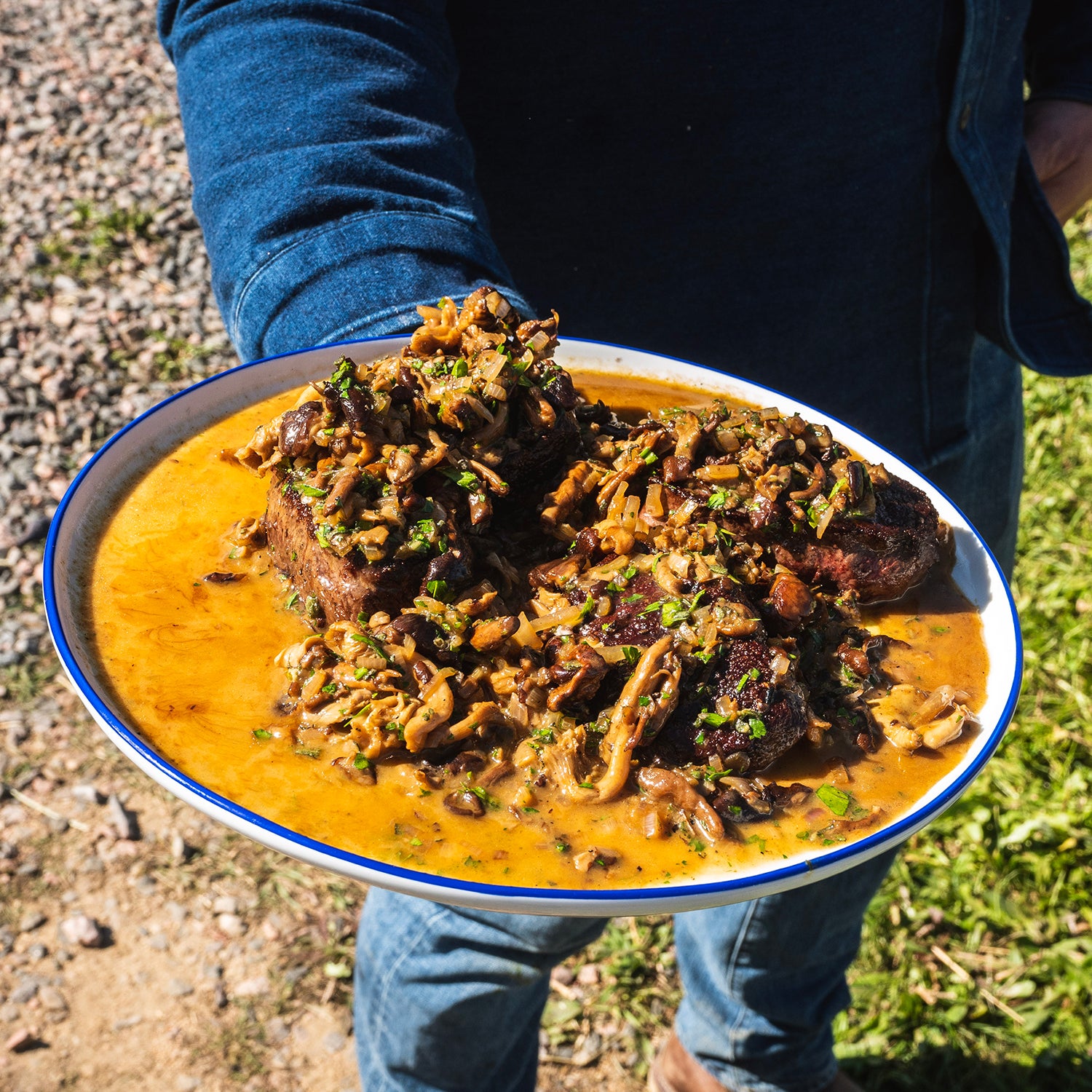 Kirk Warner
Heading out the door? Read this article on the new Outside+ app available now on iOS devices for members! Download the app.
Venison loin, or backstrap, is a tender cut perfect for quick cooking. It is very high in protein and low in saturated fat, which makes this lean meat a standout. Chef and butcher Elias Cairo pairs venison loin steaks with a seared mushroom pan sauce, deglazed with aromatic Marsala wine for a date night worthy dish.
Make sure to remove the silver skin, a swath of connective tissue that runs lengthwise along the loin and is extremely chewy once cooked. Gently insert a sharp knife underneath it and run the knife along its length to remove.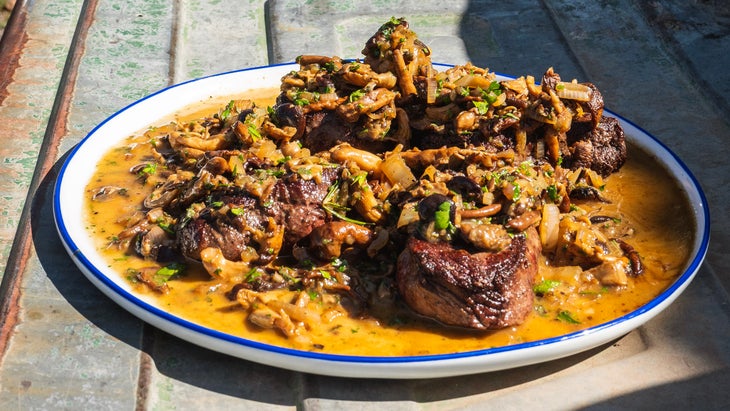 Ingredients
1 lb. venison loin, cut into 4 even medallion steaks
1 Tbsp. extra-virgin olive oil
¼ cup unsalted butter
¼ cup shallots, small diced
½ lb. chanterelle, oyster, or king trumpet mushrooms, broken into large bite-size pieces
½ cup sweet Marsala wine
1 Tbsp. parsley, rough chopped
1 Tbsp. rosemary, rough chopped
Kosher salt to taste
Fresh cracked black pepper to taste
Preparation
Serves: 4
Prep: 15 minutes
Cook time: 7 minutes
1. Preheat a wood fire grill or safely contained fire pit with an aromatic hardwood like cherry or apple.
2. Generously season steaks with salt and fresh cracked black pepper.
3. Heat a cast-iron pan directly over the hot embers. Add olive oil and steaks. Allow a hard sear for 2 minutes before flipping to the other side and searing for another minute. Remove to a cutting board.
4. Add shallots and mushrooms to the hot pan. Season with salt. Sauté for 3 minutes before deglazing with Marsala. Scrape the pan well to release all the yummy bits stuck to the bottom. Allow to cook for 1 minute, taste for seasoning, then add butter. Once butter melts, add herbs. Stir to combine.
5. Move steaks to a rimmed plate and pour mushrooms and pan sauce over the top. Serve immediately.
Lead Photo: Kirk Warner