Venison Stew with Barley and Root Vegetables
Heading out the door? Read this article on the new Outside+ app available now on iOS devices for members! Download the app.
Elias Cairo, a dedicated hunter and the chef of Olympia Provisions in Portland, Oregon, fills his freezer with lean venison stew meat — cuts from a deer's shoulder, hindquarters, and belly. Paired with root vegetables, red wine, and barley, this elemental stew is hearty and warming without being too heavy. A dollop of savory whipped cream adds just enough richness to finish the dish. For the deepest flavor, make this stew a couple of days ahead and refrigerate it until ready to reheat and serve.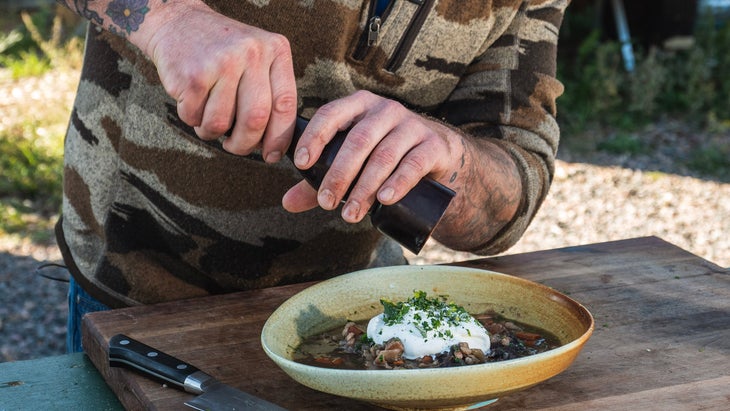 Ingredients
2 lbs. deer stew meat (1½ -2 inches pieces)
1-1½ tsp. salt per pound of meat
Freshly ground black pepper
2-3 Tbsp. olive oil or duck fat
1 cup onion, diced
1 cup carrot, diced
1 cup celeriac, diced
2 cups red wine
2 cups stock
Sprig rosemary
2 cups cooked barley
2 cups cabbage, rough chopped
Handful fresh parsley, chopped
Red wine vinegar to taste
Unsweetened whipped cream
Preparation
Serves: 8
Prep: 30 minutes
Cook time: 90 minutes cooking
1. With a fillet knife, carefully remove any silver skin from stew meat. Season meat with salt and pepper. Over medium-high heat, add oil to a heavy-bottomed pan like a Dutch oven with a lid. Sear meat, tossing occasionally for about 2 minutes on each side until brown. Remove to a plate.
2. Without adding extra oil, add onion, carrot, and celeriac, and sauté. Reduce heat to medium and make sure to scrape the browned bits of the bottom of the pan. Add meat and any drippings back to pot. Cover about halfway with wine. Reduce to about half and until color is cloudy and no longer wine red. Add stock. Crush rosemary with fingers before adding to pot. Stir in cooked barley.
3. Turn heat down to low and, using a spoon, skim and discard foam from the top. When the stew is barely simmering, cover, and let cook for 30 minutes. After 30 minutes, stir in cabbage, replace lid, and return to a very low simmer for another 45 minutes.
4. Stew is done when the meat yields to pressure but doesn't crumble. Stir in chopped parsley, and a couple splashes of red wine vinegar. For best results, allow the stew to cure in the refrigerator for a couple of days.
5. Serve in bowls, garnished with parsley and a healthy spoonful of whipped cream. Sprinkle with coarse salt and a couple grinds of black pepper.
Lead Photo: Kirk Warner