Sponsor Content: Under Armour
Are Rubberless Shoes the Future of Running?
With input from its elite athletes, Under Armour built a new kind of trainer—without a rubber outsole—that blurs the line between speed and comfort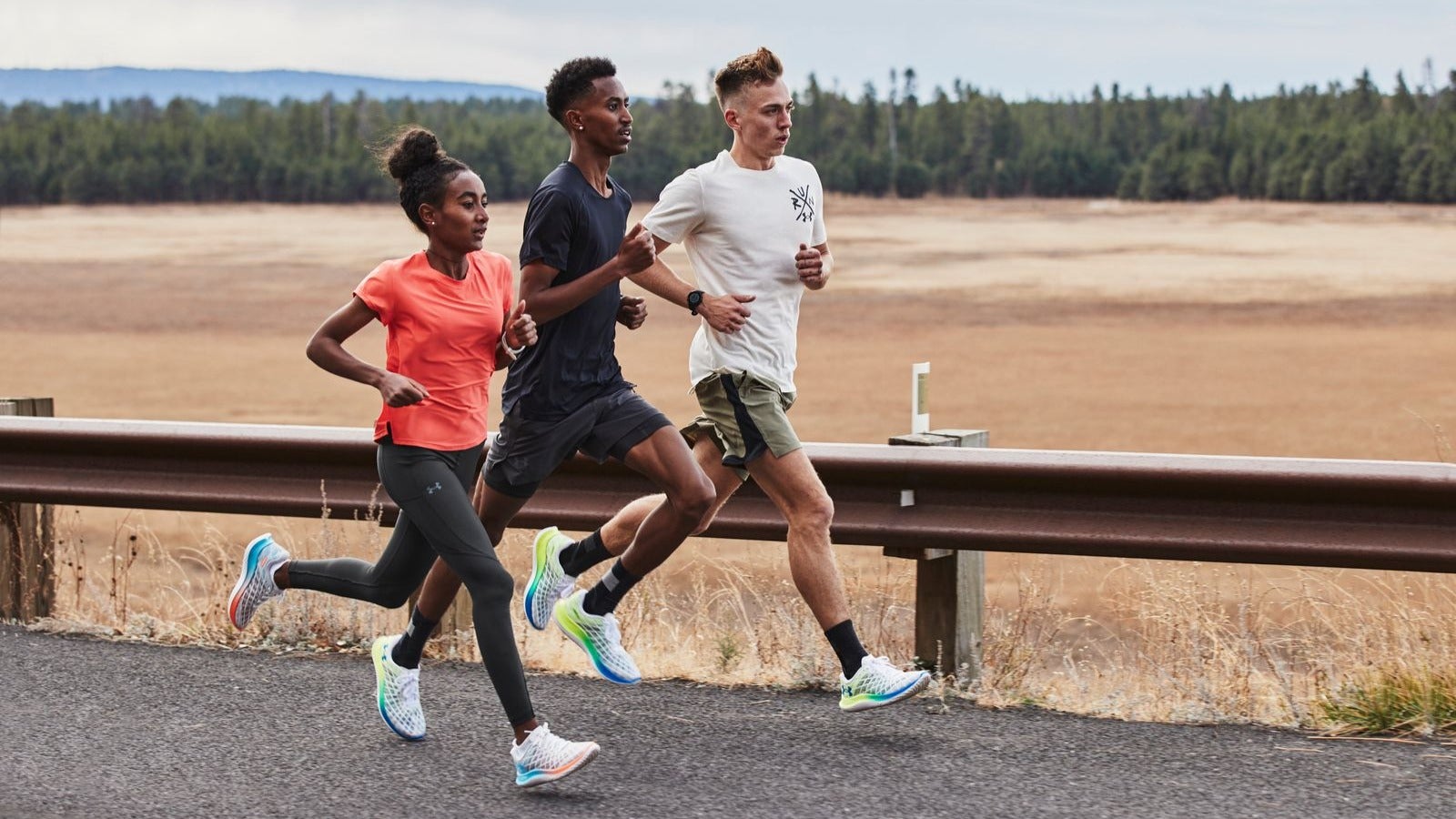 If you've bought a new pair of running shoes recently, you know that the range of styles, options, and performance characteristics has never been greater. Some shoes are sleek and lightweight. Others are chunky and cushioned. But no matter what, all are made up of the same basic building blocks—the upper, the midsole, and the outsole—right? Not anymore. 
"Honestly, the first time I saw this shoe, I thought it was going to be weird," says Will Leer, Under Armour's performance specialist and a former professional runner. "But I ended up loving the experience."
The shoe Leer is talking about is Under Armour's new Flow Velociti Wind 2, which notably lacks a rubber outsole. Instead the shoe employs a dynamic foam with a geometrically laser-cut bottom—the midsole is the outsole—to shed significant weight and produce an altogether new running experience. "The feeling of running in a Flow shoe is incredibly lightweight," Leer says. "It's also incredibly responsive because you're not going through all these different layers of material to get to the foot." 
How did Under Armour designers get from such a wild idea to a high-performance rubberless shoe? They asked elite runners like Leer for their input. "We were close to our athletes through every step of the journey," says Doug Smiley, Under Armour senior product manager. "It's really fun to create a new product when it's been validated by these athletes at the highest level." 
Under Armour's team of 30 professional runners tested each prototype of the Flow Velociti Wind 2, running an incalculable number of miles on it. The goal was to design an all-around training shoe that would feel comfortable at faster paces—balancing lightweight minimalism and cushioning, and enabling athletes to maintain maximum effort throughout a training cycle. That's an obvious benefit, but it's not reserved for top-tier runners, says Smiley. "It's also the ideal shoe for any focused performer who has a goal to get better, whether they run a 12-minute mile or a four-minute mile."
Under Armour's product team also enhanced the Flow Velociti Wind 2 through tatami stitching around the heel cup to deliver a more consistent lockdown; horizontal and vertical tape lines on the upper to provide a secure fit; and a molded EVA sock liner to add comfort and cushion for high-mileage performance. The shoes seamlessly connect to MapMyRun, through a built-in microchip, to track and analyze data with real-time form coaching. The shoe weighs in around eight ounces and features an offset drop of eight millimeters. 
"It is pretty cool that we can create something that enhances our current technologies and creates a brand-new experience for the Under Armour runner," says Smiley.
The Flow Velociti Wind 2 is for runners who want to have fun, run fast, and get better. It's light enough to be a racing shoe and cushioned enough to be a tempo and long-run shoe. It can even accommodate recovery runs when you don't want to slog around in a heavier cushioned shoe. Says Smiley, the Flow Velociti Wind 2 is the shoe for any runner who wants to feel closer to the ground, nimbler, and more able to pick up the pace without compromising comfort.
---
Under Armour, Inc., headquartered in Baltimore, Maryland, is a leading inventor, marketer and distributor of branded athletic performance apparel, footwear and accessories. Designed to empower human performance, Under Armour's innovative products and experiences are engineered to make athletes better. For further information, please visit the Under Armour website.
Trending on Outside Online