Three Ways to Be a More Environmentally-Friendly Trail Runner
The waste that comes from athletic gear and apparel is a structural problem, but individual actions still matter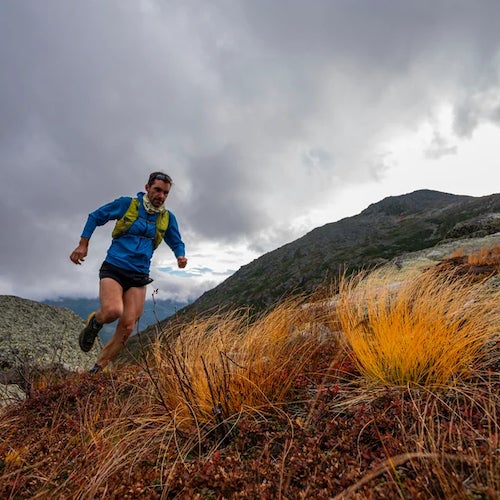 Tandem Stock
Heading out the door? Read this article on the new Outside+ app available now on iOS devices for members! Download the app.
As trail runners, it can be tempting to believe we're engaged in a harmless pursuit. We're powered by our own feet, zipping through the woods in gear that has been often marketed to us as sustainable. But runners are just as culpable as any other athletes, our mountain footprints the tip of an iceberg of a larger carbon footprint that gets us there. We need to transport ourselves to the trailhead, of course, but that sustainable gear? It could just be an example of greenwashing. 
Greenwashing helps brands appear eco-friendly, while in reality deflecting accountability toward changing harmful industrial processes in any meaningful way. Capitalism thinks less in systems than it does in units, and by maximizing profit per unit, our current economic system often exploits individual desires (to be better) and shame (at falling short). The next purchase is the one that will save us! Redemption is often offered to the consumer by way of greenwashed gear, when, in reality, the onus should be on the company to not destroy the planet.
So what do we, as individuals, do? When it comes to the most destructive environmental choices runners make, specific gear choices – though consequential – are perhaps not as weighty as you might think. And yet, in the interest of separating marketing from reality, it's important to highlight where you can indeed make a difference, here are the three areas in which runners have the most agency:
1. Minimize Driving or Flying to Trailheads or Races
The carbon footprint runners leave behind actually has little to do with what they wear on the trail, and a lot to do with how they got there.  Driving or flying to trailheads or races is the number one most destructive choice, by a considerable margin. 
In Under the Sky We Make, climate researcher Dr. Kimberly Nicholas referenced a study that pointed out that a roundtrip transatlantic flight uses eight months of an individual's carbon budget for a year (if we were to slow climate change to acceptable levels by 2030). According to Nicholas' research, the three most powerful things any individual can do are going flight-, car-, and meat-free, actions that were also highlighted in Project Drawdown as powerful ways households can make a difference.
"The climate impact of clothing and shoes is very small compared to mobility," Nicholas says. 
RELATED: Your Guide To Sustainably-Minded Trail Gear
Finding alternative means of transportation would be the single most significant environmental decision you can make as a runner. Can you take a train to that race destination? Can you bike to the trailhead? Can you at least, for the love of Earth, carpool? 
2. Beware of High Tech, High Maintenance Fabrics
If you are as twisted as me, you might have read the previous section and thought, well, I guess my gear addiction doesn't matter much, in the grand scheme of things. Not. So. Fast. Just because you minimize travel doesn't mean you can now enjoy a guilt-free gear obsession. It means that apparel choices pale in comparison to the overall impact caused by big machines moving us far and fast. 
If ever you want to feel extra icky and aware about your environmental impact, pick up Tatiana Schlossberg's Inconspicuous Consumption, which details the many ways that everything we do – from watching Netflix to wearing cozy athleisure threads – contributes to climate change. And for someone who basically lives in athleisure, this was particularly disconcerting.
Running apparel is typically synthetic. Unlike cotton or wool, fabrics used to make moisture-wicking and breathable shirts, shorts, singlets, and socks are not natural. However, it is the extent of their unnaturalness that may surprise you. "The root of the problem with synthetic fabrics comes down to one simple fact," says Schlossberg. "They're made of oil. Basically, synthetic fibers – like polyester, nylon, fleece, spandex, lycra – are just different types of plastic, and create the same kinds of problems that plastic does. Producing polyester alone results in more than 700 million tons of carbon dioxide emissions annually, about the same amount as 185 coal-fired power plants." 
Yikes. Unfortunately, that list of fabrics describes my entire running wardrobe. What's worse, everytime you wash these items, synthetic nano-particles shed and find their way into lakes, rivers, streams, and, ultimately, the organisms that live in these ecosystems.
"In the case of synthetics, this means that microplastic fibers are being released into the environment, everywhere from remote mountaintops to the bottom of the ocean and embedded in Arctic sea ice," explains Schlossberg. "One scientist told me that microplastic fibers might be the most abundant source of pollution on Earth." Natural fibers like wool and cotton shed in the wash as well, but polyester and fleece shed the most, and again, they're made of oil. 
Key takeaway? Seek running apparel made from wool, which is naturally antimicrobial, meaning you can maximize sweat while minimizing washes.
3. Avoid Mass-Produced Crap
When subjecting your running apparel to all rigors of the trail—sweat, dirt, swamps, snags—you might think it unwise to invest in expensive threads destined for punishment, especially when running t-shirts at any local big box store can cost $10 or less. But price tags are never reflective of the true cost of production. 
In Inconspicuous Consumption, Schlossberg details how the external costs of making clothing – such as environmental pollution and health impacts for workers and communities near factories – are not factored in by most companies. Instead, the cost is incurred by the planet and by vulnerable populations who can't escape the environmental ramifications of this distorted consumerism.
"It takes resources to create every article of clothing we wear, so making sure that you really get the most out of your clothes is probably the best way to reduce the environmental impact of your athletic wardrobe," says Schlossberg. 
Granted, for many runners on the economic margin, a $75 merino running shirt is laughably expensive. But this price tag might actually be more indicative of its ecological cost, both in terms of production and planet, as well as the finer craftsmanship that will make it a longer lasting garment. The price might also remind us that treating garments as disposable and too-easily replaceable makes us more likely to dispose of and replace them. There is a certain amount of buy-in that results from buying higher quality gear, and that might be a good thing. 
"In general, it can be difficult to rely on companies' accounts of their own sustainability, and they are deliberately opaque," explains Schlossberg. 
For those looking to have a little more agency in their purchasing decisions, she recommends the website/app Good On You, which rates brands for their ethical behavior in three categories: environmental, labor, and animal welfare. "While it's not perfect, it is a good resource for people looking to make changes." 
Her other recommendation? Vote! "It really shouldn't be on the consumer to have to decide which sports bra is made in the most environmentally friendly or sustainable way; all of the sports bras should be made with the goal of the smallest possible environmental footprint, but that would require better corporate behavior and environmental regulations, which is why you should vote, get involved in the civic and political processes, and put pressure on politicians in your communities and on businesses too."
Some businesses have taken note, going beyond greenwashing into enacting green practices. Ingrid Sirois, one of the founders of the Canadian performance apparel brand Foehn, describes this kind of environmental commitment as a positive obligation. "I know obligation has a negative connotation, but not in this case," says Sirois. "We take it seriously because there is no other way, and it also makes the process more interesting and challenging to do it right."  
So do yourself a favor: If you're in a position to invest in that pricier running kit, go for it. If you can bike to the trailhead to log those miles, you can return home knowing that you are on a more sustainable track. And if you can budget time to run, you can surely budget time to get to the polls. 
Three Brands that Actually Walk the Walk
Foehn
When a company makes only a few pieces of apparel, they tend to put an extensive amount of thought into production and design. Foehn won't wow you with a wide variety of gear, but the gear they do make is reliably high quality and sustainably made (they are a member of 1% For the Planet, Climate Neutral, and Bluesign). Their Spring 2022 line-up features the Keats Merino T-Shirt, which certainly fits the bill as a versatile and durable active shirt, with all the stank-free and temperature-regulating qualities of wool.
Paka
Now that wool is on my mind, I've been on the lookout for the best companies offering performance apparel without synthetic threads. Paka is considered the first alpaca "activewear" in history, with exquisite joggers (85% royal alpaca, 15% bamboo lining!), socks, baselayers, and one of my favorite all-time hoodies. Some garments come with a QR code, where you can trace the material origins of each thread.  
Allbirds
Allbirds, the ubiquitous wool shoe brand that began in New Zealand, has also expanded their line-up to include running apparel. Their Natural Run Short is a standout, the rare running bottom that is made from wool. It is lightweight and made of merino and recycled nylon. Allbirds lists the garment's carbon footprint (12.1 kg CO2e) on the tag so that consumers have a better understanding of the impact of their purchase, and they ensure that production is carbon neutral through buying carbon offsets. The Natural Run Shorts don't feature liners or a phone pocket, but their simplicity is part of their appeal. With a 7" inseam this short is plenty capable and also casually wearable. It's nice to be confident in your gear from both a performance and planetary standpoint.
Lead Photo: Tandem Stock
Trending on Outside Online