This Packraft Weighs Less than a Pineapple and Is Perfect for Summer Adventures
Alpacka Raft's featherweight Ghost is changing the game for multisport enthusiasts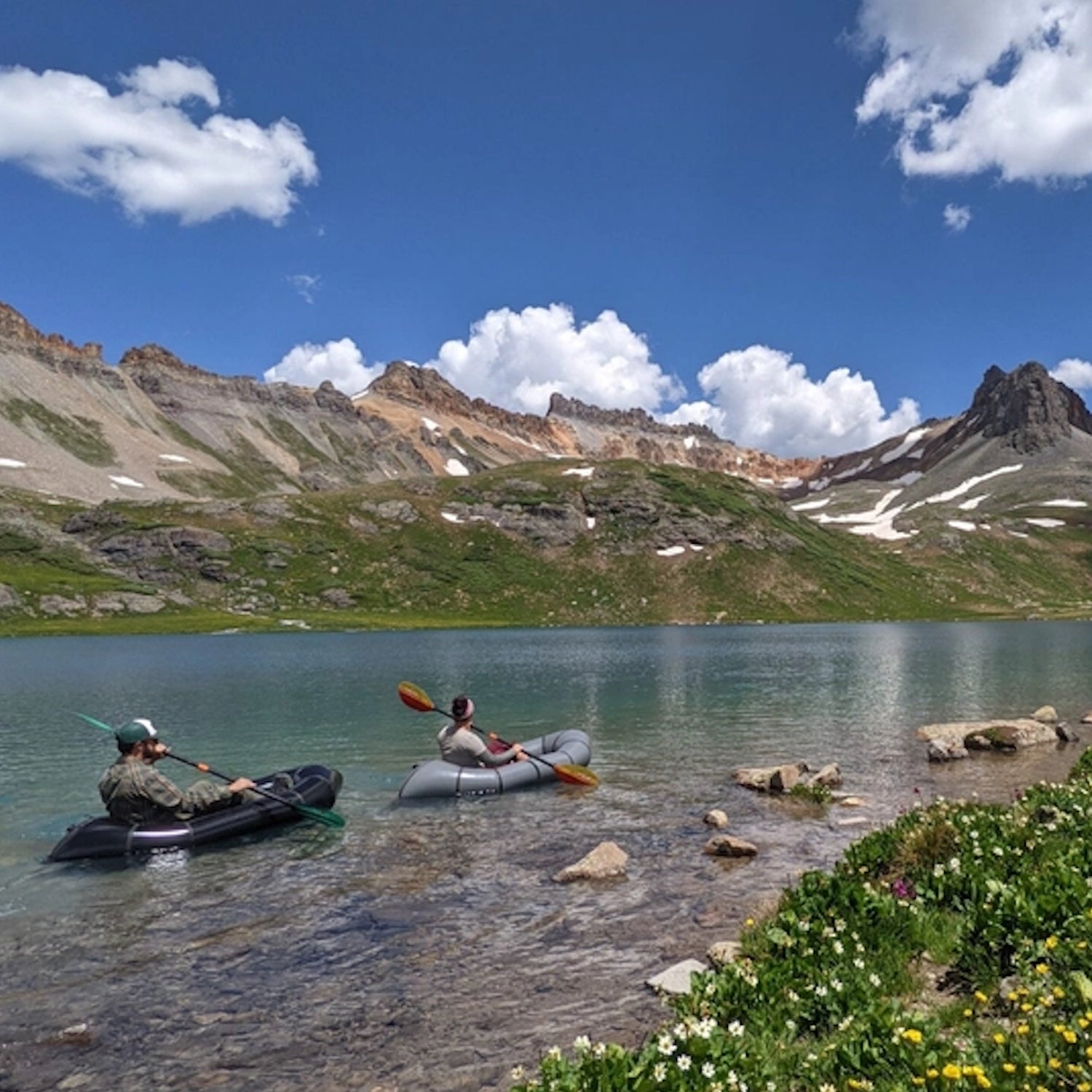 Courtesy Alpacka Raft
Heading out the door? Read this article on the new Outside+ app available now on iOS devices for members! Download the app.
I've never been much of a water person. More a terrestrial type, really. Once I nearly drowned getting caught in a frothy rip at Newport Beach, California, along with two kids who, terrified, tried using my flailing body as a life raft and almost took me down with them. Luckily, we all survived. Barely. 
So when I finally mustered up the courage to YouTube how to inflate my new 2.25-pound Alpacka Raft Ghost and give it a whirl, my palms grew clammy. Blood pressure rose a few points, even though the seven-point plan I'd outlined was embarrassingly safe:
1. Squish the boat into my Ultimate Direction 25L fastpack.
2. Run seven miles of trail up Missoula, Montana's Clark Fork River.
3. Find a convenient put-in and inflate the thing.
4. Float downriver back to where I'd begun.
5. Deflate and stuff it in my pack.
6. Run home.
7. Eat a cheeseburger.
This would be a front country microadventure—within cellphone range and never more than 20 minutes from a coffee shop. It was also something I'd dreamt about doing for years: watershed travel! To combine elements of running trails with running water. After all, it's water that carves the very mountains that we run, right?
Introducing: The Ghost Packraft
A ghost is something you cannot quite see. An apparition. Near-to-weightless. At 2.25 pounds (1kg), Alpacka's Ghost fits this criteria.
Other things that weigh 2.25 pounds include a bag of apples, seven raw chicken legs, a toaster, or a pineapple.
The Ghost is Alpacka Raft's lightest craft offering. According to the website, the boat is designed "for those looking to sacrifice durability for weight—ultrarunning, exploratory canyoneering, and unexpected water crossings." The boat measures two inches shorter than the Scout (their next lightest boat in the fleet), with a 70d ripstop nylon hull (d is for "denier," the official unit of density for fabric or yarn), a 200d nylon floor, and single seamtape construction. Because of its hyper-minimal build, the Ghost does not come with any spray deck or cargo fly add-ons.
RELATED: What Do I Pack for River Rafting?
Thor Tingey is the co-founder of Alpacka Raft, along with his mother, Sheri. As an outdoor-loving family who cut their expeditionary teeth in the Alaskan wilderness, the Tingey's are enthusiastic about these new ultralight boats. Thor has completed some difficult overland trips, including a 180-mile crossing in the Alaska range, and another in the Brooks Range that was over 800 miles. But his mother is the mountain matriarch and visionary, expressed most recently in a new film on her life and work, premiering later this fall at the Mountainfilm Festival.
Admittedly, the Tingey's are not a family of runners. "I'm content to hike all day through rough terrain," says Thor. "But if I have to run like 50 yards or something, I collapse and think I'm going to die."
Fortunately, one of Alpacka Raft's lead designers, Dustin Partridge, is an accomplished mountain runner and advocate for getting run-compatible boats into the lineup, as he works from the company's headquarters in Mancos, near Durango, Colorado.
Origins of Alpacka Packraft
Thor Tingey started Alpacka Raft with his mother in 2000, after being introduced to the sport by Roman Dial, the "Father of Packrafting," who himself learned from one the earliest packrafting pioneers, Dick Griffith, known in the 1950s for taking World War Two life rafts to explore the Grand Canyon. Thor was moved by Dial's many adventures, including one expedition where Dial used only bicycles and early packraft prototypes to complete a 700-mile traverse of the Alaska Range in 1996.
Thor eventually left the business ("I was just not ready to work with Mom full-time at age 25!"), only to return 12 years later. At 76, Sheri is still the company's lead designer for all the boats. The team has now expanded, and others have more sway in the direction of the company, but she remains the final word for every boat.
The Alpacka Ghost Packraft: First Impressions
After running a trail several miles upriver, putting in, and taking the Ghost successfully down Missoula's Clark Fork river (rewarding myself with that cheeseburger), I can say with confidence that, as a novice, the boat felt easy to use and is an exceptional entry-level craft. Its weight-to-durability index is freakishly strong, and it took me only three minutes and twenty-three seconds (I timed myself) to inflate the boat using the included air bag.
Comfort levels on the water were divine, too, as osprey and bald eagles passed overhead, and I was able to navigate just fine without paddles. (I used my hands.) The boat did get a touch squirrely on a babbling rapid—whitewater is discouraged in the Ghost, tsk tsk—but I did not capsize or take on much water. No clammy palms, either. The pack set between my legs got wet, sure, but that didn't matter—the fun factor was through the roof.
As a featherweight boat, the Ghost is not the first of its kind. Seattle-based Curtis Designs once manufactured a 2.5-pound boat of lightweight nylon, designed for enjoying Washington State's high mountain lakes. Another company, FlyWeight Designs, made similar models, while Supai further evolved the ultralight class using upgraded quality materials. With boats that you could stuff in a Nalgene bottle, these have become popular with canyoneers.
"Originally, we didn't want to make a super light mountain lake boat because there were other companies already offering that," says Thor. "And it didn't really fit with our brand," which was their burlier, Alaska-strong boats to get through the toughest conditions.
Starting in the mid-2000s, trail running was gaining in popularity and people kept requesting lighter boats. In 2013, Alpacka Raft launched its very first Ghost, at under two pounds. But with 30d material they were far too delicate and expensive, and didn't sell well, so they pumped the brakes.
Nowadays, people are buying boats for all types of travel, not just niche Alaska wilderness travel, and many mountain runners became interested in packrafts. "We thought, maybe if we go back and look at this Ghost idea again, we could make something more practical—like we have the 70d material and put a slightly more durable floor on it," says Thor. "It's still a really lightweight, delicate boat, but it's practical."
Choosing the Right Packraft and Paddle
If you're considering picking up a packraft but don't know if the Ghost, the Scout, or some other model is right for you, it all comes down to comfort levels and what activities you're interested in.
"The Scout is a big step up in fabric and durability," says Thor. "It's in our lightweight class but can handle tons of stuff, like normal everyday paddling. The Ghost is a more specialized craft, designed more for runners who need to cut every ounce."
Perhaps more than the ounce-for-ounce difference is the bulk difference—the packing size. The Ghost is small enough to potentially haul in a waist pack, whereas the Scout requires a backpack. As mentioned, I carried the Ghost in my fastpack, which offered more than enough capacity. I worried mostly about rolling the Ghost too tight or messing up the seams, to which Thor laughed (lovingly) at me. "No, you can crush them super tight," he said. "Roll it up as much as you want. They're tough."
As for paddles, well, I didn't have a paddle for my first outings, but this didn't seem to be an issue. In fact, many ultralight packrafters opt out of paddles and use hand paddles instead. Alpacka did come out with a 15-ounce "Ninja" paddle, but it's being discontinued due to supply issues and quality concerns. Thor recommends the Aqua-Bound's Whiskey. At 24 ounces, with a carbon option, these are the best paddles for keeping things light and strong.
RELATED: The Best Inflatable Boats of 2022
How to Pick the Perfect Packrafting Route
So what's the optimal use for a trail runner interested in taking a packrafting adventure?
"High mountain lakes," Thor recommends. "Exploring areas like Colorado's Weminuche Wilderness, Wyoming's Wind Rivers, or the Cascade Mountains." Point-to-point routes are particularly exciting for him, too, like alternatives to the Grand Canyon's popular Rim-to-Rim-to-Rim. "There are some amazing mixed running canyon routes through the Grand Canyon. If you were interested in exploring crossings that weren't on the main Bright Angel Trail, you need to be able to cross the river. The Ghost is perfect for that."
Ultrarunners have certainly taken packrafts on previous adventures, including Salomon athlete Rickey Gates's Isle Royale adventure, and his trip with Dakota Jones, where in 2016, the two made their way through canyonlands in the Southwest. Flagstaff, Arizona's Rob Krar dabbles into packrafting and is currently working on a film about a multisport adventure in Glen Canyon Dam.
Boating Newbie? Not a Problem.
Sure, the Ghost may be a specialized craft at a committed price point ($745), but it does make for a wonderful entry point into water sports if you're anything like me: far more comfortable on terra firma than water.
"For a substantial number of our customers, packrafting is their first experience with a paddle sport," says Thor. "Unlike kayaking—heavier boats, special skills—to pick up a packraft and have an adventure is pretty easy. I think that's one of its biggest appeals." He likens packrafting to the gravel bike craze, where you can just go out and have fun on a wide variety of surfaces, thanks to their versatility.
"Even in big cities, there's really cool urban adventures you can do," says Thor. He recalls a trip where he took his packraft to New York City, rented a bike from Times Square, crossed the Brooklyn Bridge, inflated his raft, and paddled all the way to East River, past Harlem, then got a taxi back. "Please don't do this on your first float!" Thor cautions, laughing nervously, due to its tricky slosh of currents and boats.
If you do end up falling in love with packrafting and wish to take your relationship to the next level—and perhaps a few levels after that—here are two packrafting events to consider checking out, at your own risk:
– Alaska Mountain Wilderness Classic: First held in 1982, this event is considered integral to the development of packrafting itself. Some argue it's the hardest adventure race in the world, with 150- to 250-mile routes through formidable terrain. No organizing body. No aid. No race, really.
– McCarthy Whitewater Festival and Packrafting Race. Every July in McCarthy, Alaska, the finishing times at this event are getting terrifyingly fast, won by local runners like Nordic skier Galen Johnson. "The Mountain Marathon is like a training race for him," says Thor. "McCarthy is what he's most proud of."
I, for one, will not be competing in either of these events any time soon. I did, however, take Thor's advice and follow wilderness trails up into Montana's Bitterroot Mountains, to test the Ghost out on some high alpine lakes.
First, I found that moving along trails with the Ghost was a nonissue. Negligibly small and light. Second, once inflated and out on the lake, the Ghost was in its element. So was I. After hugging the shoreline, I eventually paddled toward the middle of the lake, where I gained a stunning view of the range's highest summits. And finally, after paddling to lake's deepest point, I laid back into the boat and decided to conduct the most hardcore endurance activity of them all: I took a nap.
Lead Photo: Courtesy Alpacka Raft
Trending on Outside Online