Who Wore Which Shoes at the New York City Marathon?
The running-shoe hype train was high in New York City with a few fast yet-to-be-released shoes in the men's and women's elite fields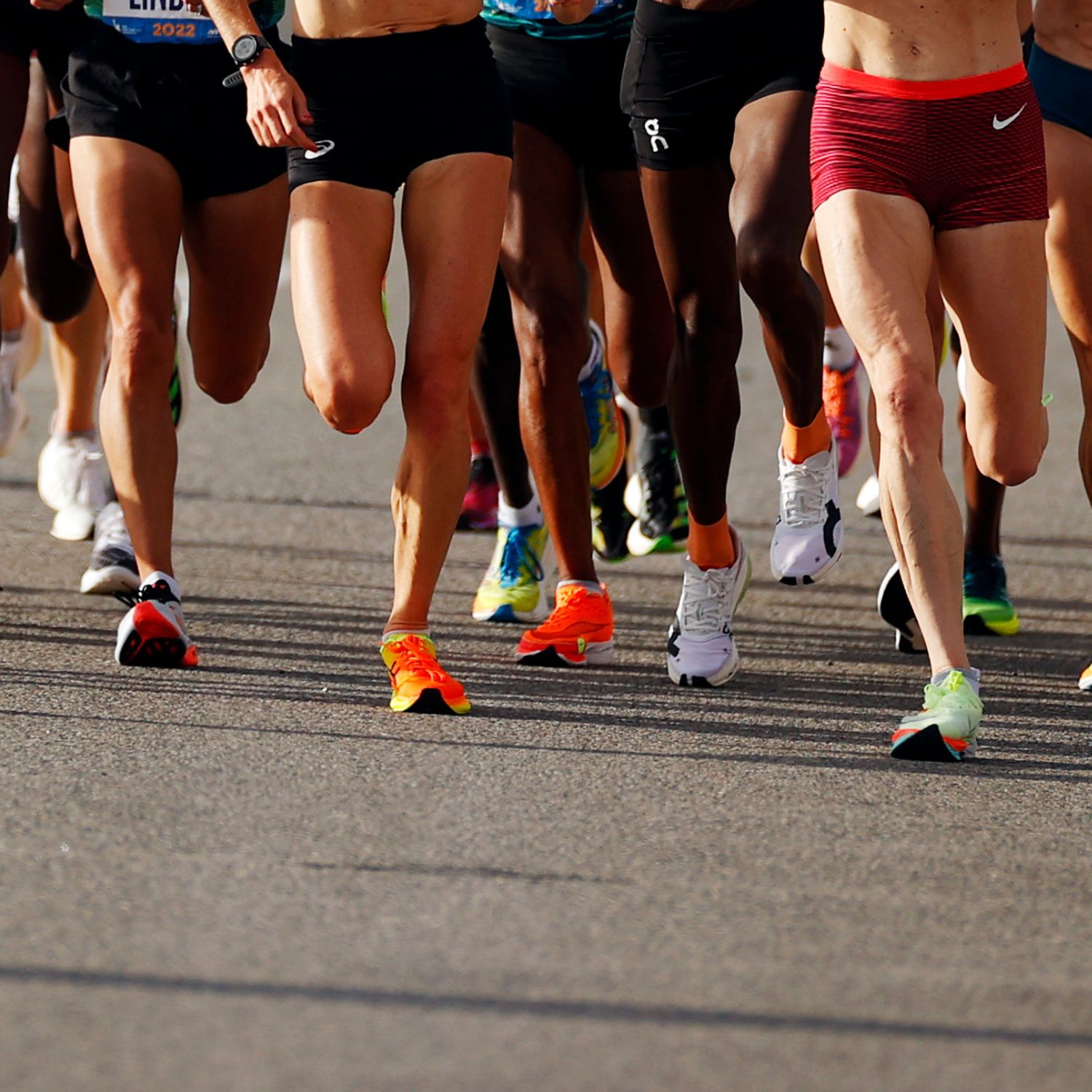 Sarah Stier/Getty Images
Heading out the door? Read this article on the new Outside+ app available now on iOS devices for members! Download the app.
For a few miles early in the New York City Marathon, Desi Linden surged into the lead of the women's elite field. The two-time Olympian and 2018 Boston Marathon champion didn't think she'd run away and win the race that way, but she was just trying to keep the pace honest.
However, hiding in plain sight on her feet as she was off the front of the pack was a yet-to-be-released pair of orange, white and black Brooks prototype racing shoes. A day later, no one is willing to give up any details of the shoe, except that, like all of the other top-tier racing shoes in both the men's and women's elite fields, it features a carbon plate embedded in a hyper-responsive foam midsole. And although it's all in accordance with World Athletics regulations, it won't be released in Spring 2024 … so we'll all have to wait a bit to see what that shoe is all about.
RELATED: Keyans Lokedi, Chebet Win Thrilling New York City Marathon Races 
Sneaking a Peek at What's to Come
Linden's shoes weren't the only speedy outliers among the top 25 men's and women's finishers. While Nike, Adidas and ASICS shoes were the most prevalent brands among elite runners, there were several shoes that aren't yet available to the public.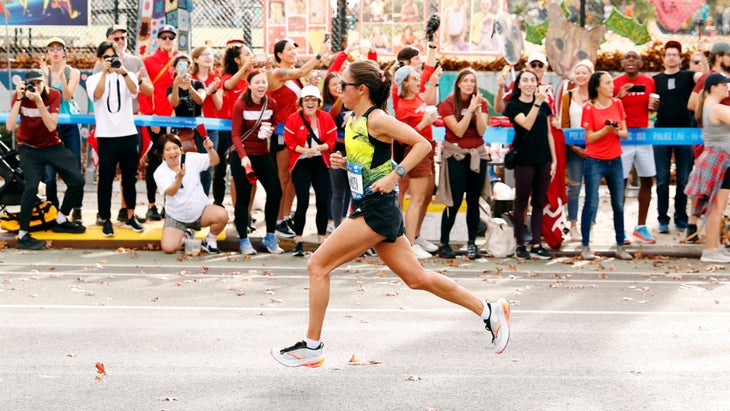 For example, the first runner to cross the finish line of this year's New York City Marathon, women's winner Sharon Lokedi, was wearing a pair of Under Armour Velociti Elite shoes. That's notable for several reasons—because it was Lokedi's first marathon, because the shoe won't become available until early 2023 and because it's the first podium finish at a major international marathon for a runner wearing Under Armour shoes.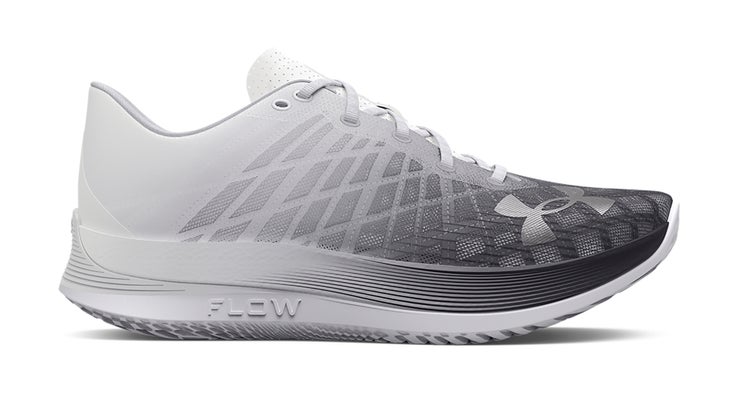 There were also three pairs of yet-to-be-released Hoka Rocket X 2 shoes on the feet of three Hoka NAZ Elite runners — two of whom set new personal best times, Aliphine Tuliamuk (7th, 2:26:18) Matthew Baxter (12th, 2:17:15). Those fluorescent yellow shoes with orange, white and blue accents and blue laces were on the feet of Hoka pros at the Boston Marathon in April and Ironman World Championships in Hawaii in October, but they won't be released to the public until late February or early March.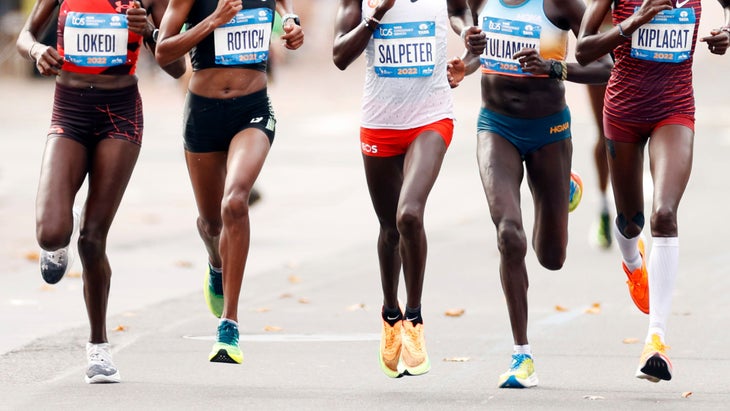 Meanwhile, the winner of the men's race, Evans Chebet, was wearing a pair of Adidas Adizero Adios Pro 3, a shoe worn by four other runners in the top 25 of the men's race and six among the women's top 25, making it the second most prevalent model among the elites. Oddly, that was the same shoe worn by Brazil's Daniel do Nascimento, who went out at record-setting sub-2:03 pace on his own, only to crumple to the ground at mile 21 after succumbing to fatigue and cramping.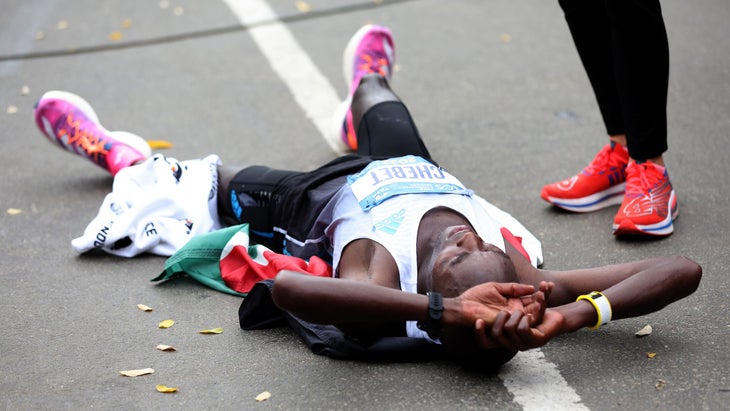 The most common shoe among the top finishers was the Nike ZoomX Vaporfly Next% 2, which was on the feet of 11 of the 50 runners among the women's and men's top 25 finishers. There were eight runners wearing either the first or second version of the ASICS MetaSpeed Sky.
Six runners wore Nike Air Zoom Alphafly Flyknit shoes, three wore Nike Air Zoom Alphalfy NEXT% 2. There were two pairs of On Cloudboom Echo 3 in the field, including those worn by Hellen Obiri who finished sixth while running a 2:25:49 in her marathon debut, while three runners wore Puma Fast R Nitro Elite.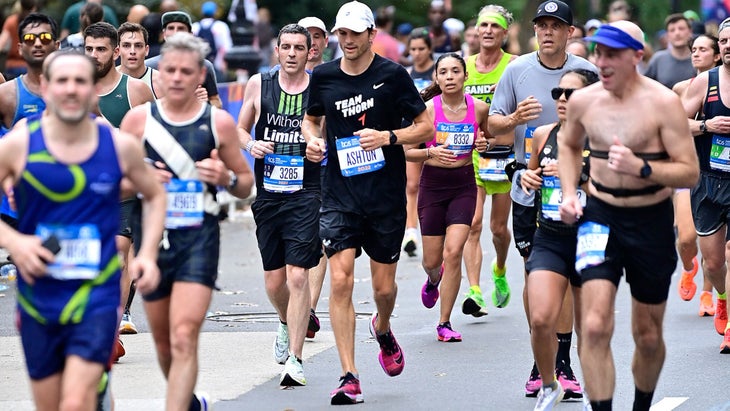 Which Running Shoes Did the Celebs Wear?
And what about actor Ashton Kutcher? He wore a pair of purple Nike Air Zoom Alphafly NEXT% Flyknit shoes and finished in a very respectable 3:54:01.
Matt James, the former lead of the Bachelor, finished in 3:46:45 with Shalane Flanagan as his guide wearing a pair of New Balance FuelCell Comp Trainer shoes. Flanagan wore Nike Air Zoom Alphafly Next% Flyknit shoes, as did Meghan Duggan, an Olympic gold medalist hockey player who ran a solid 3:52:03. Lauren Ridloff, actress from "The Walking Dead," ran in a pair of Brooks Glycerin 20 and finished in 4:05:48, while Chelsea Clinton, daughter of Bill and Hillary Clinton finished in 4:20:34 wearing a pair of Brooks Ghost 14 and Tommy Rivers Puzey (aka "Tommy Rivs," a former elite runner who survived a deadly bout of cancer in 2020, wore a pair of Craft CTM Ultra Carbon Race Rebel and finished in 6:13:54.
Which Shoes Were On the Fastest Feet?
Here's a rundown of what was on the feet of the top 25 women's and men's finishers in the Big Apple.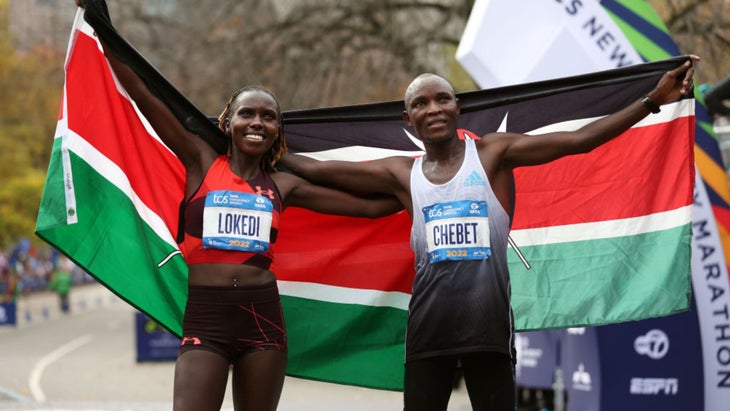 Women's Top Finishers
1. Sharon Lokedi (Kenya) 2:23:23 — Under Armour Velociti Elite
2. Lonah Salpeter (Israel) 2:23:30 — Nike ZoomX Vaporfly Next% 2
3. Gotytom Gebreslase (Ethiopia) 2:23:39 – Nike ZoomX Vaporfly Next% 2
4. Edna Kiplagat (Kenya) 2:24:16 — Nike ZoomX Vaporfly Next% 2
5. Viola Cheptoo (Kenya) 2:25:34 — Adidas Adizero Adios Pro 3
6. Hellen Obiri (Kenya) 2:25:49 — On Cloudboom Echo 3
7. Aliphine Tuliamuk (USA) 2:26:18 — Hoka Rocket X 2
8. Emma Bates (USA) 2:26:53 — ASICS MetaSpeed Sky+
9. Jessica Stenson (Australia) 2:27:27 – ASICS MetaSpeed Sky
10. Nell Rojas (USA) 2:28:32 — Nike Air Zoom Alphafly Flyknit
11. Lindsay Flanagan (USA) 2:29:28 – ASICS MetaSpeed Sky
12. Gerda Steyn (South Africa) 2:30:22 — Adidas Adizero Adios Pro 3
13. Stephanie Bruce (USA) 2:30:34 — Hoka Rocket X 2
14. Caroline Rotich (Kenya) 2:30:59  — ASICS MetaSpeed Sky+
15. Keira D'Amato (USA) 2:31:31 — Nike Air Zoom Alphafly Flyknit
16. Des Linden (USA) 2:32:37 — Brooks Prototype
17. Mao Uesugi (Japan) 2:32:56 — Adidas Adizero Adios Pro 3
18. Eloise Wellings (Australia) 2:34:50 — Adidas Adizero Adios Pro 3
19. Sarah Pagano (USA) 2:35:03 — Adidas Adizero Adios Pro 3
20. Grace Kahura (Kenya) 2:35:32 — Nike ZoomX Vaporfly Next% 2
21. Annie Frisbie (USA) 2:35:35 — Puma Fast R Nitro Elite
22. Molly Grabill (USA) 2:39:45 — Nike Air Zoom Alphafly NEXT% Flyknit
23. Kayla Lampe (USA) 2:40:42 — ASICS MetaSpeed Sky+
24. Maegan Krifchin (USA) 2:40:52 — Adidas Adizero Adios Pro 3
25. Roberta Groner (USA) 2:43:06 — Nike Air Zoom Alphafly NEXT% 2
Men's Top Finishers
1. Evans Chebet (Kenya) 2:08:41 — Adidas Adizero Adios Pro 3
2. Shura Kitata (Ethiopia) 2:08:54 — Nike ZoomX Vaporfly Next% 2
3. Abdi Nageeye (Netherlands) 2:10:31 — Nike ZoomX Vaporfly Next% 2
4. Mohamed El Aaraby (Morocco) 2:11:00 — ASICS MetaSpeed Sky+
5. Suguru Osako (Japan) 2:11:31 — Nike ZoomX Vaporfly Next% 2
6. Tetsuya Yoroizaka (Japan) 2:12:12  — Nike ZoomX Vaporfly Next% 2
7. Albert Korir (Kenya) 2:13:27 — Adidas Adizero Adios Pro 3
8. Daniele Meucci (Italy) 2:13:29 — ASICS MetaSpeed Sky+
9. Scott Fauble (USA) 2:13:35 — Nike Air Zoom Alphafly NEXT% 2
10. Reed Fischer (USA) 2:15:23 — Adidas Adizero Adios Pro 3
11. Jared Ward (USA) 2:17:09 — Saucony Endorphin Pro 3
12. Matthew Baxter (New Zealand) 2:17:15 — Hoka Rocket X 2
13. Leonard Korir (USA) 2:17:29 — Nike ZoomX Vaporfly Next% 2
14. Matthew Llano (USA) 2:20:04 — Under Armour Velociti Elite
15. Olivier Irabaruta (Burundi)  2:20:14 — On Cloudboom Echo 3
16. Hendrik Pfeiffer (Germany) 2:22:31 — Puma Fast R Nitro Elite
17. Jonas Hampton (USA) 2:22:58 — Adidas Adizero Adios Pro 3
18. Alberto Mena (USA) 2:23:10 — Nike ZoomX Vaporfly Next% 2
19. Jacob Shiohira (USA) 2:23:33 — Nike Air Zoom Alphafly Flyknit
20. Edward Mulder (USA) 2:23:42 — Nike Air Zoom Alphafly Flyknit
21. Jordan Daniel (USA) 2:24:27 — Nike ZoomX Vaporfly Next% 2
22. Nathan Martin (USA) 2:25:27 — ASICS MetaSpeed Sky+
23. Jeff Thies (USA) 2:25:45 — Nike Air Zoom Alphafly NEXT% 2
24. Shadrack Kipchirchir (USA) 2:28:15 — Puma Fast R Nitro Elite
25. Abi Joseph (USA) 2:29:16 — Nike Air Zoom Alphafly Flyknit
Lead Photo: Sarah Stier/Getty Images
Trending on Outside Online