Sponsor Content: New Balance
You're Tracking Miles. This Brand Is Tracking Sustainability Goals.
The sneaker industry has a role to play in climate change. New Balance is trying to reduce its climate impact with a holistic program.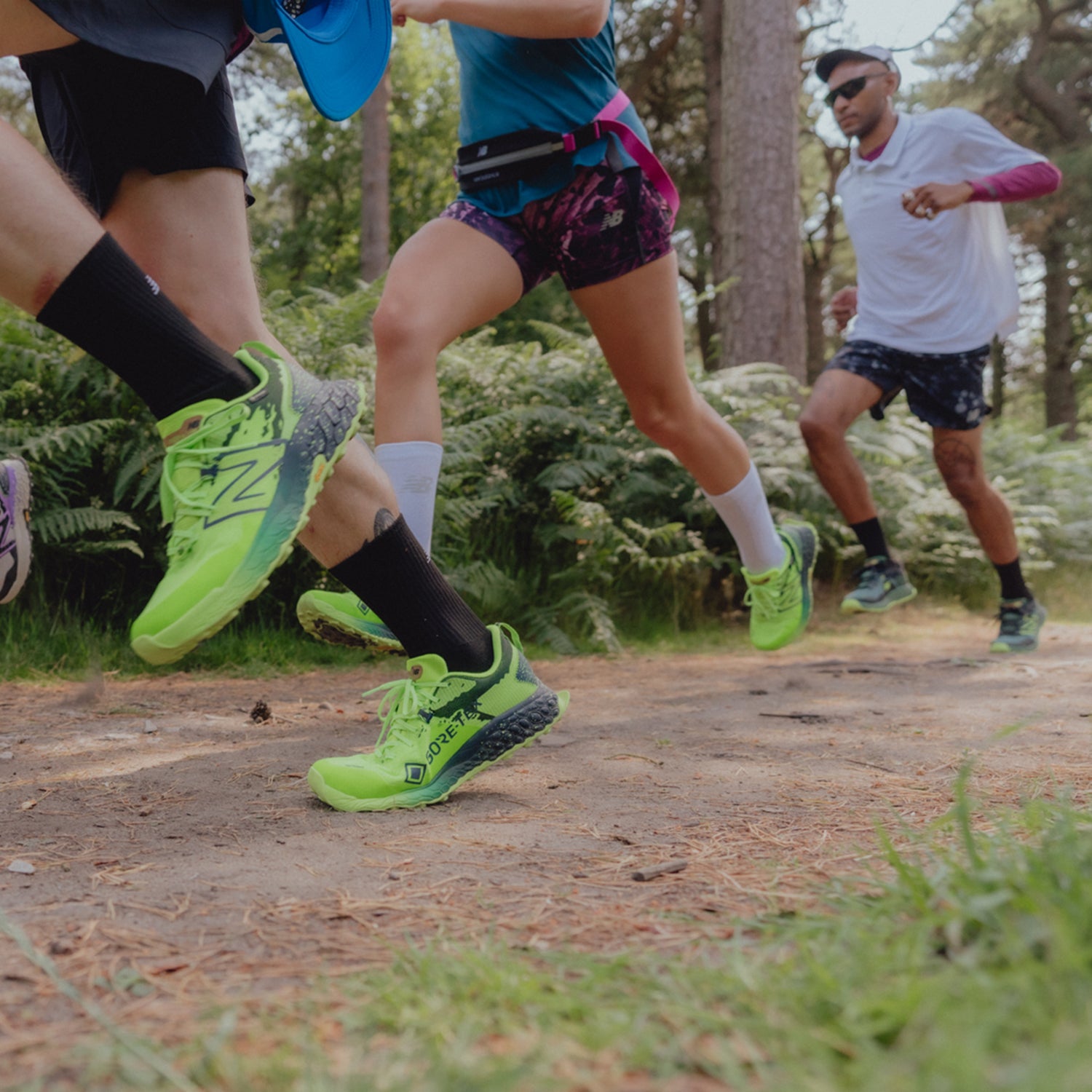 New Balance
Avid runners and hikers know how to put their shoes to work. It's common for high-mileage dynamos to retire multiple pairs of sneakers each year. Exercise science experts recommend replacing running shoes every 300 to 500 miles to ensure your muscles and joints are properly supported while you run. While that new-shoe feeling is first class, it comes at a cost—more waste generated and more energy needed to make new materials and new products. Sneaker giant New Balance isn't willing to accept this waste as just a necessary reality of the industry. Instead, the company has set some admirable sustainability goals to address the ways its products contribute to the problem.
Sustainability isn't a new priority for New Balance; the company has long prioritized efforts to be more environmentally responsible. But the New Balance team is keenly aware of the current climate change reality. "We have an extremely small window of time to take action," says John Stokes, the company's director of sustainability. "It depends on what we do in the next seven to eight years. The time is now, and we literally can't act fast enough."
Stokes heads up an internal department that focuses on understanding how the business's decisions affect much more than just the bottom line. From this understanding, the team develops strategies for more sustainable business practices and frequently reassesses what efforts will have the most impact.
Supporting Entities with an Environmental Focus
Environmental conservation and advocacy is a key part of the sustainability mission at New Balance. The company extends its reach by working with 1% for the Planet, a global network of businesses pledging to give 1 percent of gross sales to environmentally focused entities.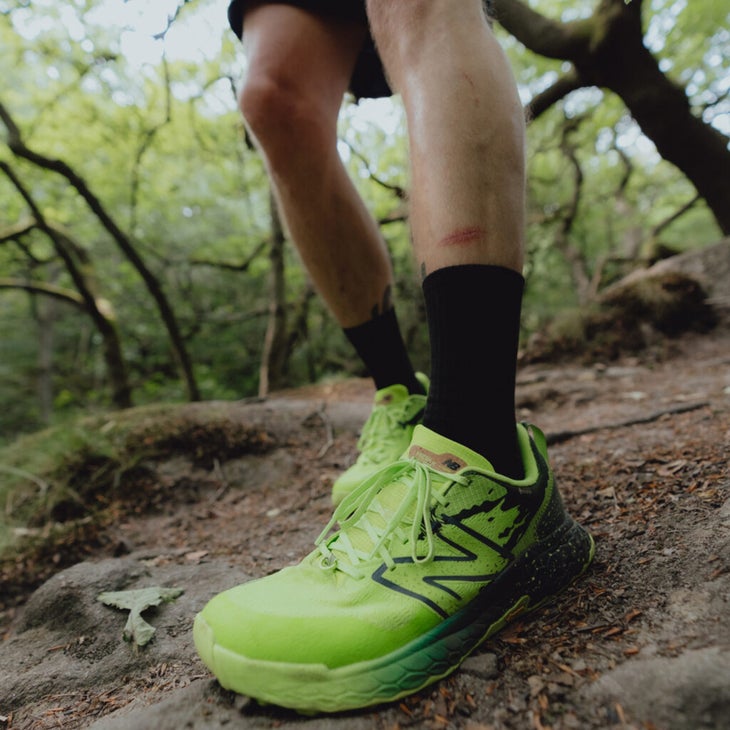 For New Balance, that means 1 percent of MSRP from every sale of the Fresh Foam X Hierro series (the Hierro v7, Hierro Mid, and Hierro v7 GTX) in the United States is donated to organizations focused on climate advocacy and protecting public lands, including Protect Our Winters and the Trust for Public Land.
The Hierro sneakers were a natural fit for this relationship as they are a beloved trail shoe for many outdoor enthusiasts. Stokes and his team hope to add more shoes and apparel to this program in the coming years.
 Reducing Carbon Footprint
Carbon emissions are a key metric when it comes to evaluating sustainability. Most of New Balance's carbon footprint can be attributed to three things: materials used to make products, energy consumption in factories, and transportation of products from factory to market. "There's really no singular aspect that makes a product more sustainable," Stokes says. "It's pretty holistic, and we're trying to address all of those major impact areas." New Balance had previously committed to cutting its carbon emissions by 30 percent by 2030, but in 2021, the company signed on to the Business Ambition for 1.5C, and it recently submitted an even more aggressive target that is 1.5C-aligned. The company also has some specific goals it plans to reach by 2025, all of which contribute to its overall climate goals:
Materials:

Source 100 percent preferred cotton, 100 percent preferred leather, and 50 percent recycled polyester. Already, New Balance is incorporating leather sourced from a verified regenerative ranch in California into some of its products, and regenerative supply chains for split suede are in the works. Regenerative agriculture is an impactful way to reach long-term sustainability goals through the ongoing care and protection of the ecosystem. 

Waste:

Achieve zero waste to landfill in all footwear factories, and eliminate the use and discharge of hazardous chemicals. Most of a product's impact—including waste—is determined at the design phase, Stokes says, so New Balance focuses on smart, efficient design and dependable construction so its products last as long as possible. Stokes and his team are rolling out a zero-waste design guide, which teaches product designers how to use the company's "no piece left behind" design approach and other strategies to reduce the amount of waste that is "designed into" a shoe from the beginning. 

Energy:

Power all owned operations with 100 percent renewable electricity by 2025.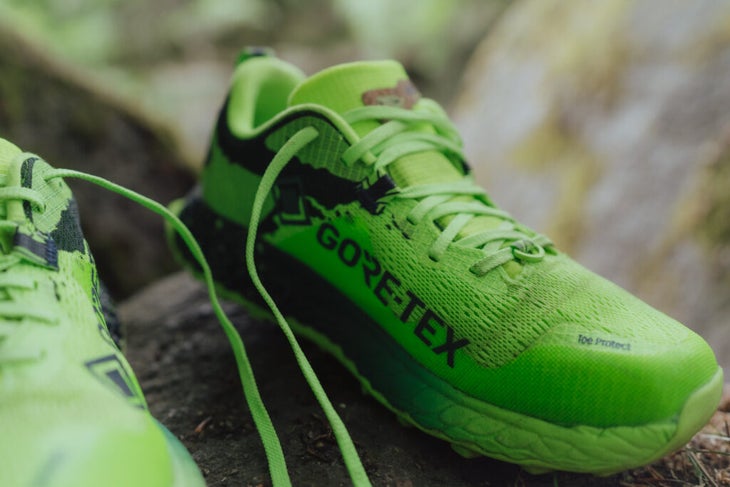 The whole company is in on this sustainability mission. "There's more energy and interest right now than ever before," Stokes says.
Extending the Life of Your Running Shoes
New Balance demonstrates the value of taking a sustainability idea and running with it. In addition to developing more sustainable design and production practices, New Balance is pushing the limits of how long a running shoe can truly last. The company is currently testing cleaning and repair services in the UK and Japan. The hope is that if these services are scalable, they can help to extend the life of New Balance shoes worldwide. Until then, New Balance is adding more at-home care instructions to its website to help you maintain your shoes. Yes, you'll still need to replace your running shoes when the old ones wear out, but taking good care of your shoes can extend their life. The most sustainable shoe is one that already exists. Stokes also suggests we rethink the paradigm that shoes only last a certain number of miles. That number will vary for everyone—If your shoes are still working for you, keep using them. 
While there's currently no way to recycle New Balance sneakers, the possibility is certainly on Stokes's radar. Design and Innovation teams are looking at ways to make the construction and materials of New Balance shoes more recycling-friendly in the future. 
---
Independent since 1906, New Balance empowers people through sport and craftsmanship to create positive change in communities around the world.
Lead Photo: New Balance
Trending on Outside Online