Runner's Gift Guide: Best Road-Running Shoes 2022
With so many running shoes, which ones do you choose? Don't worry, we have you covered with our best road running shoes for holiday gifts.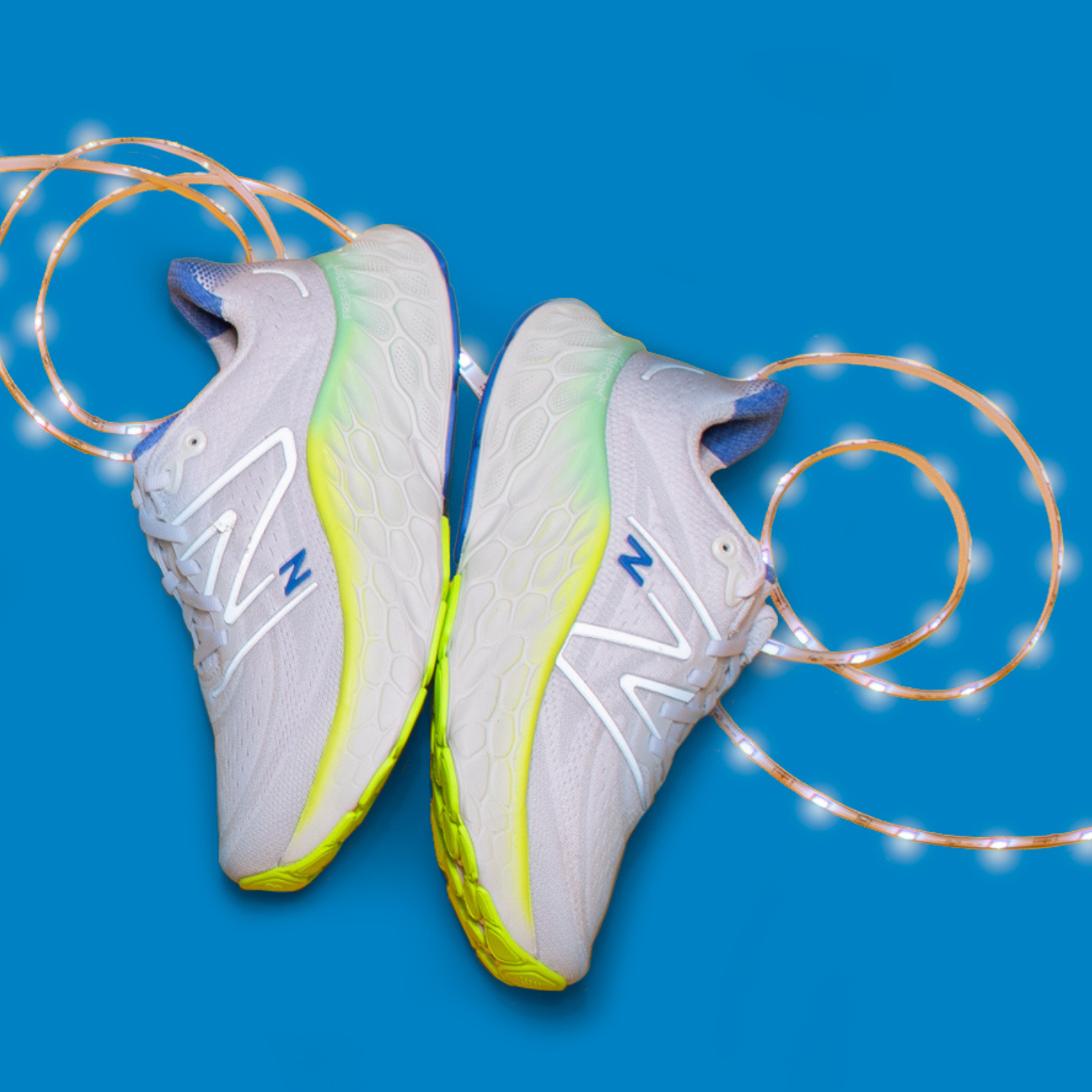 Heading out the door? Read this article on the new Outside+ app available now on iOS devices for members! Download the app.
"Best" is a subjective term, especially when this year has delivered so many bold updates to key running shoes. The lens we used for choosing our best road runners to gift is selecting those styles a runner would not go wrong with if they received them. Nothing smells quite so good as a fresh pair of running shoes, so dive into this selection and choose for your BFF road runner.
Best Gifts: Road Running Shoes 2022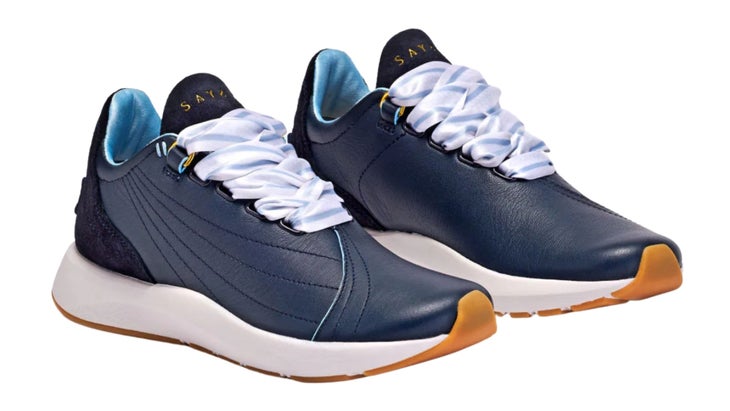 Saysh Two (Women-Specific) | $185
"Premium" doesn't even begin to describe the beautifully designed shoes from Allyson Felix's brand Saysh. While a lifestyle shoe, Saysh has made the list as the statement shoe from the United States most decorated female Olympian. What Felix and her company stands for is female empowerment through sport and speaking out. When any woman steps into a pair of Saysh, we like to think she walks figuratively a little taller. What's a better gift than that?
The second version that came out this year comes in new colors (including a decadent goldenrod and forest green) and includes thick satin laces that dare to be an accessory on their own. These lifestyle sneakers scream spoiled in the best way. A note on sizing: We agree with what the Saysh site points out—the fit is quite snug, so order a half size larger.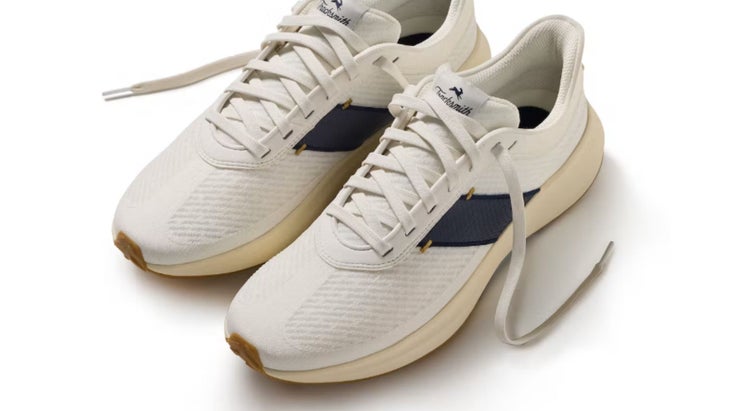 Tracksmith Eliot Runner| Preorder $198
Just in time for the fresh smell of winter comes Tracksmith's first foray into the running shoe game. Disclaimer: we have yet to put this shoe to the test, but we did get to hold it at a recent visit to the Tracksmith Clubhouse. With that in mind, acknowledge this recommendation is based purely on aesthetics and that fresh shoe smell, until we can take it for a proper spin. True to Tracksmith style, the retro stripe and commitment to quality is dripping, and recommended for those tapping into a true Nor'easter style. As of typing, the Eliot is currently on pre-order, but sometimes the wait is worth it.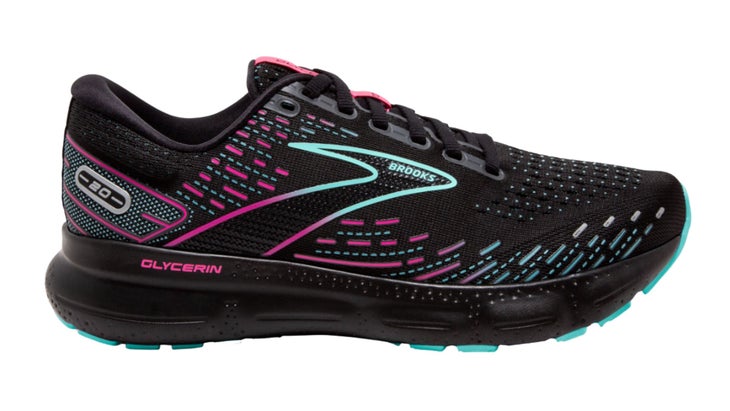 Brooks Glycerin 20 | $160
Look no further than this shoe for the runner who enjoys a familiar, comfortable ride with a modern bounce. Brooks used its new cushioning compound—DNA Loft v3, a blend of EVA, air, and nitrogen gas—in this 20th edition of the Glycerin, and it shines underfoot. The cush is soft but resilient—testers could actually feel the bounce-back—and crazy lightweight. The midsole and outsole are redesigned to give runners more room throughout the midfoot, which produces a smoother and more stable transition from heel strike to toe-off. The stretchy and secure engineered mesh upper and soft, padded tongue add to the joys of this comfy workhorse.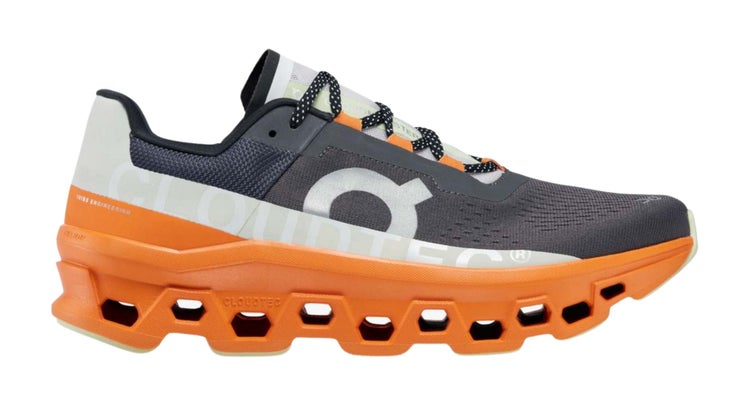 On Cloudmonster | $170
Testers called this shoe "fun" and "bouncy" to run in, ideal for long runs, recovery runs, or just anytime you're craving a little extra soft bounce.The Cloudmonster's cushioning comes from ten rows of massive, hexagonal pods—the largest on any On shoe to date—which allow the brand's resilient foam to compress upon impact for a cushy ride. Yet the ride is surprisingly stable and lively as well. Above the pods, a full-length, slightly-helix-shaped, flexible, and responsive polypropylene plate delivers a smooth transition from heel strike to the peppy toe-off. Comfort is the theme throughout, with a roomy, soft and breathable upper and lace loops securing the foot in a soft, even hug.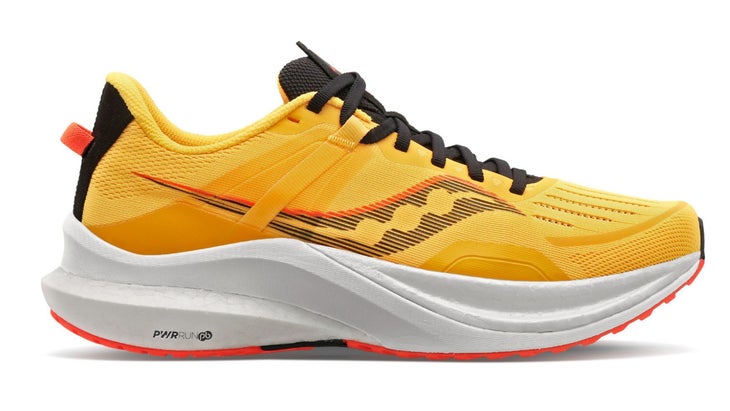 Saucony Tempus | $160
Know a runner who likes fast runs but needs some extra stability? Saucony's new Tempus might be their perfect present. It provides strong foot support and guidance when you need it, but it's also a speedy, lightweight, cushioned trainer and racer that delivers a smooth, plush, and propulsive ride. The peppy underfoot feel stems from a full-length midsole of ultralight, high-cushioning, and maximum-rebounding PEBA-based foam. To make this super foam stable, Saucony surrounded it in a frame of denser, more supportive EVA foam. One tester called it "a perfect combination of light weight and lateral stability, while unbelievably responsive under the entire foot."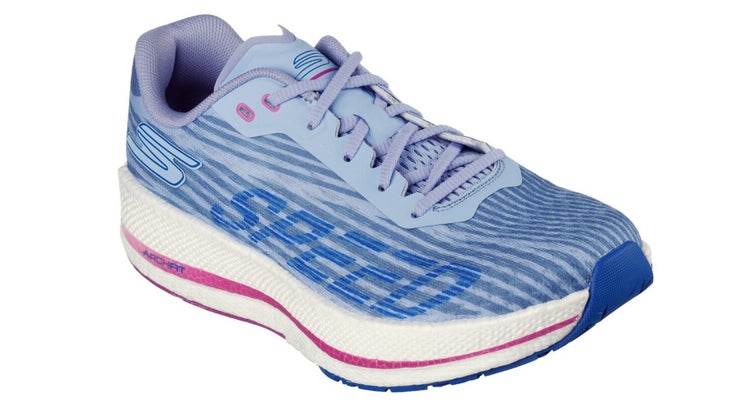 Skechers Razor 4 | $145
The Razor 4 is a light, fast uptempo trainer that could double as a racer. At its core is an updated version of Skechers' ground-breaking Hyper Burst foam, made from TPU beads rather than EVA, which gives it a more rubbery, springier feel. The new foam sinks in on impact, delivering a soft, smooth touchdown and transition, then firms up almost immediately into a bouncy, lively underfoot platform that gets you back in the air quickly. Enhancing that rapid toe-off is a flexible, forefoot, H-shaped plate made of carbon-infused pebax. Topping off the smooth ride is a soft, foot-hugging upper and a more generous fit.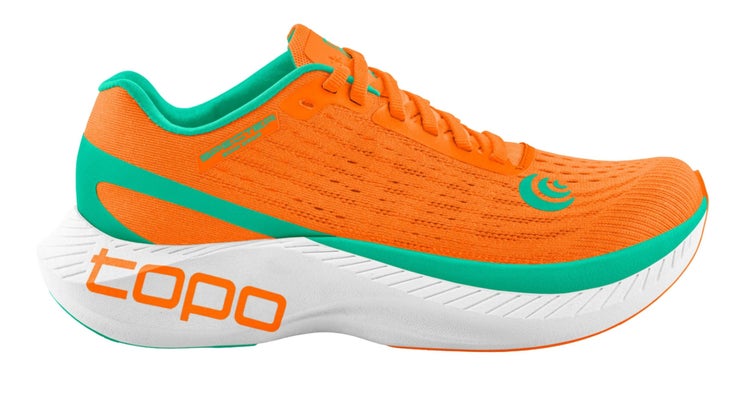 Topo Specter | $160
The Specter stands out due to its generous forefoot fit, balanced cushioning and stability, and natural, smooth-rolling ride. The highest-stack, most cushioned Topo model to date, the Specter maintains a grounded feel by using two foams underfoot. The core of the midsole is made of ultra-light, ultra-soft, bouncy Pebax foam. To keep this squishy foam from sinking too far, it is surrounded on the bottom and sides by a somewhat firmer EVA-blend foam. One tester said that the well-cushioned ride was "underlayed with a stable platform that supported my stance—so much so that I'd note my feet and lower legs relaxing as runs progressed."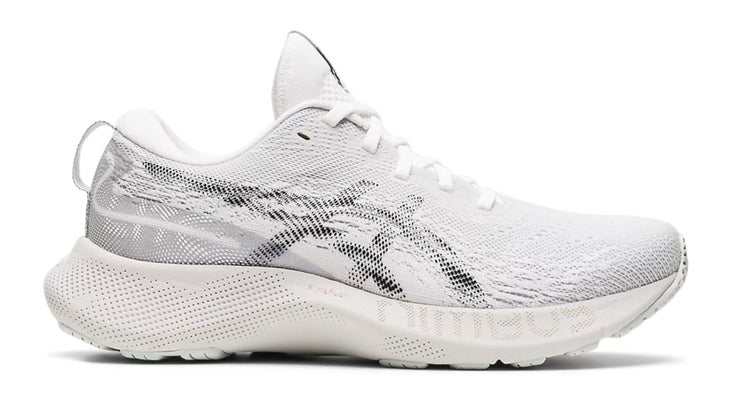 Asics Gel Nimbus Lite 3 | $160
For an uber-comfortable fit and ride without excess weight, it's hard to beat the Nimbus Lite 3. A plush mesh upper and a stretchy knit tongue feels like a lightly-supported snug sock. Impact-absorbing gel under the rear foot reduces shock, while energetic foam in the rest of the midsole adds flexibility, comfort, and relief during long outings. Despite the light weight, the shoe is tuned for comfort, not speed, although it won't get in the way during pick-ups. Thanks to an upper made from 70 percent recycled materials, wearing (and gifting) this shoe feels good in more ways than one.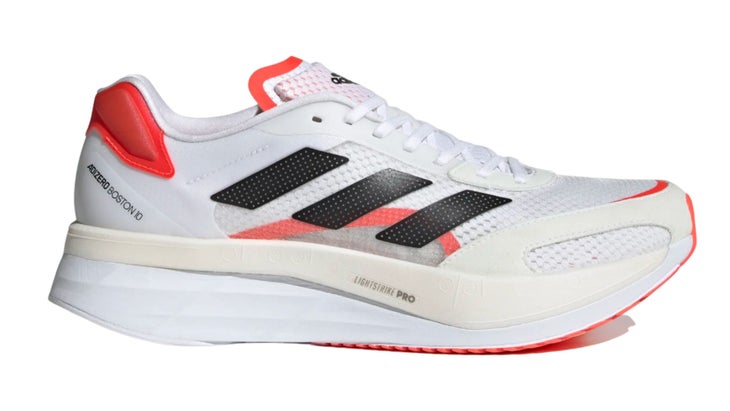 Adidas Adizero Boston 11 | $160
The Adidas Boston 11 is a high-mileage, cushioned shoe that is at home on long pace runs. The 11s are more maximalist than earlier editions, making them less lively at faster tempos, but they start to shine as your splits pile up. With a Continental rubber outsole providing long-lasting grip, fiberglass energy rods speeding the roll onto your toes, and a dual-density midsole of TPU-based Lightstrike Pro over firmer, durable EVA Lightstrike delivering responsive cushioning, these daily trainers afford comfort and durability on a variety of runs. Expect to get twice the mileage out of these Bostons than you might get from similar competitor's models. Plus, the new, lighter mesh upper is made with 50% recycled materials.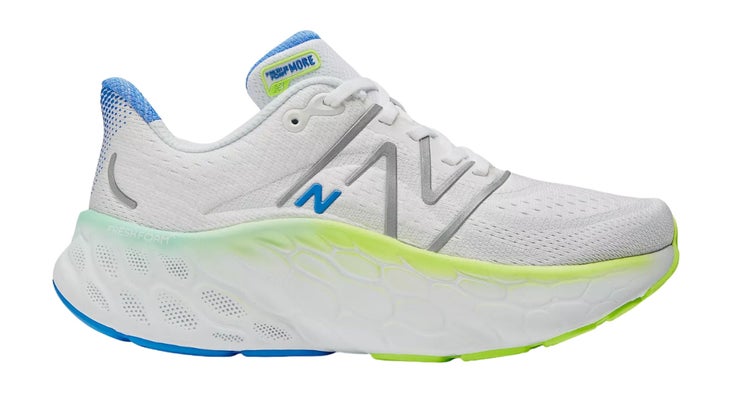 New Balance Fresh Foam More v4 | $150
For the runner seeking more, New Balance's Fresh Foam More v4 delivers. This shoe is plush, with 34mm of the softest Fresh Foam ever under the heel and 31mm under the forefoot. Surprisingly, the ride isn't wobbly or overly squishy. Credit the stability to the extra wide base and the contoured top of the midsole which combine so that when you sink in, the midsole wraps around and cradles your foot. And when you hit bottom, the foam gently bounces back while a rocker toe rolls you forward. The fit is soft and generous, and the ride is dreamy for any runner who likes to float far above the harsh ground.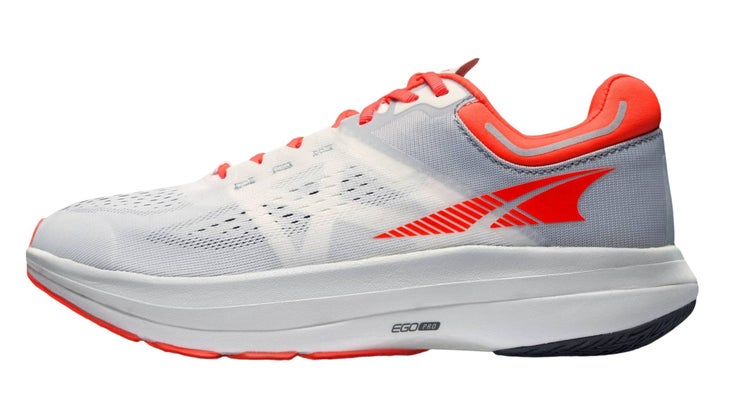 Altra Vanish Tempo | $190
The Vanish Tempo is for the runner who wants a shoe with both a balanced, natural feel and the highly-cushioned bounce of a supershoe. Built on a 33mm stack of Altra's lively, nitrogen-infused midsole foam with an aggressive, early rocker, the Tempo lacks a plate, making its ride a little softer and more forgiving than carbon-plated racers, if not quite as snappy and propulsive. Testers reported that the shoe delivered a plush and lively feeling regardless of the pace or stride. The breathable, engineered mesh upper provides a superb mid-foot lockdown, and narrow-footed runners will appreciate the slimmer profile.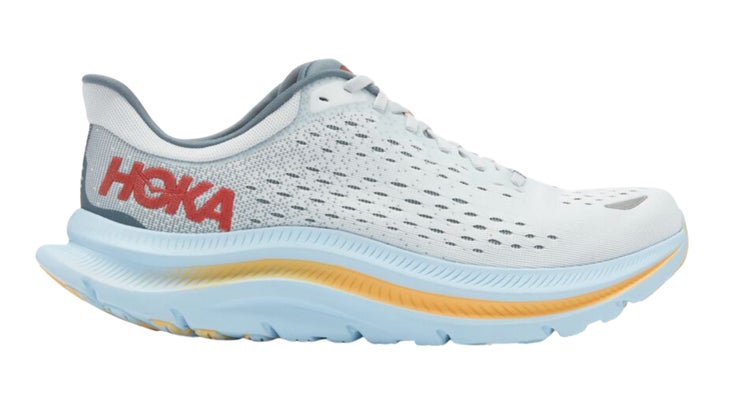 Hoka Kawana | $140
Know someone who loves Hoka shoes? Outside's Gear Guy columnist does, and says the Kawana is his favorite Hoka model ever. He particularly enjoyed the feel of the new midsole foam, which is denser than previous Hoka foams, providing a sweet balance between soft cushioning on long runs and lively responsiveness during speed workouts or steeep ascents. He also appreciated the smooth stabilizing effect of the swallow-tail "crash pad" off the back of the sole, and the comfy and supportive wrap of the mesh upper. Chances are your Hoka-loving runner will too.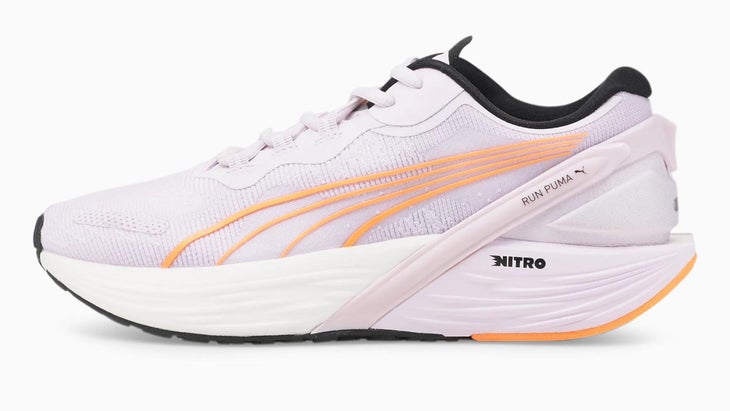 Puma XX Nitro (Women-Specific)| $160
Launched this year, Puma designed a shoe specifically with female anatomy in mind. The XX features a narrower heel hold and narrower fit at the arch and instep than what's found in most men's or unisex shoes, or even in women's versions of shoes offered to both genders. The shoe also addresses the fact that women have a wider base of support relative to their height compared to men—the angle of our hips to the ground is different, and influences how women's feet hit the ground. In short, women tend to pronate more than men. A great choice to give to your favorite female runner looking to log mild training miles over the winter.
Trending on Outside Online