Is Coffee the Next Big Thing in Running Apparel?
Science has proven the performance benefits of caffeine, but companies are now using coffee grounds in running apparel. Here's the scoop.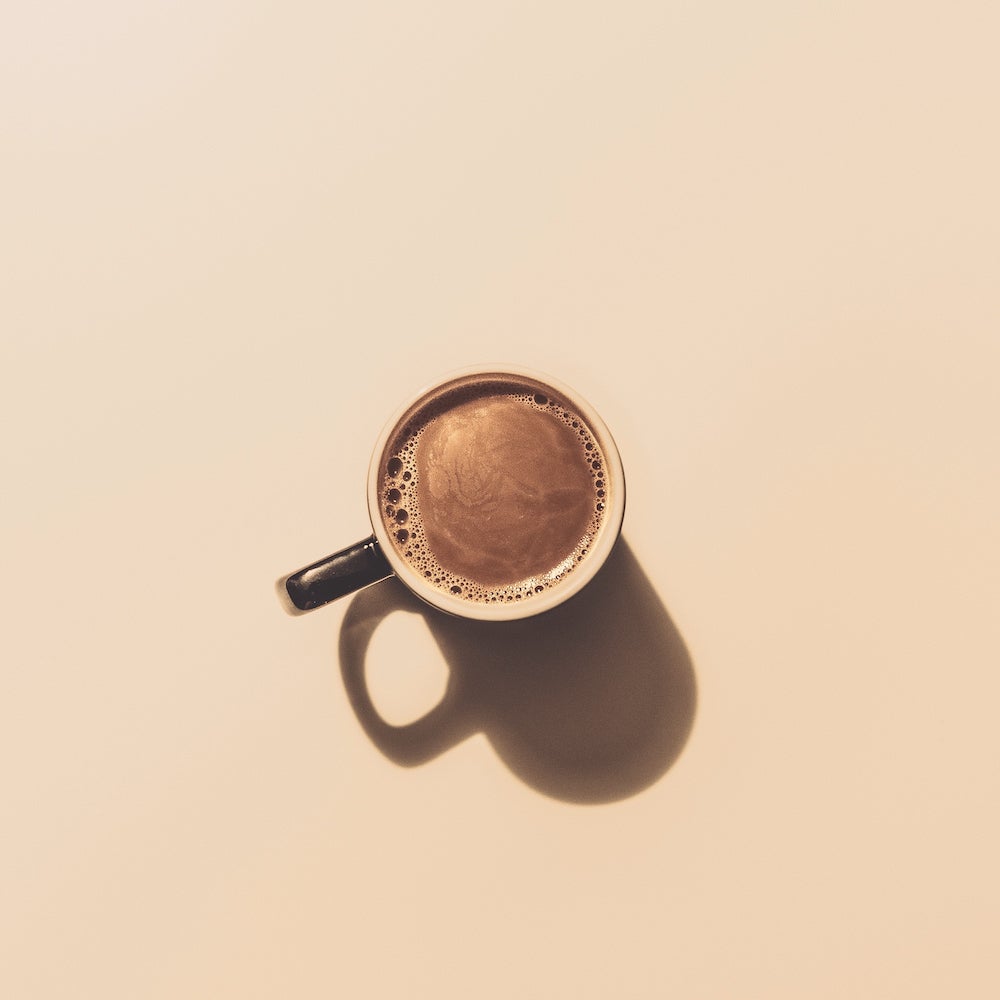 Jakub Dziubak/Unsplash
Heading out the door? Read this article on the new Outside+ app available now on iOS devices for members! Download the app.
According to research and new innovations in fabric design, coffee can now speed you up two ways—with pre-run sips and mid-run wicks. 
We've known that caffeine has long been heralded as a performance enhancer by those who desire a high level of focus, and recent studies show that caffeine helps those on the move by stimulating muscle fibers and mitigating fatigue. 
But with roughly 1 billion people drinking coffee every day—which results in about 2 billion cups consumed daily—the weight of these coffee beans totals roughly 22 billion pounds per year. Unfortunately, most spent coffee grounds end up in landfills, where they release methane, a harmful greenhouse gas. Several companies have combatted this by incorporating coffee grounds and charcoal into running apparel, for environmental and microbial benefit. But how does it work, exactly?  
Drinking Coffee, Sure. But Wearing Coffee?
First, it turns out that wearing coffee can actually help you stink less, as roasted coffee is a natural deodorizer. Caffeine contains nitrogen, which gives it natural, odor-blocking properties. 
S.Café, one of the leading companies creating coffee-infused fabrics today, first came to the idea when the founder's wife noticed a coffee shop customer picking up recycled grounds at a café, and jokingly told her husband he should put coffee in his clothes, so he wouldn't smell so bad. After four years of research and development, they created S.Café fabrics. 
RELATED: I Run With Nothing But Coffee In My Stomach. Is That Destroying My Insides?
The process is relatively simple: When coffee is brewed, roughly 0.2 percent of the bean, by weight, is used. S.Café takes the other 99.8 percent of the grounds and, using a low-temperature, high-pressure process, combines the grounds into the yarn surface of a polyester filament. This turns the yarn that had previously been 100 percent synthetic into a blended fiber, thereby reducing overall polyester in the production chain. In addition to odor absorption, S.Café's coffee-infused apparel has other performance benefits, including the ability to dry out almost twice as fast as cotton, while offering natural UV protection. 
Companies Incorporating Coffee 
Several performance brands have begun experimenting with coffee-infused fabrics. Ministry of Supply, a fabric innovator since 2012, known for incorporating NASA technology into its apparel, uses 4 percent S.Café fabric in the liner of its Newton Active Short. Their Atlas Ankle Sock, while not specifically a running sock, benefits from S.Café, with 40 percent coffee-infused recycled polyester paired with cushioning and ventilation that perform admirably on the trail. 
RELATED: Can't Stand Black Coffee? Adding Milk May Decrease Inflammation.
La Sportiva, the Italian brand known for its extensive array of alpine footwear, has partnered with S.Café, and they recently introduced coffee fabric in its Tracer Tee. Jake Burgart, an Associate Product Manager at La Sportiva, noted that customers have begun to demand more sustainability-forward apparel, and they've been excited to lean into recycled and low-impact products. When a fabric innovation increases both performance and sustainability, it becomes kind of a no-brainer. 
"You don't get the shiny plastic bag feel that you can sometimes experience with a pure polyester t-shirt," noted Burgart. "Polyester is great in the sense that it can wick really quick and keep you dry, but if you get wet, you get that sneaky lamina layer because the fiber, at a base level, is plastic. What I found with the S.Café shirt is that I can't sweat it out too much."
Another company that sources fabric from S.Café is rabbit (the coffee-infused Swish Jacket is one of Trail Runner Editor in Chief Zoë Rom's all-time favorite pieces of gear). Co-founder Monica DeVreese explained that the impetus behind this decision was the company's desire to use more sustainable materials in its products and reduce its environmental impact. (She also noted that having coffee aficionados on staff didn't hurt.) "Our team members are passionate coffee lovers, and incorporating this beloved beverage into our apparel just seemed like a natural fit," said DeVreese. 
Coffee Charcoal 
Brice Partouche, founder and creative director of the French running apparel brand Satisfy, realized the potential for coffee-infused fabrics in 2017. 
"At the time, we were already big advocates for the use of natural materials, such as organic cotton and pure merino wool, in the performance space," said Partouche. "The lean towards coffee charcoal happened when we were looking for a more sustainable and natural approach for our baselayer systems. Through a lot of testing and experimentation CoffeeThermal was born."
Satisfy partnered with the Israeli nylon company NILIT to develop CoffeeThermal. Leftover coffee charcoal, made from recycled coffee bean residue, is integrated into the yarn.

"This multidimensional stretch fabric provides compression and is knitted with coffee-charcoal infused fibers making it naturally heat-retentive, bacterial, and odor resistant. NILIT®-HEAT Coffee Thermal uses waste product from coffee production," says the website for Satisfy's CoffeeThermal base layer. 
RELATED: Six Coffees that Are Supercharged for Athletes
In order to maximize sustainability, Partouche noted that the fabrics developed with this technology are made in France and Italy, keeping them as close to the overall production and operations chain as possible. The fabric is also unbleached and undyed, to maintain its unique coffee color. 
"I think natural and sustainable technologies are the next big thing in the running and outdoor spaces," Partouche said, pointing to Satisfy's line of organic cotton running tees. "Runners have been told for decades that they can't run in cotton and have to wash their running gear after every run. We can't disagree more." 
As with Ministry of Supply, La Sportiva, and rabbit, the pivot towards coffee-infused apparel is as much about sustainability as it is functionality and performance. To that end, I asked DeVreese if drinking coffee and then wearing coffee will actually make you faster. Her response, though admittedly not backed by any research, perfectly captured why coffee may indeed be the next big thing in running performance apparel. "Well, duh!"
Lead Photo: Jakub Dziubak/Unsplash
Trending on Outside Online