The Summer 2022 Carbon Trail Shoe Roundup
Our editors tested five of the best carbon-plated trail shoes—and two alternative plated shoes—on the market. Here's what we found.
Heading out the door? Read this article on the new Outside+ app available now on iOS devices for members! Download the app.
Carbon shoes. Super shoes. In the road running world they're old news. But in the trail and mountain scene, these metal-plated all-stars are having their moment. And yet for all their hype, for all their ergonomic promise and bionic propulsiveness experienced by marathoners, how well does this shoe tech translate to dirt and mountain? 
The editors at Trail Runner wanted to find out, so we took seven of the hottest carbon-plated trail shoes on the market for a spin. The result? Mixed. Testers' perception of each shoe's comfort and performance ranged widely. Here's what surfaced after testing six models.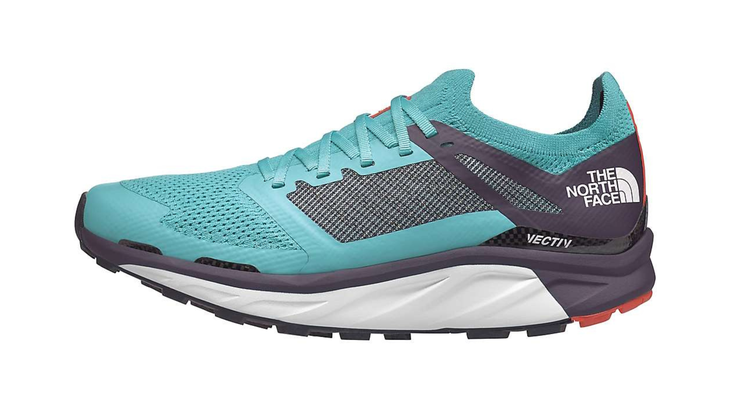 The North Face – Flight Vectiv ($199)
We found ourselves reaching for this shoe again and again for our weekly miles. It features a fairly tapered toe box, medium-sized lugs, and mid-weight reliability. In other words, you know where your foot will be when you step, which makes for a highly dependable shoe in a wide variety of conditions. The 3D carbon-fiber plate offers exceptional protection and a snappy feel. Though a bit stiff out of the box, they loosened up with additional miles. The upper has a panel woven with Kevlar, but nearer the forefoot the mesh is light and breathable and may prove vulnerable to rips. One tester used "papery" to describe the lacing eyelets. Additionally, there is a sock-style wrap at the ankle that our testers weren't thrilled about (no-show socks were out of the question, as they may rub at the Achilles.) That said, another tester noted this feature as offering snug precision while minimizing debris.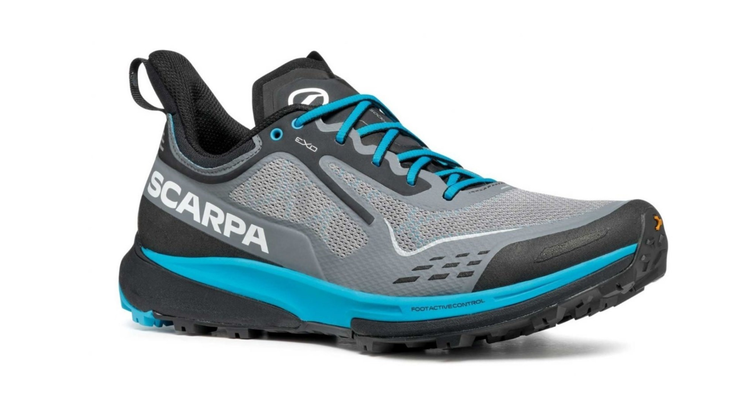 Scarpa Golden Gate Kima RT ($199)
This well-crafted piece of footwear by a trusted company in mountain sports made us feel like our favorite climbing approach shoe had a love child with a racing flat. It is the narrowest and least flexible of the group, as well as the lightest. The upper has breathable mesh but seems adequately reinforced in all the right places. Testers found the high ankle swallowtail feature to be a bit extraneous, though the heel cup does hold the foot in place. The midsole combines an Active EVA compound with a 1mm carbon plate, resulting in adequate protection and responsive stiffness. It wouldn't be the shoe of choice if your feet were sore and you needed a recovery run, but we did reach for them when we wanted a fast weekday run.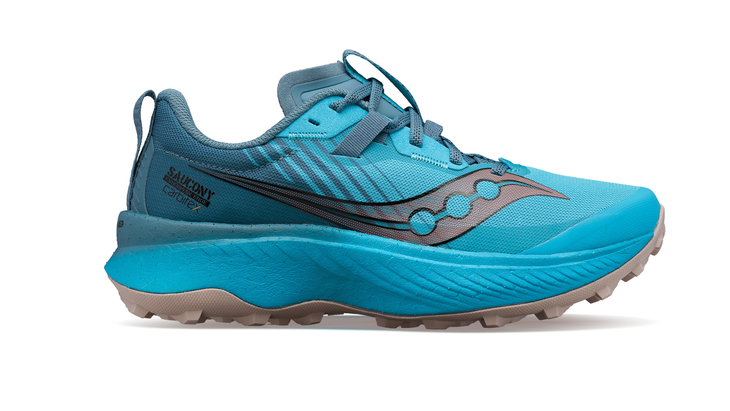 Saucony Endorphin Edge 
Saucony's carbon offering was a favorite of our female testers, in particular. Sturdy and compact, it offered security on hills as well as chunky rocks and muddy terrain. We didn't feel as much extra spring from the Carbitex plate as we experienced from other plates, but testers appreciated its ability to bend upward and adapt to varied terrain, as a few of the carbon plates in other shoes made them feel less stable on uneven footing, and some even led to ankle rolls. The Endorphin Edge is a great balance between lightweight and sturdy, holding up well on gnarlier terrain without holding you down on flats. Though not the springiest ride, they're one of the most dependably sure-footed when the going gets rough.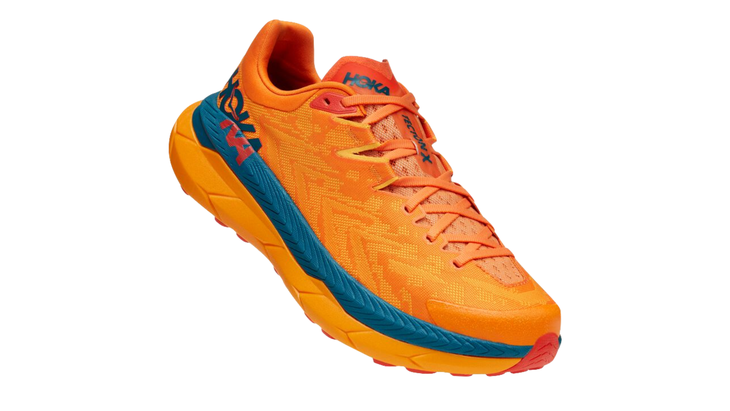 Hoka Tecton X
HOKA's answer to the carbon revolution is nothing short of exceptional. This shoe hits most all of the marks of a sturdy, dependable carbon-plated trail option, with an aggressive enough outsole to tackle technical sections while capable on flat gravel paths—and light enough for racing. One tester who was previously less-than-excited about some of HOKA's spongier offerings resonated with the Tecton X's combination of comfort, protection, and firmness. Its parallel fiber plates are a fine solution to balancing the promise of propulsion with a more forgiving lateral stability performance on technical terrain.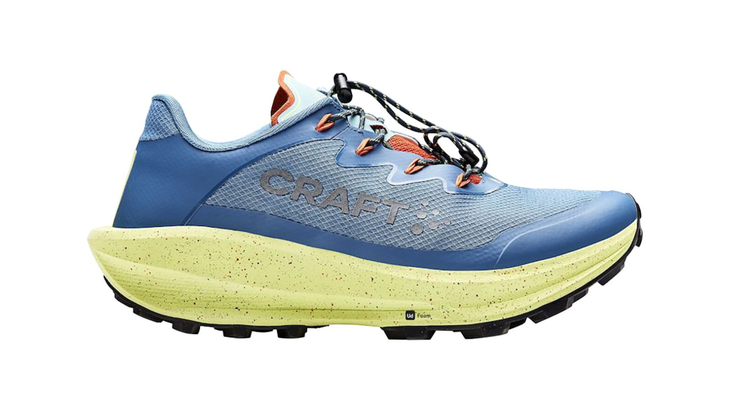 Craft CTM Carbon Trail Ultra 
Our editors were most curious about slipping into Craft's new lineup of trail and "gravel grinder" hybrid shoes, and their carbon offering proved to be both exciting and unorthodox. These new trail-specific shoes are departures from their otherwise minimal, featherweight fleet, as we found the CTM Carbon Trail Ultra heavy at first. Despite the weight, these shoes remain very responsive and precise, with a Vibram Megagrip outsole that offers generous lugs, ideal for wet conditions. Running uphills felt poppy, too, though the 35mm stack height (40mm heel / 30mm forefoot) made testers ankle-conscious on more technical terrain. One thing testers weren't thrilled about was the laces, thick and threaded awkwardly through eyelets reinforced with thin rings. (Note: Craft's CTM Ultra 2  was a non-carbon tester favorite.)
Non-Carbon Plated Shoes With Alternative Materials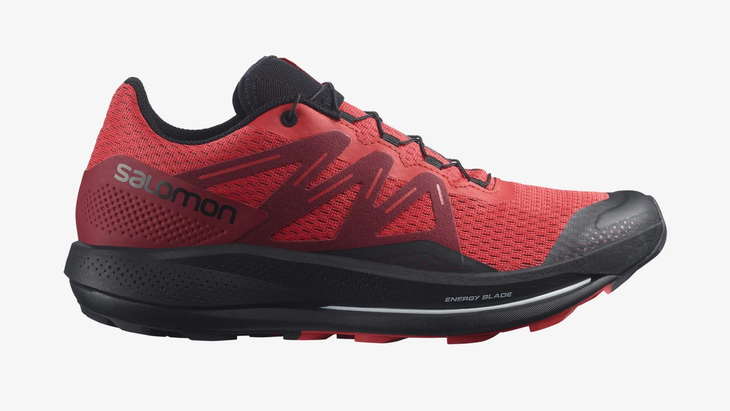 Salomon Pulsar Trail
One of the burliest shoes of the bunch, Salomon's answer to the carbon trend aims for a comparable balance of weight, protection, and comfort using an Energy Blade, a TPU (Thermoplastic Polyurethaneplate) midsole plate that offers stability and forward movement. Testers found the TPU plate provided subtly more flexibility. Their patented Salomon Quicklace system wins the award for no-hassle efficiency, with that convenient garage on the tongue to stuff the cinch. The Pulsar Trail is on the narrower side, too, but makes up for any constriction with a fair amount of padding, particularly in its counter lining around the heel. It's a lot of shoe, making it feel less of a racing shoe and more like all-day expedition footwear.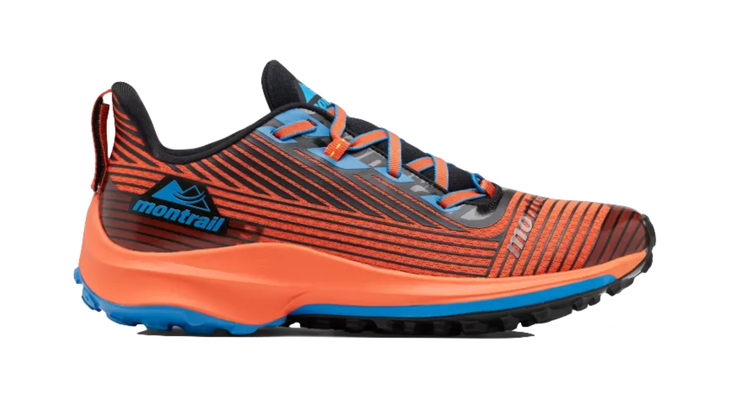 Montrail Trinity AG 
Though Montrail has yet to technically offer a carbon plate trail option, their high-performing Trinity AG sports a patented Pebax plate. This stiff thermoplastic sheath serves a similar purpose of adding responsiveness and propulsion underfoot, yet with some added flexibility. With so many of the carbon shoe testing notes coming back as "stiff" and "rigid," the Trinity AG was actually one of the most comfortable of the bunch. With a reinforced lining around the heel and a haptic printed upper, the foot slid right in and instantly felt happy to be there. The asymmetrical lacing system (not straight down the middle), won subtle comfort points – but the laces themselves are thick and springy, which reduced precision in the overall wrap.   
Trending on Outside Online