What Our Run Editors Loved in April
Here's a look at some of the Outside Run Editors' favorite finds last month, from gear obsessions to favorite podcasts, recovery drinks to massage tools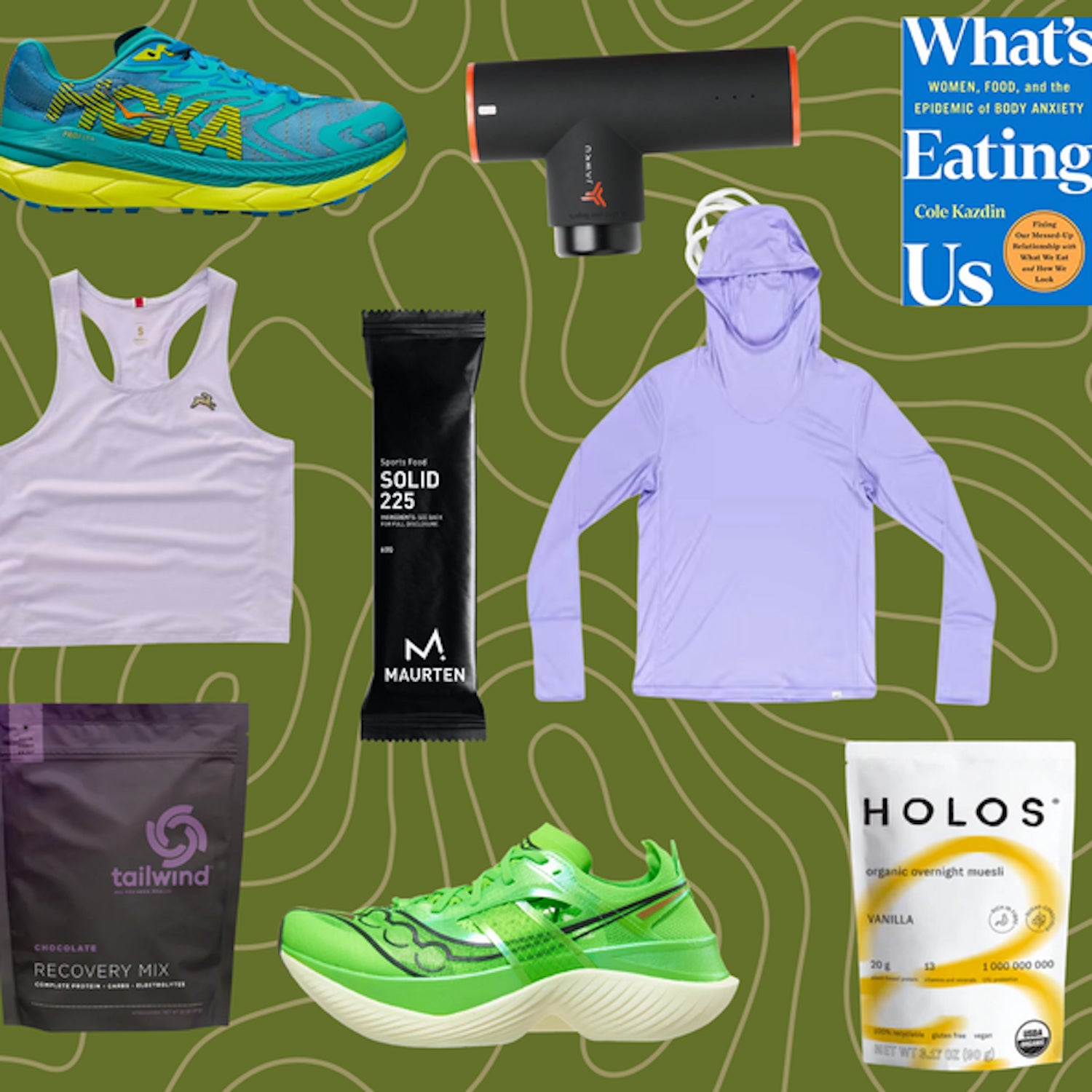 Heading out the door? Read this article on the new Outside+ app available now on iOS devices for members! Download the app.
Each month, the Run Editors at Outside gather a list of our favorite gear, media, and general miscellany. Here's what we loved in April.
Gear
Janji 5" AFO Middle Short ($64)
The hunt for the perfect, all-terrain, all-purpose, go-anywhere running short sometimes feels like a heat-seeking missile that never hits its target, but Janji's AFO Middle Short is getting pretty close. Whenever I'm moving fast during the day and need a few miles between meetings, these shorts deliver the goods. Super lightweight. No frills. A zipper pocket right where you need it. Not overly logo-heavy. And 88 percent recycled polyester. I could easily buy 10 pairs of these shorts and be done with seeking any other running bottoms for the rest of my days. – Nicholas Triolo, Senior Editor, Outside Run and Trail Runner
Saucony Endorphin Elite ($274)
The Endorphin Elite is Saucony's new carbon race shoe that bounced onto the market earlier this year. Like the Nike, ASICS, and Adidas carbon styles, the Endorphin Elite is built for speed and racing fast. The lore is that carbon-plated shoes are for faster-paced runners, but—from this middle-packer—there are still benefits for regular-paced runners looking for a race-day shoe.
I've taken on a half- and full-marathon wearing the Elites and ran solid PRs in both. Was it the shoes? Was it my preparation? In honesty, it was probably a good marriage of both.
The Elites are a relatively stiff shoe, and the step-in feel did make me wonder how they would run after mile 18 of a marathon. However, on race day, the resulting bounce-assist helped maintain running form over a longer distance and delayed leg fatigue. There were a couple of hot spots on my forefoot, but easy to ignore and no resulting blisters. I'll happily take that minor discomfort for a PR any day.
I have not tested the new Nike Alphafly 2, but reviewers are saying it runs narrow. With that in mind, the Elite could be an alternative for those who like a wider forefoot. The Elite comes in at a legal-skimming stack height of 39.5mm, barely under the 40mm rule. So you can walk as tall as you run in this one. – Melanie Mitchell, Run Brand Director, Outside Inc.
La Sportiva Jackal II BOA ($185)
The two things I most appreciate in a trail running shoe—especially when it comes to running technical routes—are a sticky rubber outsole for traction and a BOA closure system for a near-custom fit. The Jackal II BOA checks both of those boxes with La Sportiva's exceptional FriXion XF 2.0 outsole rubber and a Double BOA Fit System with dynamic straps for maximum heel and forefoot adjustability. Those two elements, combined with exceptional cushioning from an EVA midsole with polyurethane inserts, provide confidence and security and the ultimate fit, feel, and ride on rugged, rocky routes like those I've recently run in Montreat, North Carolina, and Boulder, Colorado.  – Brian Metzler, Contributing Editor, Trail Runner and Outside Run
Wild Rye Sawyer Sunshirt ($89)
This ultralight sun layer is good for long days in the desert when I need extra protection. It's softer than butter and has a flattering, athletic fit (size up if you want to use this as a second layer). This women-owned, women-specific brand is a go-to for cute and functional mountain-oriented duds. – Zoë Rom, Editor in Chief, Trail Runner
Tracksmith Twilight Crop Tank ($62)
I love a short tank, and Tracksmith's Twilight fabric is smooth as silk, and incredibly durable. I love this top for warmer workouts when I don't need redundant torso fabric. The lilac color is perfect for spring. – Z.R.
Hoka Tecton X 2 ($225)
When it comes to cruisey spring trail miles, the Tecton X 2 is unmatched. It's comfy but responsive, with an improved upper and fit from the original Tecton X, this shoe has quickly become a staff favorite at Trail Runner. Check out our full review here. – Z.R.
Tech
Jawku Muscle Blaster Mini ($149)
I've used several soft tissue massage guns in recent years but have been disappointed by many for being too heavy or poorly built. Admittedly, I've been fortunate to get a lot of gear for testing, but I bought my Jawku Muscle Blaster Mini with my own cash at a recent race expo and would highly recommend it. It's powerful, compact, and relatively lightweight, allowing for precisely targeted percussive treatments without added arm fatigue from administering it. It comes with four different massaging heads (flat, round, granules, and trigger point) and a carrying case, making it easy to pack on trips to loosen up pre-run tightness and speed up post-race recovery. The long-lasting USB-C rechargeable battery will last for more than an hour of operating time.  – B.M.
Apple AirPods Pro Gen2 ($250)
Yes, $250 is a lot for a pair of headphones, but these things are on another level. First, the audio quality is begrudgingly better than almost any Bluetooth headphone out there—I say begrudgingly because I desperately wanted some small, boutique brand to upend Apple, but none were to be found. Second, the active transparency—the thing that allows sound in if you were, say running with them—is also amazing and easy to turn on and off on the earbuds themselves. (That said, I needed aftermarket foam tips from Comply ($25 on Amazon) to keep them in while running.)
RELATED: Ask a Gear Guru: What Are the Best (New) Headphones for Working Out in 2023?
Finally, the noise cancellation is scary. Scary like: I was in a crowded airport, overwhelmed by the masses, turned on noise canceling, and it was like one of those movies where everyone just stops talking suddenly and looks at you. Like Vanilla Sky or The Truman Show or some mess. It was eerie. But then things got even weirder: Apparently Apple has a hidden feature where sounds like airport announcements (like a gate change, for instance) very very clearly cut through the cancellation, but nothing else. I don't even know how that's possible, but it happened. Apple, get out of my head. – Chris Foster, Editor in Chief, Triathlete
Adidas Sport Sunglasses SP0063 ($99)
Not all sunglasses are created equal, a fact that's particularly evident when it comes to trail running. Traversing over a variety of surfaces amid ever-changing light conditions requires a high-performance lens that can adapt on the fly. The Adidas Sport Eyewear model SP0063 sunglasses feature a lens with a fast-acting photochromic application that adapts to changing conditions and a special curvature that extends the visual field and improves optic sensibility, offering fewer surface points for UV rays to penetrate. Running over the red rock terrain of Sedona, or through the lush trails of Oregon, or the exposed, high-altitude routes of Colorado, these shades give me an unimpeded field of vision without fatiguing my eyes. – B.M.
Reading Material
Poverty, By America – Matthew Desmond 
Desmond's Pulitzer Prize-winning book, Evicted, knocked me flat on my ass when it first came out, a necessary masterpiece of narrative nonfiction on housing in America and the structural deck that is stacked against so many millions seeking simple shelter. I implore you, reader: set aside any book you're reading and go find yourself a copy of this first. With Poverty, Desmond dug even deeper into the core of the American mind to turn the spotlight on those of us with homes, with investment portfolios, those of us whose comfort and convenience too often comes at the expense of the dignity of so many. Anything this man writes is urgent and well-engineered, and, though I'm not yet done, this one cuts deep. – N.T.
What's Eating Us: Women, Food, and the Epidemic of Body Anxiety – Cole Kazdin
This is far and away the best book I've read about eating disorders and the messy science of eating disorder (ED) recovery. This comprehensive resource traces one writer's journey from an eating disorder diagnosis and recovery, and into the emerging neuroscience that undergirds ED's, and the cultural climate that can exacerbate some brain's wirings. I highly recommend this to anyone who wants a compassionate, but evidence-based deep dive into the world of disordered eating recovery. – Z.R.
How to Do Nothing: Resisting the Attention Economy – Jenny Odell
Attention is the basis for our lives. What we pay attention to is what we think about. It's what we unconsciously notice. It's how we create relationships. It's also a form of currency that social media and the modern economy was built on—addictive micro transactions of our attention until we are incapable of spending that attention elsewhere. This book dives into the practice of really paying attention, how it can open us up to new experiences, realities, and relationships with each other and with the nonhuman world around us. Here's the invitation: Sit down, do "nothing," and read this book as a small act of resistance against the attention economy. – Gordon Coates, Digital Producer, Trail Runner
Currently Listening
Ezra Klein "The Quiet Catastrophe" Brewing in our Social Lives
When was the last time you just "hung" with friends? No agenda. No run planned. No Netflix. When was the last time you had a no-agenda social engagement? This hour-long podcast illuminated the silent boiling point set in the background of modern life and the implications of alienation and loneliness for so many of us. It made me walk to the corner coffee shop and sneak an espresso into my afternoon, just to bask in the wonderful, overcaffeinated presence of strangers. (Then I checked my phone.) – N.T.
The Taste Podcast with Matt Rodbard
Let me be very clear: I'm very far from being considered a foodie, or a cook, of any sort. But I do appreciate and admire craftspeople, artists who study, who live and breathe their tradition and seek to add to the canon with a sincere contribution. In researching a future story idea, I've been happily distracted by several other interviews on Taste, with chefs and leaders on the culinary front, and have been inspired to add panache to the ways I approach running and writing. – N.T.
Nutrition
Wheat Montana 7-Grain Cereal Mix 
Sometimes a trip not only takes you away for a few days, but changes a part of your life. Two years ago my wife and I took a road trip to Glacier National Park, and stopped one morning at a Wheat Montana restaurant. Along with the delicious breakfast sandwiches, we also bought a small bag of 7-grain cereal mix. Once home, we toasted it with nuts and raisins, and ate it with home-made yogurt topped with blueberries. We haven't eaten anything else for breakfast since, and are just about through our second 50-lb bag. The clean, nutty flavor never gets old and we enter the day feeling fresh and healthy, not missing the sugars and fats we used to consume. – Jonathan Beverly, Senior Running Editor, Outside
Holos Organic Overnight Muesli – ($59 for a box of 12 packets)
So I've been on the move this past month, traveling to report on races, visiting family, running some warmer, snow-free trails, and it's always a struggle to find an easy, whole-food solution for on-the-road breakfast. (I'm a sucker for a greasy breakfast burrito, but you can only do those so often!). Then, I discovered Holos, and have been extremely impressed. Each packet contains 20 grams of clean plant protein, 13 vitamins and minerals, probiotics, and jam-packed with nutrients. Healthy fats, fiber, and very little added sugar. I went for a variety pack and found caramel and raisins to be my favorite, with vanilla a close second (I added fresh berries to this one). I've been on the hunt for the perfect solution for breakfast on-the-go, and I may have found it. – N.T. 
Gnarly Salted Margarita Extra Salty Hydration Mix – ($27, 40 servings)
Get your hands on this limited edition flavor while you can, because it's a banger. I need a lot of electrolytes when I run, and this Gnarly hydration mix covers my salty bases. – Z.R.
Tailwind Recovery Drink, Chocolate – ($39 for 15 servings)
After sampling several different recovery solutions for on-the-go protein, carbohydrates, and electrolytes, this one wins for me. It's also one of the few sports nutrition powders I've found that you can stir, not shake, with water and it actually assimilates without chunks. I've now begun to travel with a big bag of this stuff and take two scoops for any run over two hours. I find that it's important to make it strong, too. – N.T. 
Maurten Solid 225 – (12 servings for $36)
In all honesty, this is just a bar. It's not that much different than a Clif Bar, or a Chewy bar, or even a Rice Crispy Treat. The main difference is its simplicity. It's mostly oats and sweet sweet syrup. I've been munching on these on long bike rides, and the simple ingredients hit my stomach well, digest easy, and fire me up. For longer efforts, or if you like to chew your fuel instead of slurp it, this bar is a great option. – G.C.
Trending on Outside Online