Michael Phelps Only Did One Sport. Triathlon GOAT Jan Frodeno Did Three.
He's won Olympic gold, the Ironman World Championship (three times!), and the 70.3 World Championship in triathlon twice. For his retirement swan song, he's going for another world title this weekend.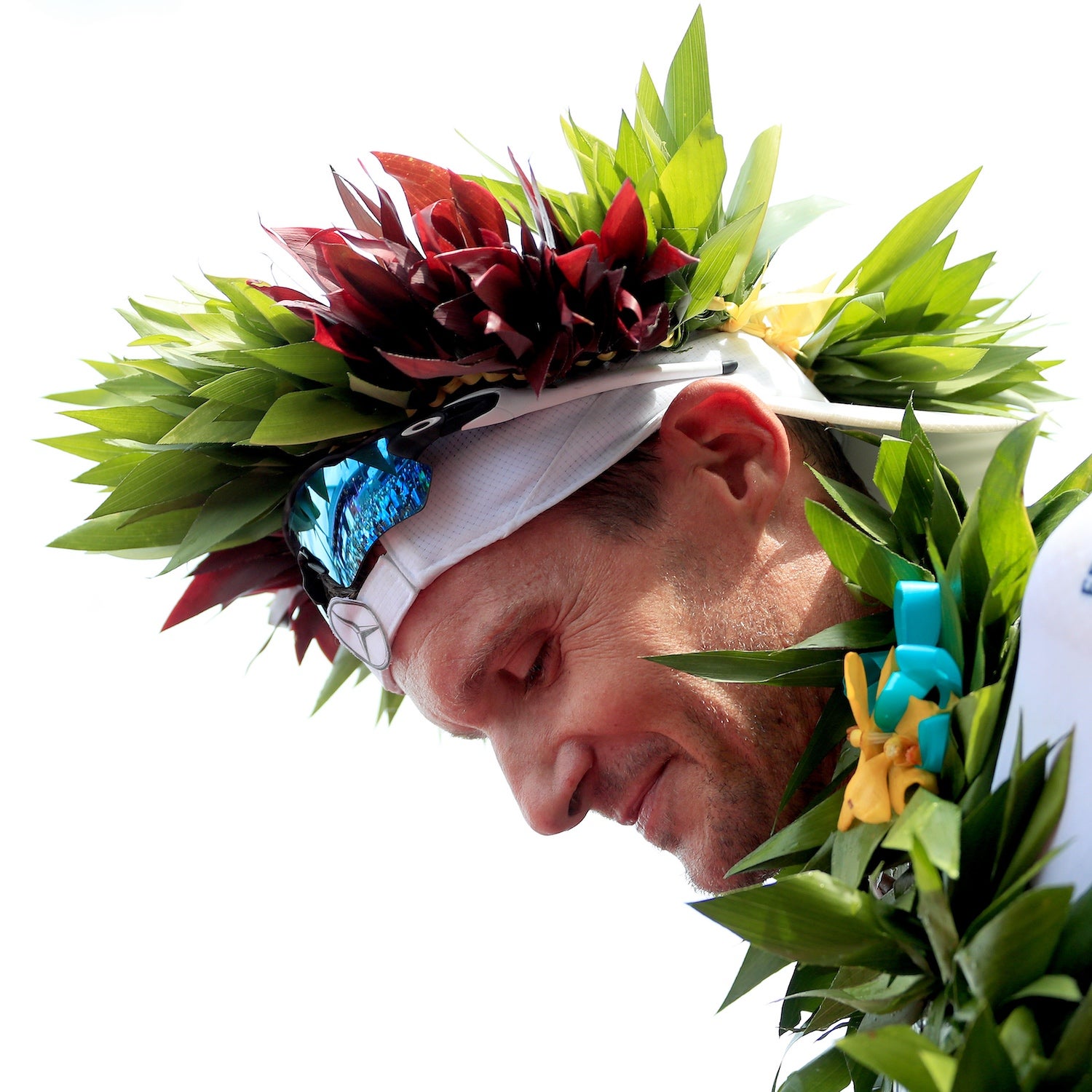 Tom Pennington/Getty
Heading out the door? Read this article on the new Outside+ app available now on iOS devices for members! Download the app.
This article was originally published on Triathlete 
What does it take for an athlete to be considered The GOAT—the Greatest of All Time?
Sporting fans will spend hours debating over their choice of favorite, making claims about the talent level, achievements, and longevity of their favorite superstars. But what if there was someone who had the dominance of Michael Phelps, the tenacity of Serena Williams, and the longevity of Tom Brady? Meet 42-year-old Jan Frodeno, who has dominated every distance in triathlon over the past 23 years.
The German was the first triathlete to win Olympic gold and the Ironman World Championship (for the uninitiated, an Ironman is a 2.4-mile swim, 112-mile bike, and 26.2-mile run, performed consecutively. Frodeno's best time for this feat is a mind-boggling 7 hours, 27 minutes, and 53 seconds). He's also a three-time winner of the Ironman World Championship—in 2015, 2016, and 2019—and a two-time winner of the 70.3 World Championship (half the distance of an Ironman) in 2015 and 2018.
During the course of his career in triathlon that spans more than 20 years, Frodeno has had four undefeated seasons during which he was unbeaten at both the 70.3 and full distances (2015, 2018, 2019, and 2021). Perhaps the most notable year was 2015, when he won the 70.3 World Championship in Zell am See-Kaprun, Austria, just one month before winning the Ironman World Championship in Kona.
RELATED: This Triathlon World Champion Is Nominated for an Oscar
This weekend, he'll be racing for the Ironman World Championship title once again—and if everything goes to plan, he'll become the oldest person to wear the crown. It will also be his final race as a professional triathlete; a win would be a fitting swan song for someone who has consistently raced his way to the top.
If you're feeling inspired to tune in to the men's 2023 Ironman World Championship broadcast this weekend, you're not alone. Frodeno has attracted many a fan to the sport, thanks to his irresistible combination of success, candor, and humility. Ahead of the race, we look back at the making of a legend.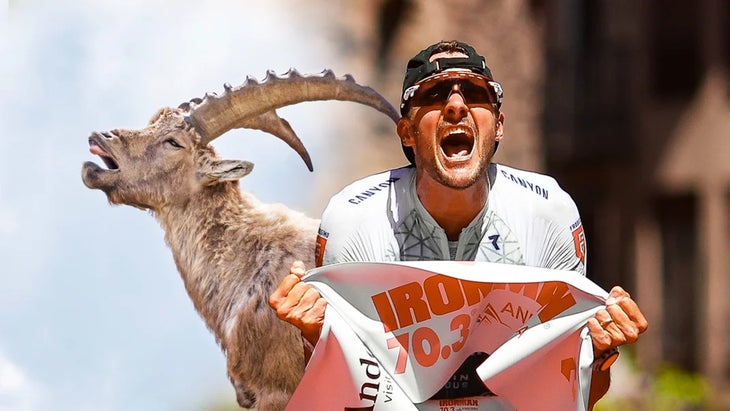 The Wins Begin
All superheroes have origin stories, and before Frodeno started racking up Ironman wins and perfect seasons, he was just a teenager swimming in South Africa. After his first triathlon in 2000, the legend goes that he sold his bike to pay for a plane ticket to Europe, to race in the German League. His first International Triathlon Union (ITU, now World Triathlon) race was the 2001 Club Mykonos Triathlon African Cup, where he placed 21st. He quickly made the jump to the under-23 circuit and qualified for the German national team in 2002.
Frodeno raced in ITU competition from 2001 to 2013, recording 67 starts, 20 podiums, and three wins, but in 2008, everything changed when a relatively unknown Frodeno won Olympic gold, beating the 2000 Olympic champion, Simon Whitfield, in a sprint finish, as well as reigning world champion Javier Gomez.
"It was indeed my first ever big win and naturally a surprise going in ranked 27th," Frodeno says, whose most notable early career finishes included placing second at the U-23 Worlds in 2004 and being part of the winning Men's Relay Team at the European Championship in 2007.
"The mental highs and lows in pro sport have been epic, but for the big races I seem to be able to get myself into the right headspace," he says. "I first managed that in Beijing, and it took me a while to be able to reproduce."
Frodeno won his first ITU World Triathlon Series race in 2009 at Yokohama and returned to the 2012 London Olympics with a sixth-place finish. He retired from short-course triathlon in 2013, then placed second at that year's 70.3 European Championship. It was only a taste of what was to come for the talented young triathlete.
The Art of Hurting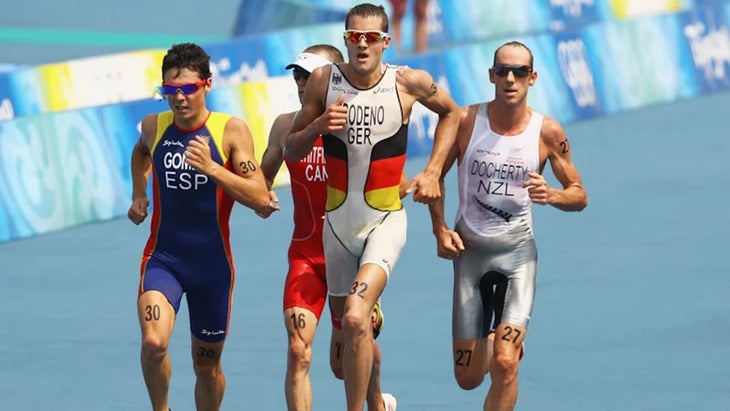 Epic careers aren't made overnight. There's often a standout performance that cements an athlete's position as the one to watch, one that has a significant impact on the trajectory of their place in sport history. For Frodeno, you might think his most memorable win would be the Olympics, or even one of his Kona titles, but you'd be wrong.
"The Olympics was memorable, but life-changing for me was beating Javier Gomez in a French Grand Prix the year before. It showed me that it could be done," he says. "It was the same at the St. George 70.3 in 2015 where I got dropped on the bike, started the run minutes down, and won it with 1K to go. It showed me how deep I have to go to win, even when I thought it's all over. Nothing will ever take the joy of Beijing, and my first and last Kona, but those races shaped me more than any other."
Going Long
When talking about legendary triathletes, names like six-time world champion Dave Scott, six-time world champion Mark Allen, and eight-time world champion Paula Newby-Fraser come to mind. What sets Frodeno apart is his decades of dominance over different race distances and his ability to set standards for excellence in the arguably more competitive post-Olympics triathlon era.
"Being the best triathlete in the world at any distance is a huge undertaking that requires hard work, tremendous dedication, and single-minded commitment," says fellow pro and Ironman commentator, Dede Griesbauer. "Then, to be able to redirect that focus to a new distance with different skills, that would be overwhelming for most. Who has the energy for that? And who has the talent for it?"
Challenge Roth (an iron-distance race not affiliated with Ironman) in 2016 was the moment that Frodeno illustrated true long-course mastery by breaking the world's best iron-distance time by more than five minutes with a 7:35:39 finish. He followed that up by winning his second World Championship in Kona that same October.
But 2019 was perhaps his most impressive Ironman World Championship win, when he captured his third title, set a new Kona course record, and ran the fastest marathon of the day—all at the age of 38.
"To come to the top is much easier than staying there," says Frodeno's coach, Dan Lorang. "In the past, everybody put him in the favorite role, and he even put himself in that spot. Dealing with that pressure isn't always easy, but for Jan it was a big motivation for his training."
RELATED: The Science Says a Sub-Seven-Hour Ironman Is (Sort of) Possible
2021 was another undefeated season for Frodeno with wins at Challenge Miami, Challenge Gran Canaria, and the Collins Cup. The highlight was breaking his own record for the world's best time in the full iron distance during the Zwift Tri Battle Royale exhibition with a time of 7:27:53.
Finally, just a few weeks ago, Frodeno showed who rightly sits on the throne after a masterful performance to win the PTO U.S. Open, just weeks before his 42nd birthday over an incredibly strong field. To put it in perspective, the five athletes behind him at the U.S. Open were all at least 12 years younger than the "elder" German. Longevity and consistency with success achieved over an extended period of time is what makes a GOAT, and this is where Frodeno has truly made his mark.
"He's for sure an exception in his sport with the success he's had; his passion, and the professionalism he introduced to triathlon," Lorang says. "He's been here for nearly 20 years, and that's something really special."
A Humble GOAT
While Frodeno feels honored to be included in the conversation with some of the greatest triathletes of all time, "GOAT" is never a term he would use to describe himself. "It's a phrase that gets thrown around a lot more than it ever did," he says.
When asked what athletes he's looked up to over the years, Frodeno includes two-time Olympic gold medalist, Alistair Brownlee. "Alistair is at the top of my list because I saw firsthand just how good he was and only heard about the earlier generations," Frodeno says.
Another athlete Frodeno holds great respect for is Kristian Blummenfelt, the only other athlete to win an Ironman World Championship and Olympic gold, which leads some to suggest he might be one to challenge for the GOAT title over the next 10 to 15 years. "There's no doubt in my mind that Kristian has had the greatest season of any individual ever, and I have a huge amount of respect for that," Frodeno says.
Frodeno's ability to compete, and win, against different generations of opponents is something that no other athlete has done in quite the same way. Fifteen years ago, he competed against Simon Whitfield and Javier Gomez, then later Patrick Lange and Sebastian Kienle, and now younger athletes like Gustav Iden and Kristian Blummenfelt.
"Jan is unique in that his work ethic is simply unmatched, and he's also a once-in-a-generation type of talent," Griesbauer says.
Lasting Legacy
The thing about being the GOAT is that time marches on, while the human body doesn't always follow. There will always be up-and-coming young athletes looking to follow in Frodeno's footsteps to greatness (newly-crowned 70.3 world champ Rico Bogen has already begun to draw comparisons), and he has a bit of advice for them.
"Do what you do with intent," he says. "Don't just go to a race and see what might happen. You'll sell yourself short, not because the bar is set too high, but because it's so low that the danger is tripping over it."
It's sad to think that the Ironman World Championship in Nice will be Frodeno's last dance. For Frodeno, the athlete, his accomplishments stand alone, but perhaps more telling is how Frodeno, the man, is viewed by his peers.
"It's absolutely the end of an era," Griesbauer says. "We will see other great athletes follow in his footsteps, but it will be a long time before we see another athlete with his degree of total professionalism. He has a remarkable presence, both on and off the racecourse, without ever having had to shout it from the rooftops. He just simply is."
Lead Photo: Tom Pennington/Getty
Trending on Outside Online