Boston Is Still Strong 10 Years On
City and race organizers will honor Boston Marathon victims and first responders on April 15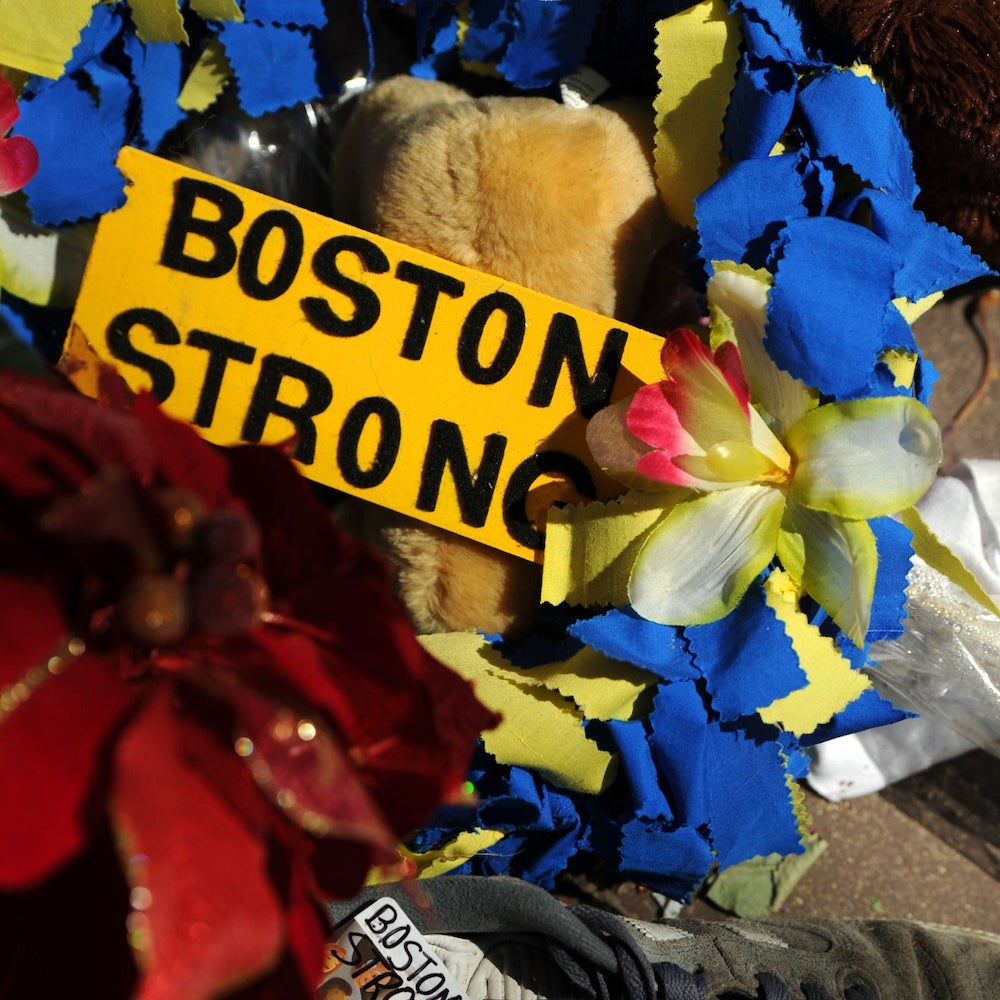 Getty Images
Heading out the door? Read this article on the new Outside+ app available now on iOS devices for members! Download the app.
This article is part of Outside Run's complete 2023 Boston Marathon race coverage.
About a half hour after crossing the finish line of the 2013 Boston Marathon, Dara Kelly, Christy Kirk, and Meredith Saillant were in a suite at The Lenox Hotel on Boylston Street, unwinding from a race well run.
The good friends who lived on the outskirts of Boston had just covered the 26.2-mile course, stride for stride, from Hopkinton to Boston in 3 hours, 38 minutes, and 19 seconds. Although they had each qualified for the race, they were running for Tedy's Team, a charity group organized by former New England Patriots linebacker Tedy Bruschi that raises money for the American Stroke Association.
Kelly and Salliant were rehydrating and changing into casual clothes while Kirk was breastfeeding her seven-month old son when they heard a loud blast from the direction of the finish line.
"We were inside the suite and not looking out the window, so we had no idea what it was," Kirk recalls. "We thought that for some reason it must be like a cannon for a celebration for Patriots' Day."
"It's still fresh in my mind," Kelly says. "I remember hearing the blast and the whole building shaking and thinking, 'What was that?'"
Kelly's husband, Sean, an emergency room doctor, went to the window to see if he could figure out what happened, when another blast occurred a block and a half block to the west.
"I heard the first one and thought, that's weird. It sounds almost like a bomb," he recalls. "And then the second one went off, and I could actually see it, like I saw kind of the orange explosion. And I told the girls, 'This isn't good, we need to get out of here."
It was 2:49 P.M. and the Boston Marathon was under attack.
Healing After an Unthinkable Act of Terror
The aftermath of those horrific moments have been well-documented—even becoming the subject of a Hollywood movie three years later—but they're still largely unfathomable, even 10 years later, given that those devastating acts happened at one of the world's most cherished running races.
The joy and excitement of what had been a beautiful day in Boston were shattered in unthinkable fashion, after two terrorists had placed two pressure-cooker bombs a block apart on Boylston Street, the blasts of which killed three spectators and badly injured hundreds of innocent bystanders, runners, and race volunteers. Ten years later, the city, the Boston Marathon and the running community hasn't forgotten—and will never forget—the victims of that horrible day.
Lingzi Lu, a 23-year-old Boston University graduate student from China, Krystle Campbell, 29, a local restaurant manager who grew up near Boston, and Martin Richard, an eight-year-old boy who was there with his family enjoying the spectacle of the annual Patriots' Day tradition all died at the scene. Sean Collier, a 27-year-old Massachusetts Institute of Technology police officer, was killed five days later during a shootout with the terrorists who perpetrated the crimes. (A fifth victim, Boston police officer Dennis "DJ" Simmonds, died in 2014 from a head injury sustained while responding to the shootout with the suspects.)
In all, more than 280 were injured in the Boston Marathon bombing and treated at 27 Boston-area hospitals. Seventeen people had limbs amputated in the hours and days that followed, including Richard's seven-year-old sister Jane, who lost her left leg. It hadn't just been an attack on the Boston Marathon; it was an attack on American freedom and the individual pursuit of running.
RELATED: Why Did Dzhokhar Bomb Boston?
As horrific as that day will always be, the city of Boston, the marathon, and the running community found a way to move forward while never forgetting those impacted by the bombs. In the hours after the incident occurred, the spirit of Boston Strong emerged in force, a hopeful, supportive, even defiant vibe that began with runners and local citizens leaving flowers, notes, and running shoes at an impromptu memorial that sprung up adjacent to the finish line in Boston.
It was equal parts gritty Boston toughness and the connectivity of the bond shared by generations of runners who understood how the Boston Marathon, aside from just being a historic 26.2-mile race, had always been part of the fabric of the community, a rite of passage every spring, and a metaphor for the courage and determination of anyone trying to achieve something bigger than themselves.
"A lot of the immediate response was one of fear and unknown, and it was a bit depressing because I was hearing people say, 'I don't know if I can ever come back to this place,' and, honestly, that really hurt," recalls race director Dave McGillivray, whose family was in the bleachers at the finish line that day but were not hurt. "Then in a nanosecond after that it was a 180-degree turn and all everyone was saying was, 'We're coming back. We're taking back our race. We are taking back Boylston Street. We are taking back our finish line. We're gonna rally, we're gonna persevere."
The pervasive Boston Strong sentiment helped pave the way to a robust return of the race the following year, albeit after new levels of advanced planning, enhanced security and a lingering heartache. It also led to an enormous amount of corporate and individual donations to One Fund Boston, which dispersed $61 million dollars in money to survivors and victims' families within two months of its launch, and $80 million by the time it closed in early 2015.
"On that horrific day, we saw two people that were just completely evil," says Marc Fucarile, who was badly injured in the second blast, resulting in his right leg being amputated above the knee. "And then to see shortly as we laid in our hospital beds, we saw the kindness and generosity of so many people, with so much support. It really showed that the good outweighs the bad. You know, we sometimes forget that during a tragedy."
Everyone chipped in to play a role. There were hundreds of Boston Strong memorial runs and fundraisers held around the country in the ensuing year, plus there was a Boston Strong fundraising concert that included Aerosmith, James Taylor, Dropkick Murphys, Jimmy Buffet, New Kids on the Block, and other artists with Boston connections.
Adidas and Marathon Sports sold hundreds of "Boston Strong" T-shirts to raise money for the One Fund, while Boston magazine commissioned a photo collage for the cover of its May 2013 issue with 120 pairs of running shoes in the shape of a heart, then sold thousands of copies as a poster to raise money.
A week after the bombing, Boston Red Sox star David Ortiz addressed the fans at Fenway Park saying, "This is our f***ing city. And nobody's gonna dictate our freedom. Stay strong." When the Red Sox won the World Series in 2013, they brought the trophy to the finish line during their championship parade through the city.
"There is no way to walk down Boylston Street without thinking about the evil spilling of precious blood, the hateful strike on a world treasure," the Reverend Liz Walker, a pastor of Roxbury Presbyterian Church, said during a memorial service at Hynes Convention Center in April 2014. "But we are also reminded of the amazing capacity of the human spirit to rise in heroism, compassion and sacrifice."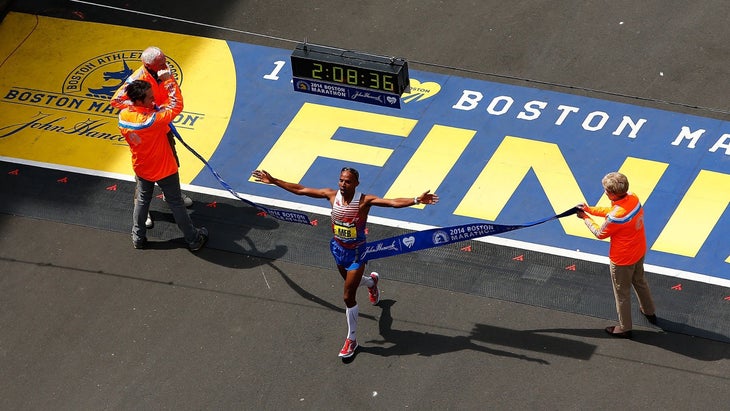 The painful struggle of that first year culminated when Meb Keflezighi, just days after the memorial to honor the victims and celebrate the first responders, became the first American man to win Boston since 1983. What wasn't known until he crossed the finish line was that Keflezighi had handwritten the names of Campbell, Collier, Lu and Richard on his race bib.
"When the Red Sox won the World Series and put the trophy right there at the finish line, I said I want to win it as a runner for Boston," Keflezighi said. "At the end, I just kept thinking, 'Boston Strong. Boston Strong.' I gave everything I had for Boston."
Ten Years On
Just as life has continued to move forward for all those involved, the Boston Marathon has continued to march on—with more interest than ever before. The year following the bombing, the Boston Athletic Association (B.A.A.) responded to the increased demand by allowing every runner who was forced to evacuate the course before the finish line to return and run in 2014, as well as expand the field size to 36,000 runners.
(The race had typically included 27,000 runners in the years leading up to 2013, but the B.A.A. worked with the communities along the course and public service officials to boost the 2014 race to the same size field it had in 1996 for the 100th running of the race. The 2023 race has a field of 30,000 runners.)
But returning to the homestretch of the race along Boylston Street always brings back memories and nervous energy, even for those who weren't injured.
"It never goes away," says Dara Kelly, who will be running the Boston Marathon once again with SalSalliant and Kirk, just as she did 10 years ago and in 2014, the year after the bombing. "I don't know about anybody else, but I've been to a couple places on vacation where a cannon will go off signaling sunset or something and I won't be ready for it. I will jump 10 feet out of my seat. I can't believe it affects me, but yeah, it's still with me. I was very hesitant to run in 2014, but we did it. But turning that corner onto Boylston Street, I was very nervous, and I know I'll feel the same way this year."
After the big memorial service in 2014, the B.A.A. has continued to pay tribute to the victims and honor first responders every year on One Boston Day. For years, spontaneous memorials, signs, and flowers were common on Boylston Avenue on the homestretch of the course, especially at the finish line. In 2019, permanent memorials made of bronze, granite, and lighted glass were finally installed at the site of each blast to forever memorialize the victims and honor the first responders.
This year, the City of Boston and the B.A.A. will commemorate One Boston Day on Boylston Street, on April 15. Honor guards made up of first responders from Boston and neighboring areas will be present at the memorial sites throughout the day, and then at 2:30 P.M., there will be a ceremony to dedicate a new commemorative finish line.
In addition, Massachusetts governor Maura Healey, Boston mayor Michelle Wu, first responders, hospital leaders, B.A.A. leadership, members of the One Fund Boston community, and local running groups will meet on Boylston Street for a moment of silence, the ringing of bells, and the unveiling of a permanent One Boston Day marker on Boylston Street.
The city is also encouraging building owners to shed ​​blue and yellow lights on structures throughout the city during the Boston Marathon weekend to celebrate the 10-year anniversary.
"On One Boston Day, we come together as a city and as a running community," said Jack Fleming, President and Chief Executive Officer of the B.A.A. "While it has been 10 years since the tragic events unfolded on Boylston Street at the Boston Marathon, we continue to honor and remember all of those whose lives were affected. The Boston Athletic Association is committed to remembering while also celebrating the spirit of strength that has marked one of the most meaningful decades in our city's history."
Many of the victims of that horrific day are still struggling, and many more suffer from emotional scarring that is still present in their everyday lives. Some have found a way to thrive amid their personal adversity and have written inspiring books about their experiences—including Jeff Bauman, Rebekah Gregory, and Jessica Kensky and Patrick Downes. Others have returned to participate in the Boston Marathon to help raise money for charities that support them and others, either as a para division runner such as Adrianne Haslet, who lost part of her left leg in bombing and then suffered serious injuries after getting hit by a car in 2019, or as a handcyclist like Fucarile, who, after losing his right leg, has worked tirelessly fighting for accessibility and visibility for those in the adaptive athlete community.
"I'm looking forward to doing this marathon and closing this chapter of my life," said Fucarile, who is participating in the race to raise money for the Greg Hill Foundation. "It's a celebration of moving on and looking forward to the things that I'm working on. It is emotional being able to thank all the people that supported me along this journey. My struggles are real and it never goes away, but I'm fortunate to be able to give back and try to do something for good. That's part of what Boston Strong is all about."
Lead Photo: Getty Images