David Hedges Sets New Nolan's 14 Fastest Known Time
The Chicago-born trail runner drops the fastest time on the Nolan's 14, one of Colorado's most daunting routes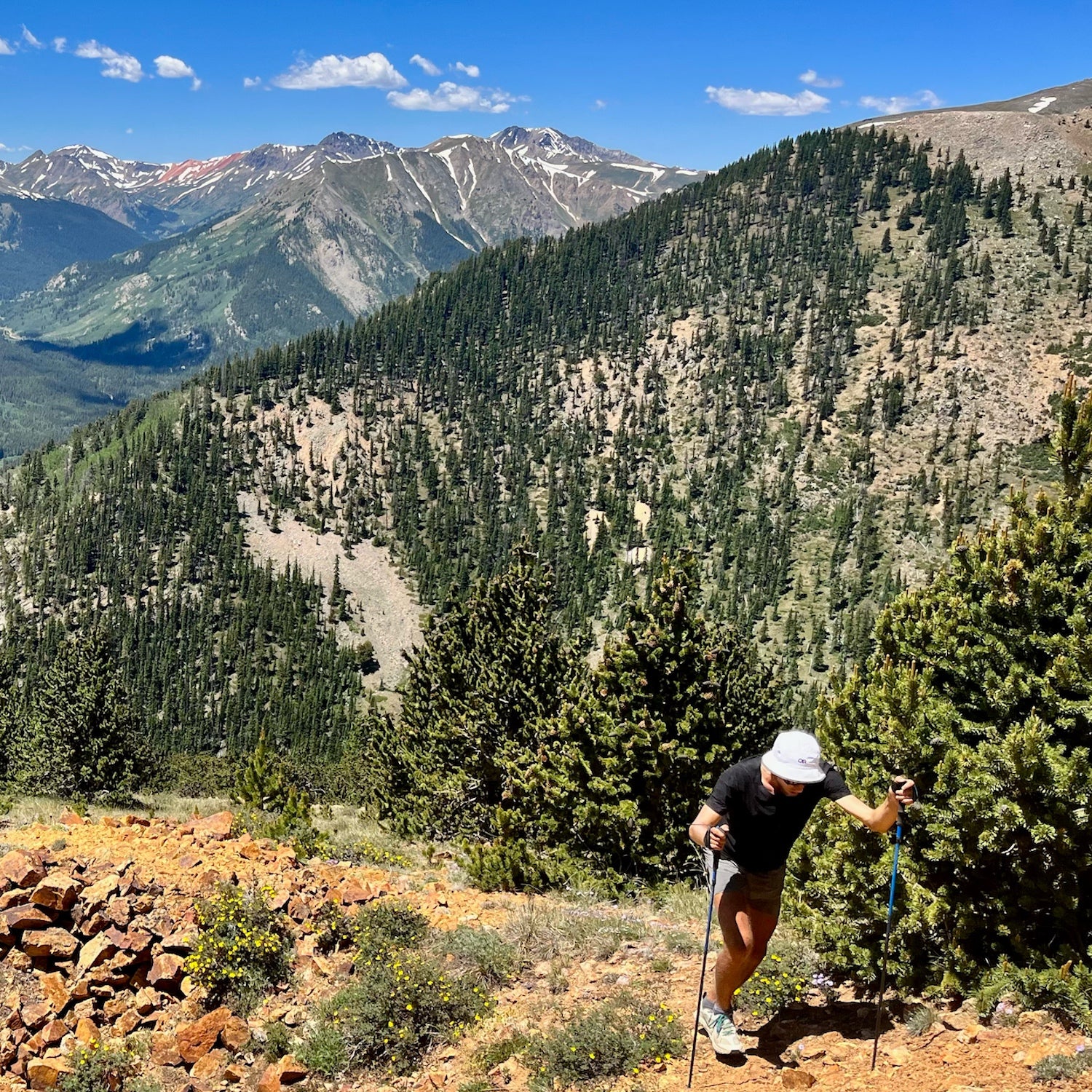 Courtesy of David Hedges
Heading out the door? Read this article on the new Outside+ app available now on iOS devices for members! Download the app.
As much of the trail running world was focused on the Hardrock Hundred Mile Endurance Run last weekend in the San Juan mountains of southwestern Colorado, David Hedges quietly and stunningly put his name in the record books with a prodigious effort in Sawatch Range a few hundred miles to the northwest.
The 25-year-old somewhat nomadic trail runner who originally hails from Chicago lowered the supported Fastest Known Time (FKT) on the daunting Nolan's 14 route on the evening of July 15. Nolan's 14 involves connecting a line of 14 Colorado peaks that tower over 14,000 feet in a single push of 60 hours or less. The route is open and largely off-trail, but the typical distance is 95 to 100 miles with about 40,000 feet of elevation gain at a minimum.
Starting from Blank's Cabin west of Salida early on July 14, Hedges went up and over the fourteen 14,000-foot-plus peaks and rambled his way to the Mount Massive trailhead the following evening at the Leadville National Fish Hatchery in 39 hours, 6 minutes, and 40 seconds. Hedges's Strava report shows that he covered 94.12 miles with 45,594 feet of elevation gain.
It's the fastest time ever recorded for that rigorous route, even surpassing Joey Campanelli's still-unfathomable unsupported effort (41:00:33) in July 2020. While Campanelli's time remains intact as the unsupported FKT for Nolan's 14, Hedges effort officially eclipsed Alex Nichols's 2018 supported FKT of 46:41:00.
Bolstered by a small team of pacers and crew—Henry Harris, Sean Van Horn, Jack Kuenzle, and Nikki LaRochelle—Hedges set the new FKT by running and hiking the route without any major setbacks. He benefited from clear weather, warmish nights, and very little snowpack. Hedges wore Norda 001 and 002 shoes, and his primary fuel intake included Spring Energy gels, Enduro bars, stroopwafels, blueberries, bananas, dried cured olives, and an occasional Brain Juice supplement drink.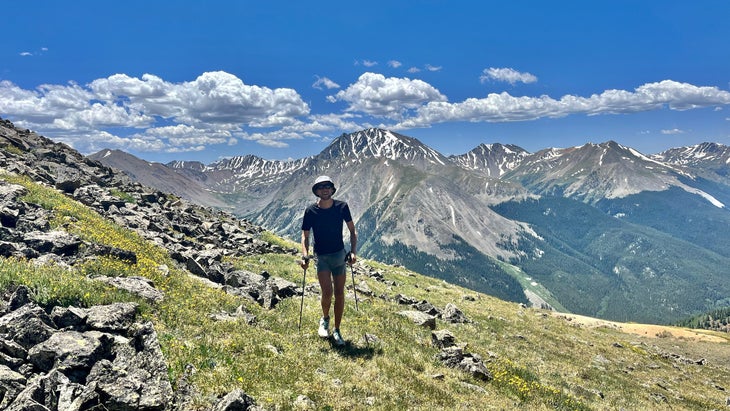 "I was kind of too tired to be emotional, but it was, like primally, really nice just to sit down and soak it all in," Hedges said a night after finishing. "We went and had pizza at Mile High Pies in Leadville, but there was really no celebration other than that."
After helping Nichols on the second half of his FKT effort in 2018, Hedges spent parts of two years linking peaks on the Nolan's route while he was a student at Colorado College. He spent the past few years attending graduate school at Cornell University, training and racing in Europe and various places around the U.S. 
While it took Campanelli three tries to set his FKT, Hedges did it on his first attempt.
"I think Joey's record is way more impressive because he did it unsupported," Hedges said. "I mean, I can't even imagine. That's insane. I was following along in, in 2020, and I was shocked when he did that. I was like, 'Oh, OK,  there goes everyone's chances on Nolan's. I think a lot of people have not gone after it since then as a result." 
RELATED: The Beating Heart of Nolan's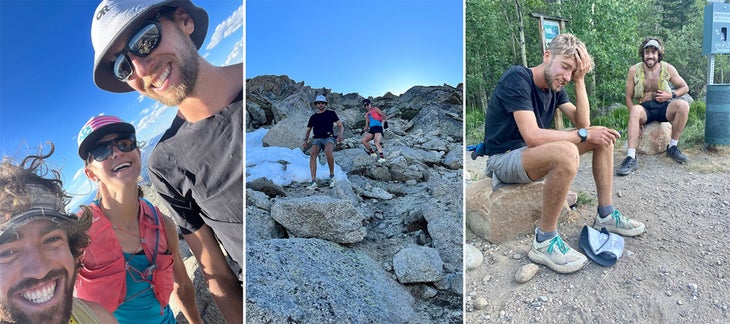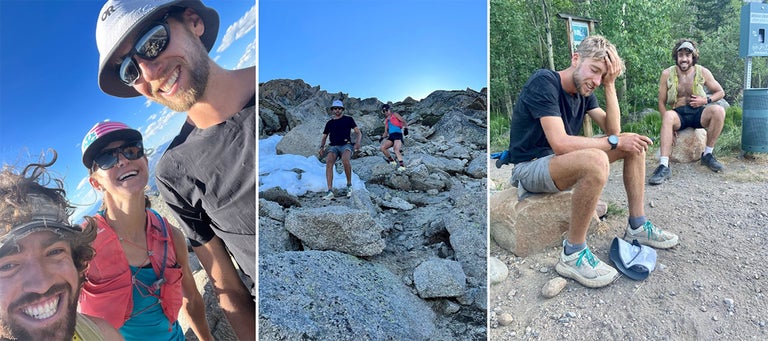 Nolan's 14 FKT: From Chicago to the Collegiate Peaks
Hedges grew up on the north side of Chicago, Illinois. He wasn't really involved in organized sports as a young kid, but he was always active—especially with parkour and cycling. Hedges says he learned to read music before he learned to read and write; he became a high-level violin player as an adolescent. He yearned to get outdoors as much as possible and eventually did discover running—and running ultra-distance races—as a teenager, as a way to balance the intensity and monotony of long hours of daily music practice. (He would also occasionally ride or run 13 miles to violin lessons at Northwestern University during the summer.)
One summer, while attending a seven-week violin program at the prestigious Meadowmount School of Music in Westport, New York, he found himself becoming a bit stir crazy and literally busted out to go for a run.
"It's really rigorous and so intense," he recalls. "Basically, I got to a point where I felt I couldn't really pursue this. It's like you're locked in a plywood box, just practicing eight hours a day. And when you're not practicing, you're going to master classes and lessons and for the rest of it. It's in a beautiful part of upstate New York and I just couldn't get out in the mountains. You weren't allowed to leave the premises, and if you did you'd get kicked out." 
After about six weeks, Hedges couldn't take it anymore and snuck out for a nine-mile run.
"I was struggling so much that, with a couple days to go, I just went out for a run," he says. 
"Unfortunately, the camp director literally drove by me on her way to work while I was running. She's like, 'What the hell?' And so they kicked me out."
For a few years, Hedges maintained a similar passion and intensity for both playing the violin and running. He ran his first ultra in 2014 as a 16-year-old and won his first race a year later—the Black Hills 50-miler in Sturgis, South Dakota. By the time he was 19, with 10 ultras already under his belt, he ventured west to attend Colorado College in 2016.
He soon met Nichols, the school's 33-year-old assistant cross-country coach who, in 2017, finished second at the Western States 100 and began a monthly streak of running up and down Pikes Peak. By 2018, Nichols was scouting the Nolan's route for an attempt at surpassing the existing supported FKT. The mark was then held by Spain's Iker Karrera, who had become the first sub-48-hour finisher of the course in August of 2017 with a 47-hour, 40-minute effort.
Hedges, who had started running in the mountains as soon as he arrived in Colorado, was part of Nichols's eight-person support crew in 2018, connecting with him in the Pine Creek drainage below Mount Harvard and pacing him over Mount Oxford, Mount Belford, and Missouri Mountain. Despite some logistical challenges, Hedges stayed with him for the final four peaks—Huron, LaPlata, Elbert and Massive—as Nichols lowered the FKT by 59 minutes to 46:41. (Interestingly, Nichols had passed Joe Grant, who was on his way to setting a new southbound unsupported FKT of 49:38 the very same day.)
Hedges accompanied Nichols for 29 hours—about 62 percent of Nichol's total journey—but he admits he wasn't as effective as he could have been. 
"I feel bad because I was not very helpful," he says. "I got out with him a little bit and, you know, obviously it was inspiring for sure. He had a Garmin 225 with no GPS and our phones both wound up dying. Then my watch died and I didn't know my way around that well. I guess I could have bailed in the middle of the night, but I didn't. So we went all the way to the end, and that was eye-opening and showed what you could do in the mountains." 
Hedges spent the rest of that summer hiking and running on the Nolan's 14 line, completing the rest of the peaks during robust training days. He was back at it the following summer, too, and considered making his own attempt, but by 2020—after Covid-19 pandemic slowed the world down and Campanelli and Sarah Hansel (57:43:34) blew people's minds with their unsupported FKTs—Hedges enrolled at Cornell to work on a master's degree in regional planning. But he never stopped thinking about the Colorado 14ers and the challenge of Nolan's 14.
"The first thing is that after Alex did it, he said it can go sub-40 at some point, and he said that Anton [Krupicka] had said it, too. He didn't say that I could go sub 40, but he thought it was possible," Hedges said. "And knowing that I'm strong at descending and strong going off trail, and, I guess, good on the long stuff, I figured I might be a good candidate for it."

RELATED: Robert Barlow's Six-Year Obsession with Nolan's 14
Return to Colorado
While working on his master's thesis, Hedges spent several months adventuring in Europe last summer, logging numerous 30-hour training weeks with 50,000 cumulative feet of vert. He received an entry to Ultra-Trail du Mont-Blanc in Chamonix, France, but he dropped out after 65 miles because he wasn't able to run any farther due to an unknown neuromuscular injury that hindered his gait. 
He spent most of the winter living in Asheville, North Carolina—at one point logging 133 miles and 43,000 feet of vert during a 26-hour training week—and in late March parlayed that fitness into a win at the 50-mile Mount Mitchell Heartbreaker in a course-record 8:08:52. In early May, he traveled to the UK for the Ultra-Trail Snowdonia by UTMB, a grueling 104-mile race in Wales with nearly 32,000 feet of elevation gain, several scrambling sections and considerable amounts of off-trail travel. Despite suffering cramps and blown quads, he finished third in 26:36:30 and earned an entry to this year's UTMB.
After a short stint of recovery—and just after receiving his master's degree from Cornell—Hedges came back to Colorado in late spring with time to study and practice on the Nolan's line. After arriving the first week of June, he spent six weeks scouting the line, linking up summits on multi-hour day trips (with help from Harris), familiarizing himself with the optimal off-trail routes between the peaks. Then he took about a week and a half of tapering time away from the route—camping near Independence Pass and running various high-alpine trails above 10,000 feet—before starting Nolan's at 4:30 A.M. Friday morning—about 90 minutes before the Hardrock 100 began.
Hedges tackled the first three peaks alone—Mount Shavano (14,230 feet), Mountain Antero (14,271 feet) and Mount Princeton (14,200 feet)—then met up with Harris, a friend and trail runner from Salida, Colorado, who accompanied him over Mount Yale (14,200 feet), Mount Columbia (14,075 feet) and Mount Harvard (14,424 feet). In mid-June, Harris, 25, a former college basketball player, won the Triple Crown competition (the combination of the 23K, 46K and Vertical K races) at the Broken Arrow Sky Race in Olympic Valley, California. 
They ran down Harvard on Friday evening to the Pine Creek drainage, where Hedges picked up his nighttime kit from Van Horn, a trail runner and ski mountaineer from Carbondale, Colorado. In 2020, Van Horn completed Nolan's in supported fashion in 45:57, which at the time was the second-fastest time on the route. Van Horn helped take Hedges over the next two peaks, Mount Oxford (14,160 feet) and Mount Belford (14,203 feet), before driving back over Independence Pass to volunteer at Saturday morning's Aspen Valley Marathon. 
"I was struck by the fact that he was 20 hours into the effort, it was 1 A.M., and he didn't seem like there's anywhere else he would rather be," said Van Horn, 36, who met Hedges several years ago at the Power of Four ski mountaineering race in Aspen. "He was certainly pushing himself and going hard, but he just seemed elated, cool, calm, and collected. He honestly made me feel like a bit of a wimp, because I don't think I've ever been that cool or calm 20 hours into an effort. He was just moving really well and you could tell that he was absolutely enjoying himself." 
From there, Hedges went solo up and over Mount Missouri (14,074 feet) and Huron Peak (14,012 feet) in the early morning hours, then, after sunrise, tackled La Plata Peak (14,343 feet) alone. Just before 11 A.M. on Saturday, he met up with Kuenzle, who helped take him up the grueling south ridge of Mount Elbert (14,438 feet) and Mount Massive  (14,427 feet). Kuenzle, 27, has set 23 FKTs on foot and on skis since 2019, most recently on Denali in Alaska and the Bob Graham Round in England last summer. 
"I don't think he stopped the entire time. He just kept moving," Kuenzle said. "It's pretty fantastic to see him get it done the way he did. For him to get a pretty good go at it, you know, on his first try and with a fairly minimal crew. I think it's awesome, but I think he would've even taken off even more time if he had been accompanied the entire way. We kept talking the whole time about how fast Joey's unsupported effort was. It's just crazy to go out and carry all your own aid the whole time, and I felt we were moving quite well from the summit of Mount Elbert to the finish, and it's pretty crazy that Joey was a minute faster for that stretch."
RELATED: Jack Kuenzle's Speed Record on Denali Was No Cakewalk
LaRochelle, 39, a trail runner and ski mountaineer from Breckenridge, joined them on the way up Massive and, after reaching the final summit, the three descended one of the technical north ridgelines together. Descending through backcountry terrain, they eventually picked up the Highline Trail and traversed to the Colorado Trail and finally the Nature Trail that led them to the Mount Massive trailhead at the official northern terminus of Nolan's 14 on the south side of the Leadville National Fish Hatchery parking lot. 
Hedges said aside from an early near-bonk due to dehydration coming down a technical valley on the north side of Mount Princeton and cold, wet feet for long periods of time, the biggest challenge was the cumulative fatigue. 
As for what's next, Hedges is heading to Aspen this week to hear world-class violinist Augustin Hadelich play at the Aspen Music Festival, then likely heading to Chicago to visit family. He's not sure if he'll return to Chamonix to run UTMB, but he said he'll probably start looking for a full-time job this summer.
"He's an awesome kid," Van Horn said. "From everything I can tell he just really loves being out in the mountains and being on that technical terrain and just pushing himself in beautiful places. He kind of takes a really simplistic approach to running, but he's very intelligent, articulate and thoughtful. And I think that makes for this really interesting kind of combination of simplicity and complexity at the same time."
Lead Photo: Courtesy of David Hedges
Trending on Outside Online