In Stride
The Fastest Man Without a Country 
Refugee Dominic Lobalu has proven that he can beat the best runners in the world. But will that be enough to get him to the World Championships?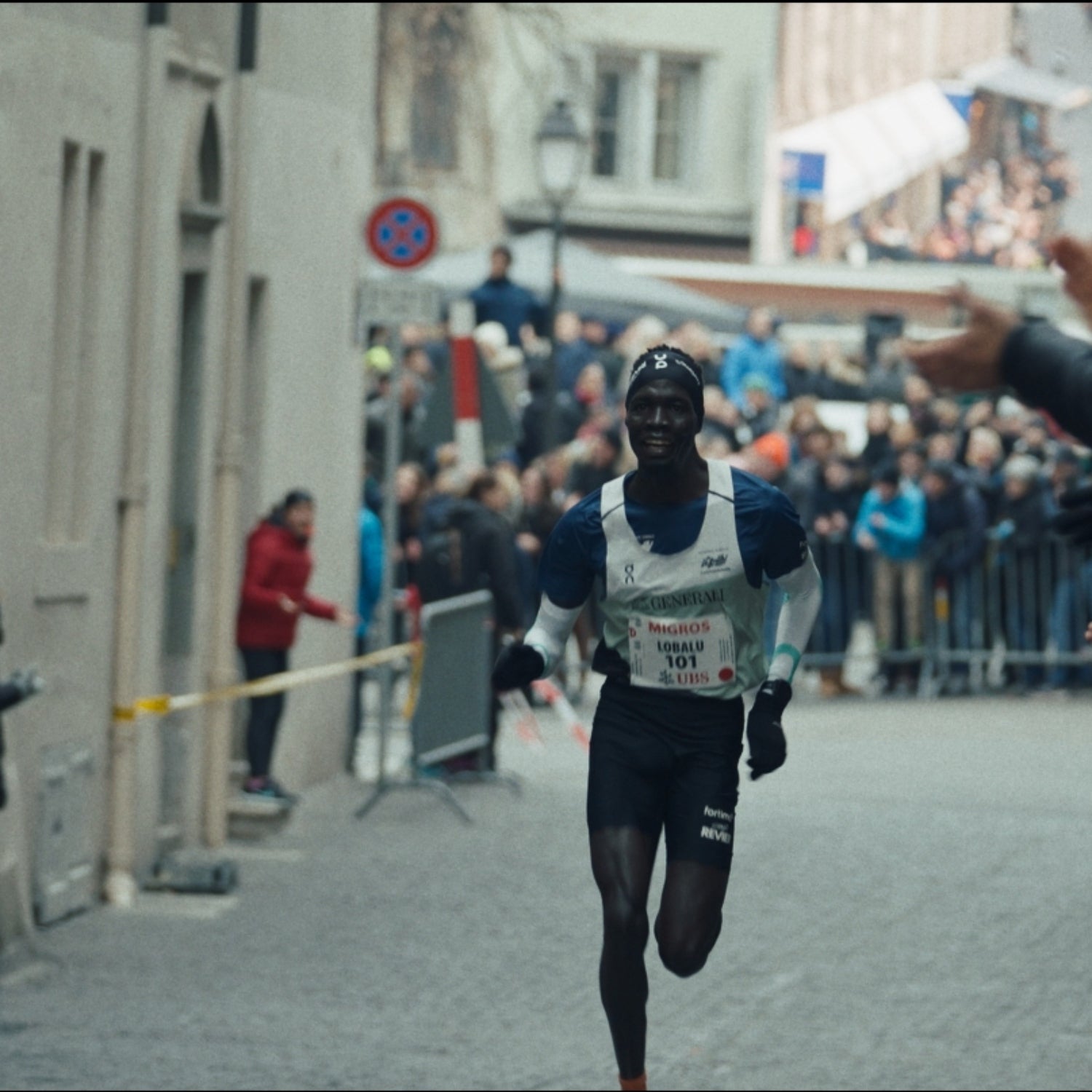 Courtesy On/Hungry Man
Heading out the door? Read this article on the new Outside+ app available now on iOS devices for members! Download the app.
In May 2019, a 20-year-old runner named Dominic Lokinyomo Lobalu, from what is now South Sudan, won a 10K road race in Geneva, Switzerland. Lobalu, who was separated from his parents as a child during the second Sudanese civil war, was competing for the Athlete Refugee Team—a World Athletics-backed initiative that recruits talented individuals from refugee camps and helps get them into prestigious events around the world. A rising star in the ART ranks, Lobalu was living in Kenya at the time and training under the former marathon great Tegla Loroupe. As a teenager, he'd competed in the 1,500-meters at the 2017 World Championships. The 2020 Olympics seemed like an attainable goal. But after that race in Geneva, Lobalu made a decision that would radically alter the trajectory of his young athletic career: early the next morning, he absconded from his hotel with the intent of seeking asylum in Switzerland.
What happened next sounds like the stuff of sports fiction. A few months after he defected from the ART, a Swiss refugee center put Lobalu in touch with Markus Hagmann, a schoolteacher in Saint Gallen, who coached at a local track club called LC Brühl. Hagmann had been a competitive amateur in his day and still held the club's record in the 3,000-meters—a formidable eight minutes and nine seconds. As soon as he saw Lobalu run, Hagmann recognized the young man's stupendous talent and began entering him in local races to get a sense of just how fast he could run. It quickly became apparent that the Swiss national-level road racing circuit wasn't going to cut it. Initially, Lobalu's asylum-seeker status meant that he couldn't leave the country. But in June 2022 he finally got a short-term residency permit, allowing him to travel. In his first international race, Lobalu outkicked Jacob Kiplimo, the reigning half marathon world record-holder from Uganda, to win the 3,000-meters in a world-leading 7:29:40 at a Diamond League meet in Stockholm.
"When we first met, it was not about getting a Diamond League win or creating a champion," Hagmann says of his relationship to Lobalu. "It was just that there was a guy who had suffered and who needed help. And the thing that connected us was running."
His breakthrough performance in Sweden last June has established Lobalu not only as a world-class athlete, but as someone capable of medaling at a global championship. Subsequent results have only affirmed his incredible potential. In the span of two weeks last September, Lobalu ran a 12:52 5K and a 59:12 half marathon; both among the fastest times in the world. According to Hagmann, Lobalu produced these results on a paltry 40 to 50 miles a week—less than half the training load of your typical world-class distance runner—as his body was still adjusting to the demands of high-volume training.
But the principal obstacle preventing Lobalu from having a shot at a glittering career on the international stage is perhaps more bureaucratic than physical. He currently has a short term, self-employed work permit in Switzerland and is in the process of applying for permanent residency, but acquiring full Swiss citizenship usually takes more than a decade. This means that Lobalu is technically ineligible to represent Switzerland at the Olympics or the World Championships. Meanwhile, since he chose to leave the ART to seek asylum in Switzerland, World Athletics says that he has forfeited the right to compete for the program. When I asked Lobalu if there was a way for him to represent South Sudan, he responded that that was "never an option." As he put it to me:  "Could you run for a country that took everything in your life? A country you've had no connection with for the last 16 years. A country that has one of the worst humanitarian crises in the world?" What's more, when he left the country as a nine-year-old, South Sudan, which only became a republic in 2011, didn't yet exist.
Earlier this year, the Swiss athletics federation put in a request with World Athletics asking the sport's global governing body if there was any way for Lobalu to get out of his legal limbo in time to compete at the World Championships in Budapest in August. In an email, World Athletics confirmed that the Swiss had put in a request for a "transfer of allegiance" and the application was currently going through the "appropriate review process."
The resulting uncertainty is the subject of "The Right to Race," a mini documentary that was released today. (You can watch it here.) The film was produced by the Swiss running shoe company On, which began sponsoring Lobalu after its co-founder Oliver Bernhard happened to witness him eviscerate the competition in a Swiss road race in December 2019. It's rife with gorgeous footage of Lobalu striding through alpine landscapes (and buying milk from a Swiss farmer) but the film smooths over some of the rougher edges of Lobalu's story—most notably his reasons for defecting from the ART and his extreme ambivalence towards his country of birth.
In a 2021 article in Time, Lobalu is quoted as saying that while he was at Loroupe's training camp, he was deprived of prize money that he had earned and generally treated as a second-class citizen of nowhere. When I asked Lobalu about this on a recent phone call, however, he demurred and simply said that the situation in Kenya "wasn't working for him." (On has also had sponsorship arrangements with the Athlete Refugee Team.) While one can hardly blame Lobalu for not wanting to ruffle any more feathers, his disenchantment with the ART program seems like crucial context that is noticeably absent from "The Right to Race."
To be fair, the film does a good job of portraying the conundrum for World Athletics.
"We can't continue to persuade countries to give visas to refugees who may abscond and seek refugee status in their country," World Athletics official Jackie Brock-Doyle says in the film. "From where we sit, he couldn't continue to be part of the Athlete Refugee Team because, if so, the message to every other refugee is: Look, isn't he a hero? Why don't you do the same?"
Brock-Doyle reiterated this to me via email, but said that World Athletics was working to find a solution for Lobalu: "We would like to stress that there is a huge amount of sympathy for Mr Lobalu's situation given his terrible experience as a child fleeing civil war in South Sudan. He is undoubtedly a talented athlete, and if we were able to find a way to include him in the ART programme without seriously compromising the programme—or possibly damaging it irreparably—we would have done so."
For his part, Hagmann told me that while he understands the predicament for World Athletics, he feels that a runner's refugee status ultimately shouldn't be contingent on where he happens to be seeking asylum.
Of course, the amount of attention Lobalu is getting—and any prospective "hero" status—has been amplified by his success on the track. Hagmann is adamant that their relationship is first and foremost about friendship, but it's hardly a stretch to suggest that his star athlete would be less likely to have the backing of a foreign athletics federation and a global corporation if he were just another semi-pro. "The Right to Race" includes an interview with one of Hagmann's friends, who explicitly argues that finding a way for Lobalu to compete isn't a matter of humanitarian goodwill, but of athletic integrity. "There must be a way for him to compete as a neutral person. Not because he is a nice guy, but because he is the best. The fastest person, or if he's the second- or third-fastest, needs to have the possibility to start at the World Championships and the Olympic Games."
I asked Lobalu whether this had been on his mind when he made the fateful decision, four years ago, to remain in Geneva.
"I think, in running, there is nothing that you are sure about—where you can say that, This is going to happen in this way. It was just my decision. I took it without knowing what would happen. So I just took a risk. I said: Let me try."
Lead Photo: Courtesy On/Hungry Man