Eliud Kipchoge's Running Coach Wants to Know Your Why
'We Share the Sun' is a new book that takes a behind-the-scenes look inside the life of Patrick Sang, the coach behind many of the Kenyan super-elite marathoners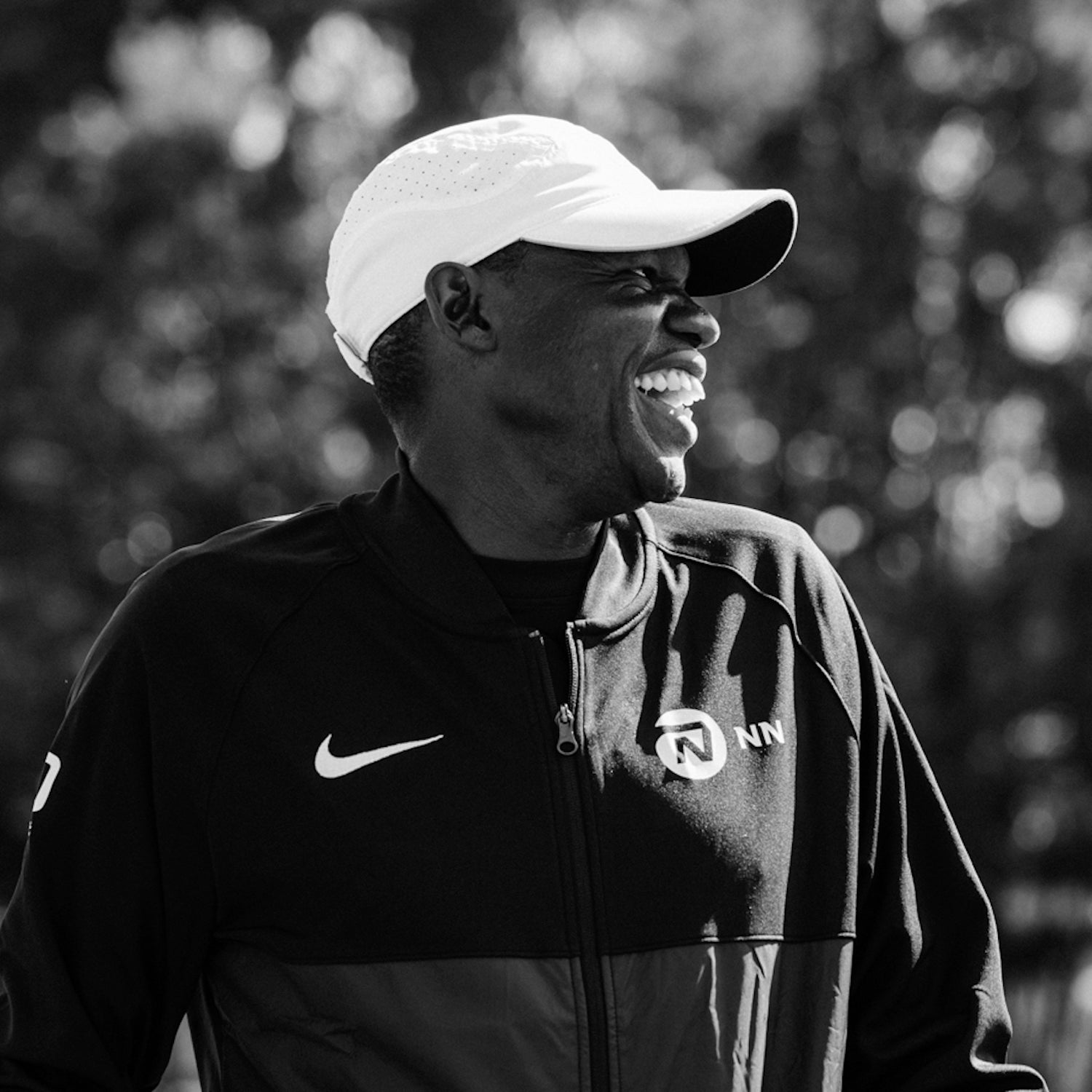 Courtesy NN Running Team
Heading out the door? Read this article on the new Outside+ app available now on iOS devices for members! Download the app.
In April, Kelvin Kiptum clocked the third-fastest marathon in the history of the sport at the London Marathon. He's from Kenya. Hellen Obiri won the 127th Boston Marathon in one of the most exciting women's races in history. She's from Kenya. And Eliud Kipchoge, considered the best marathoner of all time, missed a water station and hiccuped his Boston marathon performance, but remains the greatest runner of our time. Yes, he's from Kenya.
It's widely understood that Kenya has produced, is developing, and will continue to develop many of the world's fastest and most formidable runners on Earth. But why? This question has been prodded and churned by many professionals, along many disciplines, and the answer is complicated and multivalent. But if there is one common denominator, in one specific location in Kenya, where champions are made, it's in the Rift Valley of Kenya. And, for many champions? It's the coach Patrick Sang.
In We Share the Sun: The Incredible Journey of Kenya's Legendary Running Coach Patrick Sang and the Fastest Runners on Earth (Pegasus Books, 2023), sportswriter Sarah Gearhart takes a headlong, behind-the-scenes look into the world of the Kenyan super-elite as she investigates less the physiology or Vo2 max advantages that erupt from this corner of the world, less about the comparative analyses of workout and training architecture, and more about the social ecology found at the Global Sports Communication training camp, in Kaptagat, Kenya, a small rural town at the western edge of the country, inland about 200 miles from Nairobi and an hour's drive south from Iten.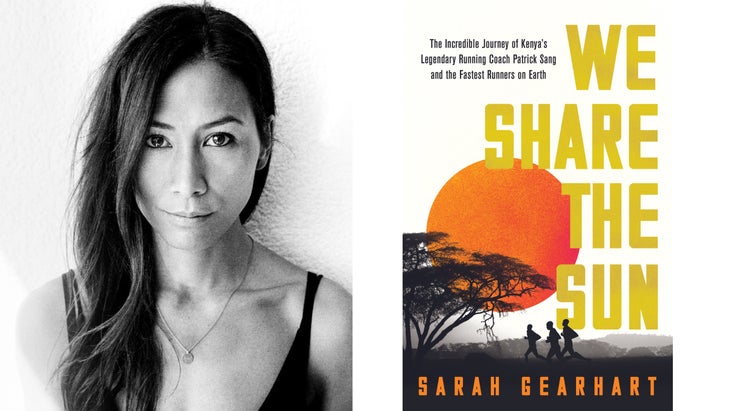 Here, Gearhart seeks to understand the collective weave that reinforces greatness, the mentorship and coach dynamics that create the best marathoners the world has ever seen, and she does this by traveling nearly 8,000 feet above sea level to the Rift Valley to meet the legendary Patrick Sang, famous for being Eliud Kipchoge's coach, as well as many other elite champions, including Geoffrey Kamworor, twice a winner of the New York City Marathon.
If the name Kipchoge sounds familiar to you, bravo. But I'll bet most, like me, won't know much of anything about Sang. That's partially because the 59-year-old coach is private, as this book illustrates, but also because his coaching philosophy is not exclusively geared only for individual success. Rather, it's about elevating together, something admittedly hard for much of the Western world to understand fully.
It's about the athletes, yes. It's about their success, yes. But most importantly, Gearhart suggests, Sang's goal is to cultivate the whole human athlete, to identify their Why as rocket fuel.
An Elite Athlete and Coach
Near the beginning, Gearhart paraphrases Sang, saying that coaching a good athlete to become a great athlete comes by "shaping a person to have the ability to critically engage with the world with honest intention and undauntedly navigate whatever life presents."
Patrick Sang himself was one of Kenya's finest athletes, and it's around him that We Share the Sun sets the table. Sang ran at the University of Texas, becoming a three-time All-American, and proceeded to become a two-time Olympian, running the steeplechase for Kenya at the 1992 Summer Games in Barcelona. In addition to his silver medal in those Olympics, he also brought home silver from the 1991 and 1993 world championships, helping him earn his nickname of "Silver Sang." (He also dabbled in the marathon in the late 1990s, running a personal best of 2:14:03 in 1999.)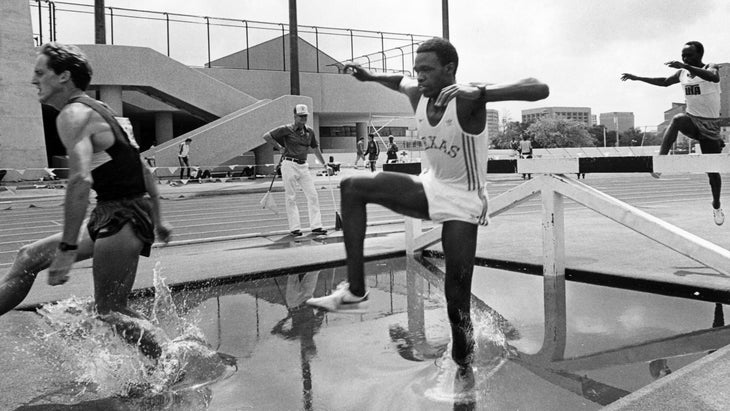 Here, Gearhart clearly establishes the street cred of Sang as Athlete, followed shortly by Sang as Coach, establishing his tone of authority from both sides. What unfolds from here is a thoroughly reported tapestry of athletic achievement that stems from his early success and his philosophy of sport, Sang's primary terms for life: "You are given an opportunity. Work hard."
Sang's Greatest Athlete: Eliud Kipchoge
Many will know Kipchoge from the Breaking-2 Project, the INEOS 1:59 Challenge, or as the G.O.A.T. with near-flawless running form. But early Eluid was also earnest and relentless. Sang first met Kipchoge as a teen in 2001. Kipchoge was a fatherless boy with big dreams and an even bigger appetite for guidance and training plans. Sang delivered structure for young Kipchoge to grow into the disciplined athlete he is today.
"Do your best. There's nothing else," is Kipchoge's primary credo, and that's a direct import from Patrick "Silver" Sang.
RELATED: Why We Have No Choice But to Root for Eliud Kipchoge, the Marathon King
Throughout the book's 30 chapters, Gearhart establishes heft in the front end with longer portraits connecting Sang and Kipchoge, and then, right around midway, the book's pace starts to pick up. The chapters get punchier. Shorter. More lyrical. It's almost as if the book was mirroring a progression run—a staple workout in East Africa where the runner will start off slow and build to a whipping cadence by the end.
In flittering snapshots, Gearhart takes you through a brief history of how Sang established the running camp in 2002. She finds some of her most evocative language to describe the landscape, the roads, and the intimacy between Sang and the more than 50 athletes he coaches. "Daylight begins to surface just shy of 6:15 A.M., revealing a blanket of fog kissing the top of cypress trees," writes Gearhart. "If you arrive at the end of April or beginning of May, stripes of lilacs on both sides of the road offer a mark of direction toward Sang and his world-class associates at Global Sports Communication training camp."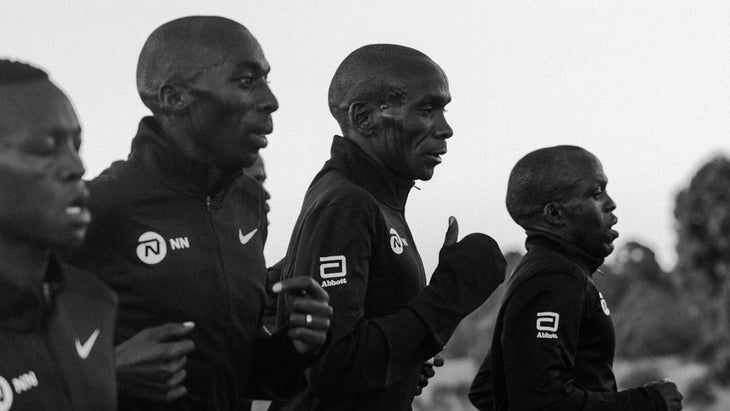 As the book drills into the common themes of Kenya's success in elite long-distance running, a clearing begins to form. Gearhart's punchy chapters and scene-setting help the reader become immersed in the place, as well as the self-affirming atmosphere created in Kaptagat by Sang.
Occasionally, we pan out and fold back to offer needed context for those of us—including myself—who haven't yet committed to memory the complex history of colonial Africa and the origins of the Kenyan elite running at global events, which really took off in the 1980s. But generally, the book steers clear of geopolitics and stays with portraits of the athletes, the camaraderie, and the collective task of making elite running a career, depicting the training camp a workplace, not a hobby.
Here, Sang's coaching approach proves less a hyper-individual focus and more about the collective, a way of building the greatest runners in the world, not by lionizing one athlete but by building in a culture of mutual flourishing. Much of this is shown through time spent in Kaptagat, and through Sang's relationship with his athletes.
At times, I was hoping Gearhart would look squarely at this, offering more contrast of coaching techniques and cultural differences between Kenya and running programs in the West, to better understand the consequences of a more hyper-individual hype-machine of social media that readily invites athletes in the West to double down on self-as-brand and lose focus on the business of winning.
Developing the Why
There's a constant refrain of Sang's importance of developing the Why in his athlete's training regimen. "Those who are here understand their Why, just like Sang understood his Why when he was a competitive elite athlete and trained alone," writes Gearhart. "The Why is crucial. The Why pushes one to be better everyday."
Thus, Sang's recipe becomes apparent: collective elevation through hard training together; aiming for a higher purpose, a reason for being there. "Grab a higher branch" is an analogy both Sang and Kipchoge use to stay optimistic and driven to succeed, despite setbacks.
Though a higher proportion of the book focuses on male athletes under Sang's leadership—in large part because the ratio of men-to-women at the camp is significantly disproportionate—Kenyan female athletes are certainly part of the book, including Faith Kipyegon, a two-time Olympic champion and two-time world champion in the 1500 meters. She joined Sang's group in 2019, who helped train her back to excellence after maternity leave. "He knows everything," said Kipyegon. "He reads your mind."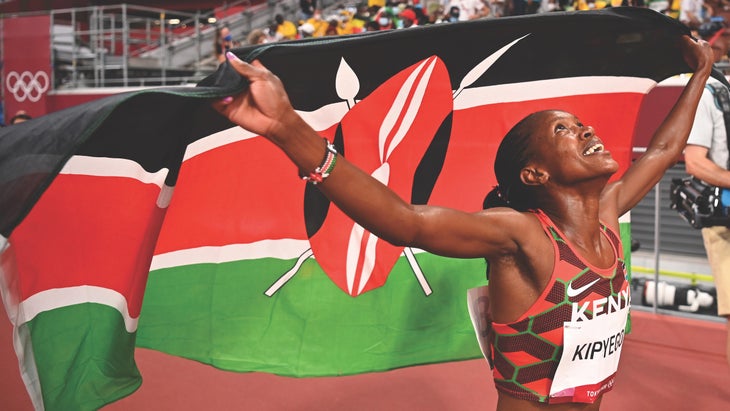 "The people around you determine what you become, what you think," Sang says, which I find one of the clearest lessons of the book, one that the author continues to illustrate throughout the work. Excellence is never wholly individual; it's always dependent on others. The best marathoners in the world are indeed talented individuals full of drive and discipline, but they are also almost always part of a group, a team that reminds them of the ultimate project: mutual flourishing.
We Share the Sun is an engaging book for those who want to explore the structural, social, and relational foundations of Kenyan elite marathoners. Both compelling and accessible, I wouldn't see this book resonating as much with those having zero knowledge of elite road marathoners, as it does get into the weeds in its traversing of races, results, and athletes. That said, I came to road running from a trail and mountain background and found Gearhart's guidance through this world captivating.
If you've ever asked: Why are Kenyan marathoners consistently so damn good? What is the subtle edge that cultivates such deep distance running talent? Though this book doesn't fully answer these questions—mainly because these questions are complex and involve many factors—Gearhart effectively delivers the message that success comes best when shared, best when you believe in your inherent greatness and potential, and best when reinforced constantly by your community and peers. This, combined with Sang's approach to building whole athletes, athletes who are connected to their Why, is a time-tested recipe for greatness.
Lead Photo: Courtesy NN Running Team