How the Bolder Boulder 10K Became One of the World's Most Cherished Road Races
45,000 runners are expected to run this year's Memorial Day 10K on May 29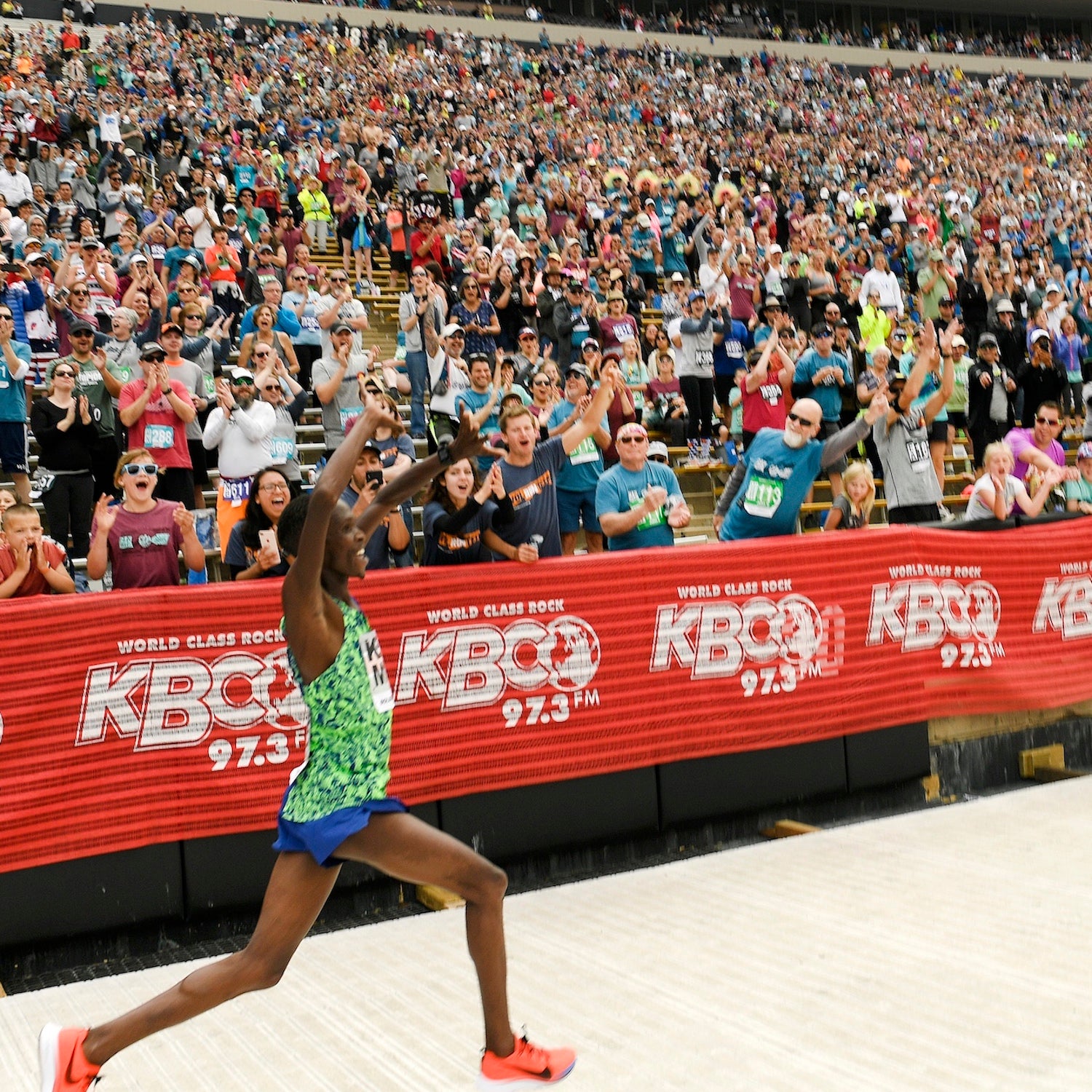 Helen H. Richardson/MediaNews Group/The Denver Post/Getty
Heading out the door? Read this article on the new Outside+ app available now on iOS devices for members! Download the app.
At bedtime last week, legendary American distance runner Melody Fairchild regaled her 7-year-old son Dakota with tales of the Bolder Boulder 10K he plans to run this year.
One of the biggest road races in the world for the past several decades, the race sends 40,000 runners through the streets of Boulder, Colorado, on a point-to-point race that ends at the University of Colorado (CU) football stadium, full of cheering spectators and fellow runners.
"I told him it's an amazing feeling to run into that stadium," Fairchild says. "When you hit the field, the whole crowd is cheering for everybody. You feel like they're cheering for you. He had this huge smile on his face."
And if 50,000 people cheering isn't enough, there's also the famous slip-n-slide, numerous bands playing on the course, runners and spectators wearing outrageous costumes, and the military jet flyover by the Colorado Air National Guard you can feel in your bones. Named America's All-Time Best 10K, it's likely to be one of the biggest parties you'll ever attend.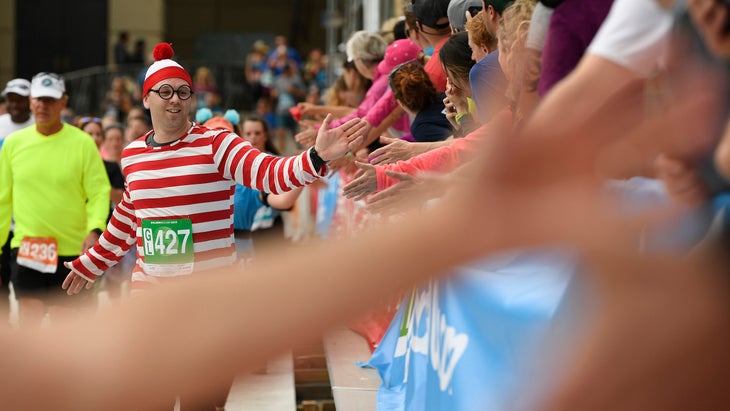 Fairchild recounted for Dakota her experience as the U.S. captain for the Bolder Boulder's first International Team Challenge professional race in 1998.
"I remember looking out the window and seeing the stadium full. I was so nervous, I thought I was gonna vomit all over the floor," she says. "When I walked out and they introduced me as the local hometown girl, the whole crowd roared."
Fairchild ran her first Bolder Boulder at age eight. She went on to win the citizens' race three times (1989, 1990, 1991) when she was a record-setting high schooler, became an All-American and NCAA champion at the University of Oregon, and then qualified for the U.S. Olympic Trials in the 10,000-meter run and marathon as a professional runner. But the Bolder Boulder has always held a special place in her heart, which is why she has continued to run it through the years and why she's so eager to introduce Dakota to it.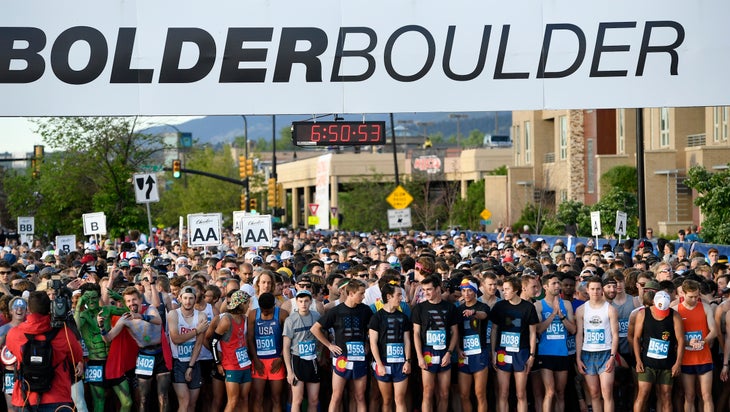 How it Got Started
The idea for the Bolder Boulder germinated in the mind of a father watching his five children participate in all-day track meets. It was the summer of 1978 at the upswing of the original American running boom, and runner and local businessman Steve Bosley had grown frustrated with the disorganized events and parents berating their children for not running fast enough.
Bosley, then 37, reached out to his friend, Boulder resident and international running icon Frank Shorter, a two-time Olympic medalist in the marathon, for help designing a race that would serve their community and promote the sport of running. The race would not only become a Colorado icon, it set a gold standard for road races around the world and helped elevate women's running in unprecedented ways.
RELATED: The Man Who Brought Running to Boulder
During the spring of 1979, Cliff Bosley, the current race director, went door to door with his Boy Scout troop, passing out posters to encourage neighbors to run his dad's inaugural race. The poster announced a 4,000-participant cap and enticed Boulderites to "Run with Frank Shorter and Ric Rojas!" for a mere $6.50 entry fee. (Rojas was another local elite athlete who would go on to win the inaugural race in 1979. His daughter, Nell Rojas, a current professional runner, won the women's citizen's race 40 years later in 2019.)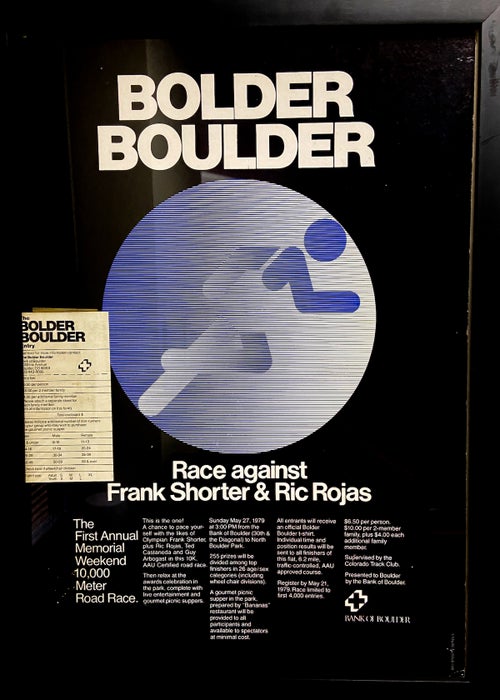 Bosley recalls giving a man in his front yard a poster who threw it back in his face in disbelief. "'Yeah right, 4,000!' the man scoffed. "I was just a 12-year-old kid. You believe everything your parents tell you. I thought, 'Dad says it could happen—why won't it?!'"
The inaugural race saw 2,700 registrations. The next year, it doubled in size and live entertainment was added to the celebration. Participation continued to soar in the ensuing years and decades, eventually reaching 50,421 in 2010. With an average of 45,000 finishers over the past 10 years, it's now the seventh-largest road race in the nation and the largest Memorial Day celebration in the U.S.
Pioneering Prize Money
From its inception, the Bolder Boulder 10K offered equal prize money for the female and male winners. In 1984, it created a separate elite race from the citizens' race. There was also a deliberate split in the women's and men's elite race so that both races could be showcased equally and covered live on the local TV broadcast. Today, it offers one of the largest non-marathon prize purses in the U.S., but this did not come without a lot of work.
Initially road races were precluded from paying prize money to athletes because it changed their amateur athlete status, preventing them from competing in the Olympics. In the early 1980s, Steve Bosley, then the president of the Bank of Boulder, worked with two local attorneys, Frank Shorter, and TAC (The Athletics Congress which was then the name of the national governing body for the sport; now it's known as USATF), to create a mechanism using trust accounts for athletes to earn prize money. It was then paid into athletes' individual trust accounts so they could draw living and training expenses. At the time these accounts were called TACTRUST Accounts, and the Bank of Boulder was the steward of 95 percent of all of these accounts on behalf of both American and international athletes from around the world.
Promoting Women's Running
One of the most circulated photos of the Bolder Boulder 10K is that of Shorter, the 1972 Olympic marathon champion, winning the 1981 race— the first time the race finished in the University of Colorado's Folsom Stadium. But that same year, Ellen Hart, then 23, won the women's race—although she says there was no finish line tape for the female winner.
"It was the most exciting thing I had ever seen," she recalls. "Since I was a little girl, I had wanted to go to the Olympics. I thought, Oh my god. This is like the Olympics! I traveled to races all over the world and the BB was my favorite race."
Hart would move to Boulder in 1982, and then win the race again in 1983 before the four-year reign of Portugal Olympian Rosa Mota. In many ways, Hart says, her success in the Bolder Boulder launched her career as a professional athlete.
She went on to place 11th at the inaugural women's U.S. Olympic Trials Marathon in 1984, set an American record in the 30K, and won 18 world championship titles in triathlon and duathlon racing. "In terms of women's sports, the Bolder Boulder was certainly more forward-thinking than any other race I ever attended," Hart says.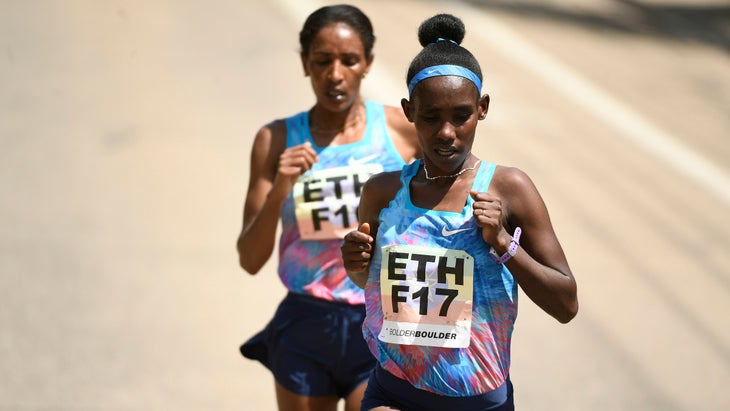 The race organization was also ahead of its time when it began the Women's High Altitude Training Camp, something it did not offer for men, in 1989. The 100-day program was designed to bring five talented post-collegiate female runners to Boulder to train prior to racing Bolder Boulder. Runners were placed in volunteer host families, provided an elite coordinator and a trail guide, and given access to a local gym and the university's track to train.
New Jersey runner Inge Schuurmans McClory was a member of the 1990 team.
"I really didn't feel worthy of national attention, but I applied for the program not even thinking I was going to get in," she says. She was not only accepted, but she fell in love with Boulder and stayed.
"I went to graduate school here. I met my husband here. I coached cross country and track at CU. It sort of was the launching pad for the rest of my life, and I owe it to the Bolder Boulder and that high-altitude training camp," says McClory, now a physician's assistant who has trained cardiac patients—the Brave Hearts—for the Bolder Boulder since 2000.
Since 1996, there have consistently been more women (average 53-54 percent) than men completing the race. Cliff Bosley attributes this to his mom creating a walking division in 1984 so that her father, diagnosed with prostate cancer, could participate.
"We kind of look at it as a placeholder," says Bosley, "You come in as a walker and now you're on the continuum. Let's help you become a jogger. Let's help you become a racer." This exemplifies the Bolder Boulder's rallying cry, "Oh Yes You Can!" that it established in 1979.
Building Community Through Running
The Bolder Boulder has always been defined by its strong community involvement, which includes an eager network of volunteers, aid stations staffed by local running groups, and the thousands of spectators who line the streets and fill the stadium. Historically, the race donates more than $100,000 to local nonprofits and community groups that volunteer. Even during the pandemic, the race still found a way to contribute.
"Knowing we could not stage the Bolder Boulder in-person, we created a virtual event called the VirtuALL 10K and offered it at no cost," Bosley says. Thousands of T-shirts, designed for the 2020 race that went unused, were donated to shelters.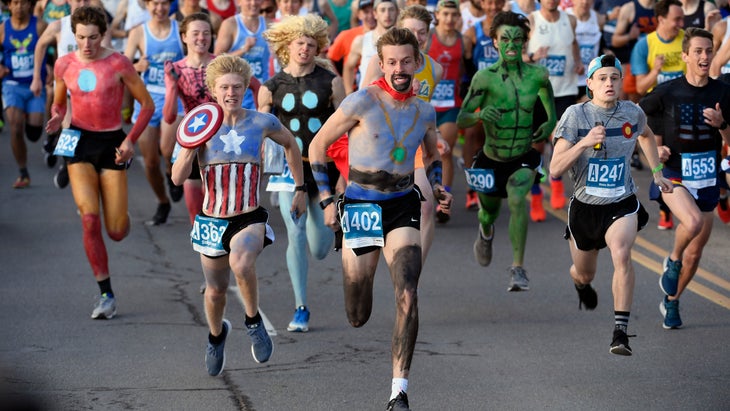 Another Bolder Boulder program that supports the community is the BB Racers Club. Created in 1996, the program prepares children for the race, so their experience is a positive one. Initially started as a middle school program, this club now includes elementary schools. Children who are signed up are given a special training program, coach, and starting wave. Fairchild's Boulder Mountain Warriors club, of which her son Dakota is a participant, is training a large number of BB Racers this year.
Bosley is prepared for up to 45,000 participants at this year's race on May 29. And just as they did 44 years ago, race organizers will serve participants a sack lunch and send them a postcard in the mail with their finishing place, pace, time, and ranking in their age group.
"I can still remember checking the mailbox every single day until it came," says Fairchild. "It makes me emotional just thinking about how much attention to detail they've always given hundreds of thousands of people. They care so much. It's not an accident that they are the best 10K in the world."
Lead Photo: Helen H. Richardson/MediaNews Group/The Denver Post/Getty