10 Things to Know About the World's Fastest Man
Zharnel Hughes is the British record holder and the world's top-ranked 100-meter sprinter this year who will bid for his first individual title at the World Championships in Budapest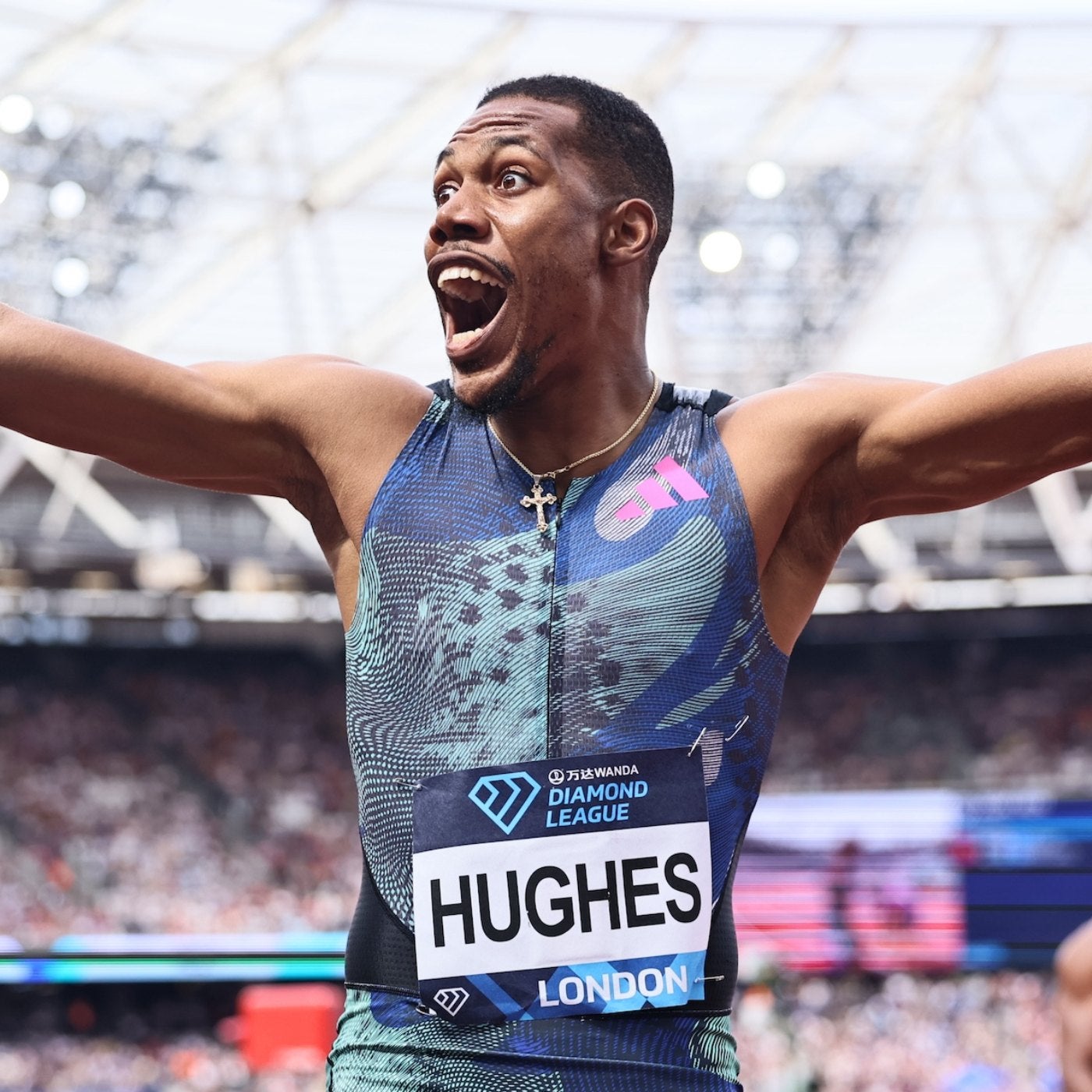 Pat Scaasi/MI News/NurPhoto, Getty
Heading out the door? Read this article on the new Outside+ app available now on iOS devices for members! Download the app.
American athletes have long dominated the 100-meter dash ever since the inaugural World Championships in 1983, amassing 11 titles in the event, the most of any nation. But for this year's World Championships that kick off this Saturday—the most prestigious senior track competition outside of the Olympic Games—British record holder Zharnel Hughes wants to change the tally. 
He enters the field with the fastest 100-meter time in 2023 (9.83 seconds), which he achieved in June at the USATF New York Grand Prix. The mark ranks Hughes as the 15th fastest of all time in the event, 0.25 seconds behind the world record held by eight-time Olympic gold medalist Usain Bolt. 
Hughes, who has competed at three World Championships throughout his career, has twice-earned a silver medal in the 4 x 100-meter relay. And though he has come close—he was second in the 100-meter dash at the previous world champs—Hughes has never won an individual gold medal. If he is successful at the 2023 World Championships in Budapest, Hungary, August 19-27, Hughes will become the second man ever representing Great Britain to win the men's 100-meter title, the marquee event of track and field. 
Here are 10 things to know about the fastest man in the world in 2023:
1. He Has Multiple Passports
Zharnel Hughes, 28, was born and raised on the island of Anguilla, a British territory in the Eastern Caribbean that is a mere 16 miles long and three-and-a-half miles wide. He holds dual citizenship for Great Britain and Jamaica. During his youth, Hughes competed for Anguilla, which is not recognized by the International Olympic Committee. In 2015, he opted to transfer his allegiance to represent Great Britain at international competitions.
2. He Was a Multi-Event Athlete by Age 10 
Hughes hails from a family of runners on his father's side, and his two younger brothers ran until high school. He got into the sport at age ten, often running against (and beating) peers. He competed in various track events, including the high jump, long jump, 400 meters, and 1500 meters. 
"There was an annual sports day [at school], my first competition. At the end of it, I got seven medals—five gold, two silver. I got a trophy for being the most outstanding athlete of the day," Hughes said. It gave him an early and strong impression of what else he might be capable of on the track.
3. He Trained with Usain Bolt
Growing up, Hughes often watched YouTube videos of elite Jamaican sprinters, like world record holder Usain Bolt, as well as Yohan Blake, the third-fastest man in history. As fate would have it, Hughes would train alongside both of them when he moved to Jamaica as a teen to join the Racers Track Club, led by legendary coach Glen Mills. 
Hughes describes his first in-person encounter with Bolt in 2012 as surreal. "I was striding on the grass field. I saw Usain on my left. He looked like a giant. He was striding as well. I just started mimicking everything he was doing. I don't know why. I was young, 16. I was looking at Usain all in shock," Hughes recalled. "Here's the world's fastest man. I'm right next to him!"
4. He Trains with Younger Sprinters
Hughes modified his training schedule to gym work in the morning and a two-hour sprint session in the afternoon and can be seen sprinting alongside "the youths" on the Racers Track Club, he says, adding, "they're fast, they push me, and I like a challenge."
5. He Almost Beat the Olympic Champion 
Hughes points to nearly outrunning Usain Bolt in the 200-meter race in 2015 at his debut Diamond League meet—the Adidas Grand Prix in New York City—as one of his most memorable races. "Just before coming off the turn, I realized I was right there with Usain. I started running for my life," Hughes said. "I was getting close to the line, and I was still there with him. I tried to lean forward, but his stride was longer than mine. The entire stadium thought that I won. Everybody was like, 'Noooo!'" The race made headlines in Anguilla, and Hughes remembers motorcades and banners went up with his name on them.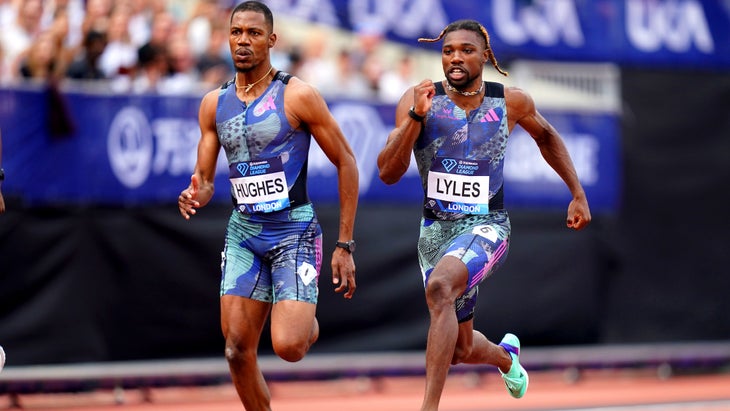 6. He Is the Current British Record Holder
The morning of June 24, 2023, prior to heading to the starting line of the New York City Grand Prix, Hughes wrote down the time he predicted he'd run: 9.83 seconds. He achieved exactly that, and it was a victory that shaved 0.04 seconds off the British record, previously set by Jamaican-born British Olympic champion Linford Christie at the 1993 World Championships in Stuttgart, Germany.
7. He Missed His Chance at Earning an Olympic Medal. Twice.
Hughes tore a ligament in his right knee after falling in a race in 2016 and consequently was absent from the Rio Summer Olympics. At the 2020 Tokyo Olympics, he qualified for the 100-meter final, but he couldn't contend for a medal after a false start. Hughes later said the mishap was due to a sudden cramp in his left calf while in his set position in the starting blocks.
8. He Is (Mostly) Food Conscious 
Hughes started investing in his nutrition at age 18. To this day, his diet is very conservative, partly the influence of a close friend, who is a bodybuilder. His morning routine includes a fruit smoothie, preferring bananas, pineapples, watermelon, and cantaloupe. He'll sometimes blend spinach and oats. Boiled eggs, omelets, fish, and chicken are his protein staples. He likes to hydrate with coconut water every day, and he never leaves home without a snack, typically a Nature Valley granola bar. "Nutrition helps a lot, trust me," Hughes said. "It helps keep injury away. Because your body is always being fed, it doesn't feed on itself." 
While he had to wean himself away from his vice, chocolate cake, he maintains a nightly ritual of a bowl of corn flakes, which he says helps him sleep. On a rare occasion he splurges on a Burger King cheeseburger.
9. He Likes to Stretch Mid-Flight
During a flight, Hughes will go to the back of the aircraft to stretch. "I don't care if anyone is looking at me," he said. As soon as he lands, he tries to do a shakeout run, sprinting 50 meters on a hotel walkway for up to 15 minutes, or else he'll put on compression boots and later have his physio flush out his legs.
10. He Can Fly a Plane
When he was 11, Hughes flew with a pilot from Anguilla to the British Virgin Islands. He remembers sitting in the cockpit, tempted to play with the instruments inside the aircraft. Only after the plane landed and was switched off did he have the opportunity to grab the control wheel. The experience encouraged his dream of becoming a pilot. He fulfilled his childhood goal of earning a pilot's license in 2018, seven months after studying at the Caribbean Aviation Training Center in Jamaica.
So as not to interfere with track, he'd often arrive at the aviation center as early as 5 A.M.  "I had to make a lot of sacrifices to make it happen," he said, noting that on a couple of occasions he reconsidered pursuing the license. Flying is now one way he spends time before mid-afternoon track sessions. At times he has flown a Cessna 172, a single-engine prop plane, up to four days a week for an hour and as far away as Montego Bay in Jamaica. 
Catch Hughes in action when he takes the starting line on August 19, day one of competition, for the first round of heats for the men's 100-meter dash.
Lead Photo: Pat Scaasi/MI News/NurPhoto, Getty
Trending on Outside Online