How U.S. Record Holder Alicia Monson Prepares for a World Title Run
In the opulent alpine resort town of St. Moritz, Switzerland, America's fastest distance runner is preparing to measure up against the world's best. How close can she get?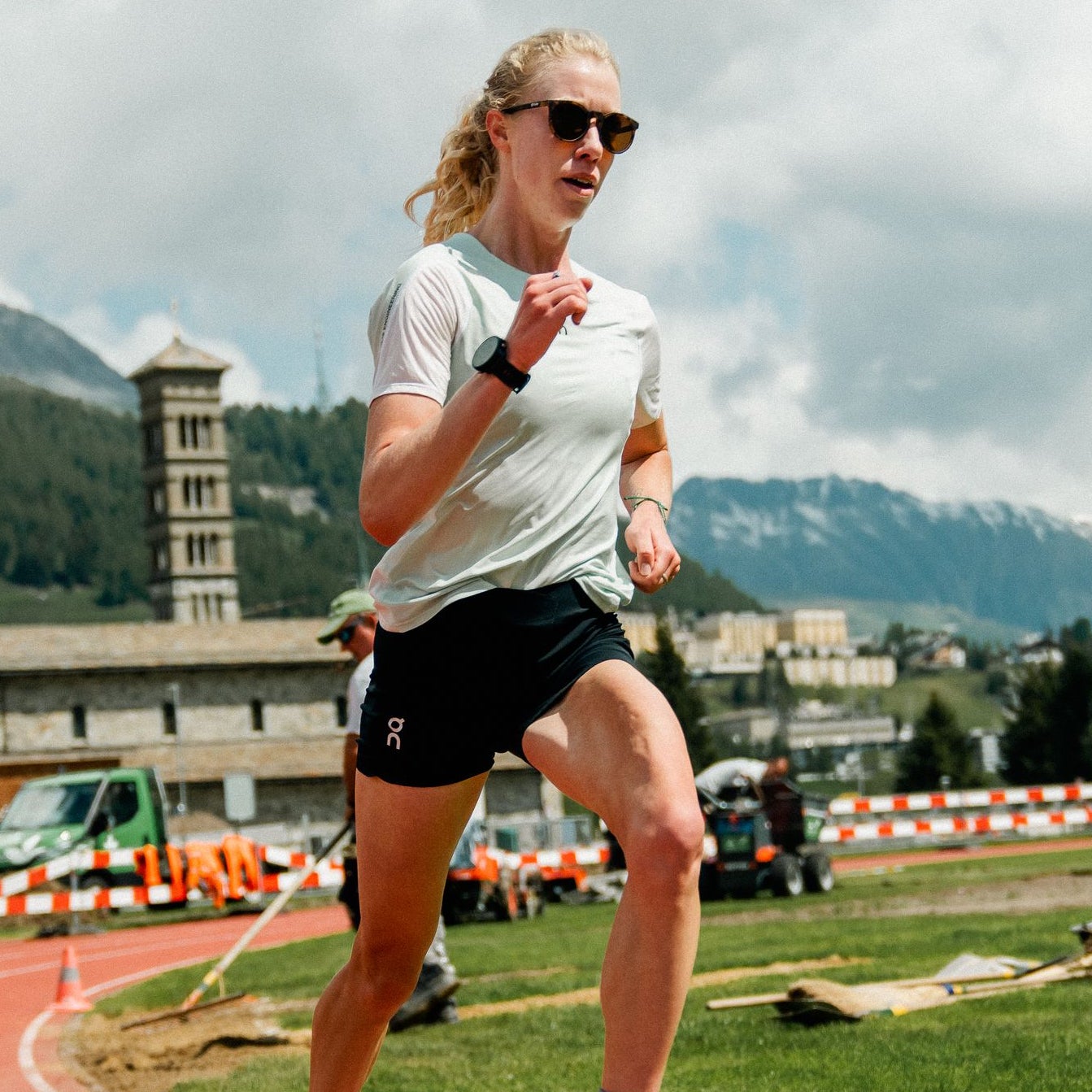 Courtesy On
Heading out the door? Read this article on the new Outside+ app available now on iOS devices for members! Download the app.
It's Saturday evening, July 29, and 25-year-old Alicia Monson is getting ready for her second run of the day in the cold rain.
Life doesn't slow down on weekends when you're one of the most promising distance runners in America. In fact, it only gets faster.
She is layered in a long-sleeved black jacket and matching pants, white crew socks, and her size-nine feet are tucked into an unreleased pair of purple On running shoes. Her curly blonde hair is braided and mostly hidden behind a black cap. This is not her usual summer look, but it's 54 degrees Fahrenheit here in St. Moritz, in southeastern Switzerland, and she prefers to keep her sweat rate up.
This is the second consecutive year that Monson has come to the Engadin Valley. St. Moritz—the world's oldest ski station and also the official Swiss Olympic High Altitude Training Base—has twice hosted the Winter Games (1928 and 1948). Monson uses the town as a high-altitude base in Europe during the summer, as she competes in Diamond League races around the continent.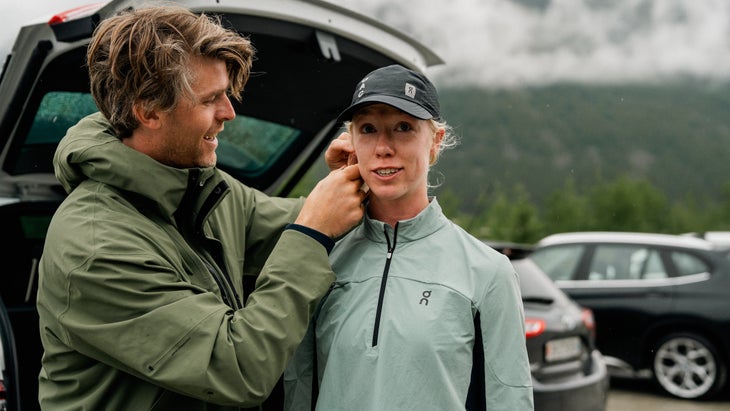 Monson arrived a week ago with her On Athletics Club (OAC) after racing the 5,000 meters at the London Diamond League on July 23. Much to her surprise, she broke her third American record this year. She clocked 14:19.45 to finish fifth against a stacked field of women that have run among the top 10 fastest 5,000-meter times in history: Ethiopian-born Dutch Olympic champion Sifan Hassan, Olympic bronze medalist Gudaf Tsegay of Ethiopia, and Beatrice Chebet of Kenya.
After her race, Monson contemplated for several days whether she should run both the 5,000-meters and 10,000-meters at the World Athletics Championships, taking place August 19 to 27 in Budapest, Hungary. Initially, she had planned to compete in just the 10,000 meters, scheduled on the opening day of competition, but she couldn't resist the challenge. "Even if it is a little intimidating," Monson says, "I want to put the U.S. at the top of the world list. The distance events tend to struggle compared to shorter running events and jump and field events. It's a goal to help my U.S. teammates."
Gunning for the Podium
Monson needs no motivation as she clicks a watch on her right wrist and takes off running three miles alone around Lake St. Moritz at 7:12-minute pace, part of the 80 miles she'll tally this week. Next week, she'll bump up to 85. In the thick of her training, Monson tops out at 95 miles.
The route is distractingly beautiful—still waters illuminate a panoramic reflection of the Swiss Alps. Though the path is flat, training at nearly 6,000 feet doesn't make it feel simple, especially when Monson's body needs a break.
"Sometimes easy days are the most difficult because I'm so tired," she says while eating a margherita pizza. Monson notices the difference of being 800 vertical feet higher than her training base in Niwot, Colorado, on the outskirts of Boulder.
It toughens her mentally and physically as she counts down to August 19, when she'll toe the starting line for the 10K at the World Championships. As she aims to prove that the U.S. can keep up, she isn't afraid of what it will take to get there. Monson, from Amery, Wisconsin, has been running since age 12, and she will run herself into the ground, even at risk of becoming unconscious.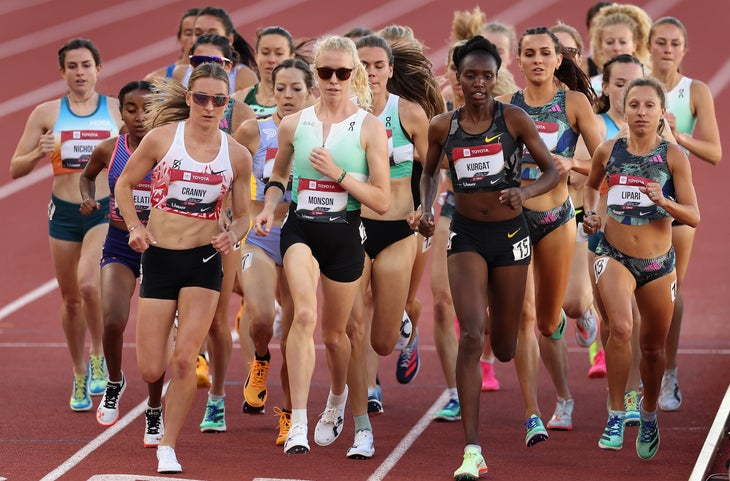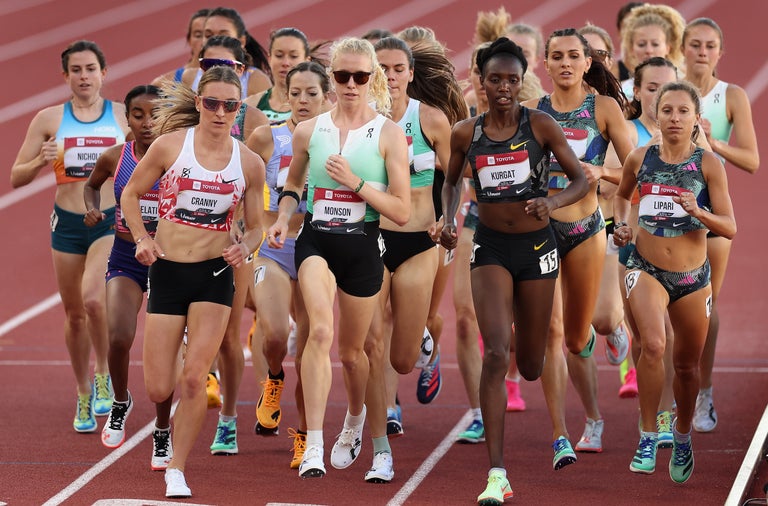 That nearly happened at the U.S. Olympic Team Trials in 2021, in Eugene, Oregon. Her legs started buckling and her vision began to blur during the final lap of the women's 10,000 meters. After she crossed the finish line in third, earning a spot on the Olympic Team, she experienced near-syncope and was hospitalized for heat exhaustion.
"I was so committed to making the team," says Monson. She doesn't remember much from the race, but her motivation was more than clear.
RELATED: Nikki Hiltz on Their American Record, Queer Joy, and Chocolate Chip Cookies
It wasn't the first time she has pushed her body into uncomfortable zones. It's a necessary normal while Monson strives to maximize her budding talent and represent a country that has yet to produce a world champion in the 10,000 meters, male or female. (Only two in history have: Kara Goucher earned a silver medal in 2007 in Osaka; and Emily Infeld won bronze at the 2015 World Championships in Beijing). Both the 5,000 and 10,000 meters have historically been dominated by Kenyan and Ethiopian athletes.
From the Midwest to the Olympic Trials
Monson turned pro in 2020, following a decorated cross-country and track collegiate career at the University of Wisconsin, during which she became a five-time All-American and Big Ten record holder. That year, she signed with Total Sports, a management firm that also represents marathoner and Olympic bronze medalist Molly Seidel.
Monson would join OAC, a training group of 11 professional distance runners in Boulder, Colorado, founded in 2020 and sponsored by On, the Swiss athletic shoe and performance sportswear company. The OAC, which includes Boston Marathon champion Hellen Obiri, is led by three-time Olympian and former American record holder Dathan Ritzenhein.
Monson moved to Colorado in fall 2020, which was her introduction into altitude training for extended periods. She had visited national parks during summers as a college student and ran along Wyoming's Grand Tetons and Colorado's Rocky Mountains, but it was more running as part of weeklong camping trips. Training in Colorado was a blank slate. It helped that she had a built-in support system through OAC, which she says is all about team culture, a running co-op.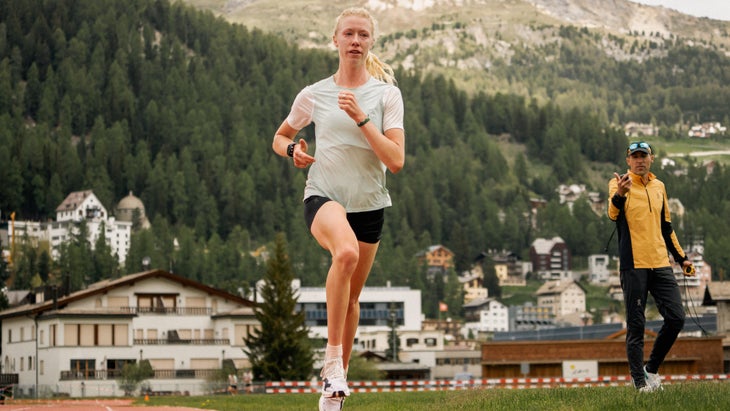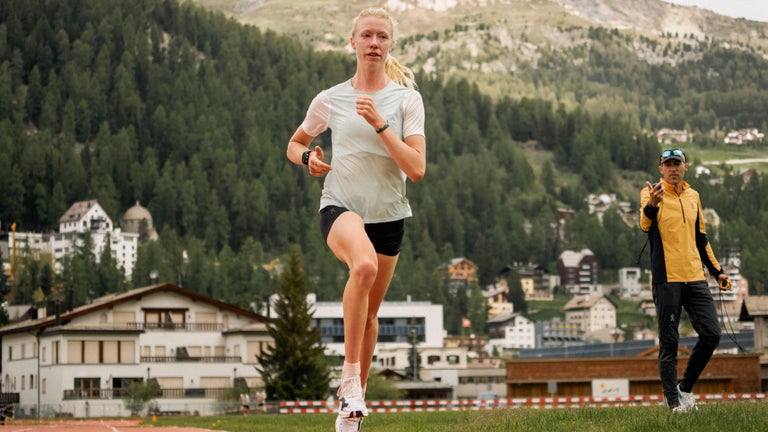 "We're all trying to make each other better," says Monson. "We have an international team, so we bring a lot of different perspectives. We try to build each other up."
Monson says her transition from college to pro was natural. "Being Midwesterners, Dathan and I understand each other. There wasn't much of a cultural shift."
Ritzenhein, who grew up in Rockford, Michigan, was a national champion runner as a teen, then went on to compete for the University of Colorado and made his first Olympic team while he was still a student-athlete. The four-time All-American began racing professionally for Nike in 2004 and later, in 2009, as part of the now disbanded Nike Oregon Project.
Ritzenhein retired in May 2020, at age 37, with a resume that included appearances in multiple world championship finals, the Olympics, and a marathon best of 2:07:47. After exiting his pro career, he opted to coach full-time.
Ritzenhein's enthusiasm and loyalty to the sport as an elite athlete hasn't left him. Monson describes him as "intense." But so is she. "You have to be at this level," she says, especially in a race like 10,000 meters, which she and Ritzenhein both say is a race of attrition. "You're not that far off of 5K pace for twice the distance," Monson adds.
RELATED: Olympian Faith Kipyegon Just Broke Three World Records. She's Not Slowing Down.
Running at home in Colorado—often twice a day at 5,100 feet above sea level, along with strength work multiple times a week—has no doubt pushed her athleticism to new heights since she joined OAC.
"Every week it just gets harder," Monson says, laughing. Some workouts have been so challenging that she has felt as though she wouldn't finish, like running four one-mile repeats at 5:05 pace with 400-meter sprints at 67 seconds between each rep.
Challenging workouts like that one are an opportunity for her to visualize race scenarios. "I picture being on a train of people, and I have to stick on the train," Monson says. "You're going to feel bad during a race so you have to purposefully be intentional about when you feel bad during a workout and how you're going to overcome that."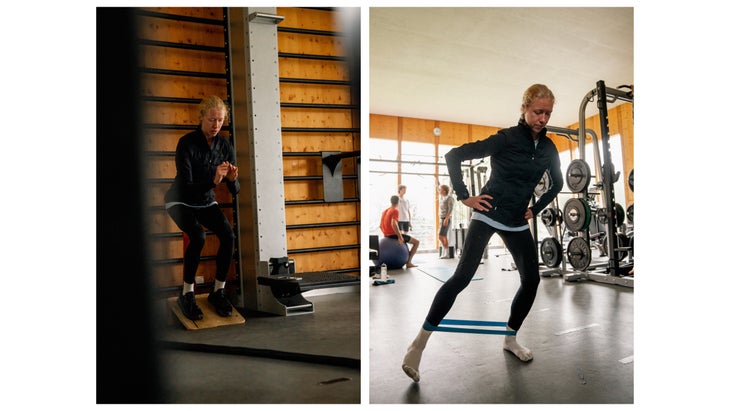 Sights Set on Worlds
The morning after Monson's easy three-miler, she upgraded to 10 miles, running half of the workout alongside OAC teammate Sage Hurta-Klecker, who is one a dozen On-sponsored athletes here in St. Moritz to train. They run, stride-for-stride, on a dirt path adjacent to Lake Silvaplana with the backdrop of the mountains. The clean air washes their lungs, and only the sound of their shoes stamping the ground cuts the silence.
As Monson builds herself into a potential international medal contender, she hopes her three-week stopover in Switzerland will bring her a step closer as she prepares for her second world championship appearance.
Still, Monson has a bit of catching up to do. Her 10K personal best—30:03.82 achieved in March when she shaved 10 seconds off the previous national record set in 2016 by Molly Huddle—currently ranks eighth in the world in 2023. It is 34 seconds behind Ethiopian world record holder Letesenbet Gidey, the 2022 world champion and Olympic bronze medalist.
Monson, who finished 13th at both the 2020 Tokyo Olympics as well as at last year's world championships in Eugene, is aiming for a different outcome this time around—and she feels ready for it. Her coach is confident in her, too.
"If you look at it on paper right now, she should be fifth or sixth in either event," Ritzenhein says, referring to Monson's double attempt at the World Championships. "If you look at the times, the competition she's run against, it's hopeful. I think she can medal in the right kind of situation, but that's not going to be the barometer for success for her right now."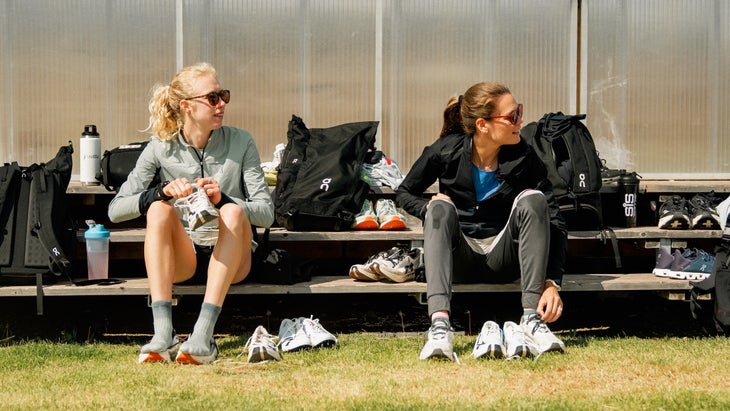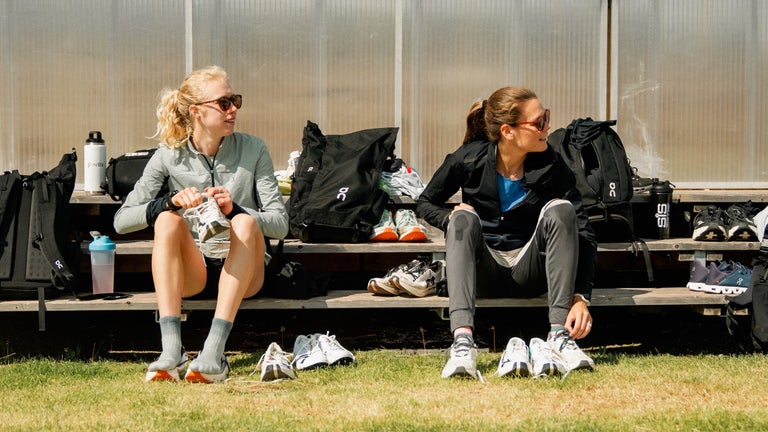 The plan for Monson initially was projected to make an impact in the U.S. pro distance scene closer to 2028. But, as Ritzenhein says, "a lot has happened in three years."
Since last summer, Monson has become a faster, more mature version of herself. She is stronger than ever, too, thanks to an upgraded strength program overseen by Dr. Jason Ross, D.C., the OAC strength coach. That continues to help her "hang on," as she puts it, to 17 miles of a fast long run. With Ritzenhein's direction, she continues to answer the call for reaching to the top of the sport. After all, Monson set the American record for the 10,000-meters, a mere three weeks after breaking the 3,000-meter American indoor record.
"I'm surprised I was able to pull off [three] American records this year," Monson says. "It takes a lot to break one American record. I'm grateful."
Ritzenhein emphasizes that Monson still has room to grow. "She's already the fastest [in the U.S.], and she's not even in the events I think she's going to be the best at one day," he says. "I think she's going to be an incredible marathoner."
But until Monson makes that transition, at least a few years from now, she will continue doing  her part to lay the foundation.
"We're just seeing how good I can get on the track before I start moving toward the roads," Monson says. Come August 19, the world will find out just how good that is.
Lead Photo: Courtesy On