The Daily Rally
Brian Reynolds Keeps Moving, No Matter What
Losing his lower legs to disease in childhood caused him to hide himself for decades. Then a long, hot hike across the Grand Canyon showed him a new way forward.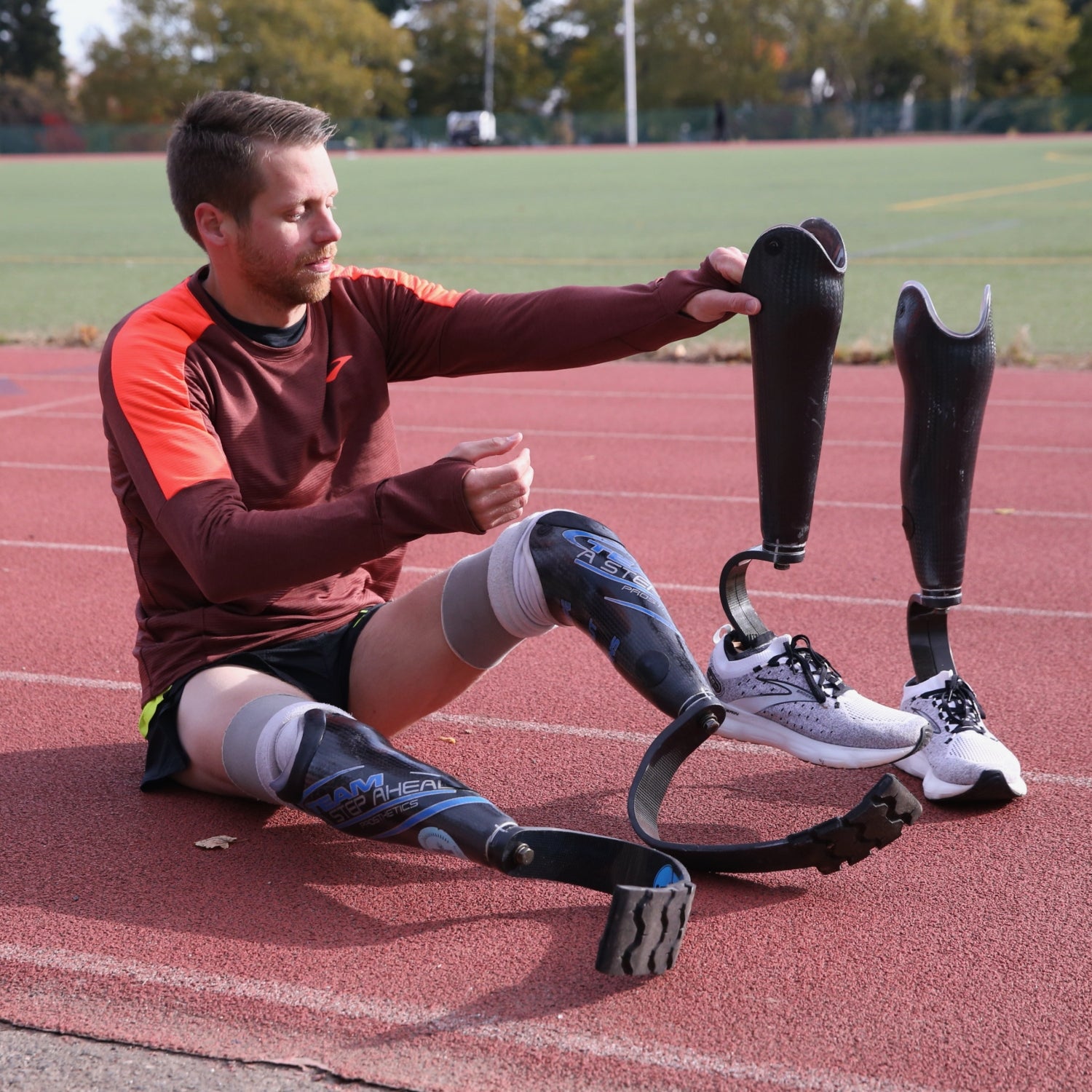 Courtesy Brian Reynolds
Heading out the door? Read this article on the new Outside+ app available now on iOS devices for members! Download the app.
Brian Reynolds told his story to producer Caro Rolando for an episode of The Daily Rally podcast. It has been edited for length and clarity.
I was laying on the ground. My pack was beside me. I was thinking I'd probably climb out of the canyon without that pack on my back and just leave it there as a total loss. I didn't know how I was gonna get to the top, but I knew that I was gonna get to the top even if it required crawling.
I grew up outside of Boston, and currently I live in New Jersey. When I was four, I contracted a rare disease called meningococcemia, which is a bacterial-based version of meningitis. And even now in 2023, it's still a very deadly disease with a very high fatality rate. But back in the early '90s, it was an under ten percent survival rate. So when I say I'm lucky to have only lost two legs below the knee, I truly mean I'm lucky.
The prosthetic technology that I had growing up that was available to me was just not conducive to long bursts of hiking, running, walking, or anything in between. I had a lot of chronic sores on my legs and honestly, with all of that, I had no drive to do any sort of endurance sport and to push myself in that realm.
It was before social media was a thing. I didn't know any other para-athletes. I didn't know any other amputees in general, athletes or not. And I didn't even know that those things were possible. I just kind of figured I'm an amputee, I'm just gonna get through life, but it's not gonna be too exciting in the sporting realm for me.
I grew up trying to hide my legs, hide who I was. I was afraid of what everybody would think of my legs if I wore shorts. So I wore pants for the first almost 25 years of my life. Didn't matter if it was 110 degrees out, I was there in jeans. It wasn't until after college, I was at the gym over the summer and there was no AC in the gym, and it was probably 110 or 120 degrees in that gym. And I basically just said, Screw it. I can't do this anymore. And I put on shorts for the first time since I was four, since before I was in the hospital. And you know what? Nobody looked at me any differently. Nobody cared. That was the "aha" moment. I've been hiding myself and putting myself away so that I'm not seen. I put shorts on for that first day, and I basically don't put pants on anymore.
Between me putting on shorts and getting into endurance activities, it was no more than six months. I happened to stumble across a flyer for Team in Training that was like, "Go hike the Grand Canyon." I was like, I like crazy things and I can't walk a mile if you put a million dollars at the end of it, but this sounds like fun. So I went to the Team in Training meeting, and I was absolutely convinced that I needed to do it after the first meeting. I signed up right there.
I feel like that this was the first time I truly came out of my shell in just wanting to push my limits. I thought I couldn't do it, so therefore I was determined to do it. Signing up for, I think it was a 16 or 17 mile hike across the canyon, just seemed like a really good way to see what I could or couldn't do.
Team in Training is a really awesome organization. They have coaches that help you train every single week. We had a local team of, I don't know, 10 or 15 people that were all training for the same goal. We were varying abilities of people who, like me, had never hiked or done anything endurance, straight through people who had hiked all over the world. Being able to hike with them on a weekly basis and having a coach that would give us exercises was definitely a really important part of getting me healthy, fit, and ready to go.
For the hike in the Grand Canyon, I believe we went down Kaibab Trail, across the Tonto Plateau, and then back up Bright Angel. Right before we started climbing out of the canyon, I wasn't feeling good. I think it dawned on me how much of a newbie I was to the sport. For that hike, I was the only person using prosthetics. I was absolutely wrecked by the heat. My legs are encased in silicone, so I sweat drastically more than most people. The guide that they had for us that day made me sit down for probably at least 30 minutes, and nearly force-fed me electrolytes, despite me telling him I didn't need them.
Well, he was right. I definitely needed electrolytes. Because 30 minutes later, I felt much better and powered out pretty fast for somebody who 30-to-60 minutes beforehand could barely stand up. Climbing out of the canyon, standing on the edge and seeing what I just did, made me think about how many other things I could do.
I started running on just everyday walking legs, which are terrible for running in. It'd be the same as if you went for a run in a ski boot: zero ankle mobility, lots of chafing, and heavy. That's how I started running one minute a day for a week, and then two minutes a day for a week, and so on.
As new as I was to hiking when I ran the Grand Canyon, I may have even been newer to running when I decided a marathon was a good idea. From 2014 to now, I couldn't even remotely tell you how many races I've done. Some years it's dozens, some years it's less. I think I've run like 12 marathons now.
It's so much easier when you break it down instead of saying Oh, I have to go run a marathon. I have to go out for my 15-mile. It's much easier to say, I'm gonna go out for a minute today, or five minutes, or whatever you're comfortable at, wherever your level is. Just start moving forward. Just five minutes or less. It makes a difference.
If you start taking teeny steps towards your goal, you can summit a mountain. So I think my advice is to just start.
Brian Reynolds has broken several world running records for double leg below the knee amputees. He works for Athletic Brewing, and is also a professional runner for Brooks Shoes, among other companies. You can find him on Instagram @brianreynoldsrunner.
You can follow The Daily Rally on Spotify, Apple Podcasts, Stitcher, or wherever you like to listen. Subscribe to our newsletter and nominate someone to be featured on the show.
Lead Photo: Courtesy Brian Reynolds
Trending on Outside Online