The Daily Rally
Kriste Peoples Knows She Belongs
Fearing racial violence, the Colorado trail runner turned to her network of athletes. Their support helped her move forward with pride.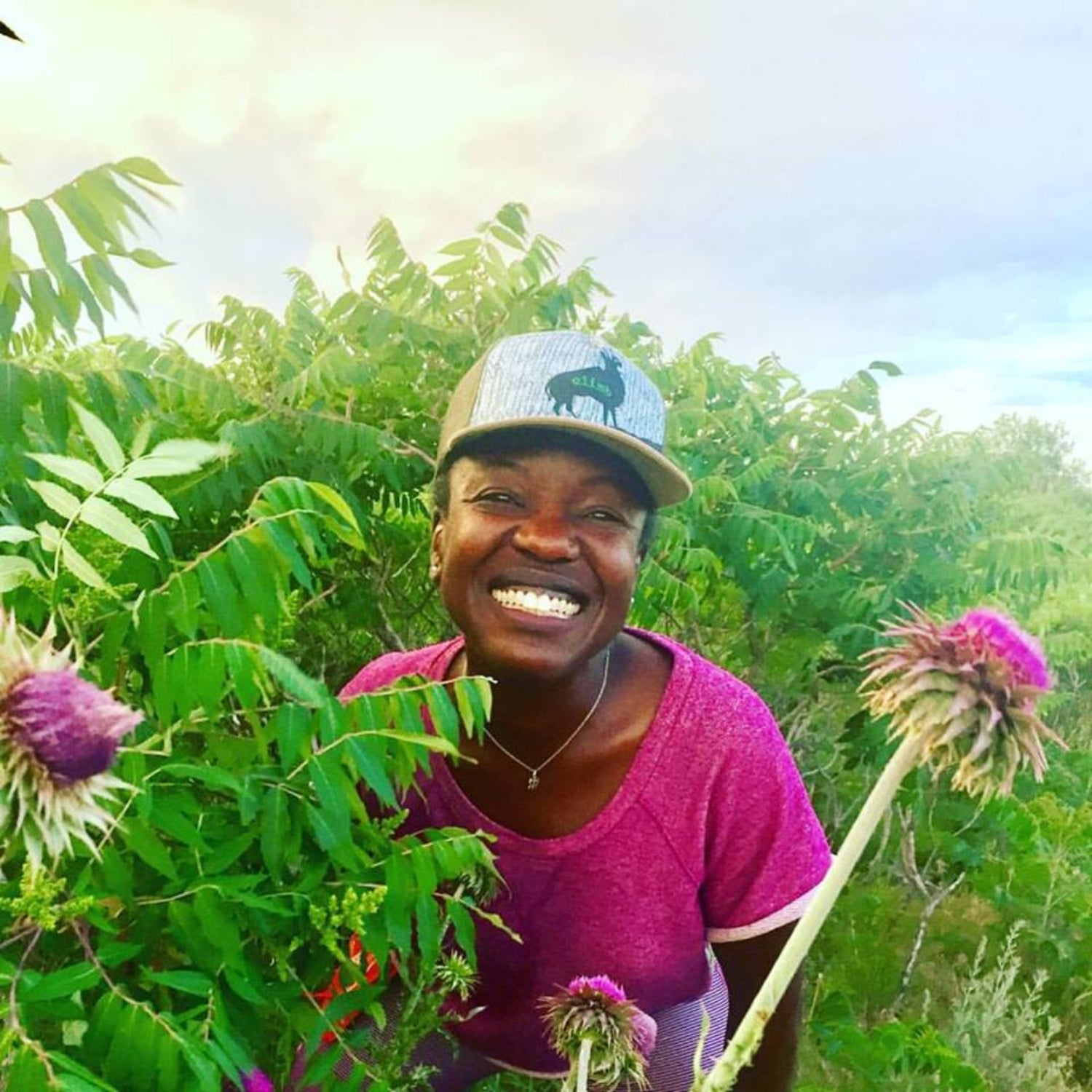 Courtesy Kriste Peoples
Heading out the door? Read this article on the new Outside+ app available now on iOS devices for members! Download the app.
Kriste Peoples told her story to producer Tunvi Kumar for an episode of The Daily Rally podcast. It has been edited for length and clarity.
So around that time, I'm running through the neighborhood, and I have these events on my mind, these murders. I'm running through my wealthy neighborhood, and it occurs to me that I can't run on the sidewalk, because if I run up on a white woman with the stroller, or carrying a purse, or just walking, then that could seem threatening. Somebody can look out their window and call the police on me. And if I go into the street, then I can't run near the driver's side door, lest somebody think I'm trying to break into their car.
It's not safe to be anywhere in this Black body in America.
I am a trail runner. I am a writer. I am a program director at Women's Wilderness, which is a nonprofit based in Boulder, Colorado.
When I moved to Boulder, where there are mountains all around, it was a brand new world to me, because I had grown up on the east coast, where we had beaches and flat land. I felt like some of what I was reaching for was kind of hard to find, it was like hunting around in the dark. Being able to demystify the process of getting outdoors and finding people to go with was huge.
Finding running brought me so much relief and release. Simply running. In the backcountry or running trails, sometimes people would say, Black people more often than not, "Aren't you afraid out there of the wild animals?" And, "Black people don't do that."
Then came 2020. There was a mandate called Safer at Home, which said to stay within 10 miles of your home. At the time I was living just beyond 10 miles from the mountains. So that meant rather than going to the trails to run, I was going to be running through my neighborhood, which was wealthy and white. Around this time, we'd experienced the upheaval from the Ahmaud Arbery murder. This was a young Black man who was running in Georgia, and was targeted and gunned down by some people who thought he shouldn't be there. We'd also had Breonna Taylor's murder. She was asleep at home in her bed. And the so-called authorities busted in and shot her to death in her sleep.
And I'm running through my neighborhood, and it occurs to me, I can't run too fast, that might draw suspicion because perhaps someone thinks I'm fleeing the scene. If I run too slow, perhaps they think I'm casing the neighborhood, looking to come back and do some harm or steal or whatever. And so it's really top of mind for me.
A lot of the benefit that I get from running is clearing my head, helping to make sense of the world around me. So, it was a really challenging time, because it made me feel like, Well, there is no safe place.
Among our trail running group, we were having a Zoom conversation about running, coaching, what's going on with us. We have somebody talking about nutrition, somebody else talking about gear, and then I say, "You know what? Hey everybody, I gotta say that this is a really hard time for me right now, because this Black man has been murdered. He was in a part of town people didn't think he should be in." And I am a Black person running on the streets, even though it's my neighborhood, and I feel very vulnerable right now." So, it was really emotional the more that I talked about it. And I said, "It is just very hard right now, and I am needing some support.
Our trail running group shared that they too were upset by it and didn't know what to do. And so being able to have those kinds of conversations was huge, because how often are we really talking to each other about issues that make us feel very uncomfortable? Talking about issues that don't have easy solutions, and realizing that we don't know what to do, but being able to even say, "We don't know what to do and we are upset." Being able to say that and hear each other is actually a way to bond, and to at least become more aware of what's at stake and how we might try to take care of each other even if we can't solve the bigger issue.
As we talked, people started offering to run in solidarity and to share about it. And they came forward and supported me by doing some honorary runs to really commemorate the life of Ahmaud Arbery.
What helped me get through that was reaching out to my communities and letting people know if I'm struggling or if I need support. Another big part of this is, I can ask for that support, but I also need to let myself receive it. And receive it in whatever form people are able to give, because we don't always know how to handle each others' pain and confusion.
Running together will not cure racism, and will not keep people from thinking that I do or don't belong in certain places. But being able to share with people means that I don't have to hold the pain alone. That empowers me. That fuels me, because I know I'm not just one lonely powerless person out here just trying to live a life with some modicum of happiness.
A lot of people do have the experience of feeling like they're not qualified to be outside, or that they don't belong outside, or that there's no room for them, or they don't see themselves represented outside. And up until very recently, the media wasn't showing people of color in the outdoors. So, I'm still very much running a lot, and I'm out in nature a lot, and I'm still taking people out, and I'm talking about it. I'm very much engaged, and so wherever I go, I go with the understanding that I belong, that I have a right to show up, that I have a right to my dignity. And I also go with the understanding that it might make people very uncomfortable that I show up, but I can't live my life in response to the potential that someone's not going to like me showing up in a particular place.
I know that generations of people before me have fought and died for my right to show up in these places. That empowers me. I know that I am somebody's dream, I am a great many peoples' dream, and it's important to remember that, and to lean into that whenever I'm feeling a bit tentative. If I'm going, I need to go with pride, because I don't come from nothing. I come from strength.
Kriste Peoples is an outdoor enthusiast, guide, runner, writer, and mindfulness meditation teacher. She serves on the board of the American Trail Running Association and Running Start. When she's not adventuring in Colorado's Front Range, Kriste is likely recovering with carbs in a local eatery. You can find her at her website and on Instagram @kristepeoples.
You can follow The Daily Rally on Spotify, Apple Podcasts, Stitcher, or wherever you like to listen. Subscribe to our newsletter and nominate someone to be featured on the show.
Lead Photo: Courtesy Kriste Peoples
Trending on Outside Online