Hillary Gerardi's Mont Blanc FKT Was About So Much More than Speed
Whether she's setting mountain FKTs or working to bring attention to climate change, Hillary Gerardi is a force of nature
Heading out the door? Read this article on the new Outside+ app available now on iOS devices for members! Download the app.
The Mont Blanc massif looms large over the Chamonix valley. The summit, Western Europe's tallest, reaches 15,777 feet above sea level, and the mountain's shoulders sprawl into Switzerland, Italy, and France. Mont Blanc's snowcapped ridge dominates the skyline of its surrounding towns and villages, capturing the imaginations of many mountain athletes.
"Living in Chamonix, you're looking at Mont Blanc all the time. It's such an emblematic summit," says Hillary Gerardi, a professional mountain runner for Black Diamond, who grew up in the U.S. but lives in Chamonix, France.
Gerardi, 35, has long been big in the skyrunning scene, with wins at the 2021 Marathon du Mont-Blanc 90K, 2018 Tromso Skyrace, and 2018 Skyrunner World Series. Her mountain movement isn't limited to running, though. Gerardi set the first and Fastest Known Time (FKT) on the Chamonix to Zermatt Haute Route Ski Traverse in 2021.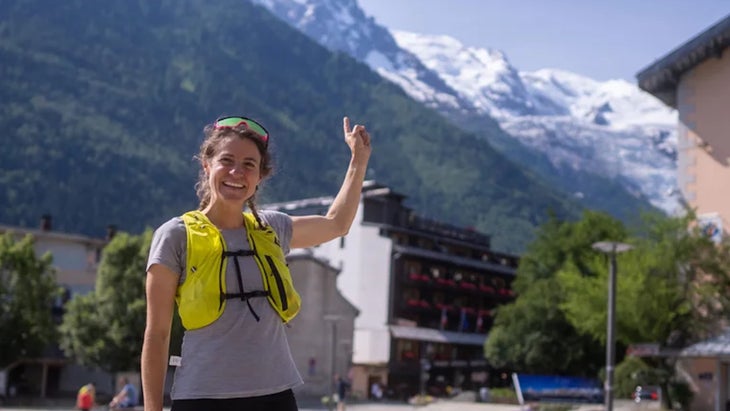 Mountain Movement
Gerardi's love for exceptionally difficult mountain travel was forged in New Hampshire, where she worked in Appalachian Mountain Club huts and spent summers traversing the rocky and rooty Appalachian Trail (AT). After graduating from Middlebury College, she and her now husband Brad Carlson moved to the French Alps to flesh out her alpine skill set with technical climbing and ski mountaineering. At her European racing debut, she won a 12-pound leg of prosciutto.
Gerardi has been competing internationally for years and found herself increasingly drawn to the legendarily fast times on her hometown peak. Trail legends Kilian Jornet and Emelie Forsberg (7:53:12, set in 2018) previously held the Mont Blanc FKTs, and the stout times and multidisciplinary skill set required made the challenge even more alluring for Gerardi.
Doug Mayer, author of The Race That Changed Running: The Inside Story of UTMB, and a close friend of Gerardi's, who also fell in love with running on the AT before moving to explore new heights in Chamonix, says her achievement is extraordinary, even in a community of athletes know for their outlier achievements.
RELATED: Hiking the Tour du Mont Blanc: A Beginner's Guide
"Mont Blanc is the highest summit in Western Europe, and it's technically challenging. It's about as iconic a peak as you can get. The FKT is one that also breaks down walls between mountaineering and trail running, so it's both creative and difficult to accomplish—you need a wide range of skill sets. To break Forsberg's record, Hillary needed to be damn fast and strong and technically at the top of her game. It's the purest definition of badass that I have seen in quite some time," says Mayer.
"For the trail running community, this route is one that merges all kinds of challenges. You shouldn't go near it without being a strong technical climber. It's an FKT that combines a wide range of skills and disciplines. This is a multidimensional FKT," he adds.
After ascending the peak with training partner Mimmi Kotka last season, the seed of the FKT was planted: Gerardi was determined to go for it. She was motivated by having a fast time to beat and challenged by the demanding and ever-changing conditions on the mountain.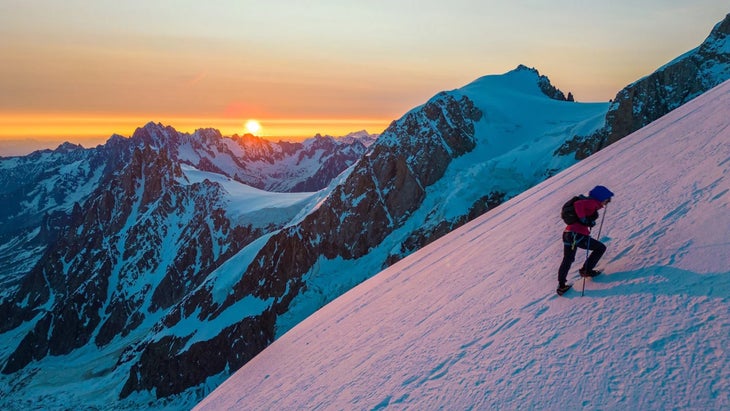 Conditions and a Changing Climate
The section of the mountain known as "The Junction" is a labyrinth of treacherous crevasses that had become more difficult after a two-year drought on the mountain. Gerardi began to question if an FKT was in reach, not just for herself, but for anyone.
"I started to wonder: seriously, are these records ever going to be repeatable? Is anyone going to be able to go for them again?" says Gerardi. But, heavy snow in March and April of 2023 improved conditions, and the route started to seem more attainable.
After stepping back somewhat from alpine climbing after an accident in the mountains 11 years ago, Gerardi had begun to rekindle her love for the discipline that would be essential for the FKT, where she would take the more technical North Ridge route, rather than the route taken by Jornet and Forsberg when they set their respective FKTs (for mountain FKTs that don't otherwise specify a certain route, athletes can choose whatever line feels most efficient and safe to them).
RELATED: A Legendary Alpinist, a French Mayor, and the Melting Glaciers on Mont Blanc
Her training included big days out and lots of vert, coupled with strength training that focused on eccentric loading to prepare her legs for the punishing descents on ice, snow, and technical trails. Gerardi got on the mountain as much as possible, acclimating to the thin air and steep terrain. In addition, she worked on mountaineering-specific skills like glacier travel, crampon-ing, and crevasse rescue skills to mitigate risk in the uncertain terrain.
She also honed her gear, shaving grams off everything she could. Gerardi wanted to involve as many women from the Chamonix community as possible, too, aiming for an all-female ascent with a rotation of different partners for the different segments of the FKT, depending on the partner's skill set.
Gerardi gave herself a two-month window, an almost absurd amount of time to optimize for, but necessary because of the increased instability of weather related to climate change. Leading up to the big day, Gerardi obsessively checked mountain forecasts and collated information from mountain guides and hut caretakers from around the valley to find the best window for the attempt. She needed the perfect confluence of factors to come together: cold enough up high for the snow to be stable, with warmer temperatures down low to allow the snow to soften from ice and absorb impact.
Finally, on June 17, a weather window opened, and Gerardi was ready.
Setting the FKT
Even with a good window of opportunity, Gerardi and her team were met with extremely windy and cold conditions on Mont Blanc.
"It was so cold that all my water froze," says Gerardi. "It was really challenging to eat enough and drink enough." Things started to improve as Gerardi crested the North Ridge right around sunrise, and her movement became more confident and efficient. "The sunrise was absolutely stellar."
On the descent, the snow didn't soften as Gerardi had hoped and planned, as she aimed for a refreeze so that she could glissade down and save her legs for the later on-trail descent.
"When I got back down to The Junction, the snow was hard, and frozen suncups, where I twisted my ankle a couple of times, and let out several f-bombs," says Gerardi. (Suncups are bowl-shaped depressions in the snow's surface that form a tough-to-traverse honeycomb pattern).
Friend and fellow skyrunner Meg Mackenzie was waiting just on the other side of the glacier with running shoes, ready to pace, and that helped boost Gerardi's spirit after the low moment trying to move efficiently through the suncupped snow. Gerardi says the relationships she forged with other women were a highlight of the attempt.
"There were just like a whole bunch of really great gals who have all been super supportive in wanting to help and interested in the project and sort of getting my eyes opened a little bit more into all of these strong badass women who are around here in the Alps," says Gerardi.
Seven hours, 27 minutes, and 39 seconds later, Gerardi had lowered Forsberg's FKT by 26 minutes.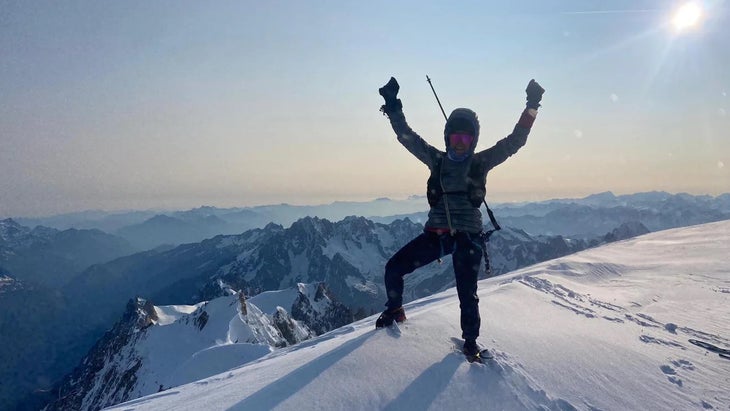 Running to Raise Awareness
Half of all mountain glaciers could disappear by 2100, according to a study published in Science in January of 2023, but it's not just the mountain's signature dressing that's threatened. Permafrost, typically found above 8,000 feet, runs deep into cracks in the rock, helping stabilize them. Rising temperatures cause the permafrost to thaw, creating instability in the mountain's face, and making it more prone to rockfall and slides. In the last few years, the number of rockfall events in the Alps has increased as temperatures rise, making mountain travel riskier.
Gerardi, who used to work at the Research Center for Alpine Ecosystems (CREA Mont-Blanc), is well aware of the perils that climate change brings to her beloved mountains.
"I felt torn about going for the record because in some ways, it's going to encourage more people to do Mont Blanc. And Mont Blanc, especially by the regular route, has become objectively more dangerous with time because of climate change. There's a lot more rockfall, especially in the Goûter couloir, also known as the couloir of death," says Gerardi.
Of the approximately 20,000 people who ascend the massif each year, the majority traverse this couloir, which has had more than a hundred fatal accidents since 1990. The tricky traverse has gotten worse as freeze-thaw cycles associated with climate change destabilize rocks, causing more frequent falls. Now, many Chamonix-based guides have stopped taking clients on this route.
"Serac fall" has also become more common, with freeze-thaw cycles tied to climate change. Falling seracs already killed two people on Mont Blanc this year, and the phenomena will continue to be less predictable and more deadly as global temperatures increase.
"Then, I thought that because it's such a well-known and emblematic summit, it would be an opportunity to kind of call people's attention to some of the changes we're seeing."
Living in Mont Blanc's shadow, the changes are impossible to ignore. Glaciers that used to spill down and fill entire couloirs have now been reduced to ruddy, blunted snowfields. Some, like the famous Mer de Glace, France's longest glacier, used to be visible from downtown Chamonix, but is now melting at the unprecedented rate of over 130 feet a year.
"These are things that you can't not see when you're here," says Gerardi. "Glacier melt, water availability, rock fall, serac fall. It's been my desire to call attention to these issues through talking about this route."
The Future Climate of Mountain Travel Is Unstable
Mountaineers in the Anthropocene have had to add increasing patience to their toolset. Weather windows are less reliable and people looking for optimal conditions have to be more patient and flexible. Scientists and mountain athletes alike have increasingly been raising the alarm of what rising temperatures mean in some of Earth's most extreme environments.
"The Alps, in a lot of ways, are on the front lines, canaries in the coal mine of climate change because it really is warming twice as fast as most of the rest of the Northern Hemisphere," says Gerardi. "We're seeing changes at an incredible speed. You have to keep in mind when you're doing a route like this that there are going to be a lot of things that are not in your control."
That loss of control is something Gerardi thinks about frequently with her partner Brad Carlson, who is a mountain guide and researcher in alpine ecology.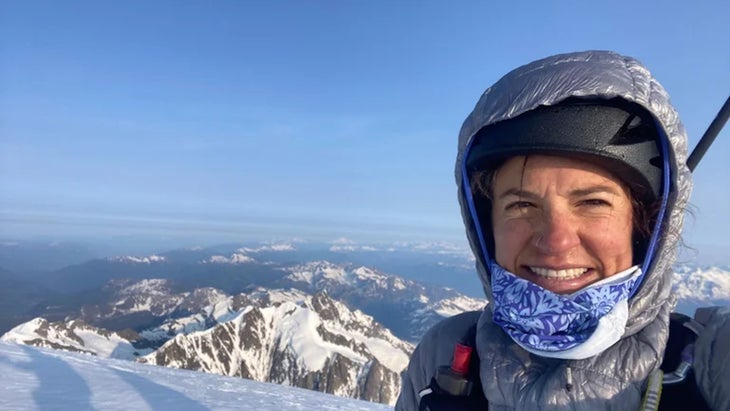 "We often talk about how can we still see value in getting out in the mountains when it's not necessarily based on specific summits or objectives. I think that's something that people who want to be in the alpine should definitely understand, that maybe you shouldn't be wedded to a specific route."
Gerardi sits with a certain level of discomfort, as someone who loves the mountains but desperately wants to bring attention to the impacts that climate change has on them. She is an athlete and human who is inextricably tied to the systems hastening their demise.
"I can't not care about issues around climate change," says Gerardi. "The big challenge for me is this tension that exists between being an athlete who wants to compete internationally, and who gets sponsored by brands who want to sell things."
Mayer says she has continually used her platform as a professional athlete to draw attention to the issues that matter to her.
"When I first got to know her, she was just coming onto the international trail running and Skyrunning scene. So there was a natural period of getting your feet on the ground and learning the lay of the land. Once she was established, she clearly saw the opportunity to use her platform to create change," says Mayer. "And no one I know walks the walk more than Gerardi. She bikes to work, takes the train, organizes friends to carpool if there's a long drive involved, and does it all without being preachy. In that sense, she's a wonderful role model for a way of behaving we all need to emulate."
Encountering Climate Change from Every Angle
Since becoming a full-time athlete, Gerardi has been able to get more involved in bringing attention to climate issues, giving her time to the environmental working group for Professional Trail Runners Association, and volunteering for a citizen science effort to study air pollution in the Chamonix valley. Gerardi likes to push the brands she works with on their environmental practices. She has also been involved in the development of recycled shoes, discussions around the durability of gear, and sustainability of brands. She says she's determined to encounter the challenge of climate change from every angle.
"It's important to take into account systemic and individual actions," says Gerardi. "I'm not really an either-or person. I am neither going to shame people for taking a plane, nor am I going to say we are absolved of all responsibility because it is the fault of ExxonMobil."
For her contribution, she's more focused on solutions. "We need to normalize talking about this and normalize finding solutions," says Gerardi. "We can all be imperfect advocates, but we all need to do something."
Mayer thinks Gerardi's qualities make her an ideal candidate to bring attention to a changing climate. "I am not sure I know anyone who is as smart and determined as Hillary. She is a force of nature, and when she gets a plan in her mind and believes she can accomplish it, all the obstacles are systematically knocked aside, one by one," says Mayer. It's an amazing thing to watch and a lesson for anyone paying attention. There's a persistence that leaves you shaking your head in awe."
For now, Gerardi is focused on keeping her adventures local and enjoying her accomplishment.
"What has been so rewarding with my FKT has been to, as my husband likes to call it, cultivate my garden. It's my local mountain and I get to look up at it and, you know, sort of beam with pride," says Gerardi. But, those who know her say she probably won't sit still for long.
"Watch this space. She did the Mont Blanc FKT with such style and elegance, you might think that's a crowning achievement of her outdoors career. And for a lot of people, it would be. But she's not tapering," says Mayer. "There's much more to come. And whatever comes next, it's going to leave you shaking your head thinking, 'Damn, that is pretty badass!'"
Lead Photo: Petter Engdahl