Meredith Edwards Is on Denali, Gunning for an FKT
The ultrarunner and endurance skier is open to whatever the mountain gives her—she wants to experience a new adventure and inspire other women to do the same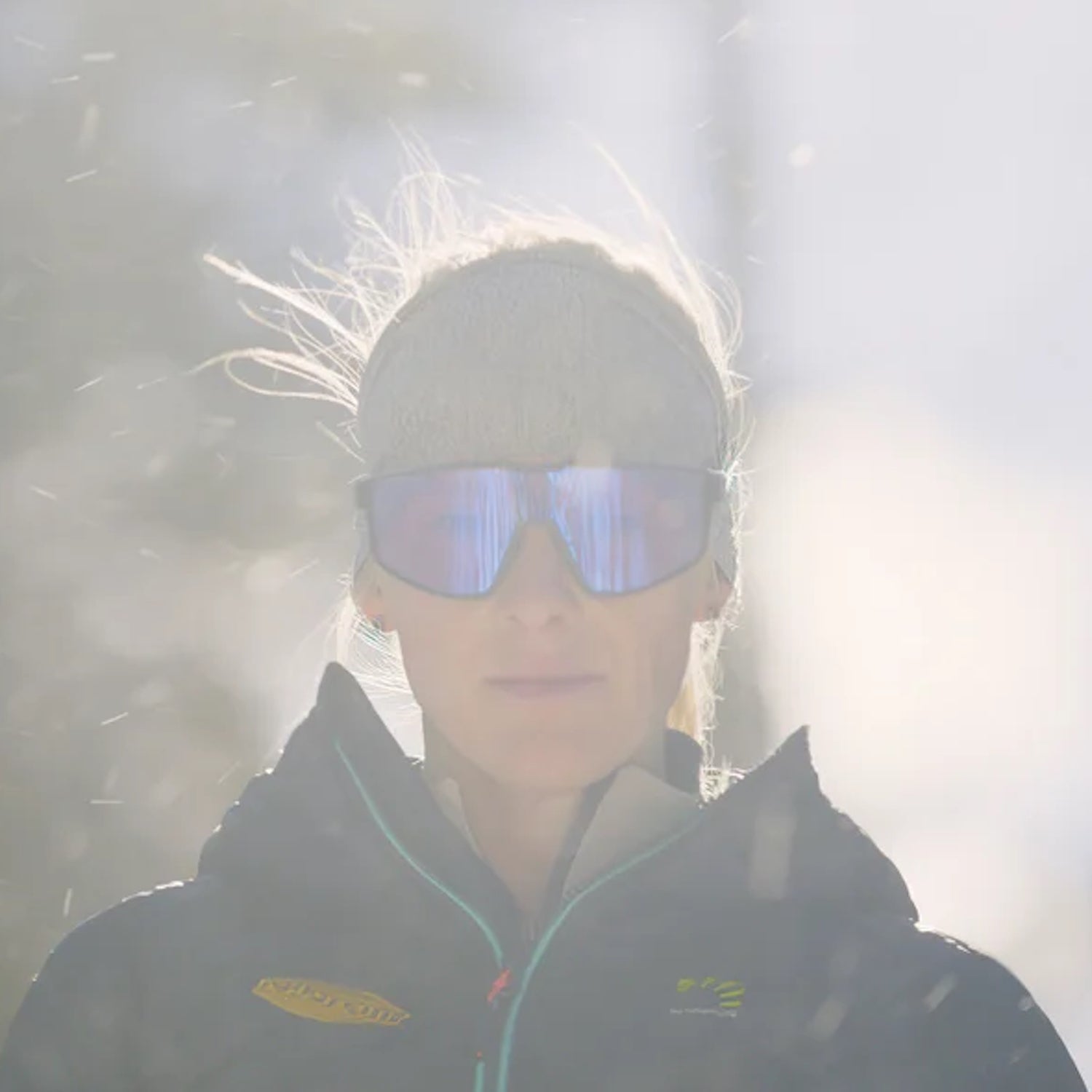 Vibram/Derrick Lytle
Heading out the door? Read this article on the new Outside+ app available now on iOS devices for members! Download the app.
In many ways, Vibram mountain athlete Meredith Edwards's trip to Denali has been in the works for more than six years. In April, 2017, she went to Mexico and climbed Pico de Orizaba (Citlaltépetl), North America's third highest peak. That planted the seed for her—it made her start thinking about big mountains, even bigger ones than in her backyard of Silverton, Colorado.
"It was my first time at really high altitude," Edwards said. "And I liked it."
With a summit elevation of 20,310 feet, Denali is the tallest mountain in the world from base-to-peak on land. The current women's Denali FKT stands at 21 hours, 6 minutes, set by Katie Bono in 2017. The men's FKT was set in 2019 by Karl Egloff in 11 hours and 29 minutes. The ascent involves moving from base camp at 7,200 feet, straight up a 'Z' shaped ridge for more than 13,000 feet over 15 miles, passing through 14 Camp at 14,000 feet, where many people spend days or weeks acclimating.
But Edwards didn't go to Alaska just to hunt down an FKT. "I'm really lucky because I have a teammate, Hannah Green, who is also going to be there, and we could team up, if we're feeling good, which is kind of exciting," she said.
But they won't be the only women on Denali this month. Fernanda Maciel will also be there, too, likely making her own FKT attempt. "She's the queen at this stuff," Edwards said.
Even though Edwards has stacks of accomplishments and accolades—she represented the USA at two World Championship/World Cups in skimo, came in second at UTMB Oman 130K in 2018, first at Ultra Trail Mt. Siguniang (China) in 2017, and second in Trace des Ducs de Savoie (France) in 2016 — she  isn't boastful or full of ego. In fact, she thinks that kind of attitude gets in the way.
"This is going to be a big learning experience for me. I always tell people, 'I don't even know if I'll like it, but I want to find out.'"
Edwards's favorite days in the mountains are when she's doing a little bit of everything—running, climbing, and skiing. "People always like to say, she's a skier, she's a runner, but I don't like to pigeonhole myself. I like to do it all."
Her first true love, however, was skiing. "It was the first sport I ever did. It's where my heart is." So this attempt on Denali will likely include skis. It largely depends on conditions, but Edwards isn't going to be strict about her mode of getting up or down—whatever feels most logical.
Official FKT guidelines state that at least 50 percent of the time on an FKT attempt must be running and/or hiking versus other sports, so in the eyes of the FKT powers that be, attempts that include mostly uphill and/or downhill skiing don't "count." But that doesn't seem to bother the athletes on skis. 
Strength Training Is Key
One thing Edwards has focused on for this trip, more than she has in the past, is strength work. "We really focused on deadlifting," Edwards said. "I worked hard to get to nearly three times my body weight." She knew she'd likely lose weight on the expedition, so she wanted to go in strong.
Edwards also focused on Zone 2 workouts, where the heart rate is kept at between 60-70 percent of the maximum. This is because she anticipated a lot of slow, steady climbing at high altitude. "This isn't something you decided to do and train for like a race," Edwards said. "This has been an incredibly long, slow build. Just a lot of slow training and racing and being in the mountains."
At 38, Edwards knows this is the ideal time for a challenge like Denali. "This is something I wanted to do five or six years ago, and maybe physically I was there, but mentally? Hell no. I've learned so much from racing and doing other projects at altitude." Edwards said that when she was younger she was a lot more ego-driven, and that's fallen away almost entirely. Now her focus is on being the best version of herself. "I see this as an incredible opportunity for me to be my best, whatever that means."
A Relative Comfort
Edwards and her team headed into Denali National Park on Saturday, May 20. They packed food and provisions for three weeks. They planned to take a lot of time to fully acclimate, practice different sections of the route, and look for an ideal weather window.
"It's really, really important that I understand the route entirely," Edwards said. The goal with the time leading into the potential FKT attempt is comfort. "I want to make sure I'm comfortable with everything—even comfortable with the risk that's involved. And if the window opens up and I feel good and my guides feel good about me and the conditions and the weather, then yeah, we'll see. But it's all really up in the air, and that's OK."
Edwards has been on enough big mountains and enough adventures to know that much is out of her control. Last year she won the Midstate Massive Ultra Trail 50 miler and placed fourth in the Ouray 100 Mile Endurance Race. She also wanted time on Denali to soak it in—to fully immerse herself in a place that she has never experienced. "It's paying your dues and paying respect. This isn't something you waltz into and get it done."
It's easy in the ultra endurance sport world to get caught up in success and winning, but Edwards has learned there's no such thing as failure if you're listening to your body and your mind. "Something that gets me a little upset, especially in ultra running, is the mentality of finishing at all costs." Edwards has learned that, actually, it's a lot more important to listen and adapt. "What it really comes down to is self-love. I love myself too much to not listen to what my body's saying. There are certain things you can push through and then there are things that you have to listen to and not go further."
A Mountain Full of Women
With Edwards, Green, and Maciel all on Denali at the same time, one might think the air will be full of competition, but that's not the way Edwards sees it at all.
"What's better than a mountain full of badass women?" She's looking forward to the companionship and the community. More than anything, though, she wants more women climbing Denali and more women taking on big adventures. "It's the trip of a lifetime, and I want to soak it in and enjoy it for what it is. And come back in one piece. Every single one of us."
Lead Photo: Vibram/Derrick Lytle