Rick Hoyt, 36-Time Boston Marathon Finisher, Dies at 61
The father-son duo of Dick and Rick Hoyt conquered over 1,100 endurance events worldwide, including more than 70 marathons
John Tlumacki/Boston Globe/Getty
Heading out the door? Read this article on the new Outside+ app available now on iOS devices for members! Download the app.
Rick Hoyt, who rose to fame as half of the father-son endurance duo "Team Hoyt," has died of respiratory complications at age 61.
"As so many knew, Rick along with our father, Dick, were icons in the road race and triathlon worlds for over 40 years and inspired millions of people with disabilities to believe in themselves, set goals, and accomplish extraordinary things," said the Hoyt Foundation in a Facebook post announcing Rick's passing. He was preceded in death by his father in 2021.
The pair made headlines in the endurance world starting in 1977, when Dick began pushing Rick in a wheelchair at local road races. Rick, diagnosed with cerebral palsy at birth, was paralyzed in all four limbs and utilized a computer to communicate.
The father-son team's first race together was a local five-mile charity run benefiting a lacrosse player who had been paralyzed in an accident. Rick told his dad that he wanted to run the race, and Dick advocated to make it happen, kicking off the pair's legendary endurance sports career.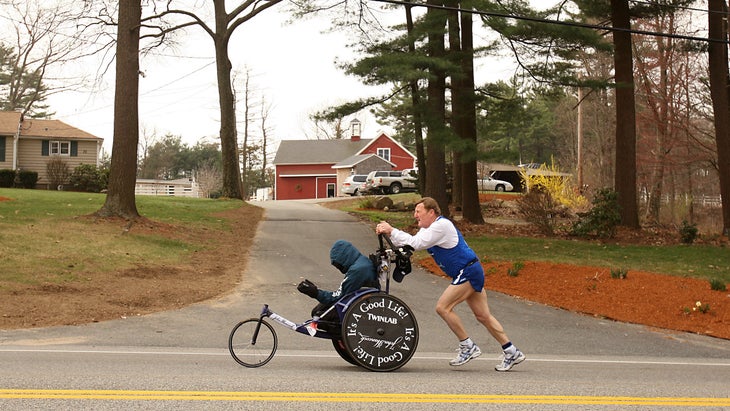 "Dad, when we run, I feel like my disability disappears," Rick said after their first race. Together, they made it their mission to race as much as possible. The two conquered over 1,100 endurance events worldwide, including 36 Boston Marathon finishes, countless local 5K and 10K races, more than 70 marathons total, and multiple Ironman triathlons.
The duo's final Boston Marathon together was in 2014, and Rick's final marathon was the 2017 Boston Marathon, in which he was pushed by Bryan Lyons.
Dick and Rick used endurance sports as a platform for acceptance and inclusion. In addition to changing perceptions about athletes with disabilities, Rick worked with his mother, Judy, to change the laws of education so that Rick could receive an education alongside non-disabled peers. He went on to graduate with a degree in special education from Boston College, and later worked at his alma mater helping to develop communication technologies for people with disabilities.
The Boston Marathon has long been a special race for the father and son duo, and they were recognized by the Boston Athletic Association (B.A.A.) with the Patriot Award in 2006. The Patriot Award celebrates an "individual, group, or organization that is patriotic, philanthropic, and inspirational, and fosters goodwill and sportsmanship," according to the B.A.A.
In 2013, Dick and Rick were honored at the ESPYS, or the "Excellence in Sport Performance Yearly" awards, with the Jimmy V. Perseverance Award, which recognizes an individual—or pair of individuals—who are determined to reach their goals and inspire others to do the same.
Today, the Boston Marathon grants a "Rick and Dick Hoyt Award" each April to "someone who exhibits the spirit of Team Hoyt through advocacy and inclusion," the B.A.A. shared via their official statement on Rick's passing.
Dave McGillivray, who has been the race director for the Boston Marathon for 22 years, shared his emotions on Rick's passing via an Instagram post:
"Today we lost one of the most inspirational figures that the running community has ever known. Rick Hoyt has motivated and inspired so many throughout his years of running with his father Dick Hoyt. Rick will be dearly missed, and the impact he has had on others will always be remembered."
View this post on Instagram
Dick and Rick's legacy will continue to live on through the Team Hoyt Foundation, which "aspires to build the individual character, self-confidence, and self-esteem of America's disabled young people through inclusion in all facets of daily life."
Learn more about the Team Hoyt Foundation here.
Special thanks to Susan Lacke at Triathlete for her significant contributions to this story. 
Lead Photo: John Tlumacki/Boston Globe/Getty