Running Leaders Remember Gloria Ratti as a Champion for Women
Gloria Ratti dedicated her career to lifting up female runners through her work at the Boston Athletic Association.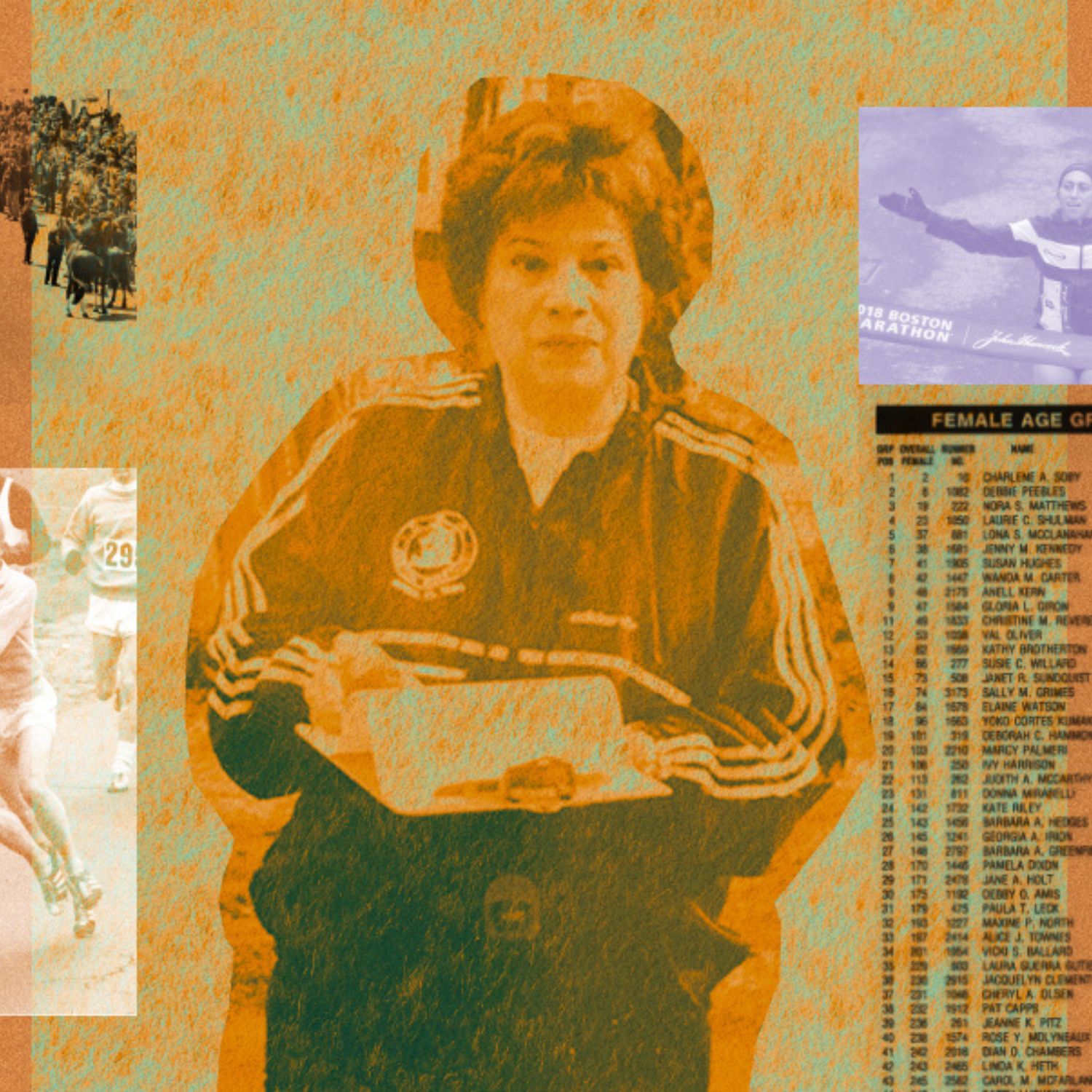 Heading out the door? Read this article on the new Outside+ app available now on iOS devices for members! Download the app.
Before Patti Catalano Dillon became a  trailblazer in women's running, she was pushed out of her comfort zone by a mentor that caught her by surprise. 
When Dillon took up running in 1976, it didn't take long for the member of the Mi'kmaq tribe to pick up titles and records in her hometown of Quincy, Massachusetts, and the surrounding Boston area. After winning another local 30K in record time, the rising star was approached by her friend, Gloria Ratti, then a volunteer race official. 
"[Ratti] hugged my shoulders, and she goes, 'Honey, you can't do that here anymore. You have to get out of here,'" Dillon said. 
At first, Dillon was nervous about leaving the New England area and her friends in the running community, especially at a time when women were still unwelcome in the sport (women were only allowed to run the marathon starting in 1972), but she knew Ratti wanted more for her. And she didn't want to let her down. 
In the years that followed, Dillon won races all over the globe and developed into one of the greatest marathoners of her time. From 1979 to 1981, she claimed three runner-up finishes at the Boston Marathon and became the first professionally sponsored female runner in the U.S. 
That nudge from Ratti is just one of many examples in which the unassuming matriarch recognized greatness, particularly in women runners, and helped them reach their potential. 
During her 50-plus years as a mainstay within the Boston Athletic Association (BAA), before her death in 2021 at the age of 90, Ratti was a fierce advocate for the women's running movement. From her ground-breaking work as a timing specialist to the mentorship she bestowed on key leaders, Ratti changed the sport for the better. 
Ahead of Women's History Month, Women's Running spoke to several athletes and organizers who were influenced by Ratti over the years. Here's what they shared about the former BAA vice president who championed women in the sport. 
RELATED: Raising More Voices in Sport Through Activism and Mentorship
An Ally For Women In Male Spaces
Kathrine Switzer met Ratti in 1971, four years after Switzer made history as the first woman to register and complete the Boston Marathon when women weren't allowed to run. Switzer, along with fellow women's running pioneers Nina Kuscik and Sara Mae Berman, spent years lobbying to get a women's race added to the Boston Marathon. And Ratti became their ally within the organization. 
Working as a volunteer with the BAA at the time, Ratti understood the challenges of being the only woman in a male-dominated organization. For 39 years, she worked for the CIA and eventually rose to Chief Clerk, traveling around the world for the U.S. government, according to the BAA.
The morning of the 1971 Boston Marathon, a small group in an unofficial women's field gathered inside a Hopkinton church arranged by Berman. While the runners did their last-minute preparations for a race in which they were still trying to gain acceptance, Ratti offered support, Switzer recalled. "Gloria would always be there bustling around helping us. She always had extra toilet paper and tampons, and she was running around with a transistor radio, giving us the weather report, and just in general being a sort of den mother," Switzer said.
Once the women took off at the start, Ratti's critical work as a timer began. Years earlier, the South Boston native came up with a more efficient timing process when her husband, Charlie, picked up running. Prior to Ratti's system, most runners' times weren't compiled by race organizers. As Switzer recalled, women's results were totally ignored until around 1980. That changed thanks in large part to Ratti, who advocated for women's performances to be scored. "Gloria was a major player in making that happen for us," Switzer said.
RELATED: Who Runs the World? Women. 
Celebrating and Elevating Female Runners
In addition to being a source of encouragement, Ratti made Dillon feel seen as one of the few women who dared to run in those days. In the late 1970s, Ratti was oftentimes the race official that accepted runners' registration fees. Whenever Dillon approached the table to pay, Ratti wouldn't take her money. She'd just hand her a bib, Dillon said. "It was probably because I was winning, and that was just a courtesy. I don't know. But I never took it for granted," Dillon said.
Dillon and Ratti's friendship continued to blossom over the years. If Dillon was dressed up, Ratti would take her to lunch at the Fairmont Copley Plaza in downtown Boston, where she'd throw back scotch next to the fireplace. Because Dillon finished second in the Boston Marathon three times, she was never sure if she'd be invited back to race among the elites. But to her amazement, she always received a handwritten letter from Ratti letting her know the BAA wanted her to return. "[The letter] was the highlight of my year," Dillon said, explaining that Ratti had beautiful penmanship, which made the gesture extra special.
Thinking back on the moment Ratti pushed her out of her comfort zone and the growth she experienced as a result, Dillon remembered how progressive Ratti was, especially for her time. "She reminded me of Katharine Hepburn's movies back in the 20s and 30s," Dillon said. "Women were sassy, they were excellent at their job, and they worked in a man's field. That's Gloria."
Before the 100th Boston Marathon in 1997, Ratti was asked to build out the BAA's archives with memorabilia and artifacts that captured the history of the world's oldest annual marathon. It was a tall task after the organization experienced past financial constraints and a fire, but Ratti worked diligently, scouring eBay and making cold calls to create the collection, which includes Switzer's sweatshirt she wore in the 1967 race, Des Linden's jacket from her 2018 Boston victory, and Joan Benoit Samuelson's winning medal, among other treasured items, according to the BAA.
Ratti was also instrumental in getting the BAA to elect its first woman president. In 2010, Joann Flaminio was brought on as the organization's 23rd president in 123 years. Ratti, then a member of the BAA Board of Governors, nominated her. 
For almost 30 years, the pair worked together at the BAA, where Ratti served as a mentor to Flaminio. When Ratti died, Flaminio delivered her eulogy, sharing how the trailblazer was like a second mother who was always in her corner. "I think she recognized something in me, the same way she would recognize something in those early runners," Flaminio said. "She was always pushing me forward."
To illustrate Ratti's unique motivational style, Flaminio shared an example from the pair's first business trip together. On her way to Japan as part of the Boston Marathon exchange program with the Ohme Marathon, Flaminio was riding up the escalator at the Boston airport when she saw Ratti taking the escalator down to arrivals. Ratti informed her she forgot her passport and would meet her there the next day. When Flaminio arrived in Japan, she was called to the stage in Ratti's place to deliver opening remarks in front of a packed banquet hall. "I was completely unprepared, standing in front of all these runners and speaking with an interpreter and everything, you know, with fish heads on the platters. I mean, it's an experience I'll never forget, but I have to give her such intense credit," Flaminio said.
Today, Ratti's legacy lives on through the people she mentored and the standards she instilled at the BAA and beyond. 
"Gloria was everyone's mother. She truly cared about every person she met and wanted them to thrive and succeed," said Dr. Michael P. O'Leary, Chairman of the B.A.A. Board of Governors. "She bled blue and gold. She would show love, but also wasn't afraid to share what her opinion was or if she didn't agree with a particular direction. Her understanding of the B.A.A., Boston's history, and where we came from was invaluable and unmatched."