Sharon Moreno Hernandez Redefines Toughness
How a successful running coach from California hopes to bring other female coaches along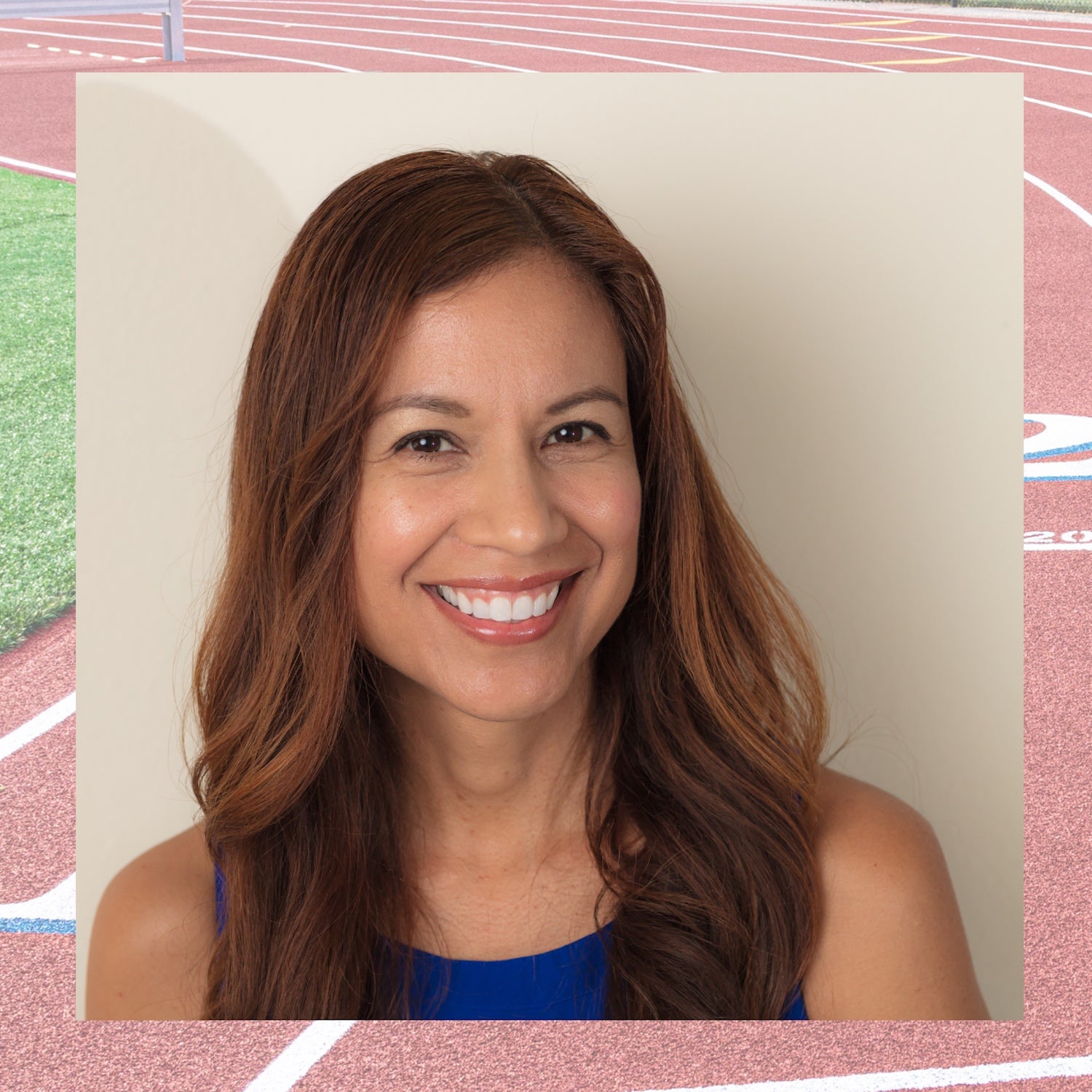 Courtesy Sharon Hernandez
Heading out the door? Read this article on the new Outside+ app available now on iOS devices for members! Download the app.
Last November at the California Interscholastic Federation (CIF) Cross Country State Championship meet, the coach Sharon Moreno Hernandez brought her team to the fourth place in Girls' Division IV, with the top runner placing 10th overall at her school, Bishop Amat Memorial High School in the San Gabrielle Valley area, in Los Angeles. It was her fourth  year as an assistant cross country and track and field coach.
"We were a fairly new team, and building trust can take years, so I'm very pleased with our results," said Moreno Hernandez.
As proud as she was, she couldn't help but notice the lack of female coaches at CIF every year. "I've been coaching for almost 20 years in running, and I have been a runner all my life, but I haven't seen many female coaches at all. Throughout my running from middle school to college, I've only had one female coach in high school for cross country."
In a report State of Play released by the Aspen Institute Project Play, only 25 percent of youth sports coaches were female in 2020. According to Tucker Center for Research on Girls & Women in Sport, women of color make up only 16 percent of Division I head coaches. Data on BIPOC female coaches in youth sport is sparse, too, but that doesn't surprise Sharon Moreno Hernandez. She has been noticing her lack of company since the day she started running.
Toughness, Redefined
Moreno Hernandez first started running at age seven in Colombia, her home country. Shortly after she ran a three-mile race, her parents decided to move to the U.S.
"I didn't want to move here because I thought there was no running in America." Yet once she did discover running in America, her high school running career was dominated by male teammates and coaches.
"It was my brother who first recruited me to be on our high school cross-country team," said Moreno Hernandez. "I had no idea what cross-country meant. I just knew that my brother's soccer coach was the running coach. I joined because I loved running."
The more female coaches we have in running, the more our girls would feel empowered to grow.
During her first high school cross-country season, Moreno Hernandez was the only female runner on the team. She recruited another friend so she wouldn't be alone. But often, she ended up running with the boys to not get lost. "The boys didn't reject me," she said. "Many of them were on the same soccer team as my brother, so they were protective of me. But that's not always the case with other teams. It was hard to find a sense of belonging."
Yet Moreno Hernandez learned how to race and be part of the team. "My high school coaches were great at instilling the idea of being tough," she said. "Tough as in, do-what-we're-told. No negotiation. It was about embracing all the hard parts about training." She enjoyed the training and the competition. When she didn't have a full cross-country team, due to lack of other female runners, she embraced track competition to test herself.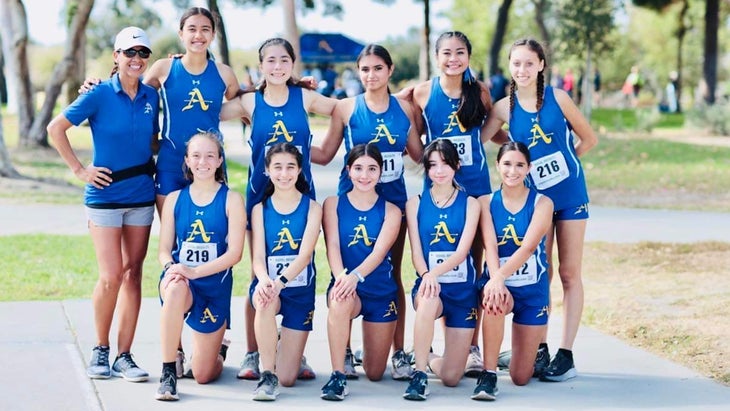 Toughness was an idea Moreno Hernandez learned to be a better runner. "We've been taught to respect our teachers, coaches, and elders in our culture. So when my running coach told me to be tough, I interpreted it as obeying instructions and not bringing up my emotions."
Even though Moreno Hernandez was the top runner in her high school, she ended up getting sick with bronchitis right before CIF meets. In college, she was a walk-on at University of California Irvine (UCI) from 1994 to 1998. She then ran another cross-country season at Santa Ana College.
"When we first met in college in 1994, Sharon came to a long and hard workout on the track. Because it was the first training session of the year, lots of people dropped out. We were the only two standing at the end," said Skye Green, UCI All American, Hall of Famer and former teammate. College was where Moreno Hernandez had the opportunity to train with other female athletes. "It was hard and lonely to train with the boys in high school. In college, we had so much comradery with each other," said Moreno Hernandez.
This wass when Moreno Hernandez started to rethink the idea of "toughness." She still saw the importance of hard work and competing for place and time, but the team dynamic and female athletes supporting each other gave her meaning.
From Athlete to Coach
She eventually decided to pursue a master's degree in clinical psychology at Fuller Theological Seminary. She also started coaching other athletes around her and decided that her running talent could be channeled toward others. Studying psychology also allowed her to up her own and her athletes' mental games.
"Many kids in my [Hispanic] community did not know running as a sport existed. I wanted to introduce them to the sport, especially girls," said Moreno Hernandez. "Girls have certain emotional needs, and as a coach, I want to meet their needs; I want to show them that dedication, passion, and teamwork are what make you a tough runner, not just results, or hiding away your emotions."
RELATED: Meet the Runner Determined to Get More Women of Color Coaching
Green, now a civil engineer and a mom of three daughters, acknowledged the importance of having more female coaches in running and in sports. "Sometimes I hear my daughters' soccer coach telling them not to cry. But crying doesn't make us weak. It's how many female athletes process our emotions. It's good to have female coaches who understand this. I see how effective Sharon has been at building up her athletes' mental games."
Janelle Santos, a freshman at Azusa Pacific University, acknowledged the important role Coach Moreno Hernandez played in her athletic career. "Coach Moreno [Hernandez] took me under her wings since day one and always helped me through my ups and downs in my high school running. I made it to CIF twice and got recruited to run in college, all thanks to her."
With her coaching accomplishments, Moreno Hernandez redefines toughness as pursuing personal growth relentlessly in her team. "For me, coaching is never just about winning titles or championships. It is not about external validation. It's about growing as a person. Anyone can use running to be a stronger and tougher person."
A Quiet Intensity
Moreno Hernandez is never afraid to practice what she preaches. Despite being diagnosed with asthma in her early 30s, she kept up with her own training as a middle-distance runner. She recently raced at the inaugural Arcadia Invitational Master's Mile. At age 46, she ran a time of 5:47. "My Personal Record (PR) days might be over, but I wanted to show my athletes there's personal growth in different ways, such as longevity and competing with other master's athletes."
RELATED: American Running Needs More Female Coaches
Moreno Hernandez's post-collegiate coach, Armand Crespo, said the same thing about her. "Sharon's quiet intensity always makes her a great runner. But her biggest impact on our sport is from her coaching and being a role model to many women like her. She is both tough and loving. As a female coach, she brings a unique perspective that's much needed in our sport."
Just like Moreno Hernandez tries to redefine toughness through commitment to personal growth, she is hoping the coaching profession will welcome more female coaches like her for the growth of the sport overall. "We bring different perspectives, besides emotional adaptability, and higher fluency of girls' developmental stages. The more female coaches we have in running, the more our girls would feel empowered to grow. The more different role models we have, the more possibilities everyone in our sport would believe in."
Lead Photo: Courtesy Sharon Hernandez