The Fastest 60-Year-Old Woman on Earth Is Only Getting Faster
For master's world record holder Sue McDonald, it's all about mental games and keeping the training fun
Rob Jerome
Heading out the door? Read this article on the new Outside+ app available now on iOS devices for members! Download the app.
If you follow master's track and field, it's hard to miss Sue McDonald's astonishing accomplishments this season, including eight world records in the 60-64 women's age group—seven ratified, one pending.
Having recently snatched world records in the indoor 800 meters (2:25.72) and indoor 1,500 meters (5:08.88), McDonald was unstoppable chasing outdoors records, too: 400 meter (62.34), 800 meter (2:22.52), 1,500 meter (5:04.27), mile (5:28.02), and 300 meter (48.89) at several Southern California track meets and the 2023 USATF Masters Outdoor Championships in July.
To add to her dazzling record collection, on August 13th at Mount SAC College in Walnut, California, McDonald finished the heptathlon with a world record point total of 6,269, improving on the previous world record of 5,815. (If you're dying to know, here is how you score in heptathlon.)
"I'm Not Surprised I'm Getting Faster in My 60s"
Sue McDonald is a masters runner, mom, and coach. "Before the event this past weekend, I had not competed in the heptathlon for 27 years!" McDonald laughed. "I was able to get in one javelin and shot practice session before the competition with Dan Lange, former USC throws coach for 32 years and my college teammate. I also went into the long jump cold, which I don't recommend."
Terry Howell of Blue Collar Running is McDonald's coach, and he's inspired by her ambition. "Sue has a lot of fun competing, which is why she has such incredible longevity in track and field. She has this kid-like joy for as long as I've known her."
You can clearly see this joy in her fierce, smooth strides going over hurdles at the 300-meter hurdles event at the masters outdoor nationals in Greensboro, North Carolina. After crossing the finish line in 48.89 seconds, McDonald smiled in her calm manner. "I watched her every race on the livestream and thought, we're just getting started!" said Coach Howell.
With eight world records in one season, Sue McDonald felt she could do more.
"It does seem like the opposite of normal, but I'm not surprised I'm getting faster in my 60s," said McDonald. "I spent a few years running marathons and triathlons. I was a high jumper in college. I did a lot of things, and I'm just doing different events than what I did in the past."
McDonald and Coach Howell recently appeared on The Masters of Running Podcast with Niall Power. "Someone recently asked me: 'when do people slow down.' My answer was: I don't know. I guess it happens when it happens," said coach Howell.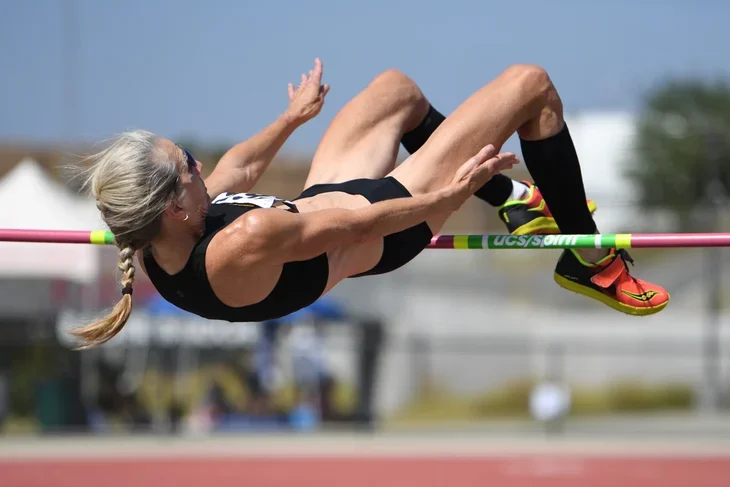 Be Multidimensional
What is the secret to Sue McDonald's illustrious track and field career that spans over 40 years?
Sue McDonald first started running in the Parks and Rec league during elementary school. Since her high school didn't have a track, she practiced at Los Angeles Junior College, which led her to be recruited to run there. She placed second in the high jump at the Junior College State Championships two years in a row.
By the time she graduated from California State University, Northridge, McDonald nearly qualified for the Olympic trials in high jump. She also competed in the heptathlon, with her strengths in sprints and jumps. After chasing the Olympic Trial qualifier in the high jump in 1988, McDonald retired—for the first time—and eventually moved onto triathlons and road races. She joined a local cycling team in Santa Barbara to challenge herself in a different way and made great friends.
"After three pregnancies, I didn't have any plans to go back to track and field, until one day, after I turned 50, I looked up to see what the American and World Records were in the high jump for my age group. It was over five feet. And I thought, I used to warm up at 5' 6"! Seeing that record was what pulled me back into track and field. I started training for high jump again. Eventually, I did get the American record [for Women's 50], but missed the world record." said McDonald.
"Sue is not a one-dimensional athlete," said Howell. "She has been extremely dedicated, but also having so much fun with these different events—the high jump, pole vault, shot put, and javelin forces her to move her body in a multitude of ways, making her strong."
Strength has been a key component of Sue McDonald's training consistently. "I don't lift heavy weights, but I do physical therapy types of exercises every day, and I lift two to three times a week for 30 minutes each time."
McDonald acknowledged that she had never been a high mileage person, only averaging under 30 miles a week. "My definition of an endurance run for an athlete like me is three to four miles with strides at the end. I also do some longer intervals on Wednesdays, and shorter workouts on Saturdays. I also ride my NordicTrack bike at home and aqua-jog at a public swimming pool. When people age, they tend to lose their balance and stability, so I do a lot of single-legged exercises like single-leg Romanian deadlift and single-leg squats."
"Sue looks for new challenges and never backs away from them. She simply loves what she does," said Mark Covert, McDonald's junior college coach, who was the first athlete to ever cross a finish line wearing the famous Nike Waffles at the 1972 Olympic Trials marathon and has run at least one mile a day for 45 years.
New challenges and a variety of events are what make McDonald's athletic career fun. "I'm looking forward to having fun with these combined events. That's why I do it," said McDonald. Even after such breakthrough performances, McDonald still does everything for fun.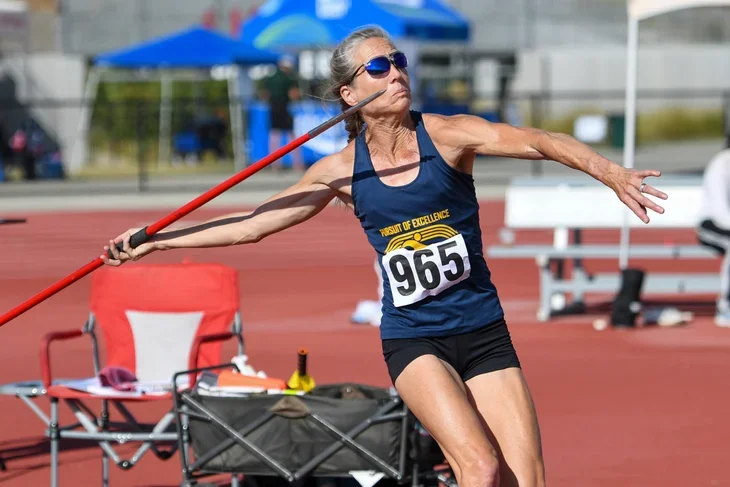 Up Your Mental Game
David Epstein writes in his book, The Sports Gene: Inside the Science of Extraordinary Athletic Performance, "It was a strong clue that one key difference between expert and novice athletes was in the way they had learned to perceive the game, rather than the raw ability to react quickly."
Sue proves to be a great example of perceiving a game before it happens. Since 2015, she has been revisiting a program called The Confident Athlete by Dr. Patrick Cohn. Before major competitions, McDonald would review her sports psychology program and also visualize how the competition might shake out, how she might respond to a tactical race at the championships, and how she might hang on if it's a fast or slow tactical race with mixed age groups.
"I'm a lot less nervous on the start line than five years ago," said McDonald. "This is because of my mental training. I take a few deep breaths to try to calm myself down when I feel anxiety coming on. Fifty percent of my preparation is my mental game. It is easy to brush off because it is time-consuming. I definitely think more people should up their mental game if they have big goals."
As a fitness coach herself, McDonald also helps other athletes with their mental games. Daphne Scott, Professor of Mathematics at Western Washington University, mom of three and current Women's 60 (W60) American record holder in the decathlon, credits McDonald for helping her with her strong psychological state during her decathlon competition.
"At the most recent meet at Mt. Sac, the pole vault I ordered did not arrive on time. I was then handed an incorrect substitute pole. It was all very stressful, but Sue was there and she helped me reframe my situation. Eventually, I was able to achieve a personal record because of her help," she said.
"What makes multiple events like decathlon very challenging is all the changes. Between events, you have 30 minutes to change clothes and shoes, hydrate, and get ready for the next one. Your adrenaline goes up, and it goes down. Your body's chemistry shifts very quickly. You also put your body through different motions. That's a lot of transition in a very short time. As a heptathlete, Sue understands all the challenges herself and is capable of helping other combined event athletes like me very well."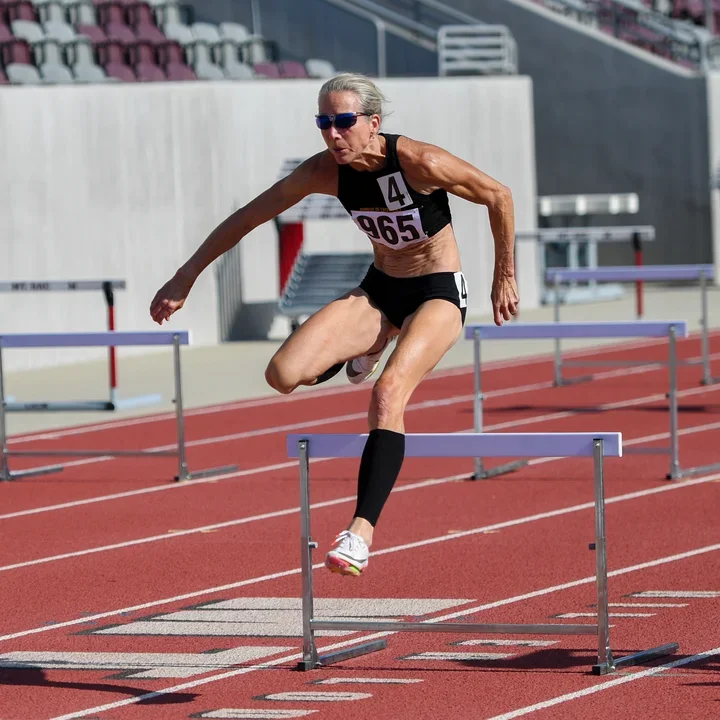 Optimize Recovery and Nutrition
To prepare for the 2023 World Masters Athletic Indoor Championships, Sue McDonald dialed up her nutrition by doing two seemingly contradictory things: she gave up alcohol, and she went back to eating meat.
"I really like wine but gave it up because it interferes with my sleep. Now I only allow myself to have two to three of what I call Sue Sips from my husband's glass," McDonald said. "I wanted to go into Worlds with no regrets and do everything I possibly could, legally, to boost my performance." Without wine, McDonald is getting seven to eight hours of sleep each night, which has significantly improved her recovery, especially during multi-day events.
Nutrition has been a big part of her performance improvement. "In January, I started to work with a metabolic practitioner, Cynthia Monteleone, who is the world champion in the 400 meter, a mom, and author. "I was largely plant-based before with some seafood for a long time, until I decided to work with Cynthia. Reintroducing meat and poultry into my diet was one of the conditions Cynthia had proposed to me for our partnership." said McDonald. "I felt I wasn't getting enough protein in the past anyway. After reincorporating meat and poultry, my recovery has improved."
McDonald's strategy is in line with Dr. Stacy Sims's recommendation in her book, Roar: How to Match Your Food and Fitness to Your Female Physiology for Optimum Performance, Great Health, and a Strong, Lean Body for Life: peri- and post-menopausal women should aim to stay at the higher end of the recommended range of protein intake (2.2 – 2.4g per kg of bodyweight).
Be in Community
Besides coaching her own athletes and training with younger athletes from Blue Collar Running, Sue McDonald started a USATF track club named the Pursuit of Excellence Track Club (POETs), under the urge of Melissa Chiti, the 2022 W55 National Steeplechase Champion, a mom and librarian.
"When we started POETs, we just wanted to have a group of masters athletes to support each other. We all compete in different events, from pentathlon to middle-distance and long-distance. We all strive to set a good example of how you can age with great health and enjoyment," said Chiti.
Since the founding of POETs, the club placed 11th out of 67 women's teams and 15th out of 135 combined teams with only six athletes, at the USATF Masters Outdoor Championship in Greensboro, North Carolina, this past July. "Sue is always supportive of all the athletes in our club, and ready to share any and all expertise," said Chiti.
"I hope Sue sends this message to the track and field world: there is an event for everybody; whether you love to run, jump, throw, there is something for you. For elite runners, she inspires them to stay in the sport for a long time. For adult athletes and everyone else, she proves that age is just a number," said Coach Howell with conviction.
Looking toward 2024, Sue McDonald is excited to start training for the World Masters Athletics Championships in Gothenburg, Sweden. "Maybe I can lower my own 400-meter world record, possibly break 62 seconds," McDonald said. With the support of her coach and her teammates, she feels nothing but confident.
This article was originally published on Women's Running.
Lead Photo: Rob Jerome
Trending on Outside Online